Lavender fields in and around London
From rolling fields of indigo to neat patches of mauve, here are the best spots to see lavender blooming in and around London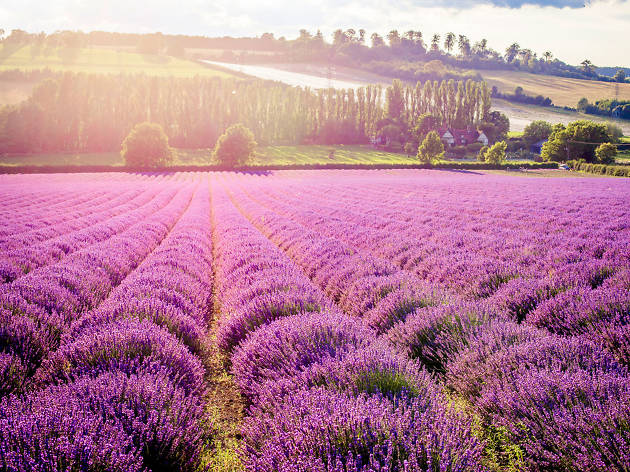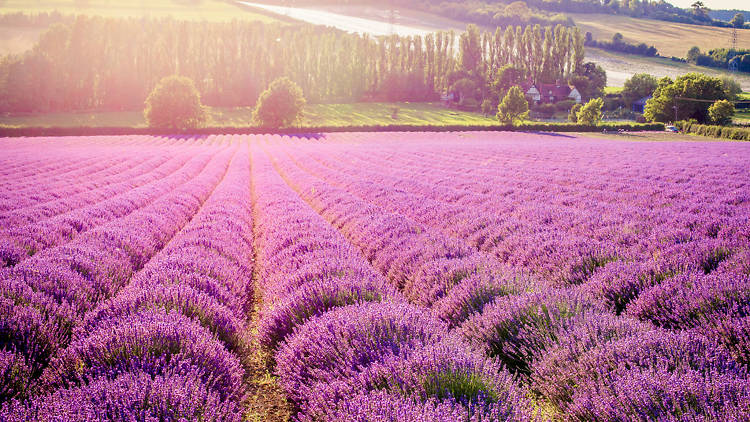 It may be known for its sleepy scent and soothing properties, but there's nothing dozy about the explosion of colour – an astonishing crop of mauves and indigos – happening right now in London's lavender fields.
Lavender season typically runs from May to September, peaking some time near the end of August. For those wanting to lay their eyes and nose on this year's epic bloom, London and the surrounding area boast a sweet selection of sweeping lavender fields. From Kew Gardens to Kennington Park, the purple stuff is everywhere. And with views like the ones we've rounded up below, it'd be rude not to take advantage!
RECOMMENDED: The best things to do outdoors in London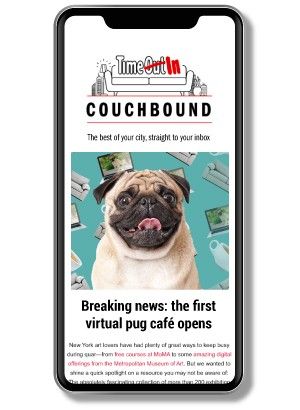 An email you'll actually love
Sign up to our Couchbound newsletter and bring the city to your sofa
Subscribe now
London's loveliest Lavender fields
You'll smell these rolling, perfumed fields long before you see them. Set up in 2006 to help revive the historic lavender industry, which boomed here in the eighteenth and nineteenth centuries, the 25-acre farm harvests its lavender and distils its oil on the original Victorian site. Visitors can wander freely through the rows of purple, enjoy lavender tea and a scone in the alfresco restaurant, and browse the gift shop for aromatic treats. There's also a photography competition if your snapping skills are up to it.
1 Carshalton Rd, Banstead, SM7 3JA. Belmont rail. Open until Sep 16, 9am-6pm. £2, kids free.
Attractions, Parks and gardens
Tucked away behind a miniature model village and a rose pergola, this urban park holds a maze of blue, purple and indigo blooms. Planted to mark the centenary of the Vauxhall Motor Company in 2003, the gardens here may not be as expansive as their out-of-town counterparts, but they're still a beautifully scented, picturesque distraction in bustling south London. Everyone is welcome to take part in the annual community harvest, where flowers are collected to be turned into oil, sold at South Lambeth Market.
12 Lawn Lane, SW8 1UA. Vauxhall. Open 7.30am to 15 minutes before sunset. Free.
3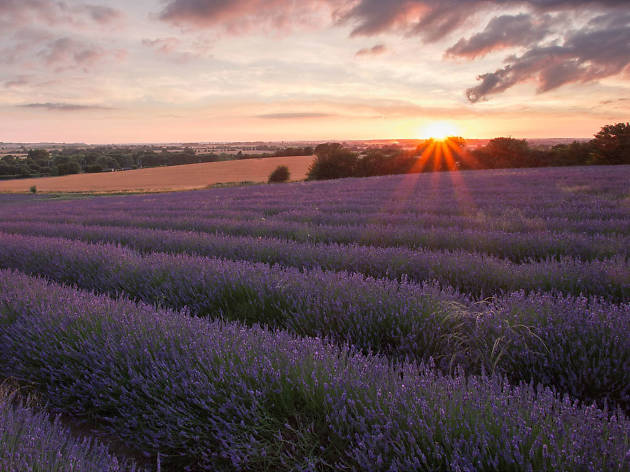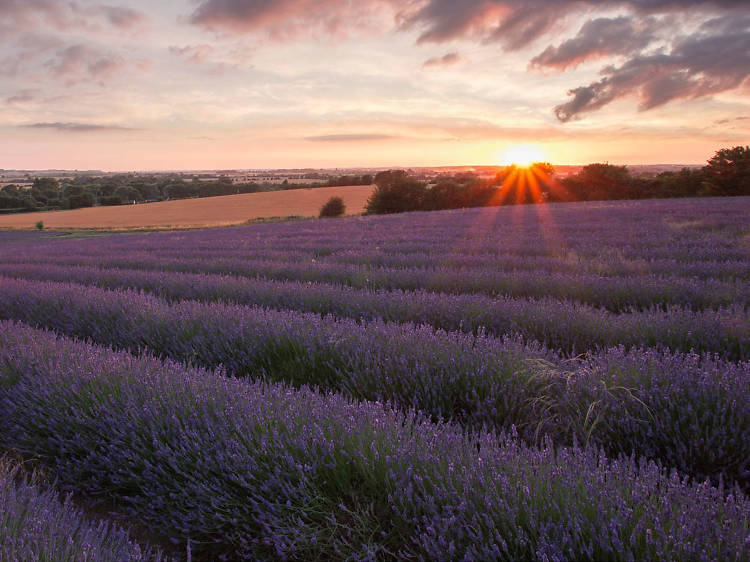 Okay – it's located a little further out of town than you might be used to, but make the journey up to Hitchin Lavender at Cadwell Farm and you'll be rewarded by a true purple paradise. The farm has been managed by five generations for more than 100 years, and the indigo flowers here were introduced back in 2000. During the flowering season you can wade through the silvery grey foliage and pick some blooms to take home with you. Throughout August there's a programme of perfume-laden outdoor film screenings, and during the day the farm shop is open for you to stock up on pretty much any kind of lavender produce imaginable. Make sure you delve into their glorious sunflower fields, too. Worth going that extra mile for.
Cadwell Farm, Arlesey Rd, Ickleford, Hitchin, SG5 3UA. Hitchin rail. Open until the end of August, 10am-5pm. £6, £3 under-14s, free for under-fives.
Attractions, Parks and gardens
London's botanical treasure trove holds tons of eyepopping flora, but make sure you seek out the spikes of violet-blue lavender peering out from the sculpted foliage of the Duchess Border, growing (appropriately) along the outside wall of the Duke's Garden. The regal border has been a test bed for Kew's lavender and other Mediterranean plants since 1990. You can also spot various patches of the purple blooms dotted around the 250-year-old gardens, such as alongside the luscious plant life in the Prince of Wales Conservatory.
Royal Botanic Gardens, Kew, TW9 3AE. Kew Gardens. Open 10am-7pm. £16, £14 concs. £4, ages 4-16, free for under-fours.
Attractions, Parks and gardens
This green gem holds a compact, but charming, flower patch modelled on an old English kitchen garden. Lavender beds have been planted here for years, but thanks to a Heritage Lottery grant, the 1931 nursery has been renovated and replanted with two different species. Find them beneath olive trees in the garden's Mediterranean beds and around the sundial at its centre. The bee-friendly plants are also a stone's throw from Bee Urban's headquarters, where ten hives are kept at the Keeper's Lodge.
Kennington Park Rd, SE11 4BE. Oval. Open 7.30am - 15 minutes before sunset. Free.
6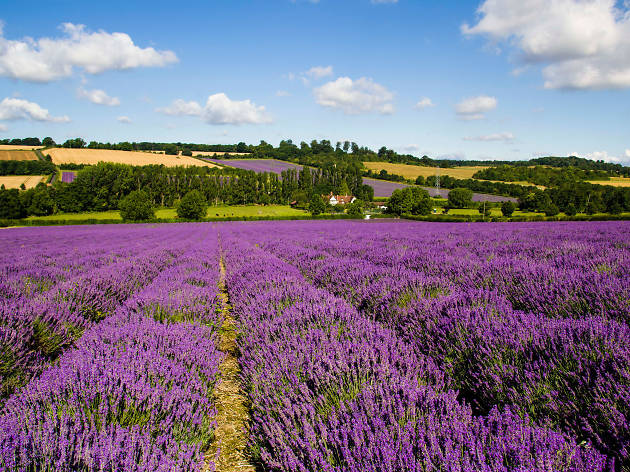 Kentish Lavender
Forget Provence. Take a day trip to the Kentish Lavender Fields, which give the French purple rows a run for their money. With 95 acres of the crop, the folks at Castle Farm cultivate the largest lavender farm in the country, extracting oils in a steam distillery. There are guided tours, pop-up picnics, a farm shop and a pick-your-own orchard, meaning there's no need to hop on the Eurostar.
The Hop Shop at Castle Farm. Redmans Lane, Shoreham, Sevenoaks, TN14 7UB. Eynsford rail. Monday-Saturday 9am-5pm, Sundays 10am-5pm. Guided tours must be pre-booked. £7 per person, minimum 15 people.
More flora?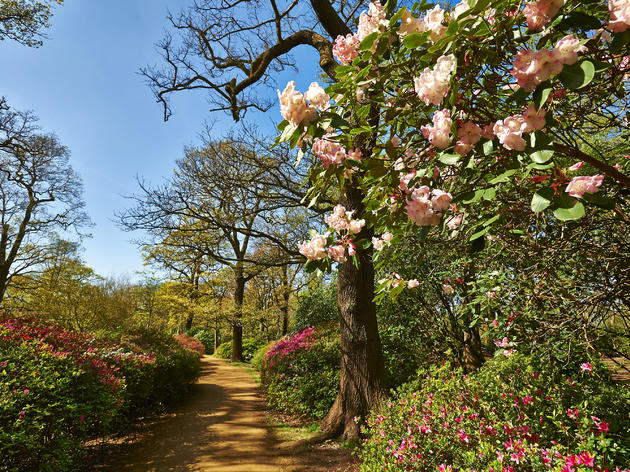 Keep clear of the crowds and away from car horns with our pick of gardens that you won't find growing in the guidebooks
Things to do, Walks and tours
Did you know that London is home to around 900,000 street trees? Paul Wood, author of the blog London's Street Trees, picks nine of his faves.