London events in May
Your guide to London's essential events, exhibitions, parties and things to do in May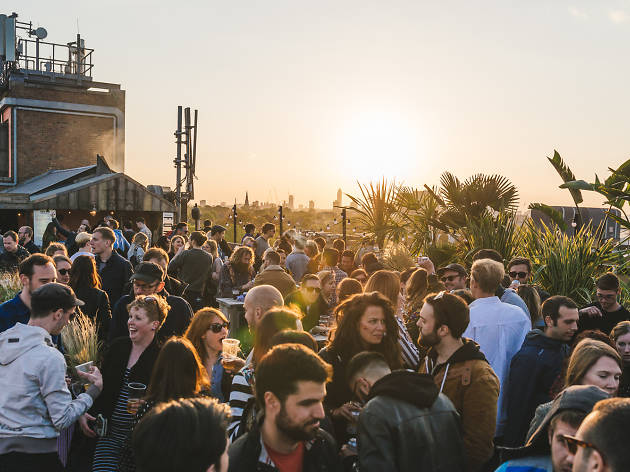 May means it's finally time to venture into London's great outdoors and start soaking up all that the city has to offer – whether that's heading to a rooftop bar, visiting a city farm, making the most of the two (yes, two!) bank holidays or just lounging about in one of London's best parks. We've found the best events, parties, pop-ups and things to do across the capital during May, so drag yourself outside, grab an early-summer ice cream and start maxing out on your London fun.
RECOMMENDED: The definitive London events calendar
Our May 2017 event highlights
Gigs in London this May
This young trio found fame by covering the songs of hip hop troupe Odd Future in a cool jazz stylee, eventually collaborating with Tyler, The Creator himself. They have since gone on to turn tracks by Lil B and Waka Flocka Flame into awesomely groovy post-bop jazz jams.
Read more
Powerful jazz-funk quartet packed with session aces including Massive Attack/Kylie bass guitarist Winston Blissett, Incognito guitarist Tim Cansfield and Sax Appeal/Jools Holland saxophonist Derek Nash.
Read more
The fantastic guitar-toting Canadian soft-rocker comes to London in support of his latest album 'Salad Days'. His wearily romantic, chorus-heavy jams, tied together by his disaffected drawl and hazy lyrics, make him a great live draw.
Read more
The folk-leaning singer-songwriter from Ireland headlines. He's huge at home and has recorded with a who's who of contemporary Irish music, from U2 to Sinead O'Connor. Outside of that he's also supported Bob Dylan and Morrissey. Impressive stuff, backed up by some lovely songs.
Read more
The brilliantly-named Flamingods are neither omnipotent nor (bright) pink – but they do a great line in understated psychedelia.
Read more
The pianist performs Bach's Partita No 6 In E Minor For Keyboard, Beethoven's Piano Sonata In A and Piano Sonata In A Flat, plus Chopin's Nocturne In B, No 1, Mazurka In B, No 3, Mazurka In A Flat, No 4, Mazurka In C Sharp Minor, No 3 and Polonaise In F Sharp Minor.
Read more
It's a third return for Laurent Pelly's charming production of Donizetti's bel canto romcom, updated to 1950s rural Italy.The evening is dominated (or should that be stolen) by lyric tenor Vittorio Grigolo who, from the moment he pops up, meercat-like, at the peak of designer Chantal Thomas's mountain of hay bales, energetically works the part of the naïve Nemorino, a simple peasant hopelessly infatuated with the richer and more sophisticated Adina. As the petulant love interest, Lucy Crowe is vocally superb, her velvety lyric soprano just right for the role. She and Grigolo also look plausible as the young, would-be lovers, though a lack of chemistry reduces the sizzle of the plot. Meanwhile, as Nemorino's rival, the ridiculously macho Sergeant Belcore is hilariously overplayed by baritone Levente Molnár, who seems to be channelling Elvis.One always expects more from the spurious potion-peddling Doctor Dulcamara, who rolls up in his van offering panacea in a bottle (though curiously doesn't leg it before the gullible villagers realise they've been duped). After all, he is the link between the tiny rural world of the characters and the world-wise audience to whom he makes comic asides. And so it is here with bass-baritone Bryn Terfel, who is very watchable but owns too mighty a voice for this nimble character job.The over-large chorus may be a bit shouty, giving it some full-scale Verdi, rather than light Donizetti. Yet the fact that they don't really convince as sunburnt pea
Book now
Read more
The Welsh singer, TV and radio presenter tours the country to perform a selection of vocal works.
Read more
In collaboration with the Orchestra, the well-known Beatles tribute band performs the music from the classic album Sergeant Pepper's Lonely Hearts Club Band to mark its 50th anniversary. The presenter is the Liverpudlian poet, Roger McGough.
Read more
The singer performs as part of a trio, following the release of her new CD, Secular Hymns. She sings pieces by such songwriters as Tom Waits, Willie Dixon, Sister Rosetta Tharpe and others.
Read more
The ever-popular ensemble plays jazz, early swing and dance music under the direction of singer Duncan Galloway.
Read more
The singer from Piraeus, Greece, brings her performance of Greek folk music to the UK's stages.
Read more
The singer-songwriter from Liverpool performs his self-penned rock'n'roll compositions.
Read more
A musical celebration of the universal quest for love. From childhood crush to lasting romance, go on a musical journey through the highs and lows of finding and losing love.
Read more
Find great things to do all year round
London is a treasure trove of brilliant days out and activities worth boasting about. Find great new ways to fill your free time with this list of our favourite things to do in the capital.
Read more
Sponsored listing
sketch Lecture Room & Library
The arresting entrance hall, with its high-impact artworks and greeters who are part-cast and part-personal assistant, are cues that you are entering not just a building of dizzying grandeur, but a designed world with a playful, theatrical bent. Sketch's Lecture Room & Library is up a very fine staircase. Flooded with light from a glass ceiling dome, and governed by immaculately tailored staff, it's the most classical space in the complex, with the food providing the trademark fantastical note. It's a positive procession of the pretty, witty and gay, from the first amuse-bouche to the last pink petit four. Our set lunch comprised 15 or so different dishes, using a gazetteer of ingredients and a battery of techniques: highly accomplished cooking whose dainty presentation belies its seriousness. There's so much going on – within dishes and in the combination of dishes served as one course – that you surrender yourself to the cumulative experience. Just a few examples from one meal: bream sashimi; langoustine consommé with wild garlic, kaffir and dill, blood-orange jelly and spring cabbage; pork belly confit with tamarillo purée, celery, Japanese medlar, celery stick and potato foam with comté cheese; lemon and beer ice-cream with raspberries. It's quite a trip, as is the wine list, which isn't all at fantasy prices. The sommelier clearly loves his work, and is as happy to recommend beer as he is to favour a prestige claret if the dish demands it.