A guide to the West Hollywood Halloween Carnaval
Find out where to eat, drink, party and park in WeHo for this year's West Hollywood Halloween Carnaval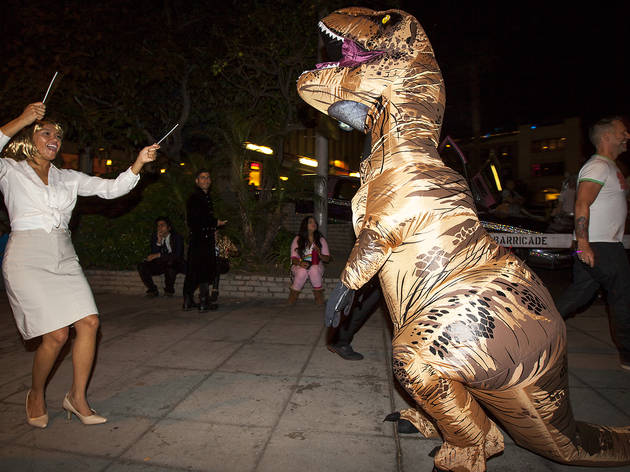 The 2020 edition of the West Hollywood Halloween Carnaval has been canceled. Our original story and information from previous years is below.
--
Each Halloween in Los Angeles, thousands of costumed revelers scatter across the city in search of the perfect Halloween party. But only one has undeniably staked its claim as the place to be on All Hallows' Eve: the West Hollywood Halloween Carnaval. Thick throngs of people—we're talking half-a-million huge—take to Santa Monica Boulevard in West Hollywood for a costume carnival complete with live music stages and bar specials that go well into the wee hours of Halloween. It's beyond busy, belligerent and often barely clothed, but the Carnaval is unlike any other Halloween event. Before you start putting together your costume, here's everything you need to know about the West Hollywood Halloween Carnaval.
When is the West Hollywood Halloween Carnaval?
The West Hollywood Halloween Carnaval takes place on Halloween night, October 31, 2019. The official event runs from 6 to 11pm, with plenty of after-parties—the City of West Halloween keeps tabs on parties and drink specials along the route.
Where does it take place?
The West Hollywood Halloween Carnaval takes place along Santa Monica Boulevard from Doheny Drive to La Cienega Boulevard.
How do you get there? And where do you park?
Parking is available in West Hollywood's public lots and garages, typically for a flat rate of $20. Street parking is extremely tough near the event; most of West Hollywood's long-term parking is permit only, leaving behind a limited number of spots in a small area east of La Cienega that falls within the City of L.A. We recommend considering WeHo's free trolley service, the Pickup.
Make sure to keep these street closures in mind:
Do you need tickets?
Nope. The West Hollywood Halloween Carnaval is completely free. Drinks at nearby bars, of course, are not—unless you ask the bartender very nicely.
What actually happens during the event?
To be clear, it's not a parade and shouldn't be confused with LA Pride. You can, however, admire the handiwork of thousands of incredible costumes streaming along the closed streets. You'll also find multiple stages on the official route with DJs, musical performances, shows and contests. Check out the map below.
West Hollywood Halloween Carnaval photos