The best beaches in Melbourne
Get the most out of the coast with our guide to Melbourne's best beaches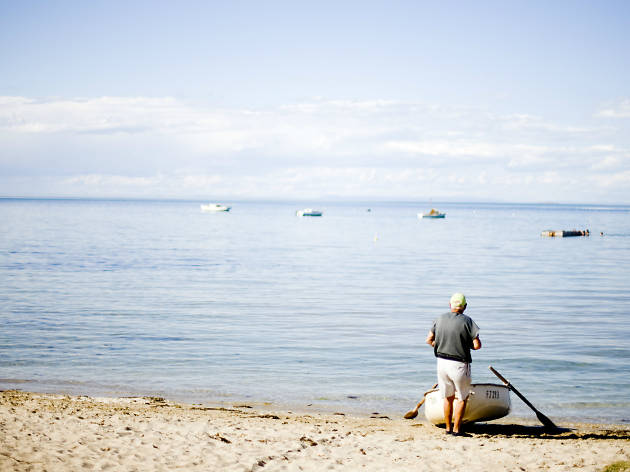 Despite not having the sunny, seaside reputation of Sydney, there are still plenty of beaches to love in Melbourne. Port Phillip Bay is surrounded by beautiful sandy beaches perfect for swimming, strolling and sunbathing. Slap on some sunscreen and dig out your bathers – these beaches are well worth visiting.
That said, if you want to go swimming sans wetsuit, maybe the local pool is more your speed during the colder months. Then warm up after a dip with one of Melbourne's best hot cocktails.
The best beaches in Melbourne
The best beaches just outside Melbourne
On the southern-most point of the Bay, 90 minutes out of the CBD, is an absolute gem of a beach in Sorrento. Straddling the waters of Port Phillip Bay on one side and Bass Straight on the other, it's the perfect spot for a sunset. It's backed entirely by the scenic foreshore and has popular jetties on the waterfront, complete with walking trails – well worth a road trip around the Bay.
Distance from CBD: 100km by car; nearest station: Frankston, 50km
If you like the idea of ocean swimming but are low-key terrified of rips, sharks and seaweed, then Eastern Beach is perfect for you. The Geelong city beach features a picturesque promenade lined by palm trees, beach volleyball nets, a splash pool for small children and an enclosed ocean pool with dive boards and towers. Plus, there is a stretch of sandy open beach too for the fearless swimmers.
Distance from CBD: 74km by car; nearest station: Geelong, 1.5km
More places to swim in Melbourne
Pick a day over 30, hit one of these urban oases and drag your towel to a spare bit of premium pool real estate to soak up some rays.