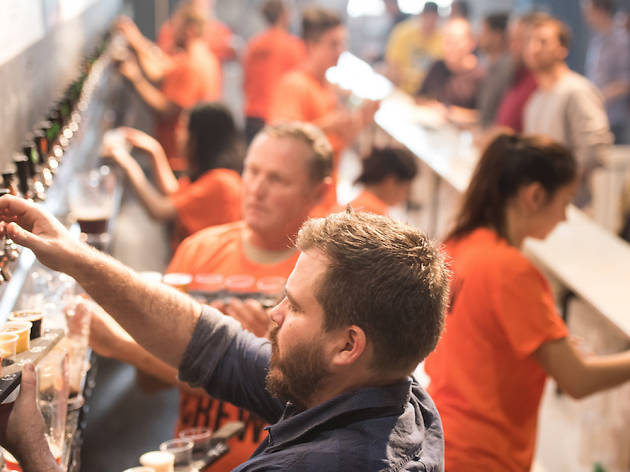 10 weird beers to try at GABS
From super stouts to unusual ales, here are 10 brews to try at the annual beer festival
GABS Beer Cider and Food Festival returns with more than 180 weird and wonderful one-off brews made exclusively for the festival. Here's ten we don't want you to miss.
1.The Smoking Jacket by 2 Brothers (Vic)
They've steeped this velvet stout in hand-cut Cuban tobacco, infused it with Cognac and aged it in oak so that it's low on roast character and silky smooth.
2. Hidden in Plain Sight by 4 Pines (NSW)
The Northern Beaches brewers have made an 'anticraft' beer that is clear as a mountain stream. It's triple filtered and flavoured with tetrahop, PGA, isinglass finings, hop oil and distilled roast essence for a perfectly clear beer that remains hoppy and tastes like a stout.
3. Bone & Marrow by Aether (QLD)
This double Irish red ale is made with double smoked bone marrow so that the malty, dried fruit flavours of the ale are carried on a luscious mouthfeel with a savoury smoky finish.
4. Fruit Tingle by Merchant Brewing Company (NSW)
It's a cocktail that's fallen out of vogue, but the Merchant brewers are bringing it back by brewing a tart, strong, purple beer using a special tea blend.
5. Quetzalacatenango by Mountain Goat (Vic)
They started with a base of American ale and wheat malts, added the intense tropical fruit aromas from a heavy hops bill and then supercharged their beer with Queensland grown Carolina Reaper and Ghost Chilies so that one sip makes your mouth a furnace.
6. Who Poured the Porter in the Cookie Jar? by Pact Beer (ACT)
The brewers have teamed up with Melbourne's Butterbing Cookie Sandwiches to make the ultimate salted caramel porter, a liquid dessert that's also boozy.
7. Irish Coffee Carbomb by Tallboy & Moose (Vic)
Porous green coffee beans were aged in a Starward whisky barrel and then roasted around the corner from the brewery. The coffee was blended into the beer to make an Irish red ale that is a Venn diagram of whisky, beer and coffee.
8. Purple Rain by Choice Bros (NZ)
They've made their hoppy ale a beautiful purple colour by using butterfly pea flowers in the brewing process, alongside Citra, Wakatu and Eureka Hop Oil for that fragrant, tropical fruit aromas.
9. Bangh Thandi by Garage Project (NZ)
New Zealand's renegade brewers have taken inspiration from the Holi beverage Bhang Thandi and have brewed a spiced, strong milk stout made with almonds, fennel, Magaz Tari seeds, rose petals, pepper, cardamom, saffron, lactose and organic hemp oil.
10. Kina Stout by Piha Beer (NZ)
To brew the wild flavours of the New Zealand coastline into their beer, they've added New Zealand sea urchin to their stout to create that classic, silky salty balance – we're thinking oysters and Guinness would be a close comparison, but we'll have to try it and see.
Best selling Time Out Offers