The best cafés for freelance workers
Have laptop, will travel? We round up Melbourne's best cafés with WiFi for those without an office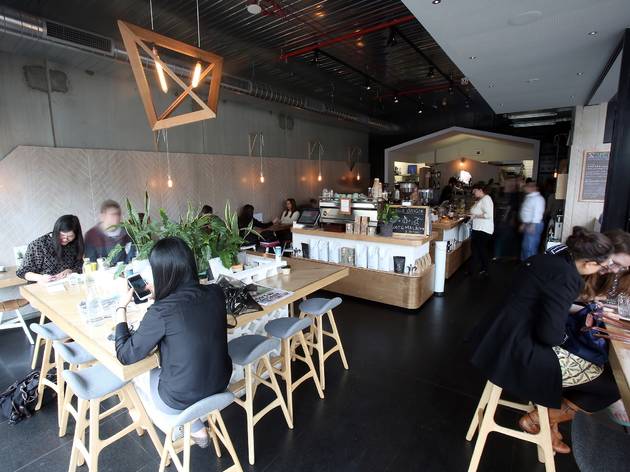 The age of the mobile worker is truly upon us. From freelance creatives to IT professionals to work-at-home mums, scores of mobile workers have turned their local cafés into flexible workspaces, sometimes at the chagrin of owners. But a select few establishments across Melbourne are welcoming the mobile workforce with open arms, fantastic coffee, great WiFi Internet service and waitstaff that will not continually wait on you till you over-caffeinate yourself and leave.
Hungry? Fuel up for your workday with some of the best breakfasts in Melbourne. If you're hitting that afternoon slump, stretch those legs and look for the city's best healthy smoothies.
Melbourne cafés for freelancers
1000 Pound Bend is arguably the number one WiFi-enabled venue in the city. You get 45 minutes free with every purchase; or you can step inside 'laptop land' (the gallery space) where internet is free for two hours and you receive discounted coffee.

WiFi: Yes
Read more
North Melbourne's coffee house is a fantastic place to work from for the mobile crowd. The funky space has free WiFi, oodles of power points and a wide variety of coffee and tea options to keep the creative juices flowing.

WiFi: Yes
Read more
Joe's Garage has been around for years and continually delivers the best WiFi in the food business. A favorite with backpackers and travelers for their generous servings of pub-style food and cheap cocktails, Joe's is the place to work from if you like your music loud and eye candy prolific.

WiFi: Yes
Read more
This hidden café is where Brunswick locals go if they're after free internet and an ace breakfast of bagels, eggs or organic fruit toast. With friendly service and places to charge the hardware, A Minor Place is a major player in the search for the perfect desk away from home.

WiFi: Yes
Read more
The State Library of Victoria houses possibly the best free WiFi-ed workspace in Melbourne in Mr Tulk. Located on the La Trobe St side of the library, this café is filled with students, grizzled writers and the occasional eccentric.

WiFi: Yes
Read more
A freelancer's heaven, this relaxed High Street café brims with local writers, musicians and NGO workers seeking designer coffee and delicious fare. With two power outlets on communal tables, free WiFi and eclectic mix of creative customers, Penny Farthing is a freelance favourite.

WiFi: Yes

Read more
In amongst the bustle of Lygon Street, Small Block welcomes freelancers with open arms, friendly smiles and free WiFi. The relaxing space will de-stress those nearing deadline; or distract you with eggs benedict and ricotta pancakes.

WiFi: Yes
Read more
Time Out Café and Bar (no relation) is hooked up to Fed Square's free WiFi. Visitors to Melbourne are the mainstay here and the café is a handy option for transport-reliant mobile workers.

WiFi: Yes
Read more
Fuel for freelance workers
There are few things better than a long, lazy breakfast in Melbourne. Here are ten of our favourites.
Read more