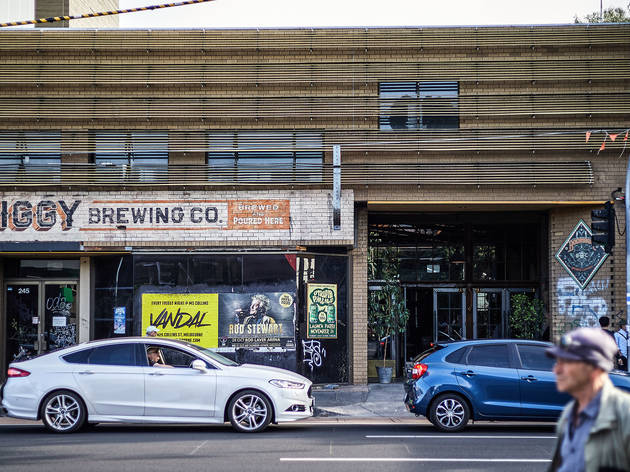 A local's guide to Abbotsford
Explore all the cafés, bars and attractions to be found in the leafy inner suburb of Abbotsford
During isolation...
A lot of the great businesses in Abbotsford can't trade as normal at the moment, so be sure you support them however you can. Many offer takeaway or have online shops, and you can help them survive the strange times we are living in.
Abbotsford is a leafy pocket of bliss sandwiched between Collingwood, Richmond, Clifton Hill and the Yarra River. The suburb is relatively small (it's less than two square kilometres in size) but boy, does it pack a lot into that space. In addition to streets lined with cute old miner's cottages and terrace houses, Abbotsford is also home to the Abbotsford Convent, Dights Falls, Victoria Park stadium, the famous Skipping Girl Vinegar sign, Carlton Brewhouse and Collingwood Children's Farm.
Fun fact: Abbotsford used to be part of the now-defunct City of Collingwood local government area, hence why it's home to Collingwood Children's Farm and Collingwood Station.
Jump to a section:
What's Abbotsford known for?
It's hard not to fall in love with Abbotsford. The suburb offers inner-city living and amenities while also letting you enjoy the Yarra River and its plentiful green spaces. While these days the suburb is filled with hip young things headed to brewery bars or walking along the Yarra trail, Abbotsford has an industrial history, which you can still see remnants of in the suburb's back streets.
Why do the locals love it?
We talked to Johanna Howe, one of the founders of Abbotsford-based ethical fashion label Caves Collect (read more about the label below), about what she likes about the suburb. "Personally I love that it has parklands and walks along the river, but then it's so close to the city," she says. "We often will go for walks around the area after work or on our lunch breaks. It's got beautiful trails out the back of the convent along the river."
How do I get to Abbotsford
The Hurstbridge or Mernda lines will pop you down in Abbotsford; alight at either Victoria Park or Collingwood Station. The number 12 or 109 trams also run along Abbotsford's southern border, Victoria Street. If you're a keen bean, it's totally possible to walk there from the CBD as well (set aside 30 minutes or so).
What's nearby?

Hop across Hoddle for more cool ex-industrial hangouts in Collingwood or cross Victoria Street for some of Melbourne's best Vietnamese food in Richmond (the north side of Victoria is Abbotsford; the south, Richmond). And you'll definitely want to cross the river for Yarra Bend Park and Studley House Boathouse in Kew.
Map of Abbotsford
If you only do one thing
Head to the Abbotsford Convent. The grounds alone are a fantastic place to spend a sunny afternoon reading a book, but the convent also regularly hosts creative workshops, art shows, music events, markets and more. It's also home to Lentil as Anything where you can pay-what-you-feel for wholesome vegan meals (Lentil As Anything Abbotsford is currently closed but you can order Lentil Love Packs online).
Discover more of the city
Support your local neighbourhood with our selection of area guides around Melbourne.