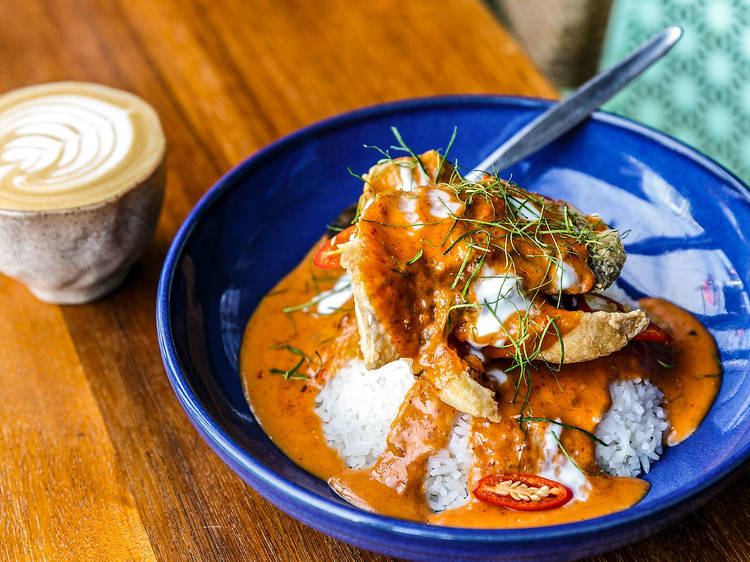 Photograph: Parker Blain
Jinda Thai (7 Ferguson Street) is a family-run restaurant that's been serving authentic Thai dishes since 2013. Sweet tooths are advised to order the popular crepe cake.
For breakfast, Thai Style, head to Oneyada (239 Victoria Street). Just around the corner from Jinda, this café serves inventive Thai fusion breakfasts like kai toon tom yum (steamed egg custard with spinach with a tom yum broth).
At Kelso's (271 Johnston Street) sandwiches are sexy. The diner practically cures hangovers with its chip butties and five-cheese toasties, but there are lots of lighter deli-style sangers available as well.
It's good vibes only at Lentil As Anything (1/3 St Heliers Street) where tasty, healthy vegan meals don't cost the Earth – in fact, they only cost what you can afford. Order your meal then pay what you can. You can also offer your time here as a volunteer.
Gone are the days when pubs only served up meat-centric meals. The Carringbush Hotel (228 Langridge Street) features a plant-based menu plus ethical ceramics and plates, no plastic straws and no packaged beer to save on waste.
Abbotsford pizza fiends should direct themselves to Rita's (239 Johnston Street) for rustic Italian pizza (gluten-free bases come with no extra charge, too).
Johanna Howe from Caves Collect also recommends Convent Bakery (1 St Heliers Street). The bakery produces beautiful woodfired loaves of bread using ovens that are more than 100 years old. There are also light meals available and occasional bread making classes.