Late-night bottle shops in Melbourne
When the liquor cupboard is bare, head to one of Melbourne's late-night bottle shops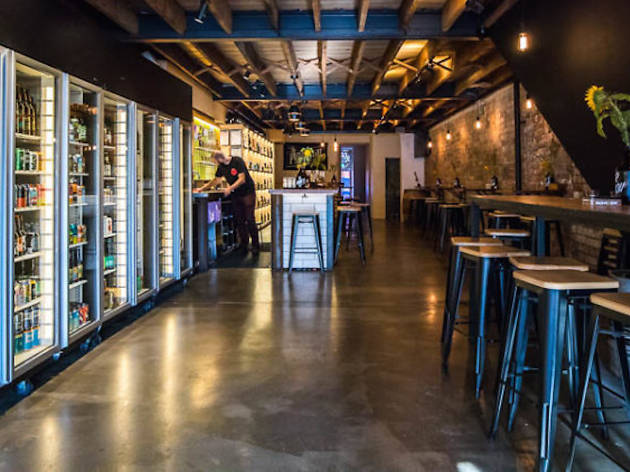 If you find yourself at a party in the wee hours with nary a bevvy in sight, run down to any one of these handy bottle-os that are conveniently open late to quench your thirst.
In the mood for a craft tinnie? Plan ahead and visit one of our favourite craft beer bottle shops. Or if you'd rather someone else do the pouring, wait until a more reasonable hour to visit Melbourne's best wine bars.
Bottle shops open before midnight
Finding a bottle-o that is open after 9pm on a Sunday is a trick in itself. But thanks to McCoppins we have two to rely on, and both are open daily until midnight.
This live music institution has a bottle-o that is open seven nights a week until midnight. You can also choose a bottle of wine to enjoy inside the venue and you won't be charged corkage fee.
This inner-city liquor store stays open until the witching hour on the nights when it counts most: Friday and Saturday. Other nights they pack up shop by 11pm.
This family-friendly bistro and bar in St Kilda East also offers a drive-through bottle shop that's open until midnight on Fridays and Saturdays. The rest of the week it closes at a respectable 11pm.
City Wine Shop is often associated with fine wines, cheeses and European inspired dishes, but little do people know that they also have a bottle shop that sells beers, spirits and wines. It's open seven days a week until midnight.
Local fave Heartbreaker is known for being an excellent bar, but it also sells liquor. Their bottle shop is open until 11pm daily.
A bar and bottle shop rolled into one, Carwyn Cellars is open until 11pm on Tuesdays to Saturdays so you'll never be without a drink in Melbourne's north. All other days these guys stay open until 10pm.
As the name suggests the Alps is a bar and bottle shop. But surprise, surprise they also sell beers takeaway. The Alps is open until 11pm from Wednesdays to Sundays. Mondays and Tuesdays they shut at 9pm.
The original Harry and Frankie (there's also one in Fitzroy now) nails neighbourhood wine bar like few others, providing a relaxing spot perfect for a casual glass on the way home. This bar is also a bottle shop that's open until 11pm every night.
Bottle shops open after midnight
Bottle shops open 24 Hours
The gang at the Railway Hotel know their audience well. They supply hordes of late-night Chapel Street revellers with party fuel at all manner of ungodly hours –they never close.
Windsor.
Drink like the best of 'em
Here is Melbourne viewed through the bottom of a glass: from its world-beating cocktail lounges to its down-and-divey saloons. These bars – organised by area and in no particular order – represent the pinnacle of Melbourne drinking.