The best farmers' markets in Melbourne
Grab your hessian bag: it's time to start eating local, farm-fresh food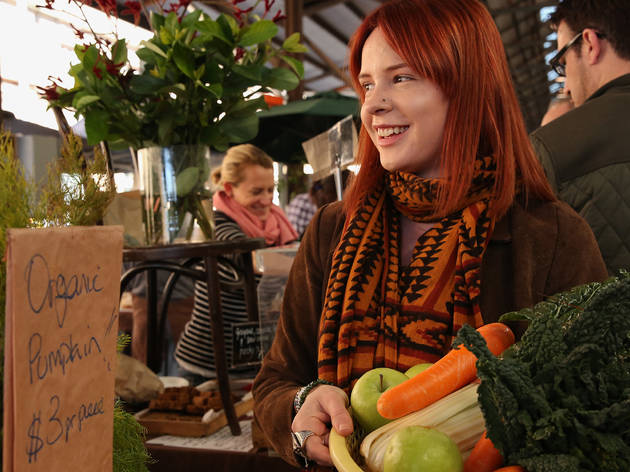 Even if you hate cooking, there's nothing like a trip to the local farmer's market to make you marvel at the great produce that is grown around Victoria. They're also a great place to pick up tasty local honey, preserves, chutneys, spice mixes and fresh baked goods while supporting farmers at the same time. Good thing Melbourne's got a lot of farmers' markets running all year, and here are some of the best.
Check out the ultimate gift guide to Melbourne for more shopping, or put your produce to good use by taking these cooking classes.
Farmers' markets in Melbourne
Shopping, Markets
Gasworks Arts Park, Albert Park
If all you sell is raspberries (or olives, or rhubarb, or honey), then you've got to have a pretty strong passion for them. Every third Saturday of the month, enthusiasm for high-quality local produce runs like electricity at this Port Melbourne arts space, and your tastebuds will feel it too. Grab a fresh, crusty baguette to go with your market haul salad for later, stock up on seasonal produce and don't forget a treat or two for afternoon tea (handmade chocolate biscuits, anyone?).
Shopping
Peanut Farm Reserve, St Kilda
The volunteer-run Veg Out Community Garden's farmers' market, open the first Saturday of each month, overflows with local organic produce, jams and preserves, handmade bread and sundry delights to fill up your basket. Farmers from across the state roll into St Kilda for the market, which is plastic free (bring your reusable bags!).
More markets worth your time
Melbourne's bazaars have got the goods, from farm-fresh produce to arts and crafts, and there's one happening near you.