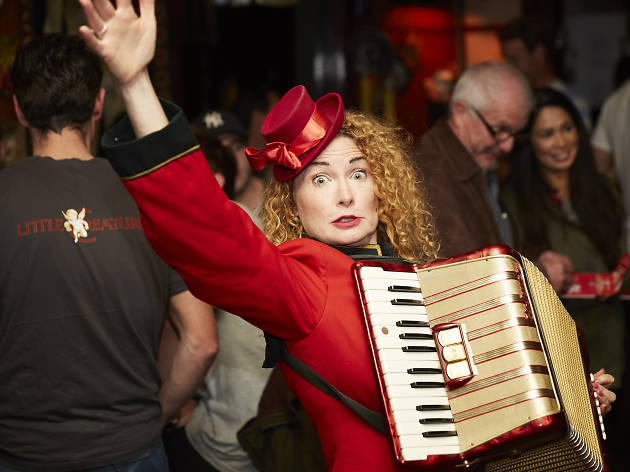 Here's what happened at Little Creatures Live at the Gem
The craft brewery that likes to do things differently has created a party that's doing the rounds of our capital cities, called Little Creatures Live
A man in a red and white striped onesie is balancing upside down on a table. His partner, in a matching spandex outfit, is hyping up the crowd, cracking jokes and egging his strongman brother on. A woman is playing the accordion dressed in a ringmaster's outfit, welcoming punters to Collingwood's beloved beer haven the Gem and to Little Creatures Live, the newest roaming party from the West Australian brewery that likes to do things differently.
You see, this isn't an odd sight at a Little Creatures gig. If you'd visited the brewery's outposts in Geelong and Fremantle, you may be aware that contortionists, duelling opera singers and hula hoopers could magically appear on any given Sunday. It's all part of their charm.
Their laugh-a-minute live show Little Creatures Live is here in Melbourne for Good Beer Week. The event was an opportunity for the brewery to put their best foot forward with cabaret and circus-inspired performances, tasty tacos and beer – plenty of beer. The event coincided with the launch of Little Creatures' winter seasonal Fire Falcon, which was served in a tasting paddle alongside some of the brewery's old favourites, like their hop driven, full bodied Pale Ale, and their rugged IPA.
As beer lovers parked themselves at the rapidly disappearing tables, a dazzlingly bendy contortionist does tricks on the Gem's corner stage, later occupied by a sword swallower, a magician, a juggler and a Vaudevillian skeleton. Beers were poured well into the night, with the energy of the room feeding off of the accompanying live acts.
At one point a man with a feather in his cap saunters in. It's clear the night is only just getting started.
At Little Creatures Live you never know what you're in for, but there's no doubt you'll be in for a roaring good time.
Images: Cam Cooke
Best selling Time Out Offers