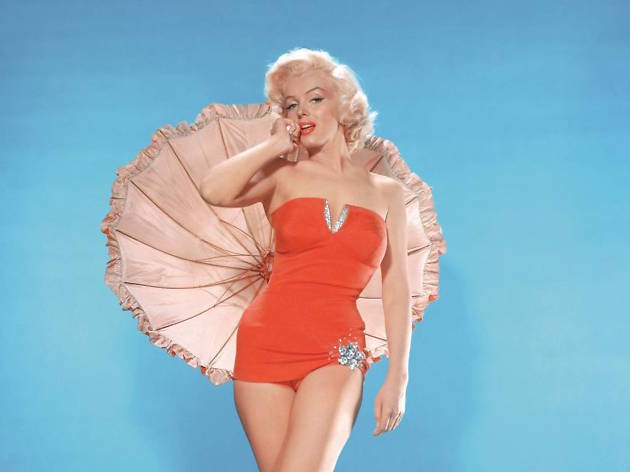 Marilyn Monroe at Bendigo Art Gallery: Q&A with private collector Scott Fortner
The President of the LA chapter of the Marilyn Monroe fan club shares his Norma Jean treasure trove ahead of the exhibition's premiere, which is set to feature some of his prized possessions
How did you come to collect Marilyn Monroe memorabilia?
I've basically been collecting Marilyn Monroe related pieces for as long as I can remember. In junior high I bought my first Marilyn book and also my first Marilyn Monroe collectible, which was a poster composed of a collage of Marilyn photos – I still have that poster today. For quite some time, my collection focused on Marilyn Monroe books. I bought (and still do) just about every book that came out about her.
In 1999, Marilyn's personal estate went up for auction via Christie's New York. Not long after that sale, Marilyn's items started being auctioned on eBay, and that's when I really started expanding my collection to include her personal property. My first item of Marilyn's personal property was a screenplay for a Broadway play titled Maiden Voyage written by Paul Osborn. The part was offered to Marilyn in 1956 while she was filming The Prince and the Showgirl in England with Laurence Olivier. Although Marilyn ultimately didn't accept this project, her annotations and markings can be seen throughout the script.
It's a very expensive hobby and one that becomes more and more expensive all the time.
How extensive is your collection?
Today, my collection is one of the largest collections in the world of personal items that belonged to Marilyn Monroe and consists of several hundred pieces – items that actually belonged to Marilyn: clothing (including dresses, evening wear, casual garments, furs and belts), and many other items including books from her library, makeup and cosmetics, personal prescriptions, household items, mementos from her childhood, scripts, documents and receipts from her personal files, invoices, and bank cheques.
How do you finance your collection?
It's a very expensive hobby and one that becomes more and more expensive all the time. Over 50 years after her death, items from her personal life and her films are only going up in value. Marilyn holds the record today for the highest price ever paid at auction for dresses – the gown she wore when she sang 'Happy Birthday' to President Kennedy in 1962 went for $1,267,500.00) and the flowing white halter dress from the Seven Year Itch went for $5,658,000.00. Needless to say, I save (and save) and then I buy.

Where do you house your collection and how do you care for it properly?
All of my items are stored using acid-free boxes and tissue, out of direct sunlight and in a secure area. I feel more like a conservator at times as compared to a collector.

Will there ever be a time to call it a day and say "I've collected enough"?
That's highly unlikely. I'm always on the lookout for items to add to my collection and I don't see stopping any time soon. I never know what might show up at the next entertainment memorabilia auction, or who might contact me looking with items to sell.
In real life she was a smart, contemplative and sensitive person. The sexy blonde image and persona was manufactured
Can you recall your introduction to Marilyn?
I grew up in a small town in the Midwest, and without cable. There weren't many opportunities to see Marilyn's films. I recall seeing Marilyn in Some Like It Hot on television. I didn't have the opportunity to see other films until well into my adulthood. I remember experiencing the same magic that so many other people feel when they see Marilyn: Kind of a sense of awe, like, how does she do that? When she's on the screen everyone else is eclipsed. She just has that draw, and that's one of the things that made her such a star.

Many people think the "dumb blonde" Marilyn was who she really was in real life. Actually, Marilyn Monroe was a character created by Norma Jeane. In real life she was a smart, contemplative and sensitive person. The sexy blonde image and persona was manufactured, someone she turned into. It was an act, and she actually referred to Marilyn Monroe in the third person.

What are your favourite items in your collection?
I have several favourites in my collection, including the following:
- A vibrant green Pucci blouse. Marilyn was very into Pucci in the early 1960s. Her wardrobe consisted of many Pucci pieces in many different colors. This specific blouse is significant because it's what she was wearing when the last ever photos of her were taken when she was at the Cal-Neva Lodge at Lake Tahoe the weekend prior to her death. She also wore this blouse as she rehearsed her performance of "Happy Birthday" for President Kennedy. (Yes, she rehearsed it and planned for the performance to be breathy and sexy. Contrary to popular belief she wasn't intoxicated.)
- A mink fur collar. This was one Marilyn's favourites and she was photographed wearing it on many occasions.
A fox muff. This fur, along with the matching stole (which I unfortunately don't own) was the very first fur Marilyn ever bought with her own money.
- A Kodak Camera. This camera was gifted to Marilyn when she was a young child by "Aunt Ana," who was actually the aunt of her legal guardian at the time, Grace McKee.
- A maternity dress. This very casual button down day dress, red in color with a pattern of roosters and chickens, was owned and worn by Marilyn while she was pregnant in 1958, during the filming of Some Like It Hot.
---
You can find some of Fortner's treasures, including the Pucci blouse (a diaphenous boatneck, silk dream) on display at the Marilyn Monroe exhibition at Bendigo Art Gallery from Sat Mar 5 to Sun Jul 10. Also, check out our interview with the exhibition's curator, Tansy Curtin.
You might be able to catch one of her films here
Best selling Time Out Offers