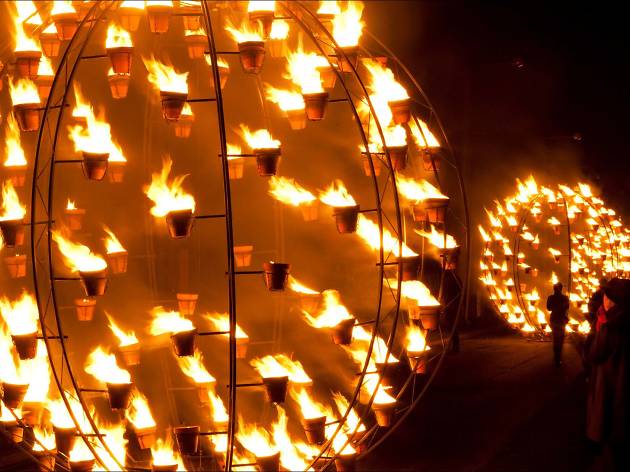 The 2018 Melbourne International Arts Festival is coming
World premieres, blockbuster shows and interactive performances are set to take over Melbourne
Melbourne is known for its dynamic arts and culture scene year-round, but from October 3-21 it goes into overdrive when the Melbourne International Arts Festival takes over some of the city's most important public spaces, cultural institutions, galleries and theatres.
If you're looking for a fiery public spectacle, French artists Compagnie Carabosse will be taking over the Royal Botanic Gardens with Fire Gardens, a series of huge, flaming installations that will light up the gardens for four nights only. The Royal Botanic Gardens will also play home to Lexicon, a new work (and the only Australian performance) by immersive circus arts troupe NoFit State Circus.
To follow on from last year's House of Mirrors, the trippy 1000 Doors will take over Arts Centre Melbourne's forecourt. It's a maze of doors, some locked, some open, some leading to corridors and rooms, and some leading to cupboards and dead ends. Visitors will be able to walk through the installation, opening whatever doors they fancy and discovering new and interesting pathways through the maze.
Melburnian music lovers will want to nab tickets to 16 Lovers Lane, a one-night-only supergroup performance of the classic album with the original members of the Go-Betweens, Paul and Dan Kelly, Romy Vager, Laura Jean and Jen Cloher.
Contemporary dance will also take centre stage with the Australian premiere of modern ballet A Quiet Evening of Dance, and a large-scale production of operatic dance piece Layla and Majnun.
Check out our guide to more highlights from the 2018 Melbourne International Arts Festival or browse through the program and grab your tickets today.
Best selling Time Out Offers