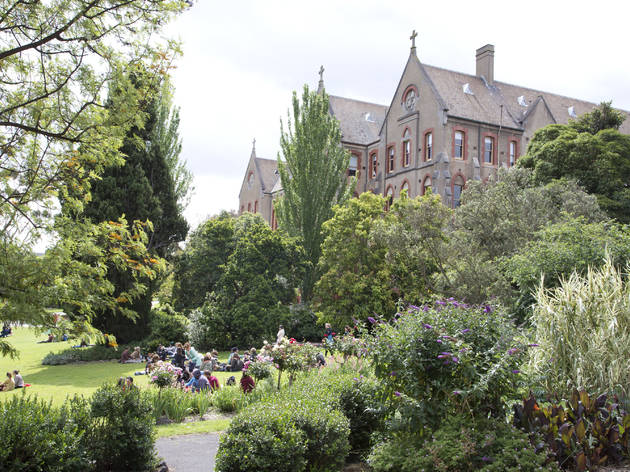 The best picnic spots in Melbourne
From verdant parks to pristine riverbanks, these are the best places to roll out the rug and chill out with your mates
Where to picnic in Melbourne
This park is second only to the Fitzroy Pool for the number of hipsters crazily Instagramming their vintage picnic rugs. It's a magical wonderland of trees, crosshatched by bike paths with public toilets, a free skate park and free table tennis (BYO bats and balls). There's also a rotunda, which is handy if you're crap at giving directions on where to meet.
Park perks: The North Fitzroy Bowls Club is in one corner if the mood for barefoot bowls strikes.
Pack your picnic: Piedmonte's (37-49A Best St
, North Fitzroy) is a supermarket, but they're independent and stock unusual produce, and small brands. They've got a liquor store attached too. If you want to get fancy, hit the Green Grocer (217 St Georges Rd, Fitzroy North) next door for biodynamic wines, organic produce and pestos and amazing pies. Get your spelt bread and croissants from Loafer Bread too. If night falls, the Moroccan Soup Bar will sort you out with takeaway rice, dips and incredible buttery chickpea curry if you BYO Tupperware.
Head to the scenic Treasury Gardens amidst Melbourne's busy cityscape to kick back metropolis style. You'll be sandwiched beside Spring Street, the tranquil Fitzroy Gardens and even Parliament station, which is great location wise, and there's plenty of green patches to spread out on no matter the size of your group. Do be careful if your day picnic slides into night territory however, as Treasury Gardens is notorious for its large colony of brushtail possums.
Park perks: Location, location, location mate.
Pack your picnic: Being in the city means you're surrounded by an embarrasment of food riches. Your first (and maybe only) stop should be Spring Street Grocer for all smallgoods related eats, from fresh sandwiches to ethnic delicacies and even gelati. Be sure to hit up their underground cheese cellar for all things fromage too.
You can feel the weight of the past as soon as you step into the grounds and look up to the gothic spires of the Abbotsford Convent. The complex began as a convent in the late 1800s, and was also a commercial laundry, orphanage and aged care facility. These days, it's a hub for artists, makers, community radio broadcasters and teachers – as well as a beautiful place to relax with a park picnic.
Park perks: The delicious and socially-conscious Lentil as Anything is right there, and you can sometimes bring your plates out to enjoy on the grass.
Pack your picnic: There's plenty of edible options available inside the convent, but our pick is the Convent Bakery for fresh loaded sandwiches, pies and plenty of pastries. You can also pass by Victoria Street for picnic snacks, or head towards Collingwood to get food from up Johnston Street. Coffee and sweet treats from Abbotsford's Three Bags Full is also a must for the caffeine-addled.
This is the Downton Abbey of picnic spots. The enclosed grounds are heritage listed and there's a huge mansion in the middle as well as stables and a lake with a boathouse. They even rent out croquet sets for proper high falutin' revelry. Chef Ben Shewry grows a lot of the goods for Attica here, so chances are you'll see his crew plucking leaves and herbs for service. Entry to the grounds costs $4 for kids and $10 for big kids. You can't barbecue or booze on, but, this is one of the best-looking patches of grass Melbourne has.
Park perks: Aristocratic good times and regular theatre performances in summer.
Pack your picnic: You're in the right 'hood for deliwares. Swing by Aviv Cakes and Bagels for biscuits, a gooey chocolate babka and bread then hit up Carre Street Deli (372 Glen Huntly Rd, Elsternwick) for everything you might want to put on top. Hell, you could even just get a bunch of their Reubens or roast beef sandwiches and call it sorted.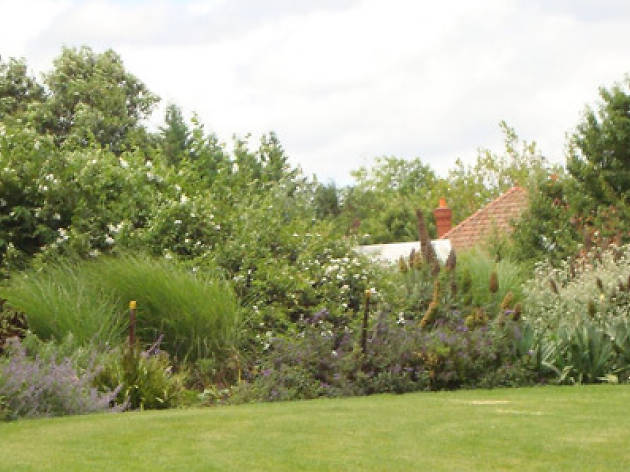 Malvern East's verdant jewel boasts epic views back over Melbourne, an excellent swing set and the chance to do some champion wedding photo bombing (not that you're a jerk, but hey). A long boulevard of trees runs through the middle and there are Japanese gardens in which to find a nook and/or quiet cranny if you like to pretend you're at the picnic at the end of the universe.
Park perks: Fans swear it's Melbourne's most beautiful park.
Pack your picnic: Grab some fancy mousse cakes and as many cheesecake macarons as you can carry from Macarons Fine Patisserie (80 Glenferrie Rd, Malvern). Get the savoury snacks from tapas restaurant L'Olivo (171 Waverley Rd, East Malvern). There's a Dan Murphy's not far from the park too (2-8 Edsall St, Malvern) if you feel like a park tipple.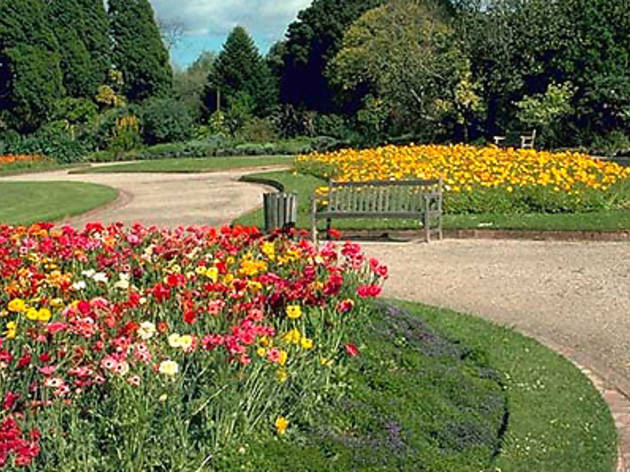 Giant chess! If that's not enough of a reason to hit up St Kilda's 150-year-old beauty mark, perhaps we can interest you in the conservatory, grey-headed flying foxes, and the acres and acres in which to run, arms outstretched, like a toddler or agitated swan? You can bring your dog if you've got one, and should the weather be looking ominously Melburnian, there are plenty of shelters.
Park perks: All kinds of learning for nature nerds including sustainability classes at the Eco Centre.
Pack your picnic: You're right near to Fitzrovia if you want to grab one of their ready-made feasts. Otherwise, grab yourself a six-pack of craft beers from the Acland Cellars (187 Acland St, St Kilda), and visit Milk the Cow for your cheese needs. Baker D Chirico will sort you out with bread and Antipasto Delicatessen will take care of the rest (181/183 Barkly St, St Kilda).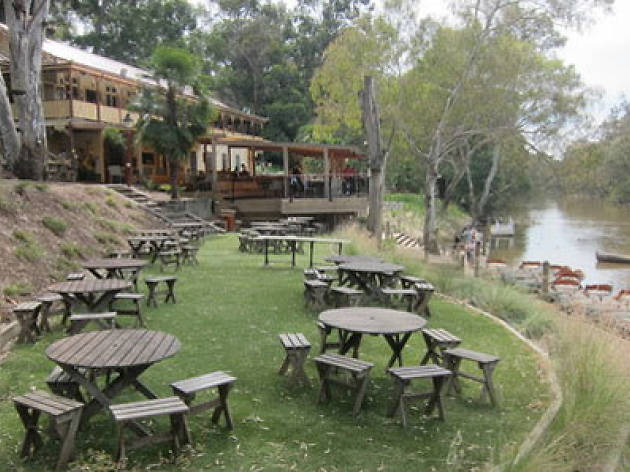 "There is nothing - absolutely nothing - half so much worth doing as simply messing about in boats," once said World's Best Picnicker, Ratty, from Wind in the Willows. We agree. Don a straw boater, commandeer a river-faring vessel from Fairfield Boathouse ($32-$38/boat for the first hour, $8-$10/hr after) and paddle down to the old Alphington Swimming Pool site. The community-built pool was closed in the '60s and filled with silt, but at this quiet, bushy bend in the river, you'll find a little part-excavated monument and a clearing beneath a sweet grove of oak trees. Beyond that lies the park proper with barbecues and toilets.
Park perks: The serenity/opportunity to dress like a dandy.
Pack your picnic: Pickings are a little slimmer around Fairfield, but Cardamone Gourmet Supermarket (143 Station St, Fairfield) can sort you out for everything. As well as having a pretty sweet deli – they roast their own porchetta on premises – and stocking Marisa's Kitchen goods (go for the crunchy Parmesan dip) they have a load of gluten-free breads and a solid range of local craft beers and ciders.
Get your food sorted
We've taken the hassle out of buying picnic goods from the same stores you've been frequenting within your 5km radius and compiled a list of ready-to-go packs that some of Melbourne's venues have put together for you.
Best selling Time Out Offers