Chef of the Year: Time Out Food Awards 2018
Who gets the gong for rattling the pans?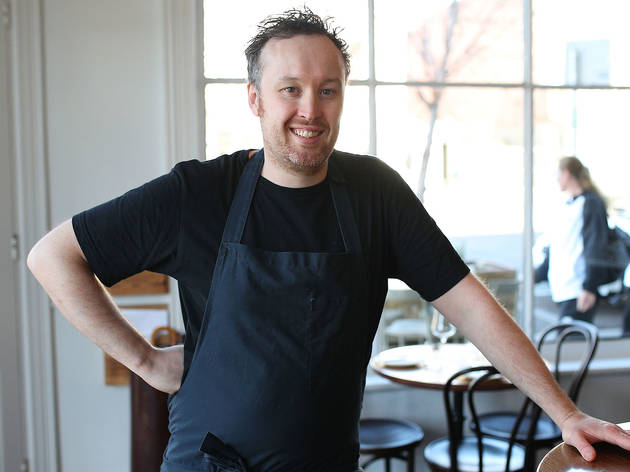 Ireland's loss was Australia's gain when John Paul Twomey landed on New Year's Eve 2000 with a friend and a one-way ticket. The customs officials who stamped his passport couldn't have known it at the time, but a diamond in the kitchen rough had arrived. Clearly a man who knows how to back a good horse, Twomey – JP to his friends – soon fetched up with Paul Wilson at Radii in the days it was firing, moved with the British chef to open the Botanical, then jumped ship to Circa under new boss Andrew McConnell, gradually insinuating his way to the unofficial job title of 'indispensable right-hand man' via Three One Two and Cutler and Co. What we're saying about our 2018 Chef of the Year is that he's no flash in the pan but a sensible bider of time who's learned plenty of tricks at the feet of the masters.
Maybe it's because he's now 36. Maybe it's because it was just time. But Twomey has now very smartly backed another horse – himself. Teaming up with front-of-house maestros Andrew Joy and Travis Howe at the Carlton Wine Room, Twomey has created the food-centric wine bar of our dreams. Twomey's food is approachable, smart without boasting about it and damned delicious.
His stracciatella with pickled mushrooms and spring onion oil, all married to a levitatingly light potato focaccia, show that you can take the boy out of Ireland but not Ireland out of the boy. The kingfish crudo hits all the right notes of sweet, salt and velvet smoosh with pickled wombok, crème fraîche and a blizzard of fresh horseradish. Even cauliflower, that most humble of veg, becomes a star with a piquant-spiced crust and sesame sauce cloak. It's a mastery of the art of four- ingredient killer, no filler. All hail JP Twomey, Melbourne's new star chef 18 years in the making – with thanks to the motherland for the lend.
See all the winners
The Time Out Food Awards lets us celebrate Melbourne's champions of the restaurant scene – and throw a party to remember. Here is all the winners from the hospitality scene's night of nights.