Chef of the Year: Time Out Food Awards 2016
Who gets the gong for rattling the pans?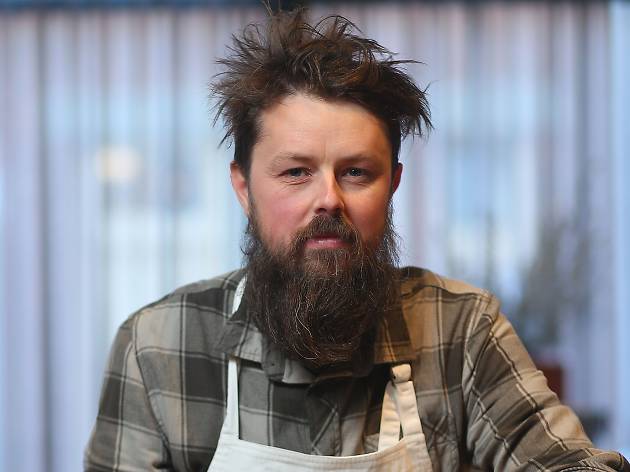 Winner: Aaron Turner, Igni
Three observations can be made about Aaron Turner. He's contrary, he's talented and he's beardy. He's worked at international hotspots the likes of El Celler de Can Roca, Catalonia, and Noma, Copenhagen, but where plenty of chefs would have that information tattooed on their foreheads, he prefers to stick it in the vault. He was on every local food critic's rising star list when he nicked off to Nashville for a couple of years – then returned to Geelong and opened a restaurant unlike any other in the most obscure location possible (on an industrial backstreet, behind a Pilates studio, with no discernable signage. As you do).
And then he bases the entire kitchen around a piece of equipment – essentially a charcoal stainless steel box filled with lava-hot coals – that he's never used before. He's a crazy young critter but the gamble has paid off. The chorus of praise started when Igni opened its doors this year and it's not likely to stop anytime soon. Now, Igni is definitively not Loam, his previous restaurant. He's not foraging, for one – the laneways of Geelong are not full of nature's bounty, would you believe – but his cooking is more bang-on, more exciting and sometimes more plain nuts (in a good way) than before. Look no further than the raw calamari noodles, supple and creamy, and saltbush berries in chicken and marron broth, or the cured Wagyu, fermented grains and slippery jacks that's all crazy acids and funky bass notes but still a thing of comfort.
He's a hard one to pigeonhole, so let's just say this: In an age when most chefs get as excited about fads as tweenage girls at a One Direction concert, his food is a hot knife sliding through butter. So welcome back Aaron. And please don't go away again.
See all the winners
Time Out crowns the champions of Melbourne's restaurant scene, from Restaurant of the Year to Best Café.
Read more
With so many cheap eats options in Melbourne it's not hard to eat out without breaking the bank. Save up to go to Melbourne's best restaurants and check out these cheap eats joints.
Read more