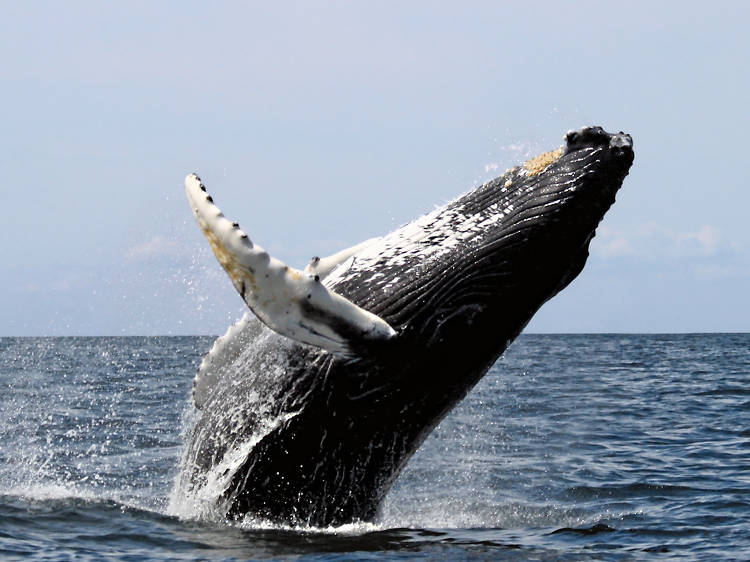 Photograph: Supplied
Maui, the second largest Hawaiian island, is one of the best places on the planet to see whales up close. Every year, thousands of North Pacific Humpback Whales come and play in the warm waters of Hawaii for their annual northern winter migration and Maui is where they like to call home from November to May.
There are several ways to see the whales: by sitting on the beach in Wailea, by taking a cruise, paddling around them in a kayak or a canoe, or viewing them from a helicopter. The team at Hawaiian Paddle Sports can take you on a canoe tour to get up close with no crowds, engines or noises; or get in a kayak with Maui Kayak Adventures and paddle close to the whales, and afterwards snorkel with green turtles.
You can also see the great beasts from above on a chopper tour with Blue Hawaiian Helicopters, and the journey to book is the West Maui and Molokai Adventure. You'll fly over the ocean between the two islands and see the whales breaching below, before taking a ride over the waterfalls on Molokai and then the sea cliffs (the highest in the world). Fly through the valleys of the West Maui Mountains, particularly spectacular when the clouds are rolling over the hills. Blue Hawaiian also offer tours over the island's dormant volcanoes.
The drive across Maui to the town of Hana is equally spectacular: nearly 600 turns and 54 one-lane bridges take you through rainforests, past waterfalls and along the coastline. You can book a car from Kahului Airport. While you've got the car, take a drive to the former 19th century whaling village of Lahaina, the Kingdom of Hawaii's ancient capital, where shopping, galleries and waterfront dining abound.