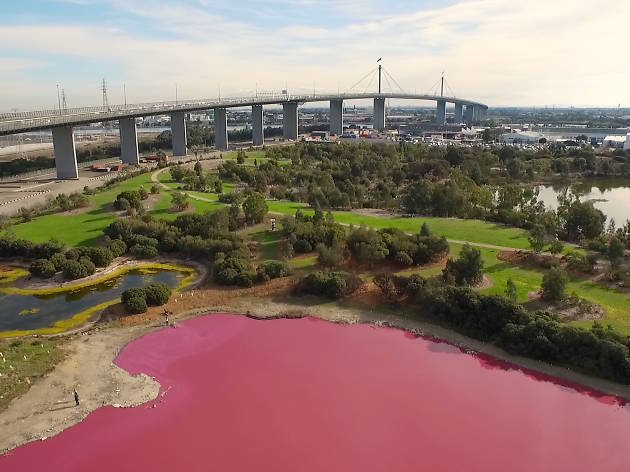 Where to find Victoria's pink lakes
Victoria is home to some rare rosy-hued lakes – here's where to find them
No, your eyes aren't playing tricks on you. That lake is that pink. And before you ask – it's a completely natural phenomenon and not some camera trickery done to get more Instagram likes. Pink lakes are rare, and only a handful are found around the world. There are a couple in Western Australia (including maybe the most famous, Spencer Lake) and in South Australia, but Victoria is actually home to a few of its own rosy-hued lakes.
Keen to see these liquid fairy floss lakes IRL? Here's where to find Victoria's best pink lakes. (Plus! Scroll down to the end to find out when is the best time to visit!)
Check out more of Victoria with our guide to secret gardens, national parks and romantic getaways.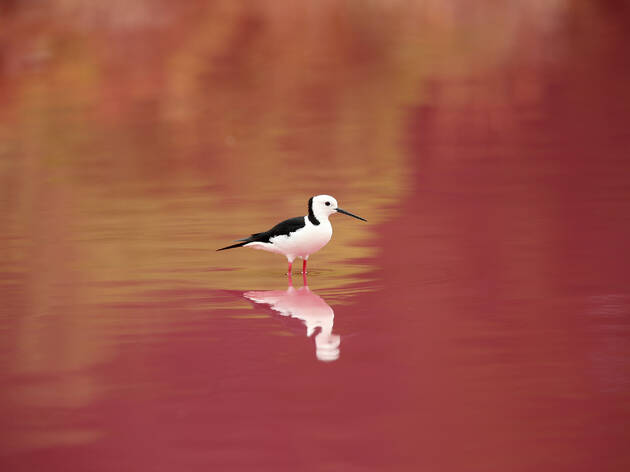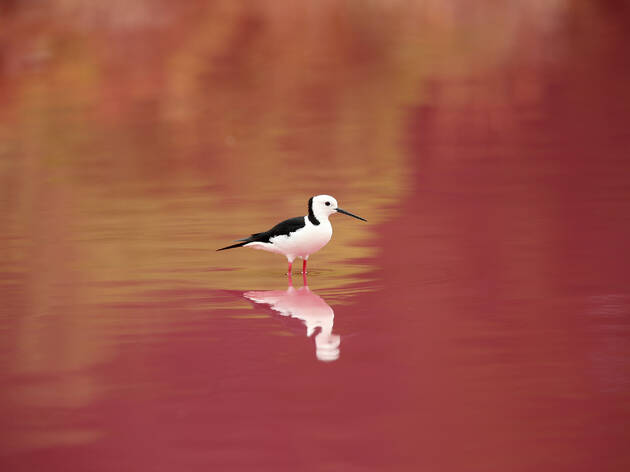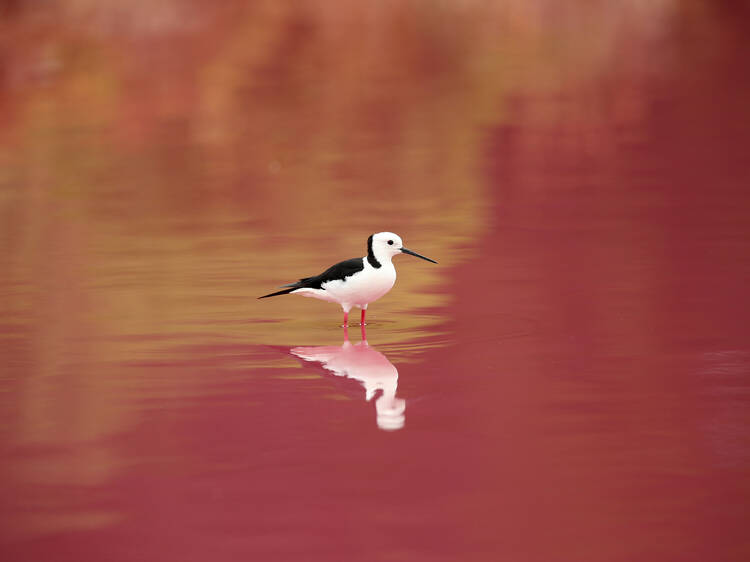 Photograph: Graham Denholm
How do lakes like these turn pink?
According to David Kennedy, coastal geomorphologist and associate professor at the University of Melbourne, salt lakes turn pink as a result of algae called Dunaliella Salina, which is found in sea salt fields, though Kennedy says there's research that suggests bacteria can play a small part in the pink hue.
Some Australian salt lakes are hypersaline (landlocked and super salty) which isn't an easy place for algae to live. Dunaliella Salina is what they call an extremophile, which means it thrives in environments that others usually can't tolerate – like, say, the bottom of a salt lake. "The pink colour occurs when the salt content starts to increase," says Kennedy. "The algae can happily tolerate salt levels of up to 28 to 35 per cent [by comparison, seawater is around 3.5 per cent] therefore the lakes tend to turn pink when salt levels increase which occurs in hot, dry conditions."
Australia has a high number of pink lakes due to our climate. "Put simply, we're hot and dry with little rainfall," says Kennedy. "Also the ancient age of the continent also means there is a lot of salt in the landscape." But not all salt lakes turn pink – it's got to be the right climate for it. Rainfall and fresh groundwater can dilute a salt lake, which often means that the pink algae can't thrive as much.
Located in northwest Victoria, about four hours from Melbourne, is Lake Tyrell, Victoria's largest inland salt lake. The lake covers approximately 208 square kilometres, and its salt is controlled mostly by weather changes. The basin of the lake is a metre deep in cooler and wetter months, but the water almost completely evaporates over summer. On rare occasions, the water at Lake Tyrrell can turn pink. The name Tyrrell comes from the Aboriginal word 'tyrille', which means sky or space.
Westgate Park, located on the edge of the city in Port Melbourne, has been known to turn a delicious shade of pink from time to time. This vibrant wetland and nature sanctuary sits under the Westgate Bridge. It's been turning pink every year since the summer of 2012/13, when a collection of hot temperatures, algae combinations, lack of rainfall and excessive sunlight came together like a perfect pink witch's brew. Luckily, the pink colour has no impact on birdlife on the lake, who you'll regularly see frollicking around the shoreline.
In the far northwest corner of Victoria, about six hours from Melbourne, are four lakes fit for a Barbie Dreamhouse. Lake Crosbie, Lake Becking, Lake Kenyon and Lake Hardy are covered by crystal clear water but glow pink from time to time. The bed each lake is made up of solid salt, but thanks to the presence of the algae Dunaliella salina, the lakes take on a brilliant rosy hue in late summer. Other times throughout the year the water is paler in colour.
Another pink lake in northwest Victoria, the straightforwardly named Pink Lake is found right beside the Western Highway. If you're headed towards Little Desert National Park, this is a great stopover, and you can get a good view of the lake from the rest stop on the side of the road. The brightness of the pink hue depends on how much rainfall the area has gotten – if it's dry and there's less rain, the concentration of pink is stronger. Fun fact: the salt in this lake is harvested by the Mount Zero Olive company.
Pro tips for visiting pink lakes
People are often curious about the best time to visit to see these lakes at their pinkest. Kennedy advises over summer: "The hotter and drier the longer the lakes will stay pink, so late summer is the best time."
If you're going to visit any of the lakes, Parks Victoria advises that you stay on designated paths and avoid walking close to the edge of the lake, as it could be slippery and unstable. In terms of coming in contact with the water, there's no indication that the bacteria is dangerous but it's probably best you don't touch the water just in case. And ixnay on the immingsway.
Also, please be respectful. Remember to leave these lakes as pristine and as beautiful as you found them. Remember to take home all your rubbish.
And now, something a little different...
Found in the Goldfields area of Victoria, the Pink Cliffs are a geological reserve of, well, pink cliffs. The cliffs are a result of the sluice mining work done during the 1880s gold rush. It almost looks like a crater on Mars, with deep crevasses of fine pink clay stretching across the field. The site is easily accessible from Heathcote, and it's free to enter.
Explore more of Victoria
Think you've seen all of Victoria? Take a gander at some of the state's most unfamiliar locations, from ancient caves to European flower farms.