Heads up! We're working hard to be accurate – but these are unusual times, so please always check before heading out.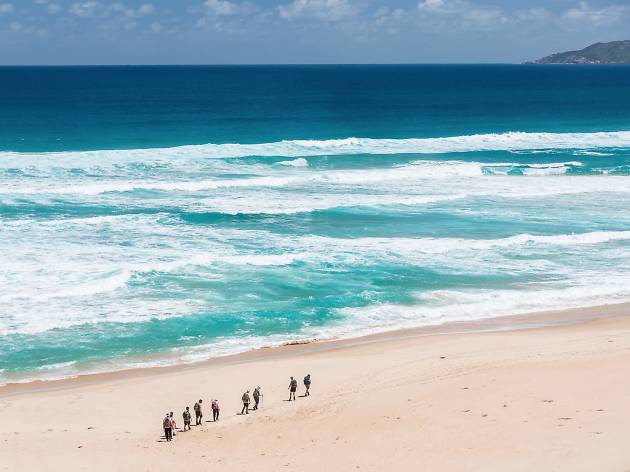 Your guide to hiking the Great Ocean Road
You've driven down this sweet stretch of coast, now it's time to walk it – all the way to the Twelve Apostles
There's a good reason people love the Great Ocean Road. This windy stretch of road, beginning in Torquay and ending close to Warrnambool, is an awe-inducing tour of the ocean-meets-rainforest beauty of Victoria's southwest. But if you're only experiencing it from behind a car window (and some scattered viewpoints along the way), you're missing out. Another option is walking the Great Ocean Walk, a multi-day hike that includes deserted beaches, clifftop vistas and a few cheeky echidnas, if you're lucky.
Piqued your interest? We've laid out info on the walk, what to bring and possibly the best way to experience it (spoiler alert: it includes foot spas, gourmet meals and a helicopter ride of the Twelve Apostles).
RECOMMENDED: The best day hikes to try from Melbourne.
Looking for more Melbourne getaways? How about a tour of Victoria's High Country or a wander out to East Gippsland?
A guide to the Great Ocean Walk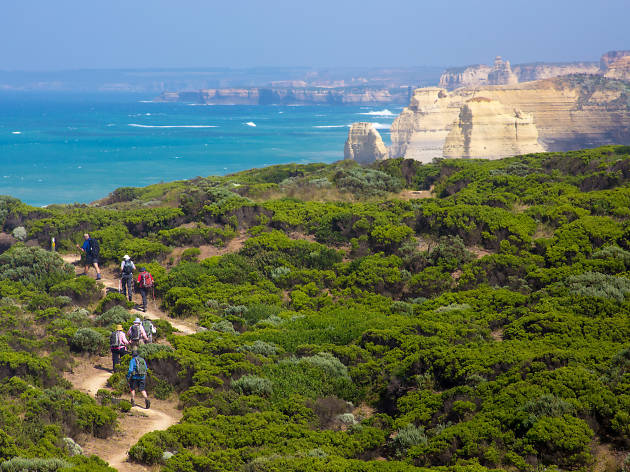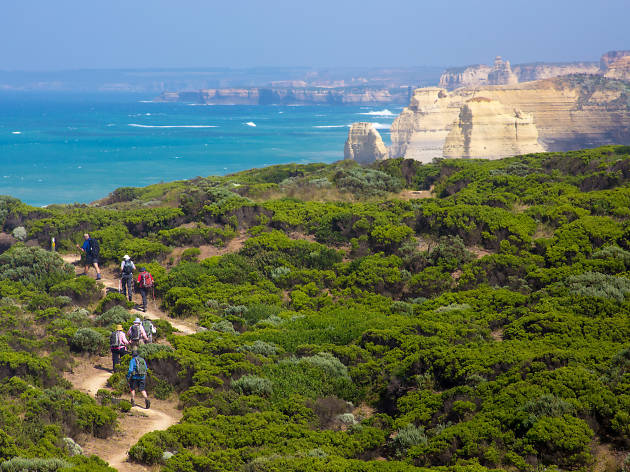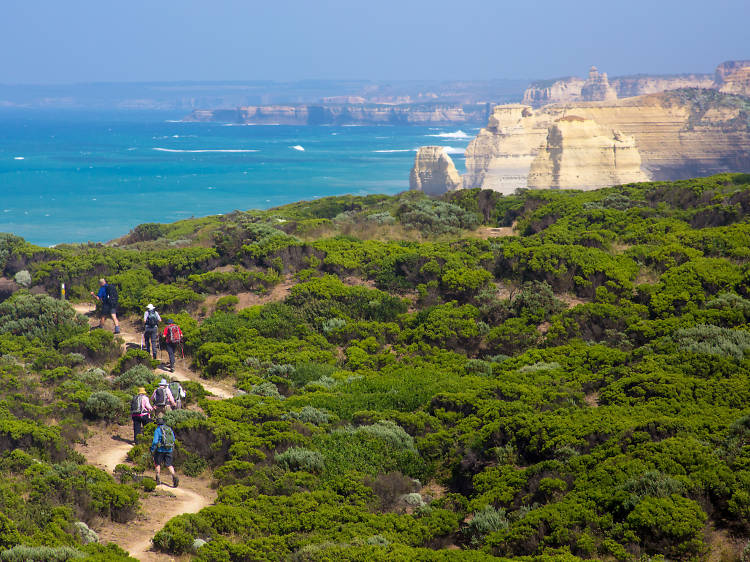 Photograph: Supplied
In its entirety, the Great Ocean Walk stretches across 104 kilometres of Victoria's coastline, beginning at Apollo Bay and ending close by the Twelve Apostles. While the whole stretch can take up to eight days, there are plenty of pick-up points throughout the trail that are perfect for smaller overnight stretches. If it's one-day hikes you're after, try hopping on the trail from Princetown to the Twelve Apostles, a round trip to the Gables Lookout, or a rewarding descent down to Wreck Beach.
The trail itself was completed in 2006, with the route wrapping around the coast like a series of soft scribbles, rolling past each headland as if it were a child tracing a curvy line. There are stretches on bush-lined gravel roads, shrubby dirt tracks and windy but deserted beaches. And yes, there are hills. Lots of them. Think of the track like a row of treed parabolas; for every uphill with million-dollar coastal views, there is a waiting shaky-kneed descent. Your soundtrack for the walk is the relentless sound of waves hitting limestone, coming in and out of earshot as you dive deeper and deeper into bushland.
On the final day the Twelve Apostles, in all their eye-catching glory, arrive in eyeshot. The reveal might seem slow, but you've well and truly earned your spot beside those tour bus daytrippers.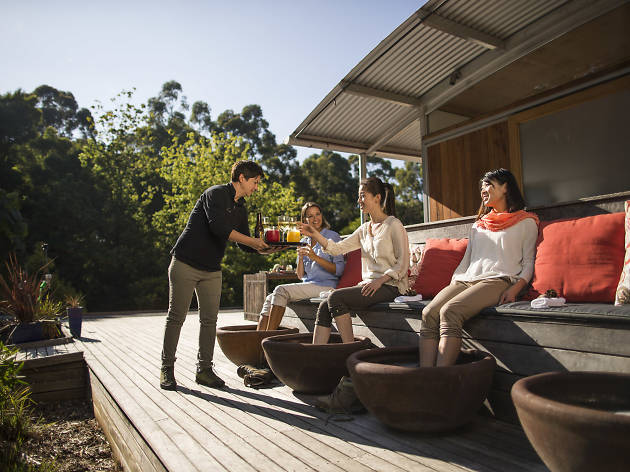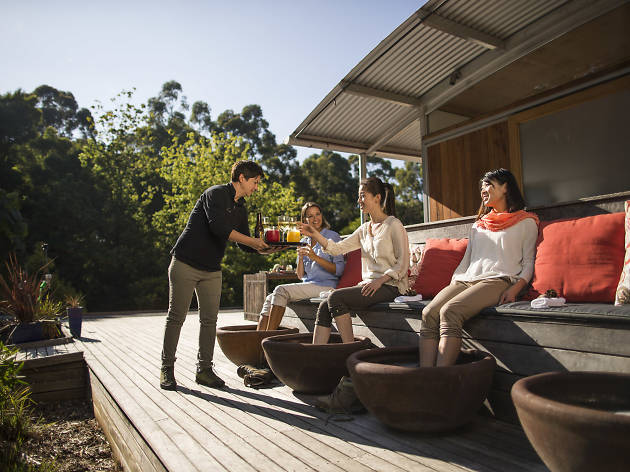 Photograph: Adrian Brown
There are two ways to do it. If you're not opposed to roughing it, campsites are well signposted and located at convenient points along the trail. Check out the Parks Victoria website for all the info you'll need about booking.
The sites are set up with picnic tables, maps for planning your next few days of walking, and if you're lucky, a few drop toilets. If you make it to Devil's Kitchen campsite, on the eastern end of the trail, you'll find a loo with an impossibly good view out over the Southern Ocean.
If you don't want the hassle of carrying tents et al, leave it to the crew from the Twelve Apostles Lodge Walk, which is the only licensed eco-accredited tour operator based along the Great Ocean Walk. This four-day and three-night experience covers around 50km of the Great Ocean Walk, beginning at Castle Cove and finishing with a complimentary helicopter ride over the Twelve Apostles.
You'll be followed on the trail by knowledgeable guides, whom you'll soon come to think of as superhuman saviours, there with anything you need, like extra water, blister covers and even chocolate cake. They're packed with fun facts about the terrain, the weather and the area's traditional owners, as well as the native flora and fauna you'll spot along the way.
After your day of hiking, the TALW team will bus you back to the private eco-lodge for a solid feed, a complimentary foot spa and a nice bed to sleep in. Early the next morning the bus then returns you to where you left off. The team will look after everything – from packing you a hearty lunch to lending you hiking poles, waterproof jackets and gaiters. All you need to bring is a comfy pair of hiking boots (more on that below) and a can-do attitude.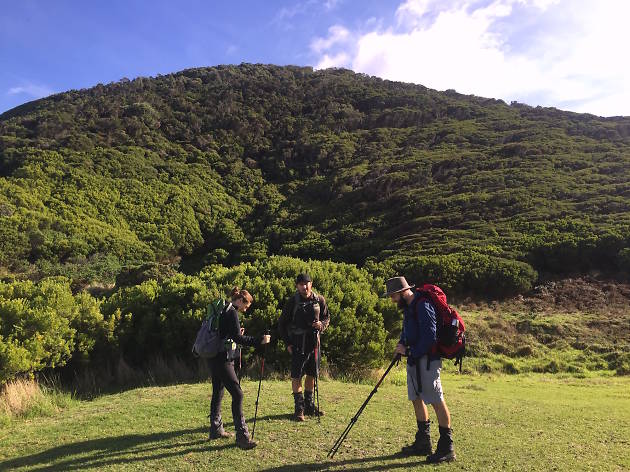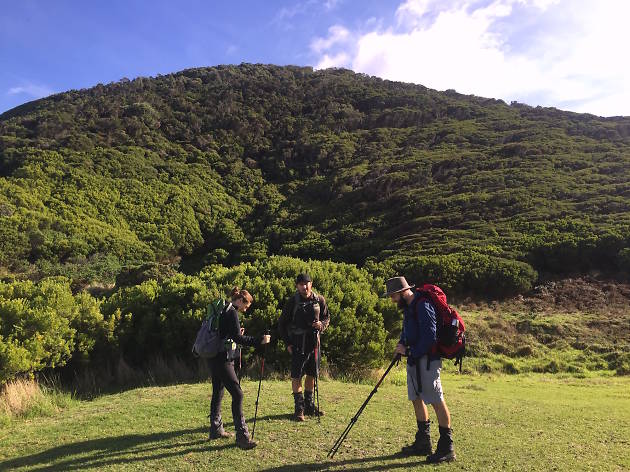 Photograph: Rebecca Russo
Never done a hike? No problem. Your first job is getting a pair of good hiking boots. Outdoor stores are littered over town (try Paddy Pallin or Kathmandu in Melbourne's CBD), and knowledgeable staff will saddle you up with a not-too-expensive pair that will support you properly during your walk. And socks: merino wool ones will keep your feet comfortable while keeping them dry.
Blisters are part and parcel of extended walks, but a good way to avoid them is to be aware of how they start. If you start feeling any hot spots on your ankles, on the balls of your feet or even on your toes, stop immediately and patch them up with Band-aids.
Now, clothes. You'll want to avoid cotton, as it tends to soak up moisture (ie sweat) instead of wicking it away. Go for merino wool or those specially designed athletic fabrics that you get at any outdoor store. Most importantly, keep an eye on the weather. It will inform everything else you need to pack, including rain jackets, windbreakers, gloves, T-shirts, shorts, etc.
Other important things to pack for a shorter hike include plenty of water, a first aid kit, sunscreen, hat, snacks (go for scroggin: a mix of dried fruit, nuts, seeds and lollies, if you're in need of a sugar hit), deodorant and a rubbish bag to pick up all your trash along the way.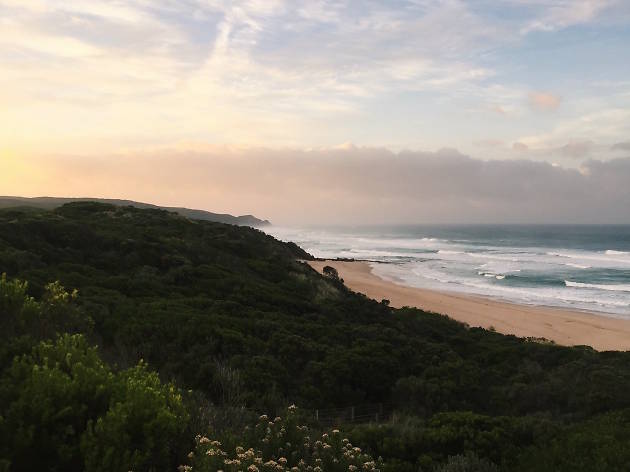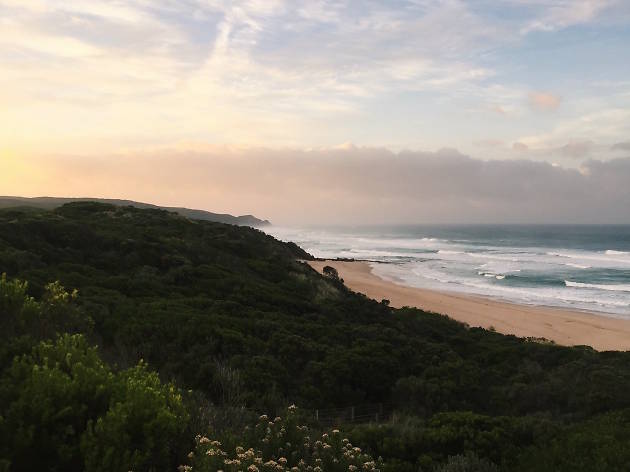 Photograph: Rebecca Russo
What to expect on the trail
While on the trail, it's best to be bold and start cold. Layering up with a merino top, fleece, gloves and puffer jacket might seem like the right thing to do on a brisk autumn morning, but eventually, you'll start conquering those hills and the layers will need to be painstakingly stripped off, one item at a time. So do what the pros do and keep the layers to a minimum, even in winter. All that leg pumping will warm you up in no time.
And I know what you're thinking. Walking for seven or so hours a day must be mind-numbingly boring. Quite the opposite, in fact. There's always something to admire on this walk, whether it's kangaroos grazing on the empty countryside, turquoise waters lapping at your hiking boots, or the Twelve Apostles, peeking out over the brush like statues in a crowded museum. The sheer beauty of this place is impossible to overstate.
Of course, this route isn't just for expert walkers. Even as an amateur, you'll get to the top of a peak and feel really good about being there – even if it took some not-so-mild swearing and grunting to get yourself up there. Depending on the time of year you choose to walk, you'll either be surrounded by fellow walkers (peak season is December to February) or be alone the entire day. Strive for the latter if you want a break from the regularly scheduled programming of your brain. Being out there, alone with your thoughts, is quite the therapy session. Rather not think? It's always fun to start a game of Would You Rather with your walking pals (upside-down face or Twisties as fingers is a good place to start).
Explore more of Melbourne's best bits
Seeking an out of town adventure? You'll find stunning nature and bountiful wildlife at these Victorian national parks, which are all within a day's drive from Melbourne.
After more of a day hike?
For a breath of fresh air, head out of the city this weekend with our guide to Melbourne's best day hikes. From local wonders to seaside spectacles, regional Victoria is brimming with picturesque walks great for getting your heart pumping.