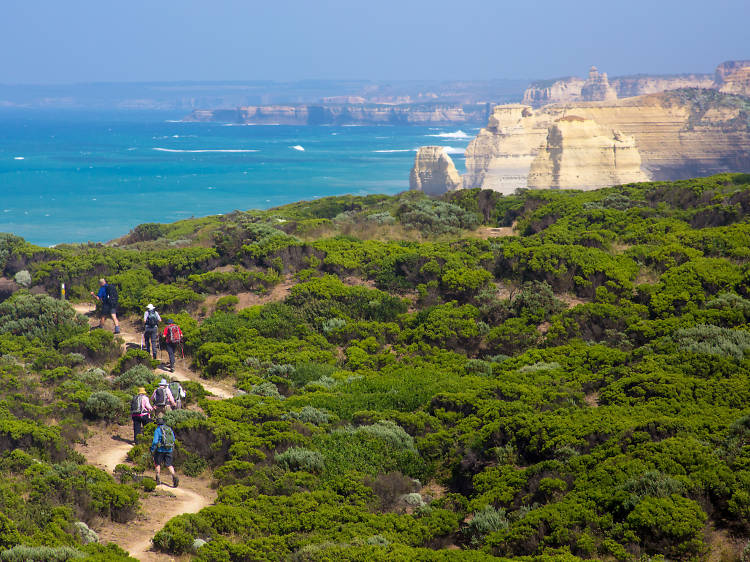 Photograph: Supplied
The walk
In its entirety, the Great Ocean Walk stretches across 104 kilometres of Victoria's coastline, beginning at Apollo Bay and ending close by the Twelve Apostles. While the whole stretch can take up to eight days, there are plenty of pick-up points throughout the trail that are perfect for smaller overnight stretches. If it's one-day hikes you're after, try hopping on the trail from Princetown to the Twelve Apostles, a round trip to the Gables Lookout, or a rewarding descent down to Wreck Beach.
The trail itself was completed in 2006, with the route wrapping around the coast like a series of soft scribbles, rolling past each headland as if it were a child tracing a curvy line. There are stretches on bush-lined gravel roads, shrubby dirt tracks and windy but deserted beaches. And yes, there are hills. Lots of them. Think of the track like a row of treed parabolas; for every uphill with million-dollar coastal views, there is a waiting shaky-kneed descent. Your soundtrack for the walk is the relentless sound of waves hitting limestone, coming in and out of earshot as you dive deeper and deeper into bushland.
On the final day the Twelve Apostles, in all their eye-catching glory, arrive in eyeshot. The reveal might seem slow, but you've well and truly earned your spot beside those tour bus daytrippers.