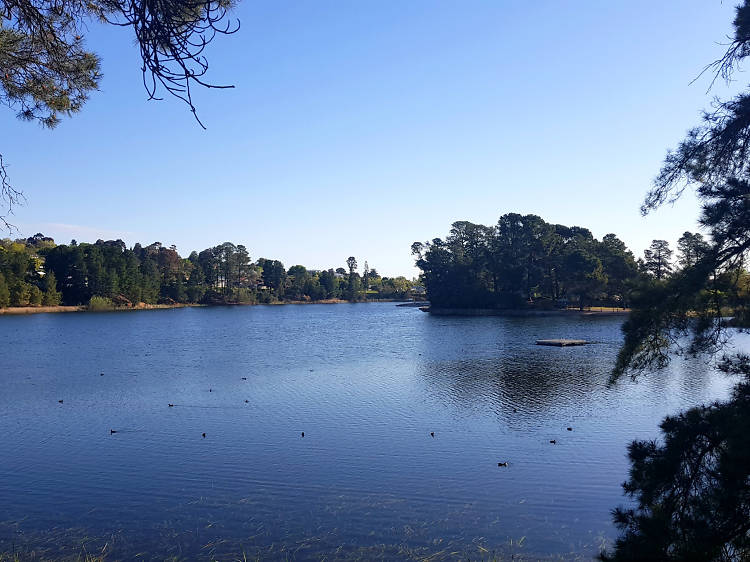 Photograph: Nicola Dowse
Due to the 1850s gold rush, much of Victoria's high country was once denuded of trees and pockmarked with mining tunnels. But in a tour de force from Mother Nature, the landscape has sprung back to life and now sports some of the state's most scenic (and historically rich) walking tracks.
The Beechworth Gorge Walk is, for lack of a better word, gorgeous. If you're travelling directly from Melbourne you'll likely drive over the gorge on your way into Beechworth and we highly suggest stopping for a stroll (there's a dedicated car park near the Beechworth Powder Magazine plus lots of on-street parking). The circuit takes roughly an hour, during which you'll be taken past gum-lined vistas, colossal granite boulders, babbling creeks and languid, crystal-clear pools that makes this walk look like something straight out of a Tourism Australia catalogue.
If you'd like to walk through a veritable bushland fairytale, try the Lake Kerferd to Lake Sambell walk. The 7km (one-way) walk takes you between two of Beechworth's major lakes. Both were artificially constructed to shore up Beechworth's water supply, but that doesn't take away from their beauty. The forested track between the two lakes is fairly easy to follow – make sure you keep following the trail markers for Beechworth and obey the signs telling you to stick to the path. As you'll quickly realise, this walk takes you past and over old mining tunnels that are morbidly deep and dark.