Weekend getaways: High Country
Delicious things are happening in the alpine regions of Victoria. Historic towns like Beechworth and Bright have shot to the top of the list for foodies, and the region also produces some of the country's best wines, beers and ciders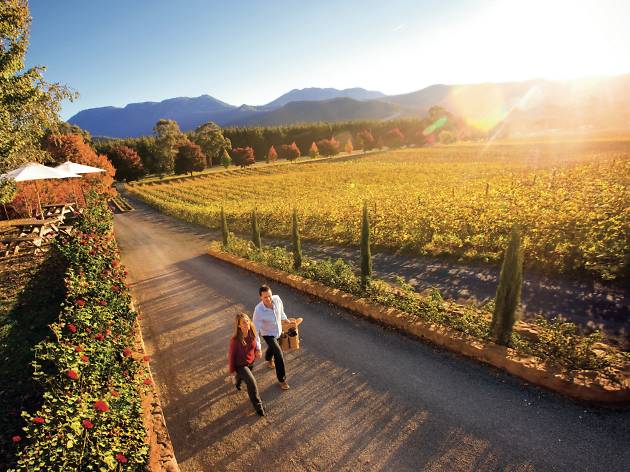 Eat and drink your way through the High Country
Play
Slip back in time to Beechworth, where the streets are lined with National Trust buildings from the colonial era and museums tell stories of the gold rush. Hear about Ned Kelly's trial at the Beechworth Courthouse and get your old-timey kicks by sending a telegram at the Telegraph Station.
Bright is famous for its wide tree-lined paths, making cycling the perfect way to get around this picturesque town. You can hire bikes from Cyclepath, where the friendly staff will recommend the right trails for you.

Eat
You know you're really here to savour the flavours of the high country – so jump in early. Black Dog Brewery, located inside Taminick Cellars winery is a great stop-off on your way north. Small batch brews are served on tap on the weekends in the 100-year-old cellar door building.
Take a break from taking in the sights of Beechworth to visit Bridge Road Brewers. Co-owner Maria Frischmann does a killer pizza here; you can't go wrong with the double smoked ham pizza or the sweet potato number, where Italian Gorgonzola cheese melts over thinly sliced sweet potato. And that's not even mentioning brewer Ben Kraus' award-winning ales.
Any dedicated foodie will have Michael Ryan's two-hatted Provenance high on their hit list. The value here is terrific: either go for a degustation with a formidable set of matching wines for $180, or spend $88 on three courses, which might include smoked wallaby tartare or confit Myrrhee goat.

Once you're in Bright, spend Sunday afternoon at Bright Brewery. Sit out on the decking overlooking the Ovens river and let live music be your soundtrack as you sip one of the many varieties of beer on tap, made using fresh mountain water.
Stay
If you're wining and dining at Provenance, then the best (and most luxurious) option is to stay in the on-site accommodation. High-end rustic charm is the go here, and you can expect king size beds, L'Occitane amenities and a private courtyard.
You could stay in the centre of Bright – or you could head out a few kilometres and lose yourself in the deep forests and soaring alpine views of the Buckland Valley. The Buckland Luxury Retreat offers secluded, self-contained studios (complete with luxe furnishings and fireplaces) with a patio looking out into the mountains. Bliss.
The best High Country wineries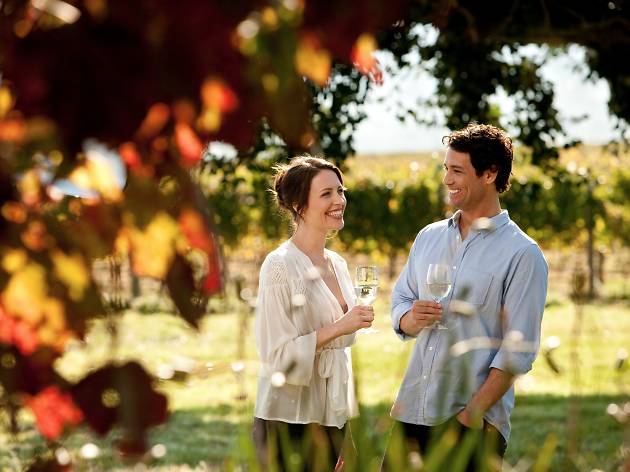 1. Brown Brothers, Milawa
The most well known of the region's winemakers, Brown Brothers is known for its bustling cellar door and variety of mainstream and quirky varietals on offer, from sauvignon blanc to tempranillo. Sample the sparkling wine range and ensure you try the limited release vermentino.

2. Pizzini, King Valley
Long live prosecco! Up at Pizzini, that's the first wine you'll tuck your beak into and you'll most likely leave with some nebbiolo, sangiovese and riesling as well. At Pizzini, you can make a real experience of it, thanks to its cooking school and B&B on site.

3. Campbells, Rutherglen
Rutherglen is most well known for its fortified wines, but the shiraz and durif are also top notch at Campbells, a winery that has been producing top drops for 140 years, spanning five generations of winemaking.

4. Boynton's Feathertop, Alpine Valleys
Flanked by Mount Feathertop, Boynton's is worth a visit for its stunning location alone. It's here you come for the alpine air and winemaker Jo Marsh's range of reds, particularly the shiraz, and the cabernet blend.