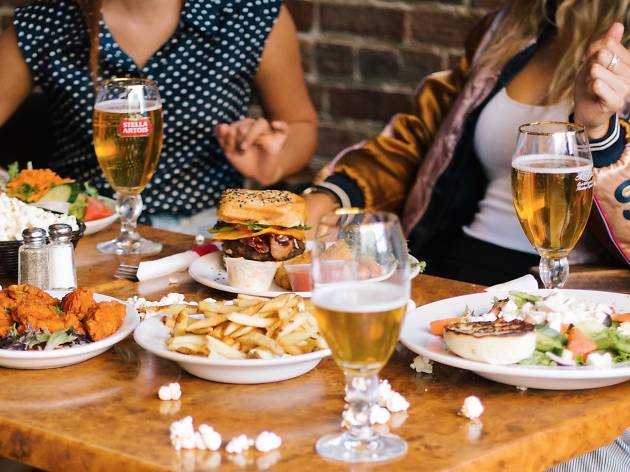 The best sports bars in Montreal to cheer on your team
From pubs and pool halls to huge bars with TVs everywhere you look, these are the best sports bars in Montreal
Attending a big-ticket sporting event is one of the best things to do in Montreal, but if you didn't make the ticket booth on time for the face-off/jump ball/coin toss, there's a seat waiting for you in a sports bar. It's never an easy feat to score tickets to a big game, match, race, bout, fight or whatever it might be, so when you come up short, park yourself at any one of these spots, be it a pub or dive bar. Some have taps flowing with the best beer while others dish out the best burgers or satisfying cheap eats so phenomenal that it's an experience second only to being at the game itself.
RECOMMENDED: Full guide to the best bars in Montreal
Where to find the best sports bars in Montreal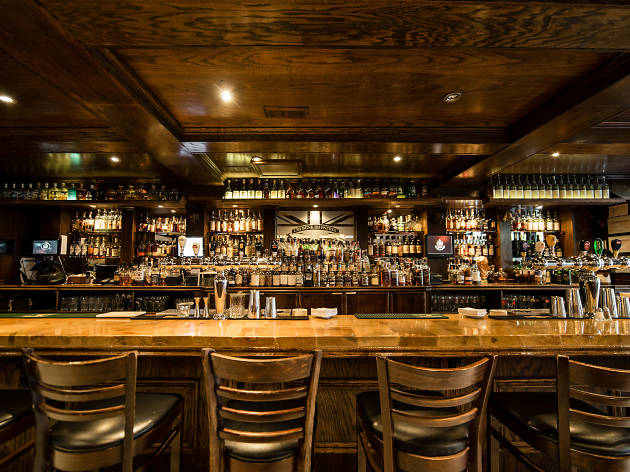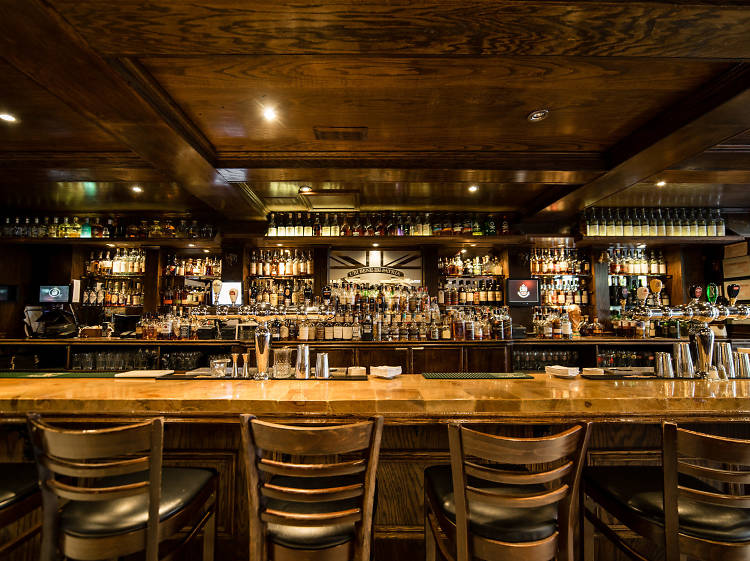 Photograph: Courtesy Burgundy Lion
In a French city like this, the Burgundy Lion has managed to carve out a comfortable niche for itself in Montreal's Little Burgundy neighbourhood, becoming something of an ambassador for modern Anglo cuisine (after the amazing Mile End restaurant Lawrence, of course). Whether it was the plan from the outset or not, they've also established themselves as a stellar place to catch a whole host of sporting events from golf to cricket and have even launched their own golf and soccer tournaments to benefit local charities.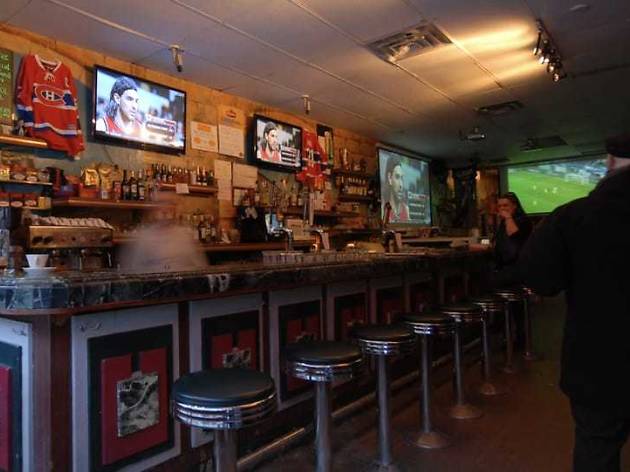 Photograph: Courtesy Yelp/Globeater M.
The quintessential neighbourhood sports hangout, Bruno Sports Bar is an easy-going joint with down-home friendly staff, walls loaded with TVs and memorabilia, and a cast of lovable local rogues who never fail to show up and cheer on the Montreal Canadians. The bar offers excellent deli sandwiches, but they're also just fine with clients bringing in food from elsewhere, especially the diner next door. It's such a solid bet that they're forced to take reservations when playoff season rolls around.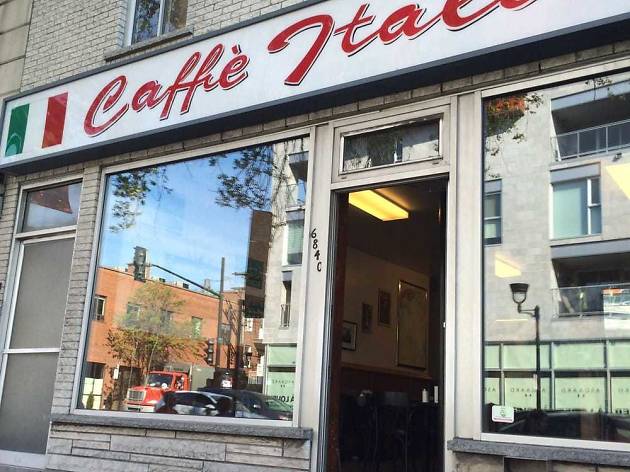 Photograph: Courtesy Yelp/Isabel Z.
In many ways, Caffé Italia strays further from the prescribed sports bar formula than any of our other favourites, most notably because it's a café, not a bar. You won't find pitchers of beer, nachos or gimmicky deals on chicken wings here, but you will find outstanding espresso, authentic 1950s décor and a faithful corps of ultra-passionate soccer enthusiasts. A great option for anyone avoiding alcohol while still looking to watch the match in a lively, festive atmosphere.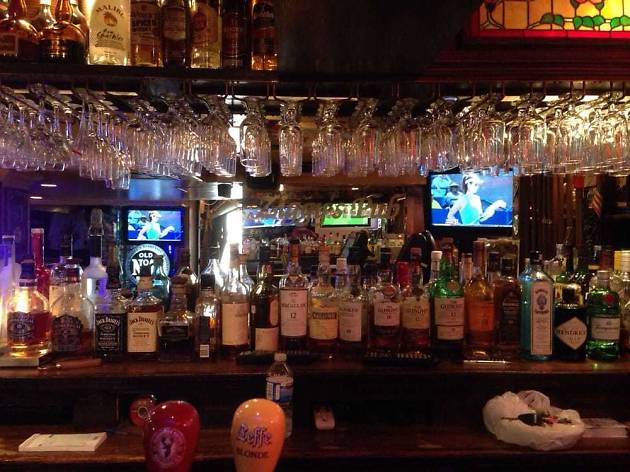 Photograph: Courtesy Yelp/ray s.
For many-a tourist, Montreal's Crescent Street might represent a spiritual center of the city. While locals know there's life beyond that nightlife hub, as far as sports fans are concerned, Ziggy's Pub is among the best in class for reasons to hit up Crescent. There isn't much special about Ziggy's, but it has cheap draft beer, enough screens to ensure you don't miss the clinching goal, no cover at the door and—some would call this a plus—it doesn't have a martini menu.
Photograph: Le Fabuleux Chez Serge / @ChezSergeMontreal
5. Le Fabuleux Chez Serge
The mythological Fabuleux Chez Serge recently relocated a few blocks down Saint-Laurent to a brand new location and we're relieved to report that they have in no way lost their mojo. Their reputation for a guaranteed wild party continues with their mechanical bull, bartenders known to dance on the bar à la Coyote Ugly and their fanatic cadre of hockey fans. Don't be perturbed by the lineup of portable toilets at the back, they're just cheekily disguised regular toilets. They're not that wild.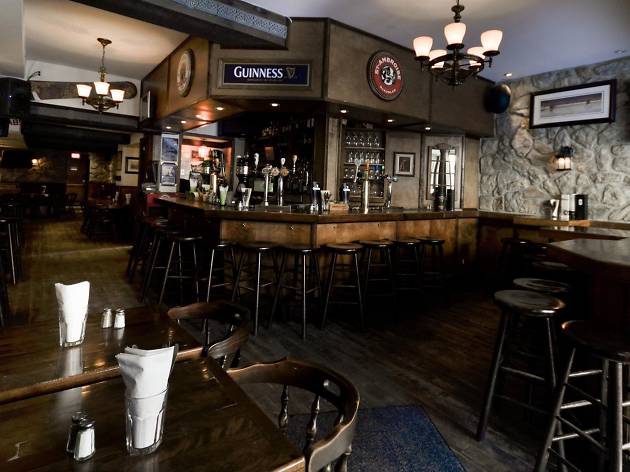 Photograph: Ye Olde Orchard Pub & Grill (PLATEAU) / @YooPRA
A local Irish pub chain, Ye Olde Orchard has a respectable number of locations on island—our favourite's on Prince-Arthur—and yet somehow avoids the copy and paste feeling some commercial chain pubs and sports bars fall victim to. Although the Gaelic and Celtic bric-a-brac doesn't vary much between locations, what seems to be special about these bars is a more intangible social element between longstanding staff and the hardcore devotee regulars that make these bars more than the sum of their parts. Oh, and each location regularly has good prices on beers and shots to celebrate the winning goals.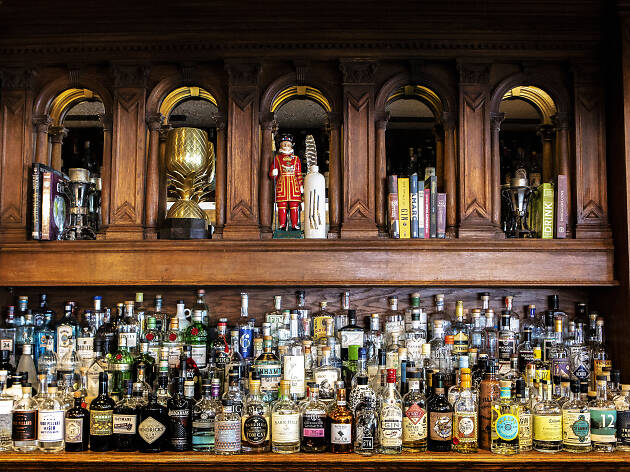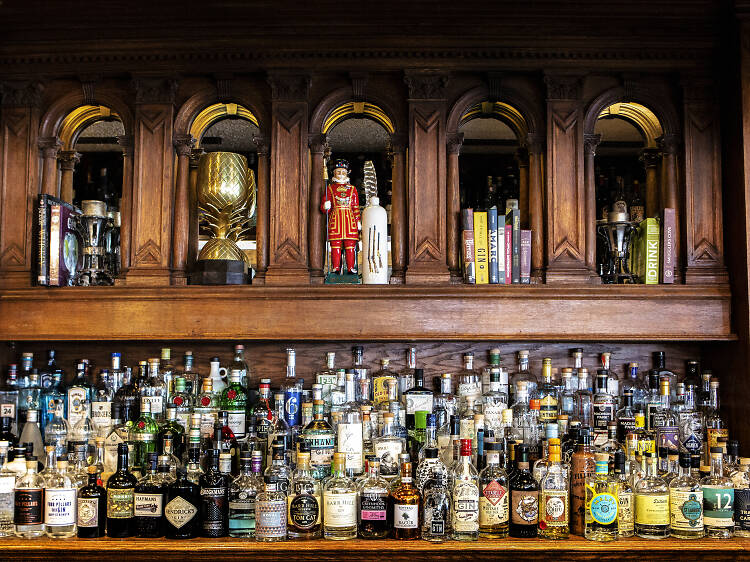 Photograph: Daniel Esteban
Another excellent representative of the English pub scene, Bishop & Bagg proposes draft and import beers, craft cocktails, an impressive selection of gin and creative seasonal takes on classic English pub favourites. Those menus and its homey wooden hideaway make it one of the best bars in the Mile End. Although affiliated with the Burgundy Lion, this spot feels a little less slick and cozier. That said, it isn't always so sleepy whenever the World Cup rolls around; the place gets packed to the rafters with nail-biting fans on the edge of their seats, rooting for their respective home teams.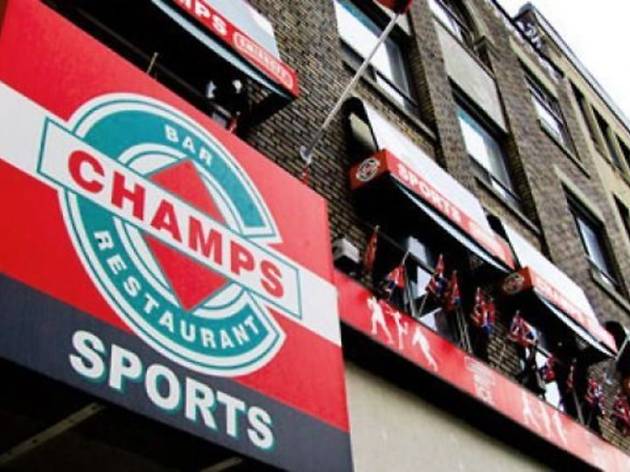 Photograph: Bar Champs
Resto Bar Champs sits just a few doors down from its friendly rival, Café St Laurent Frappé, but luckily there seems to be a general unspoken rule that Frappé handles the soccer crowd while Champs handles just about everything else. Champs has long been known for the eclectic variety of its offerings, and at any given moment there can be dozens of different sporting events playing side by side. In fact, the roof is littered with a catalogue of obsolete satellite dishes of all shapes and sizes that, at one time or another, beamed in sports from all over the world.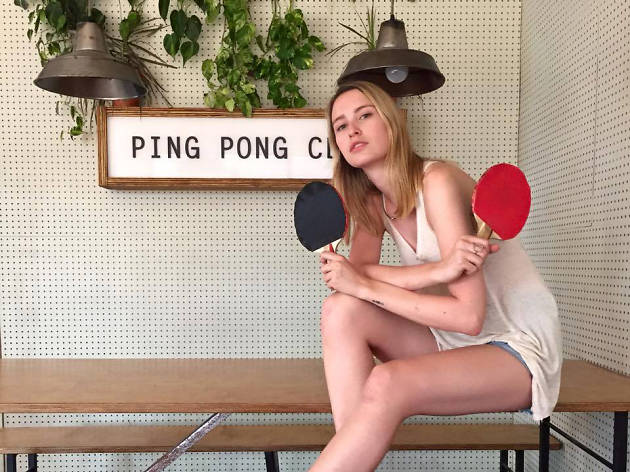 Photograph: @PINGPONGCLUBMONTREAL
The Ping Pong Club is both exactly what it sounds like and a little bit more. This trendy Mile End bar is another great place to watch the game if a more traditional sports bar isn't your bag. Their staff serve respectable pub nosh staples and the bar has a load of games including a foosball table, shuffleboard, Jenga sets, and a ping pong table where you can work on your hand eye coordination if you secretly don't want to watch the game at all.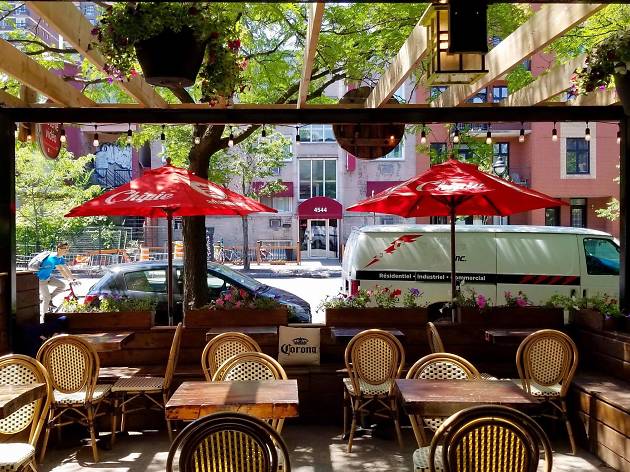 Photograph: Bar Monsieur Ricard / @barMonsieurRicard
Monsieur Richard is a quaint Parc Avenue institution that leans heavily on its Southern French roots. The bar takes two things very seriously: Pastis, and any major sporting event in which France has a stake, especially soccer and rugby. Take advantage of the 6-hour time difference as an excuse to indulge in an early afternoon Mediterranean apéro and enjoy a few glasses of cold pastis in genuine Southern French fashion while watching the match.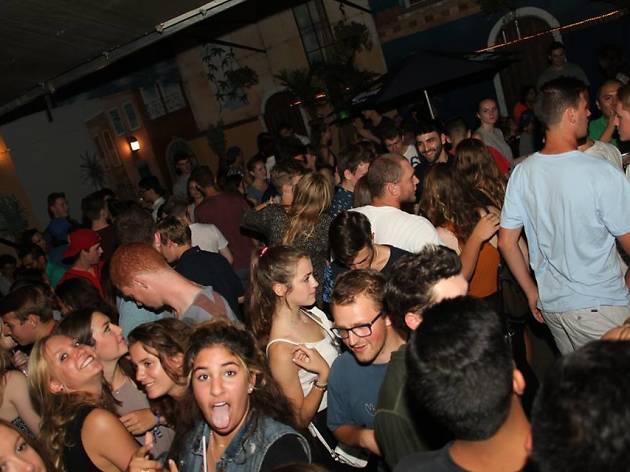 Photograph: Bar St-Laurent Frappé / @BarStLaurentFrappe
11. Café St Laurent Frappé
Café St Laurent Frappé—a few doors down from Champs—also has a claim to the crown for the neighborhood's best sports bar. Frappé's multi-level bar has a generous collection of offerings that range from pool tables and solid bar food to a famous sangria and a secret rooftop bar. Café St Laurent Frappé draws fanatical soccer crowds and, although spacious, the bar gets awfully animated when the World Cup rolls around.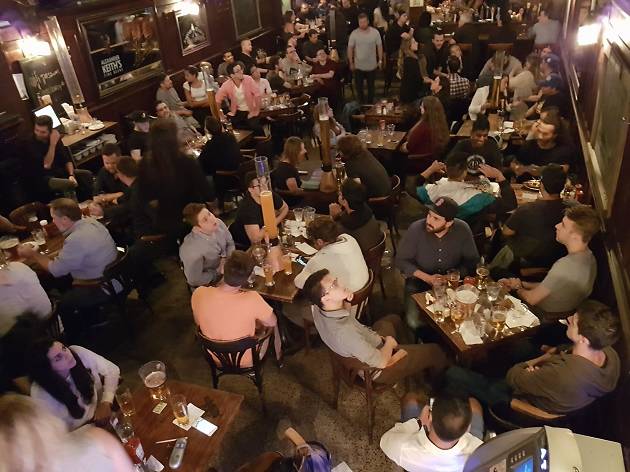 Photograph: McLean's Pub / @mcleanspubmontreal
Facing the historic Dorchester Square in Downtown Montreal, McLean's Pub has long been a go-to for university kids, office workers and tourists alike to catch a basketball game, title fight and anything in between. McLean's is also famous for their beer towers that are 10 feet tall, perfect for some consolation when your team fails to make the finals or to celebrate if they do.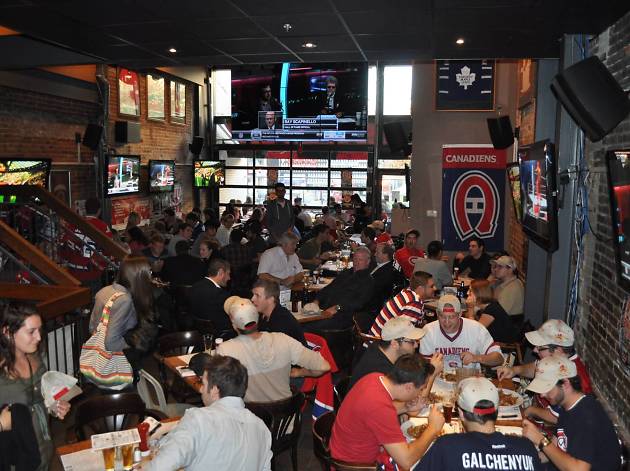 Photograph: Peel Pub / @peelpub
The Peel Pub is a bustling Downtown Montreal haunt that primarily caters to the local university crowd. That means a specialization in hearty, reasonably-priced pub food and massive pitchers of cheap domestic beer. The crowd can get a little rowdy, making the bar feel a little tight when sporting events collide with university happenings like Frosh Week or the end of the exam period, but heck, that's what you came for isn't it?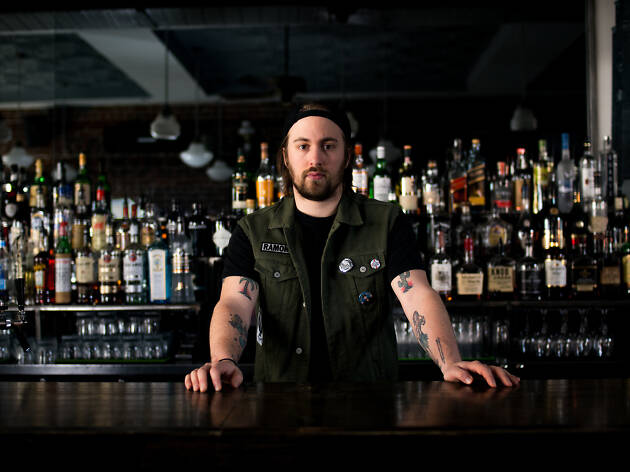 Photograph: Drinkerie Ste-Cunégonde
14. La Drinkerie Ste-Cunégonde
Although admittedly a far cry from a traditional sports bar, La Drinkerie Ste-Cunégonde certainly gets in the spirit for Montreal Canadians games without going overboard. The comfortable, retro-style bar serves fancy snacks, craft beers, wine and scotch, and serves as the perfect retreat when nearby Burgundy Lion proves a little too festive and you're looking to enjoy the game without necessarily having to deal with all the trappings of a conventional sports bar. Now you can walk through to it its neighbouring seafood restaurant Le Fricot for some lobster rolls and Acadian poutine rapée to gorge on before heading back to catch a game.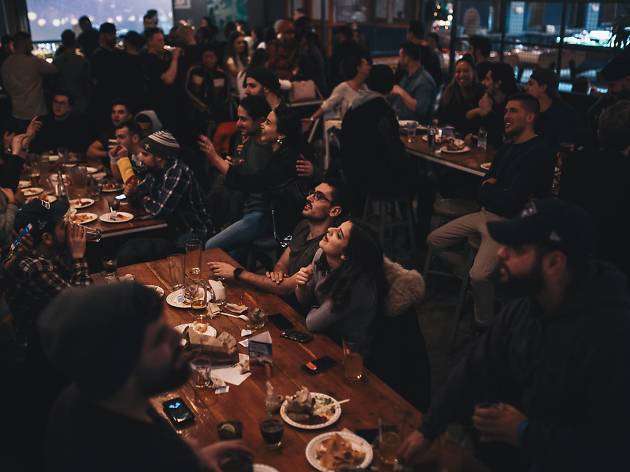 Photograph: Fitzroy / @fitzroymtl
Fitzroy is a bit of an oddity, a nightlife fixture that acts as a pool hall and local sports hangout, but last we checked, this confusion is actually its strong suit. You wouldn't think it from street level, but this second-floor bar is massive with its several well-segmented spaces, and it's got more than enough space to accommodate any sort of night out. Fitzroy is a great option for those with large groups and only vague plans to check out the game.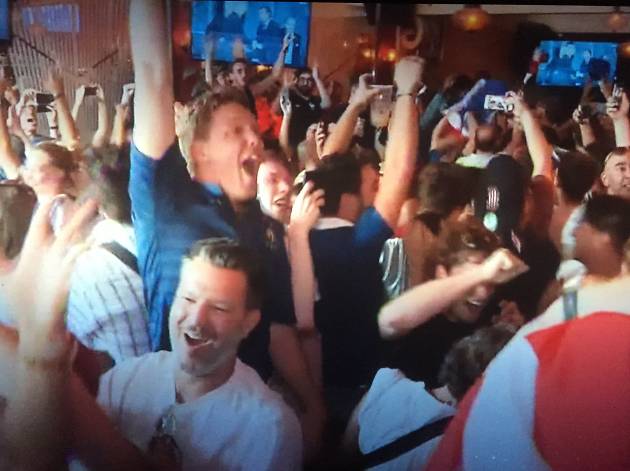 Photograph: Courtesy L'Barouf
Bar L'Barouf is an underrated jewel of a bar on Saint-Denis Street with an elegant woodwork interior, extensive chalkboard menu featuring local and international beers, a knowledgeable and friendly bar staff, and a piano on the ground floor. Perhaps it's not the most likely candidate to be a bar known for its sports fans, but sports are a surprisingly big deal here, especially when it comes to European soccer with 5 à 7 happy hours getting pretty thick with fans.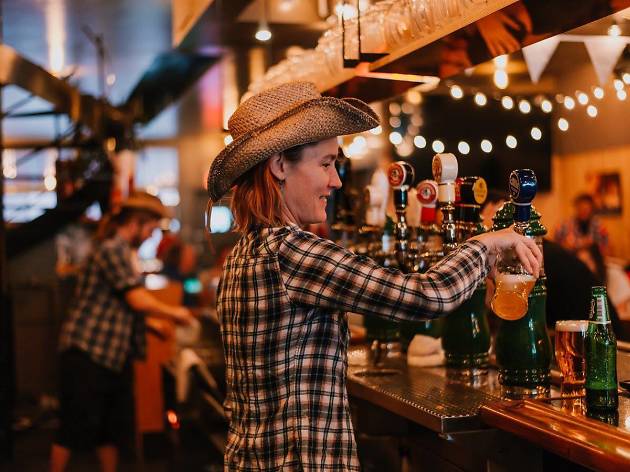 Photograph: Le Boudoir Montréal / @BoudoirMontreal
A snappy, pulled-together neighbourhood bar that doesn't put on any airs, Le Boudoir operates with a unique bring-your-own food policy, shockingly reasonable prices and an impressive selection of local microbrews and scotches served by an engaging and amiable staff. This winning formula keeps the neighbourhood coming back, but when there's a game on? Droves of locals can be found in Le Boudoir making it a great place to cheer on the Canadians without dealing with all of the regular sports bar conventions.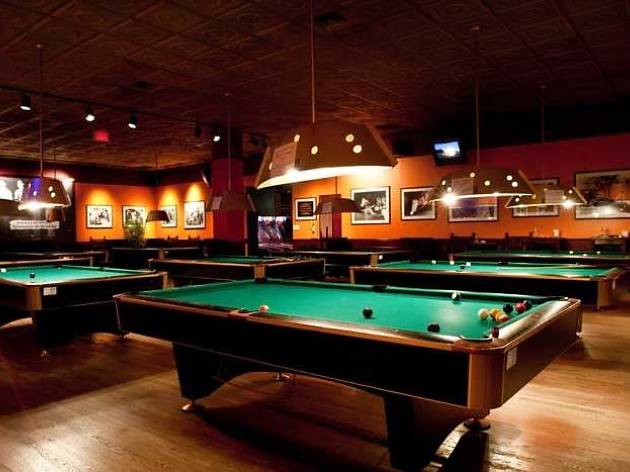 Photograph: Courtesy Yelp/Forum Sports Bar & Games Centre
The Forum Sports Bar occupies a good chunk of the third floor of the Forum de Montreal, the former Montreal Canadians' home arena from 1926 to 1996 and once hailed as "the most storied building in hockey history" by sporting news. It's a shame it's since become a megaplex containing a movie theatre, comedy club and a series of failed businesses, but at least it's got this bar: Although it's got a pair of billiard tables and 16 lanes of bowling, the focus is hockey first and—if it isn't obvious when you first walk in—it isn't exactly the sort of bar to cheer on the opposing team in.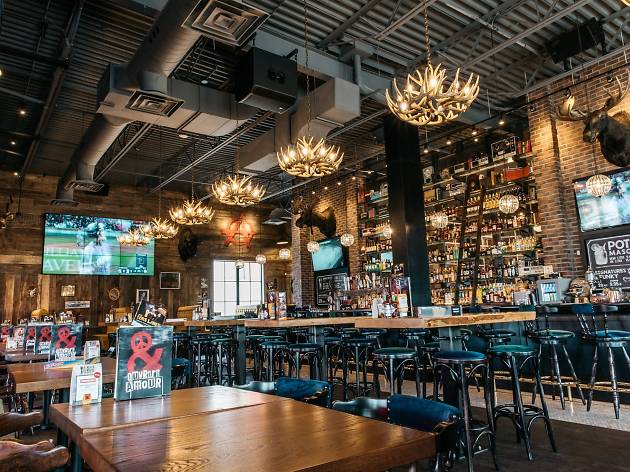 Photograph: La Belle et La Boeuf - Burger Bar / @belleboeuf
The burger bar La Belle & La Boeuf seems poised to quietly take over a good part of the local sports bar market with a dozen locations across the province and five others opening soon. Their focus is on creative, gourmet burgers and cocktails, and given the rate of their expansion, it looks like they have a winning formula. They're not shy about screening hockey or just about any sports event of note when they come on. There's other strictly-sticking-to-sports bars around, but if you're anywhere in the suburbs and at loss for where to watch the game, this is a reliable bet.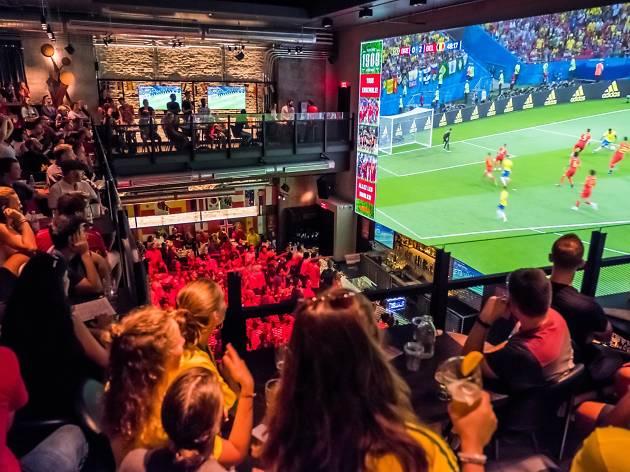 Photograph: 1909 Taverne Moderne / @1909mtl
1909 Taverne Moderne is a massive, officially branded Montreal Canadians restaurant that occupies three floors in the Bell Center. The restaurant has a capacity of over a thousand guests and is home to a shocking 46-foot-wide screen—said to be the biggest in the country—and over 60 HD TVs to boot. Even more shockingly, it has a sister restaurant in Laval, but its mega screen is only 33 feet wide, natch. If you're looking for spectacle, the coliseum atmosphere here is really only rivaled by being at the game itself. We're not super fans of their food (see: overpriced and basic), but it's hard to knock how they solidly deliver the big game vibes.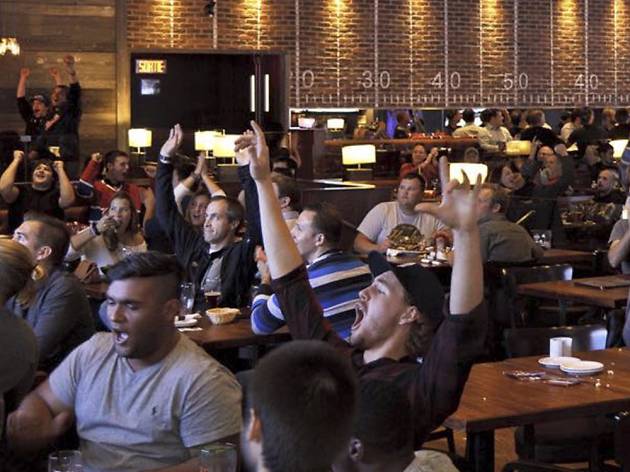 Photograph: La Cage aux Sports / @lacagebrasseriesportive
La Cage aux Sports is far and away Quebec's largest chain of commercial sports bars with its 50 locations, and is a steadfast favourite to many. Although hockey-centric, La Cage aux Sports also frequently draws crowds for motorsports, combat sports and more. On game nights, the atmosphere inside can feel more like a stadium than a restaurant, making this a good candidate if you're looking to make some noise.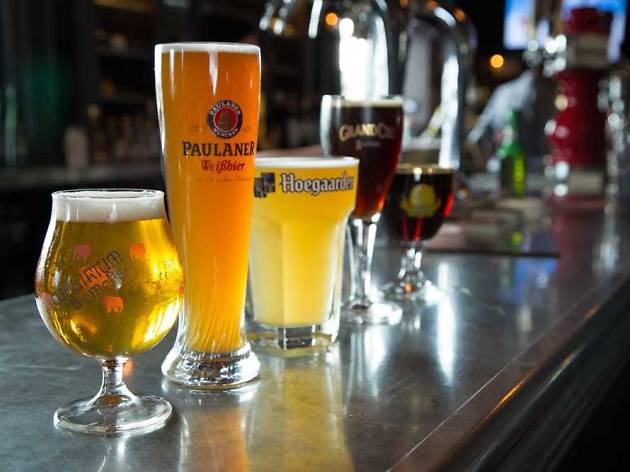 Photograph: Courtesy Yelp/Bier Markt
Only a few steps from the Bell Center, the Bier Markt gives all the atmosphere of the big game without having to actually be there. Granted, Bier Markt is going for a very different vibe with its menu's thoughtful beer pairings, massive cuts of AAA angus beef, and an opulent playboy décor—those last two being leftover features from when this address used to contain the steakhouse La Queue de Cheval. The only downside is you'll likely have to content with the traffic as if you'd been at the game in person anyway.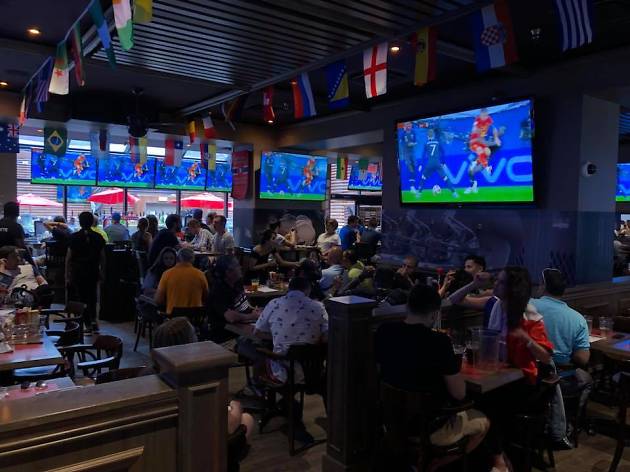 Photograph: Station des Sports / @StationDesSports
Station des Sports is your classic commercial sports bar with a handful of locations scattered in and around the island. They abide by a slew of dependable chain-restaurant tropes including a menu that doesn't reinvent the wheel and game day promotions. Although it might lack the heart and soul of some of the other joints in town, a Station des Sports location is what you and your friends can bring to it and it's a go-to if you're looking for a consistent experience above all else.
Fuel up before the big game