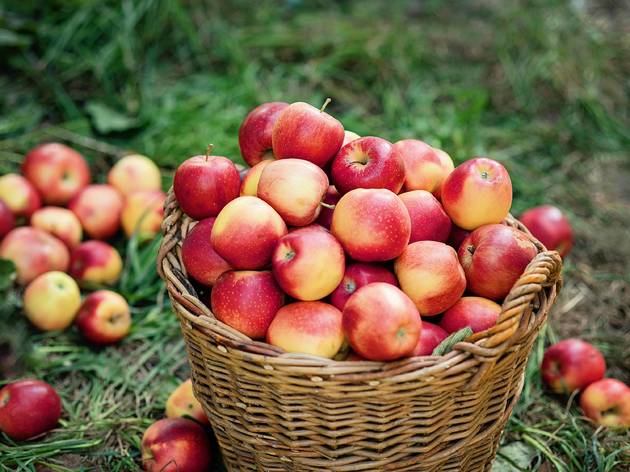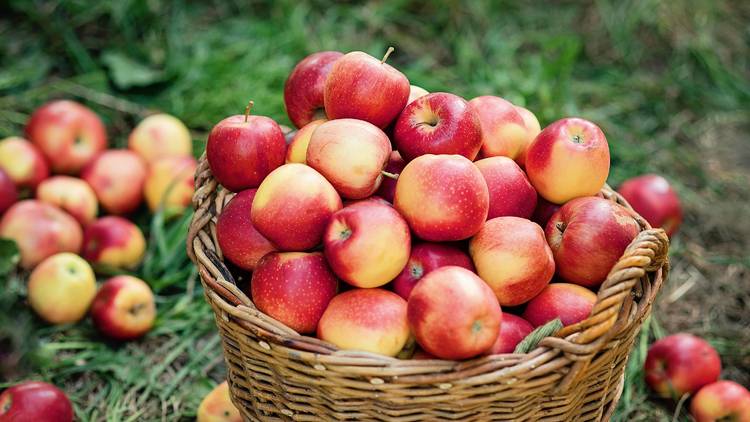 The best apple picking NY kids and families love
Apple picking NY, apple picking NJ and beyond: We found the farms and orchards you need to visit this fall
Update: Note that farm guidelines have changed this season. Call each location ahead of time for safety guidelines, reservations (if need be) and more information.
Nothing is sweeter in autumn than the taste of a crispy apple. We round up the best apple picking NY families love to explore, so you might want to grab an empty basket and plan a few day trips from NYC. It's time to summon the harvest season, one Granny Smith at a time.
RECOMMENDED: Full guide to where to pick your own fruits and vegetables near NYC
Not only do these sweet farms and orchards offer a nice break from the city, they are chock-full of fun fall activities for kids, including petting zoos and corn mazes. Plus, parents and the 21+ crowd can enjoy cider tastings and distillery options at specific locations.
There's no time to waste: Find something plaid, grab a cozy sweater and snag some produce.
Apple picking NY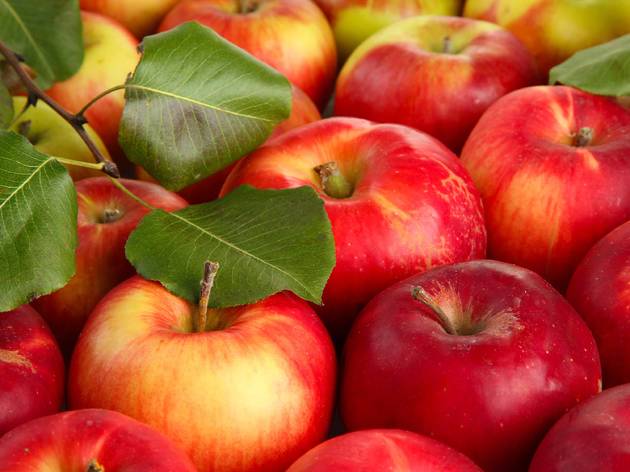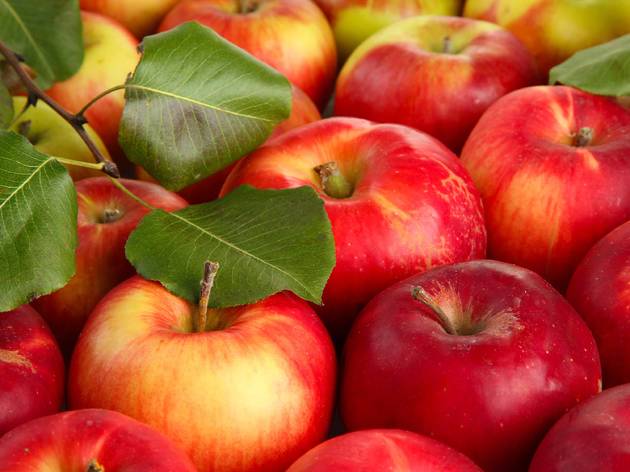 Photograph: Shutterstock
Location: Warwick, New York
The name says it all: Come September, this bucolic orchard turns into a celebration of all-thing autumn. Visitors can enjoy pick-your-own apples, "Spookley" movie nights, animal meet and greets, a honey bee observation hive and, of course, freshly-grown treats. This year, the corn maze and hayrides have been suspended.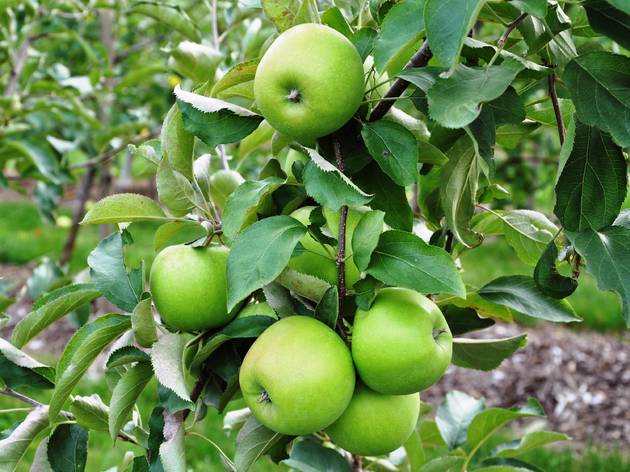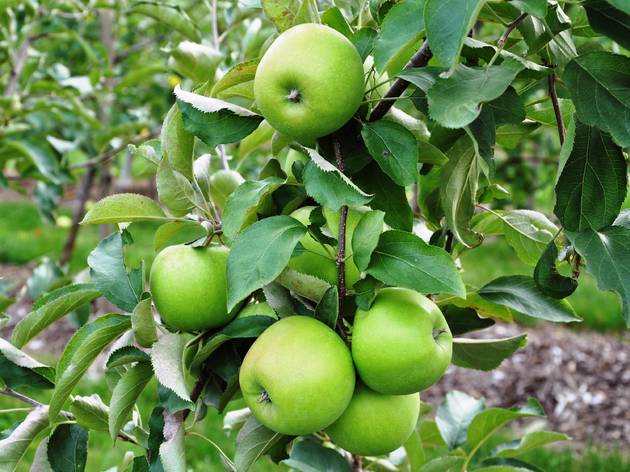 Photograph: Shutterstock
Location: Warwick, New York
Once Labor Day Weekend rolls around, this Hudson Valley hotspot amps its apple activities into high gear. Take a stroll through Apple Dave's Walking Trail for a selection of Cortland, Golden Delicious and Jonagold apples, among others (which vary by month). There's no shortage of autumn entertainment for children, including hay rides, puppet shows and musical performances. For the 21+ crowd venturing to Warwick without the tots—or for the parents who need a little "me" time—check out what's brewing at the distillery. Prices vary according to picking bags and the amount of fruit you pick. Masks are required and pups must stay home.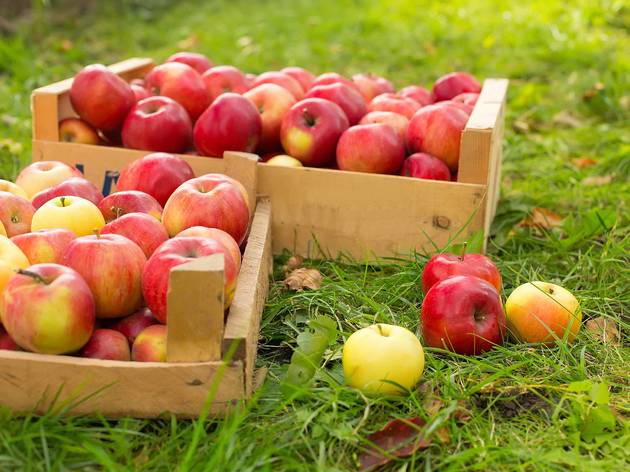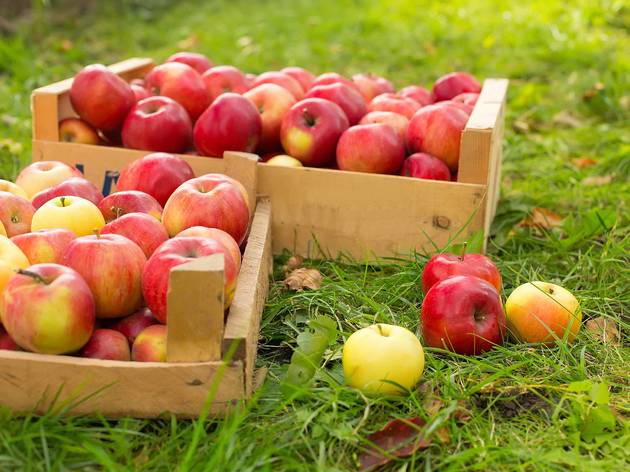 Photograph: Shutterstock
Location: Poughquag, New York
The pickings at Barton Orchards are plentiful, and we're not just talking about the apples (though you can snag as many as you'd like from August until November). Between the corn maze, , a fun park with a bounce house and kiddie karts (among other offerings) and even a dog park for Fido, this Poughquag attraction is an essential autumn destination that most definitely deserves a spot on your list. PYO enthusiasts are responsible for paying for the fruits that they pick. Note that some activities are canceled this year.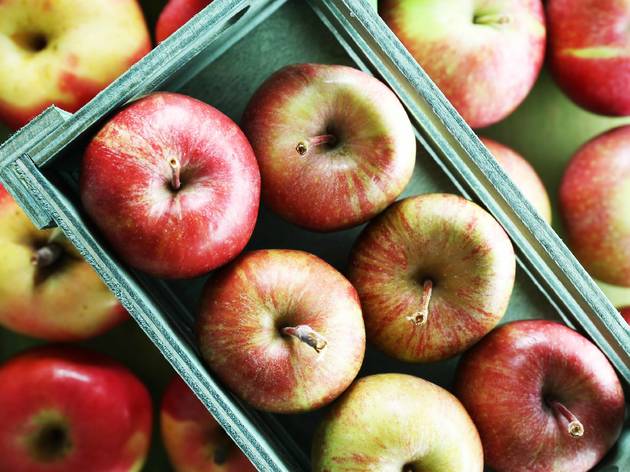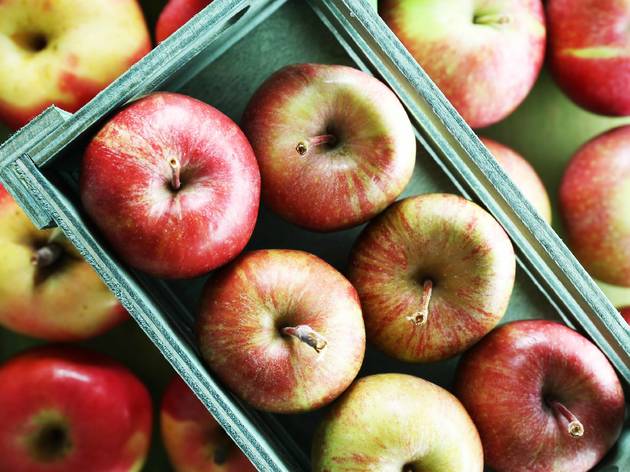 Photograph: Shutterstock
Location: Congers, New York
The Davies Farmhouse was built in 1836 and the rest is history. This New York attraction has become a familiar destination (and even a filming location!), particularly when the fall gets cooking. Thanks to daily apple picking (prices vary by size), corn mazes, hayrides and snacks (apple cider doughnutes, pretzels, corn, etc), families have a slew of autumnal goodness to look forward to. After you've picked your bushel of fruit, check out the Dr. Davies website for recipes to create its famous apple pie, apple cake or apple sauce. This year, activities will operate at a reduced capacity and reservations are recommended.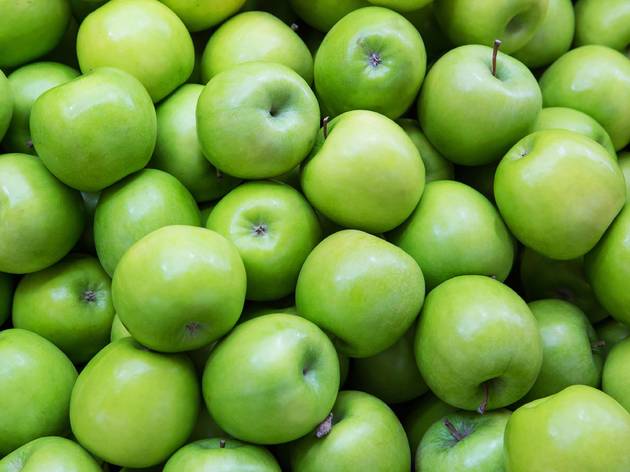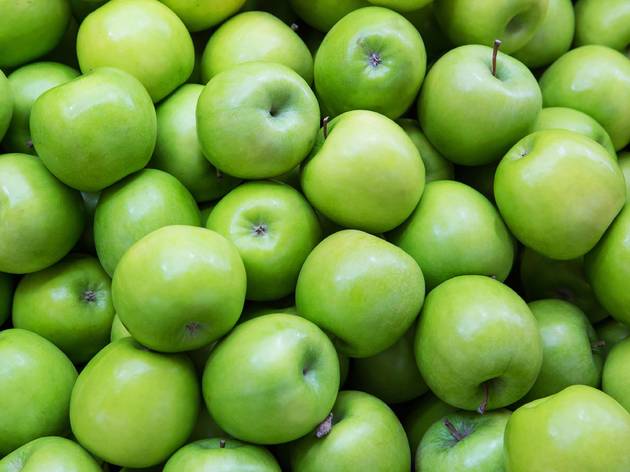 Photograph: Shutterstock
Location: Red Hook, New York
Ginger Gold, Jonagold, Staymen and other types of delicious apples await at Greig Farm. The Hudson Valley farm, which boasts picturesque views of the Catskill Mountains, is more than a PYO destination. Thanks to the farmer's market, art gallery, smokehouse and other cool amenities, families will be able to make the most out of their day trip. If you're looking to carve a pumpkin or two, make sure to head to the grounds in late September.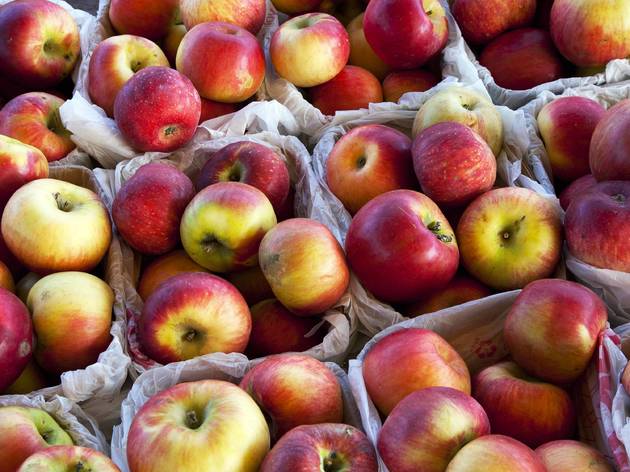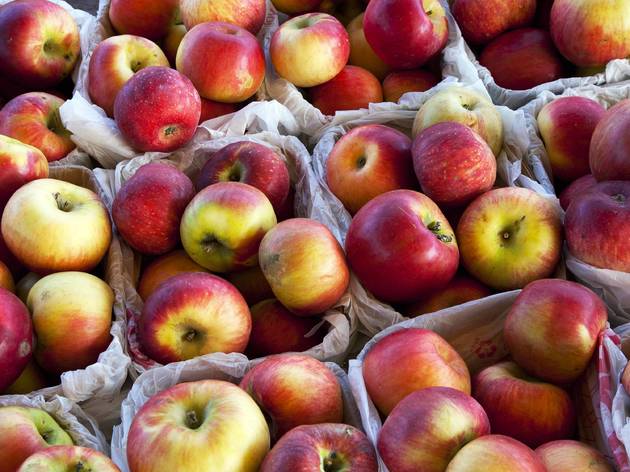 Photograph: Shutterstock
Location: Modena, New York
Perhaps one of the earliest starts to the apple picking season is Hurds Family Farm's Aug 28 kick-off date. Families are invited to mosey their way through the grounds for Macoun, SnapDragon, Ginger Gold, Granny Smith and other delectable options. While there, they'd be remiss not to participate in the other awesome activities, including a ride down the giant slide, a visit to the kids' corral and a hike through the nature trails. PYO prices range from $9–$26.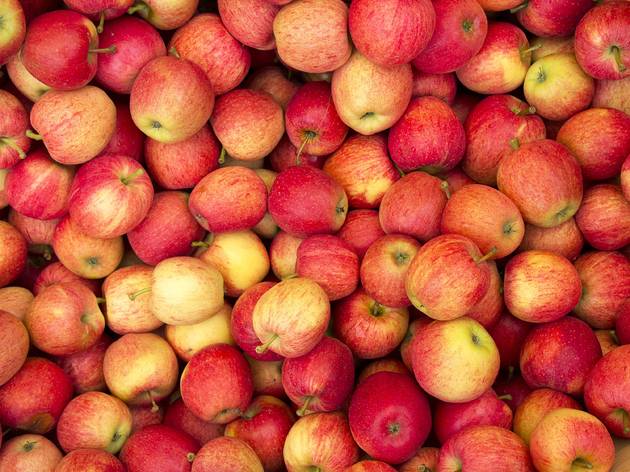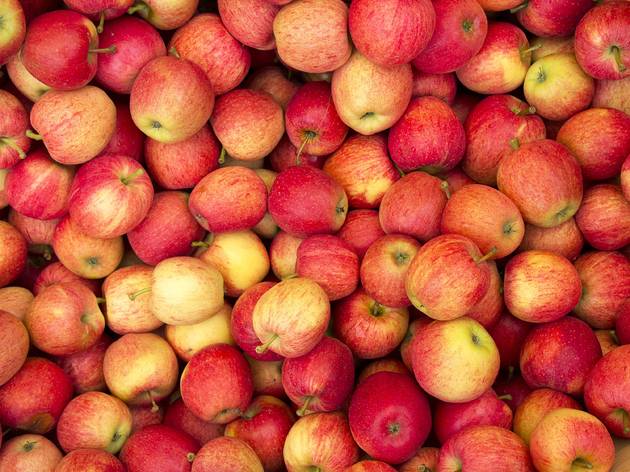 Photograph: Shutterstock
Location: Hopewell JCT, New York
The apples are sweet and the gorgeous Hudson Valley grounds are sweeter. At this popular 270-acre farm, pickers can enjoy a selection of Sweet Sixteens, Suncrisps and so many more apple options. For those who are traveling sans kids, you'll completely regret not checking out a tasting at the Cider Garden. Note that 2020 PYO trips are by reservation only this year.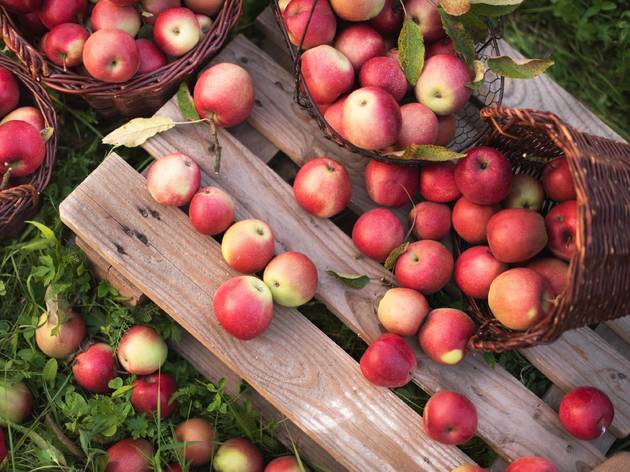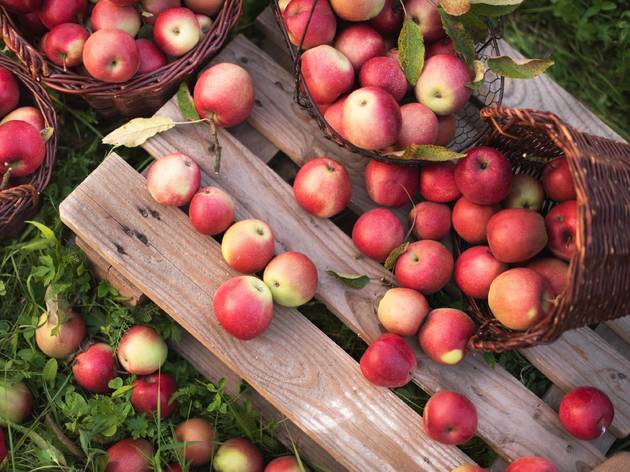 Photograph: Shutterstock
Location: Kerhonkson, New York
Families looking for pick-your-own apples will find fruits and so much more at Kelder's Farm. Kids can enjoy the petting zoo, hayrides, a corn maze and even a giant jumping pillow to burn off energy. Everyone can practice their swing at a mini golf course when they're done selecting fruits, veggies, herbs and flowers. Make sure to wave goodbye to the world's largest garden gnome on your way out. Reservations are recommended. Pets must be left at home.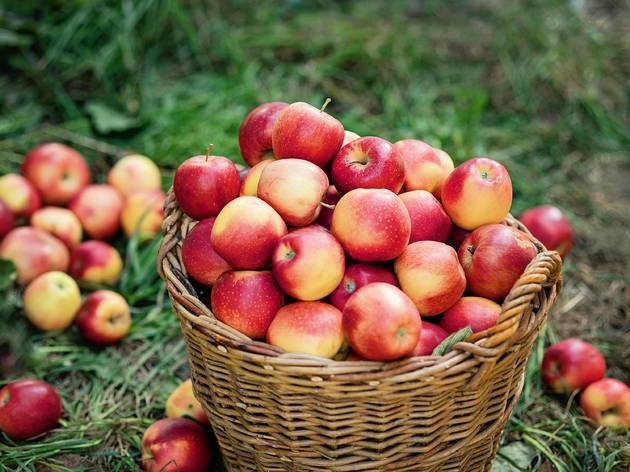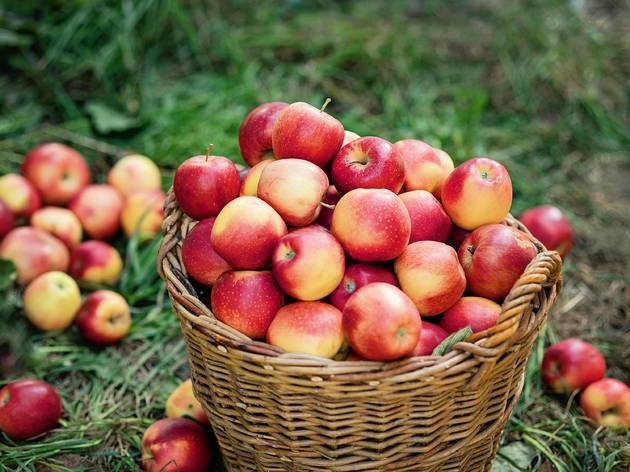 Photograph: Shutterstock
9. Lawrence Farms Orchards
Location: Newburgh, New York
This Newburgh orchard isn't just teeming with apples—over a dozen varieties including Empire, Cortland and Macintosh are available—but a feast of other delicious offerings are yours for the picking. Visit in late September through October for sweet corn, cabbage, winter squash, gourds and other harvests. Admission for PYO activities is $5, with a $2 credit toward your purchase. Note that children 2 and under are free.
Photograph: Shutterstock
Location: Ghent, New York
A farm with more than 15,000 fruit trees means families can pick to their heart's delight. Additional activities like a petting zoo with ducks, bunnies and Morgan the llama make for a fun day trip. Sign the kids up for pony rides and grab snacks at the Mexican cantina before tasting homemade ice cream and sundaes made from fruits sourced right from the orchard.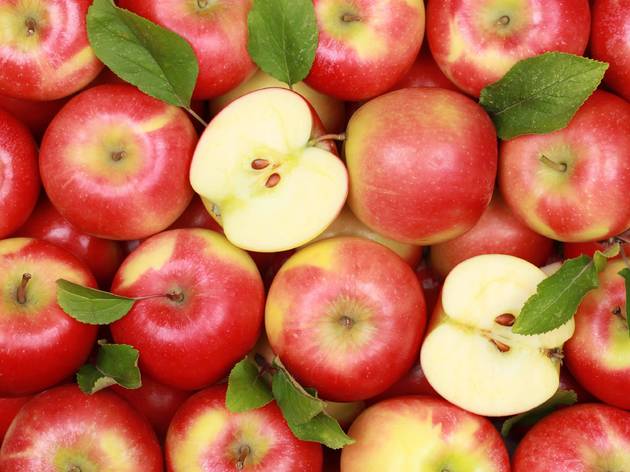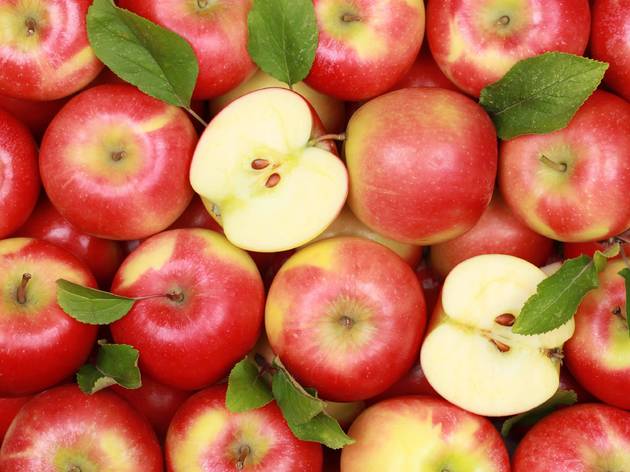 Photograph: Shutterstock
Location: Warwick, New York
For a truly epic autumnal experience, head to this 200-acre orchard with over 20,000 fruit trees! We'd recommend packing a picnic lunch to enjoy on the grounds before enjoying the fall corn maze and wagon rides, pony rides and visits with adorable barnyard critters. Admission and parking are free, apple bags start are $31.95.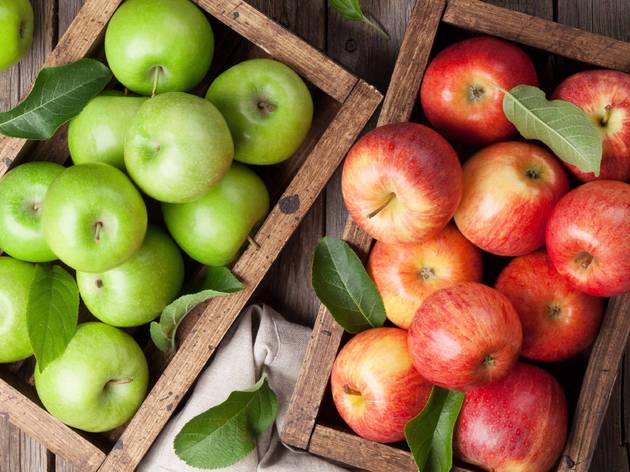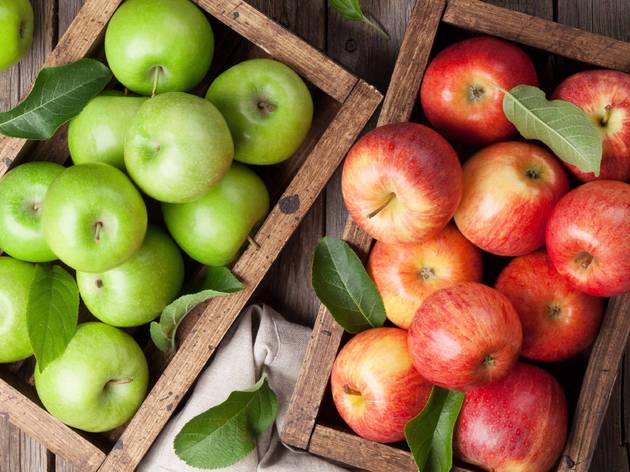 Photograph: Shutterstock
12. Milk Pail Farm and Orchard
Location: Water Mill, New York
At this homestead (which started as a dairy farm), even smaller kids can pluck more than 30 different varieties of apples that grow on dwarf apple trees. To make the most out of your visit, check out the wagon-led farm tours, fresh cider at the Milk Pail country store and a pumpkin patch with over 60 varieties of gourds—some weighing up to 150 pounds! Note that eating is not permitted on the grounds this season.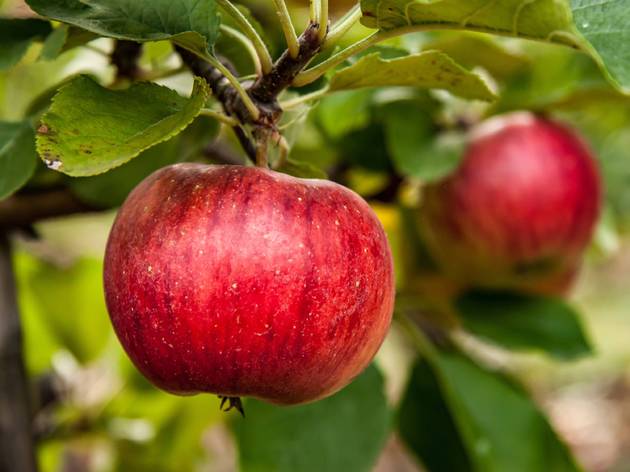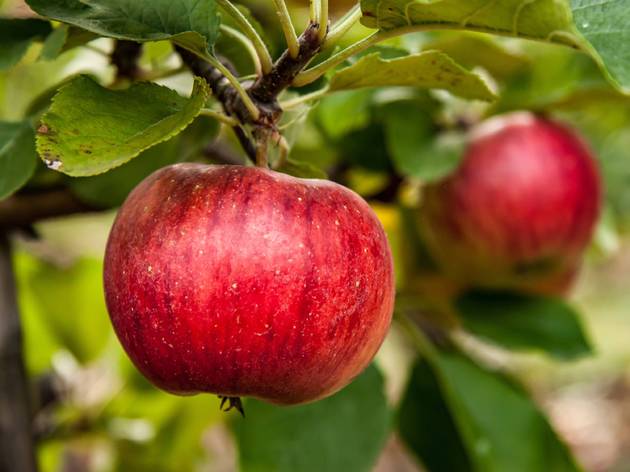 Photograph: Shutterstock
13. Minard's Family Farms
Location: Clintondale, New York
Your crew will run wild at Minard's Family Farms, considering the venue comes equipped with a 2.5-acre corn maze, giant bounce pillow, pumpkin-painting, kid-sized spider web, barnyard football and other fun fall activities. You might have to pull kids away to get some fruit picking in, but once you do, you'll be treated to more than 100 acres of trees. Be sure to swing by the farm stand for freshly-baked goods, homemade jams and snacks such as hot dogs and fries. A half peck of apples is $12, and a half bushel is $26.
Courtesy: Shutterstock
14. The Orchards of Concklin
Location: Pomona, New York
Head to the Orchards of Conklin for apples, pumpkins and of course, the annual fall festival. Later in the season, homemade goods like freshly-baked pies and quiche will make for delicious family dinners come Thanksgiving. Note that each person entering the orchard must purchase a 1/2 peck bag for $11. U-pick is only available on Sundays this year beginning Sept 20.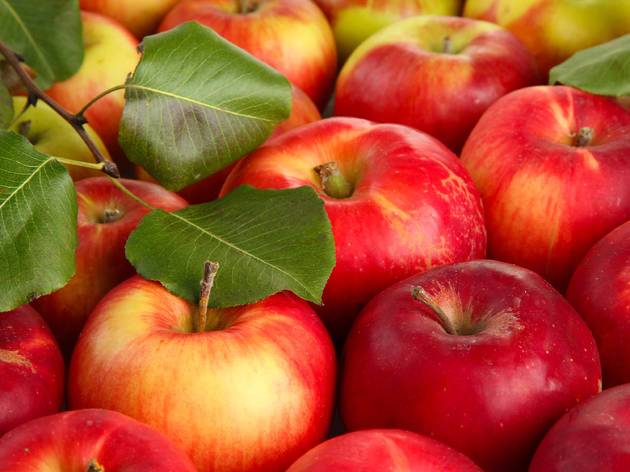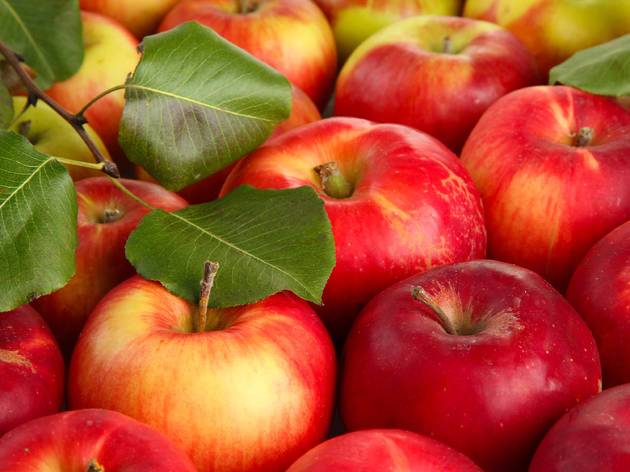 Photograph: Shutterstock
Location: Croton Falls, New York
Don't let the name discourage you from experiencing this beautiful escape in North Salem. No matter what type of apple you're craving—Jonamac, McIntosh, Cortland—Outhouse has you covered. Not only should you stack up on produce, but make sure to enjoy all of the fall activities like corn mazes and hayrides. Reservations are required this year and those without one will not be permitted on the grounds.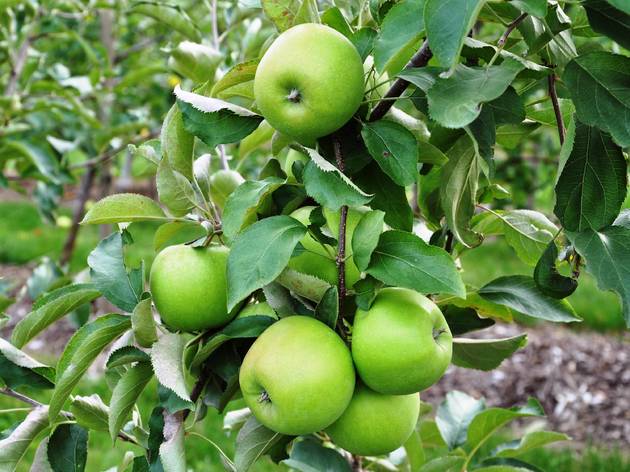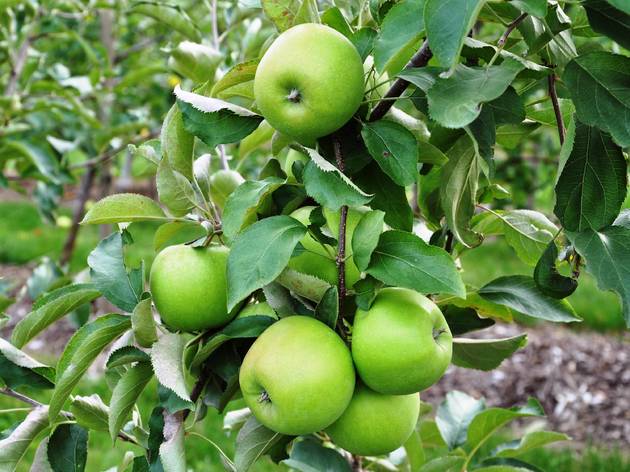 Photograph: Shutterstock
Location: Warwick, New York
Create some unforgettable family memories at Pennings Orchard, located on over 100 acres of beautiful farmland. The venue offers over 15 varieties of apples (depending on the season) including Ginger Golds, Braeburns, Mutsu, Empires, HoneyCrisp, Golden Delicious and more. Families can also visit their farmstand and pick up all kinds of goods from over 30 local vendors including fresh produce, apple cider, pies, apple cider doughnuts, handmade soaps and more. Satisfy that sweet tooth at their ice cream stand, which features over 24 flavors of hard ice cream and old-fashioned custards. Nearby the ice cream stand, kids can see a variety of barnyard pals while they enjoy their dessert.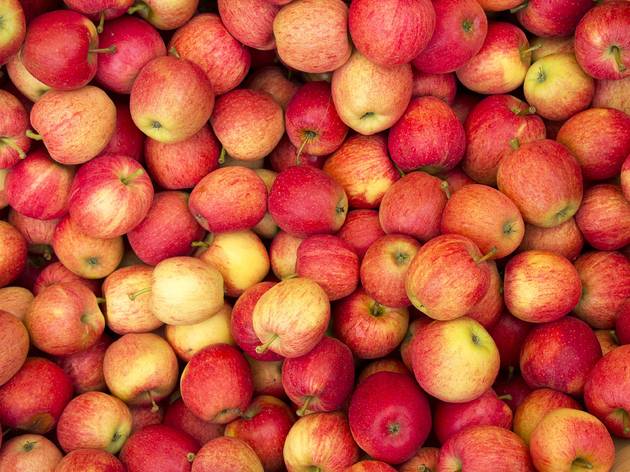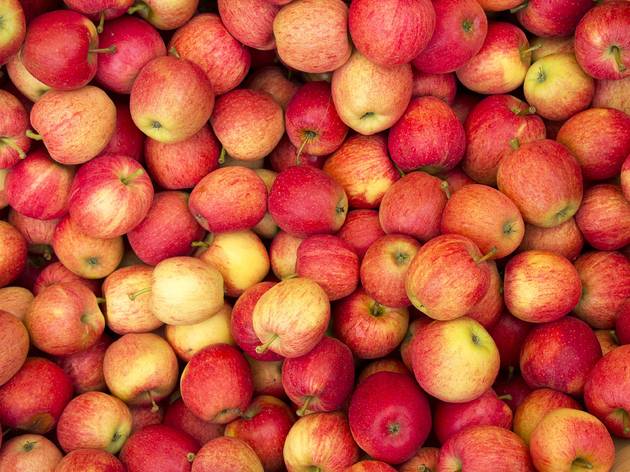 Photograph: Shutterstock
Location: Stone Ridge, New York
There have been fruit-bearing trees here for more than 200 years, but the farm's approach to sustainability is very 21st-century. Eco-friendly practices like minimal pesticide use and substituting mulch for synthetic fertilizers helped the spot to get certified by Eco Apple, a program of the organic/fair trade nonprofit Red Tomato. There are more than a dozen kinds of organic apples for visitors to pick—including classics like McIntosh, Cortland and Stayman—but much of the land has been given over to newer breeds growing on smaller, more densely planted trees, which manager Elizabeth Ryan says puts less stress on the soil and produces bigger and sweeter fruit. Take a bite and judge for yourselves. Call for availability before making a visit.
Apple picking NJ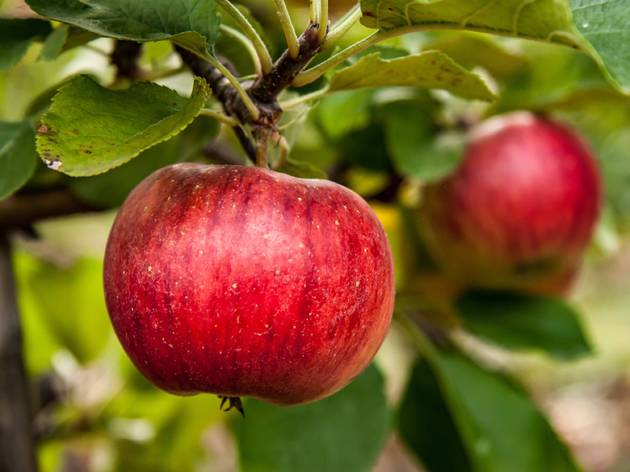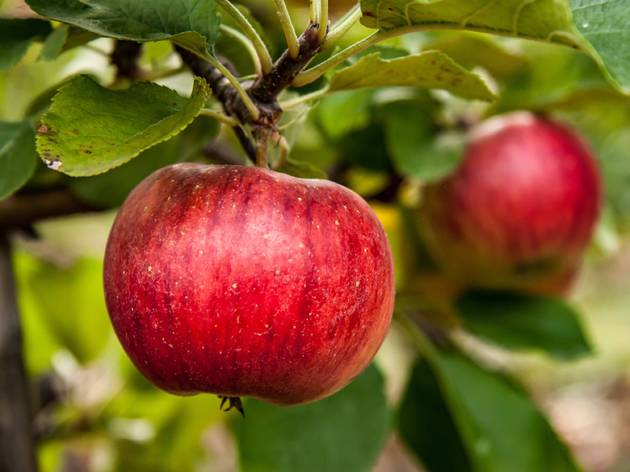 Photograph: Shutterstock
Location: Chester, New Jersey
Leave room in your basket: PYO options abound at this Jersey locale. If you have a hankering for homemade apple goodies, you can catch Lodi, Pristine and Red Free apples as early as the beginning of August (a surefire way to put you in a fall state of mind). Once the festivities get underway in autumn, kids will not only enjoy apple picking, but they'll most likely opt for pony rides, walks through the corn maze and moonlight hayrides. Regardless of the time of year, all Alstede Farms visitors need a cone of homemade ice cream! PYO admission—which includes unlimited tractor-drawn wagon rides and access to the fields and orchards—start at $6.99 during the week and reach $8.99 on weekends and holidays. Visitors must pay for the items that they pick. Note that timed reservations are required this season.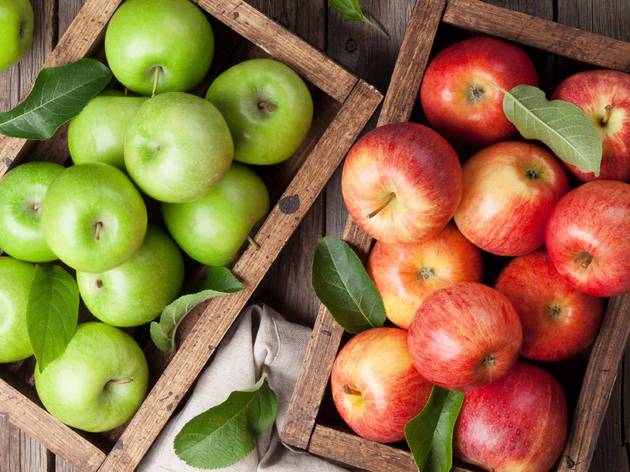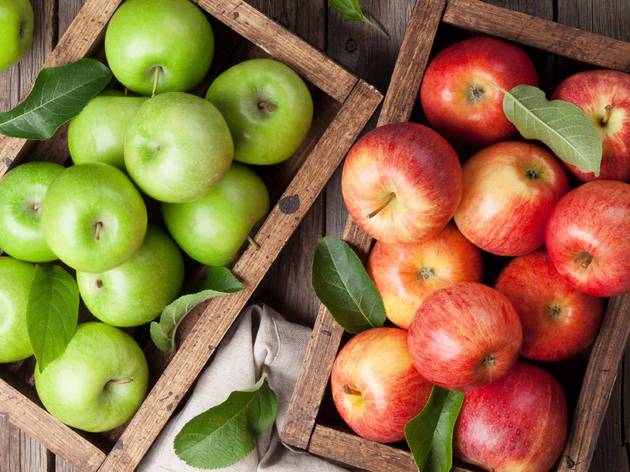 Photograph: Shutterstock
Location: Freehold, New Jersey
Considering Battleview Orchards has been around since 1908, the family-owned-and-operated business certainly has a handle on PYO activities. From sour cherries and sweet peaches to apples and pumpkins, this Jersey farm delivers the goods—and then some! While on the grounds, be sure to participate in seasonal activities like hayrides and stop by the country store for tasty snacks. (Apple cider doughtnuts, anyone?) If you're feeling inspired after your PYO outing, be sure to visit the farm's website for recipe ideas: You know you want to try that apple crumb cake. Call 732-462-0756 for updated PYO information this season.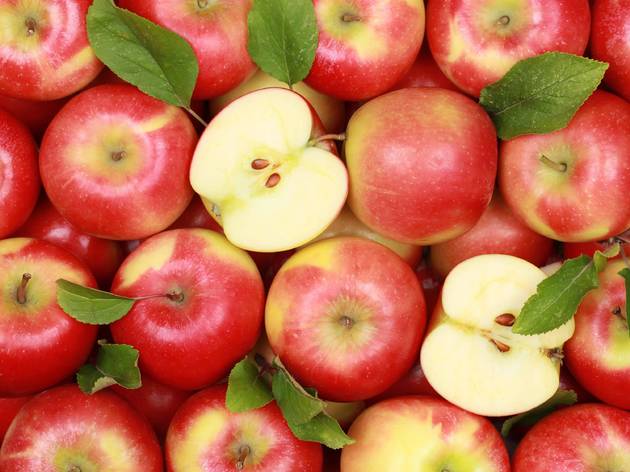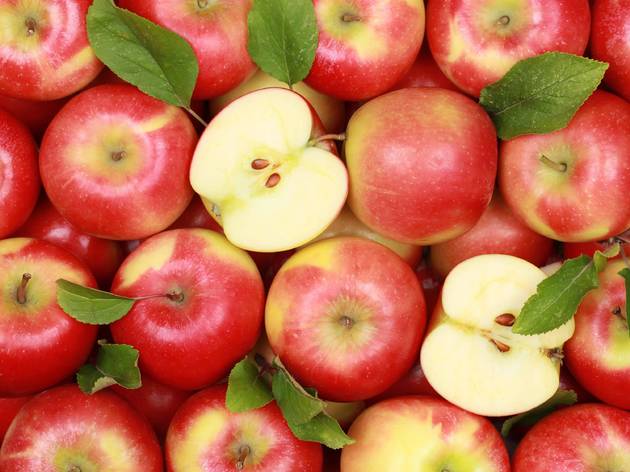 Photograph: Shutterstock
Location: Hillsdale, New Jersey
Demarest Farms is a great place to spend weekend afternoons in the fall, especially as we inch closer to Halloween. Vistors big and lil' can search for a variety of apples with the venue's accommodating PYO hours, plus they'll have exciting activities to choose from after they've filled up their baskets. There's a lenghty roster of things to do, including a petting zoo, playground, hay wagon, corn box and, for the brave souls in your brood, a creepy haunted house. Note that 2020 PYO rules require reservations.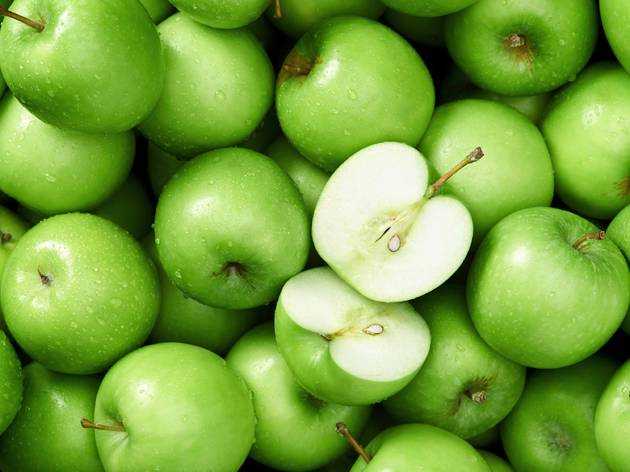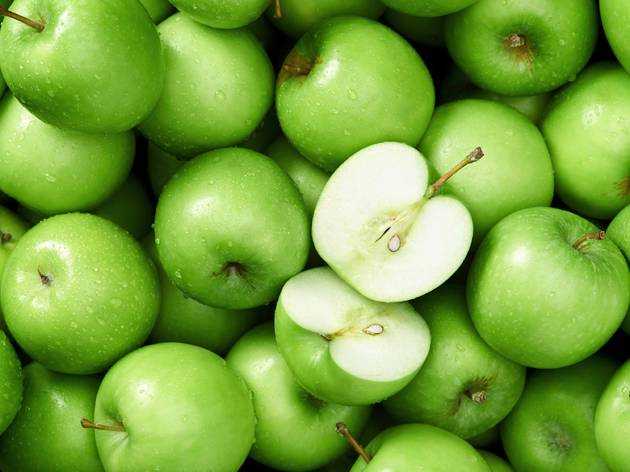 Photograph: Shutterstock
21. Giamarese Farm & Orchards
Location: East Brunswick, New Jersey
This 32-acre farm, which is GMO-free, is worth a visit during the autumn season. Make a pitstop during the Fall Harvest Weekends for apple picking, a selection of food vendors, pony rides and other exciting offerings. Picnics are not permitted on the grounds this season. Be advised that there isn't an ATM on the premises.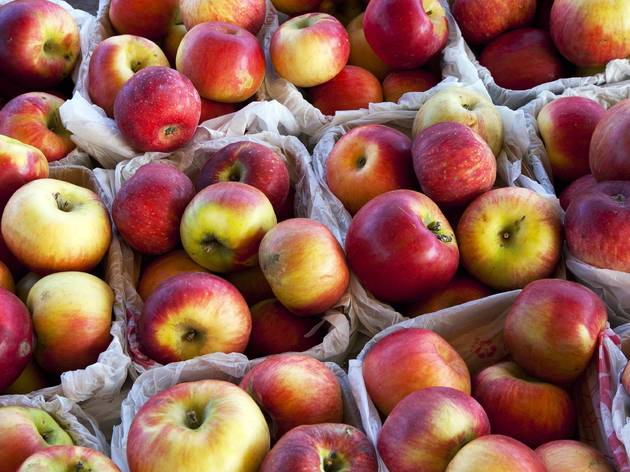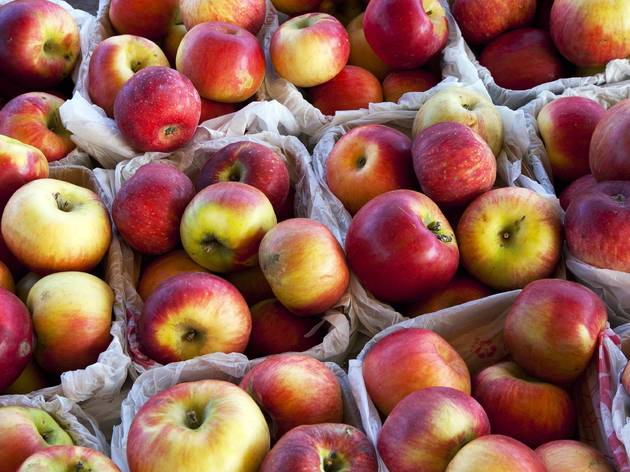 Photograph: Shutterstock
Location: Gillette, New Jersey
PYO schedules vary by month, but come September, it's all-things apples at Hillview Farms. The 53-acre venue is the place to go if you have the craving for something sweet. You'll be inclined to stock up on homemade pie and a cup of cider. No dogs are permitted, so plan accordingly before leaving home.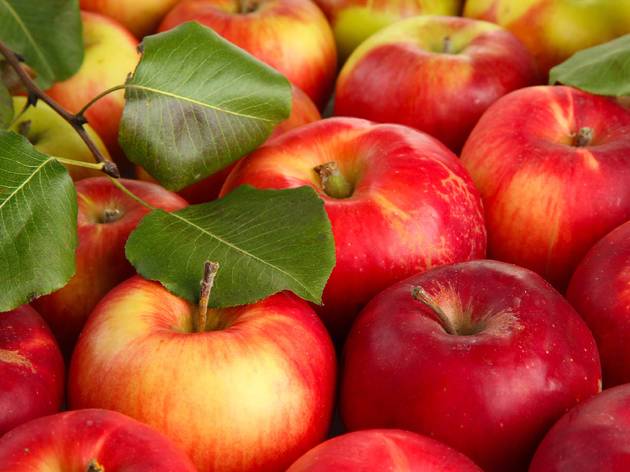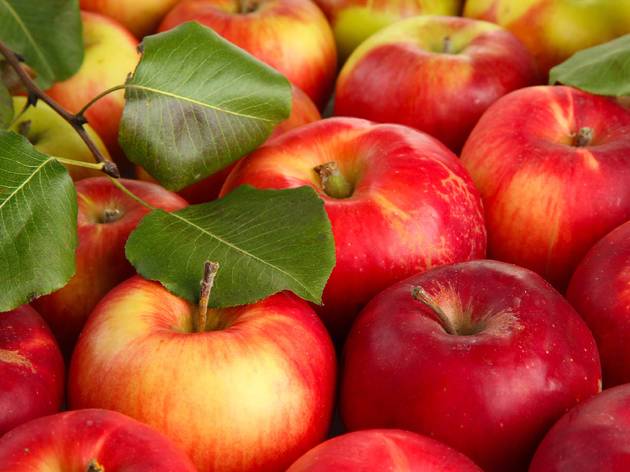 Photograph: Shutterstock
Location: Randolph, New Jersey
Kids can pick their own apples beginning September and take a breather from their harvesting duties for a scoop of homemade ice cream or a bite of fruit pies. After stocking up on snacks, set up shop for lunch at one of the picnic tables. Note that anyone under 18 must be supervised by an adult. Masks are required this year.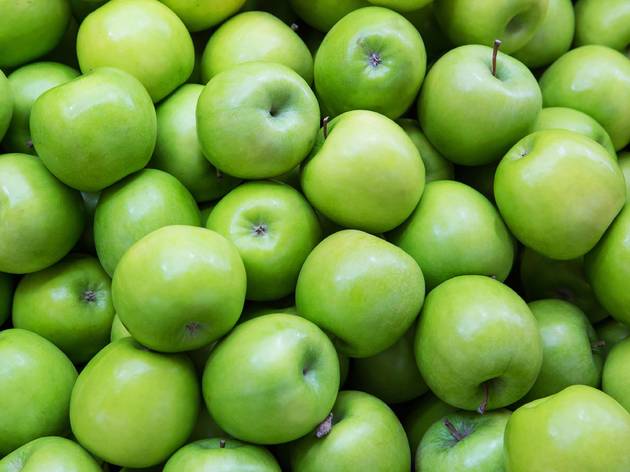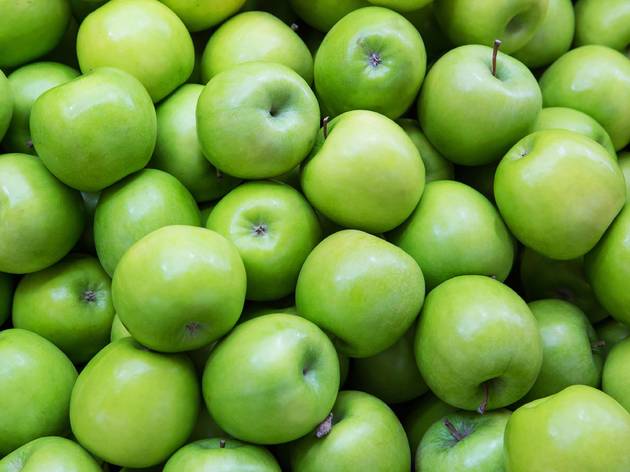 Photograph: Shutterstock
Location: Princeton, New Jersey
Right around the corner from Gary and Pam Mount's main farm, the couple's Van Kirk Road Orchard is ideal for apple picking, with dwarf trees planted in blocks so that they're easy to find and plunder (no ladders or poles necessary). Guests can meet farm animals, get lost in a corn maze, take wagon rides, visit the theme story barn—and, naturally, pick plenty of apples and pumpkins. Wooded trails and the barnyard (filled with sheep, goats and ducks) are open year-round. And for mom and dad, there's the Terhune Orchards Vineyard & Winery tasting room. Note that pets aren't permitted in the PYO area.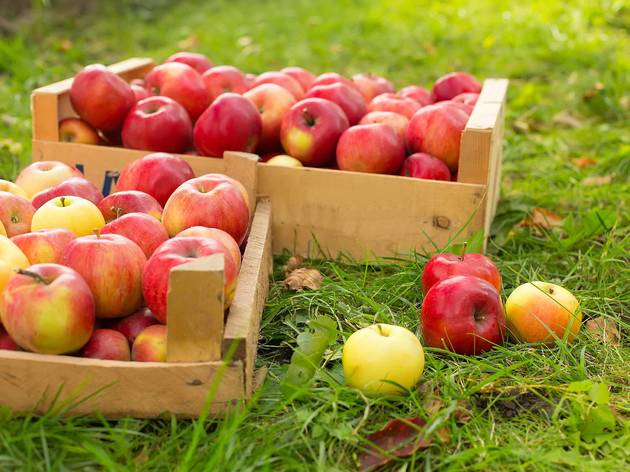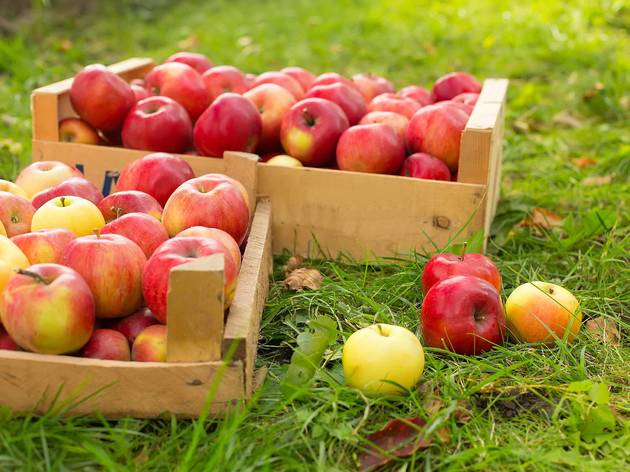 Photograph: Shutterstock
Location: Morristown, New Jersey
Think your kid has mastered corn mazes? Then a visit to Wightman's Farms is in order. It has a plethora of labyrinths, including a crawl maze, giant hay maze, pipe maze and a challenging rope maze for the adventurous tots. After plucking some Granny Smiths, swing by the market for healthy produce and not-so-healthy homemade apple cider doughnuts. Note that tickets are required for PYO entry.
Apple picking CT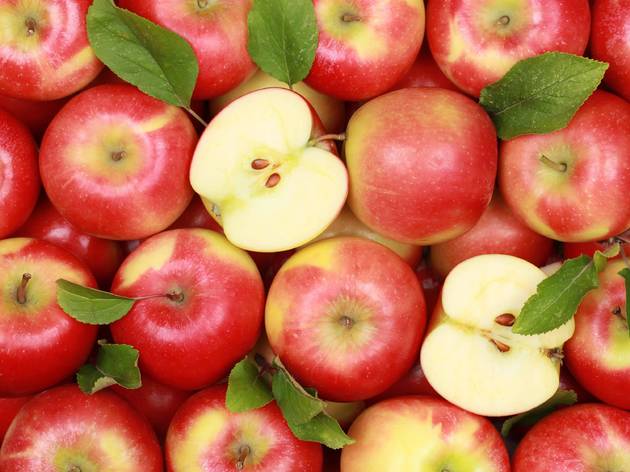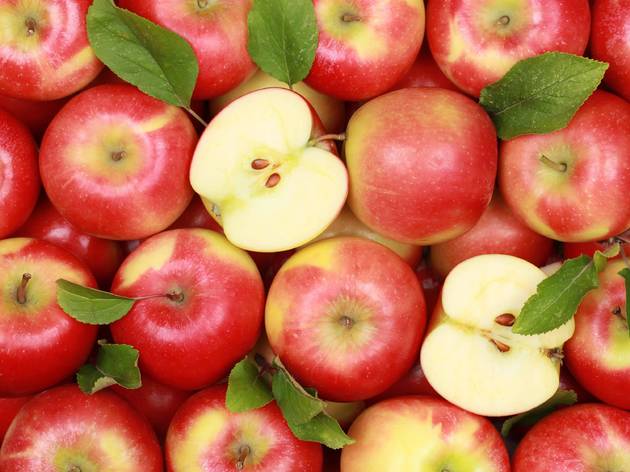 Photograph: Shutterstock
26. Beardsley's Cider Mill & Orchard
Location: Shelton, Connecticut
Beardsley's will keep visitors busy thanks to an orchard of more than 10,000 dwarf apple trees. It's next to impossible to go home empty-handed from this Connecticut farm. Speaking of which, don't forget to visit the bakery for pies, cookies, scones and plenty of other sweets that are equally as irresistible as the fruit selections. We bet you won't be able to say no to the apple-fried dough. The price this year is $20/1 peck bag; only cash and checks are accepted.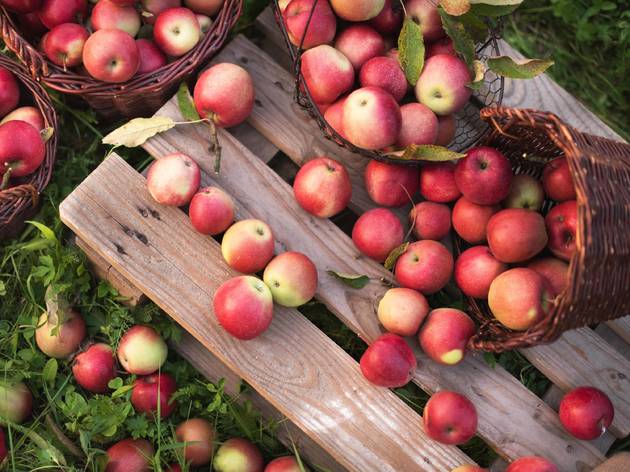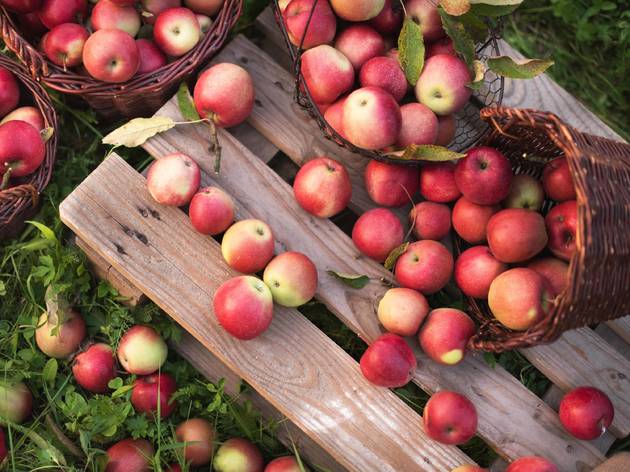 Photograph: Shutterstock
Location: Guilford, Connecticut
No need to wait until autumn to make a visit to Bishop's. The year-round attraction hosts various PYO offerings that vary based on the season, as well as a farmer's market and winery (for the parents who might want to take a breather). Though visitors have access to the grounds all year, it's especially delightful during the fall thanks to the annual Halloween parade, pumpkin patch, corn maze and other offerings celebrating the harvest season.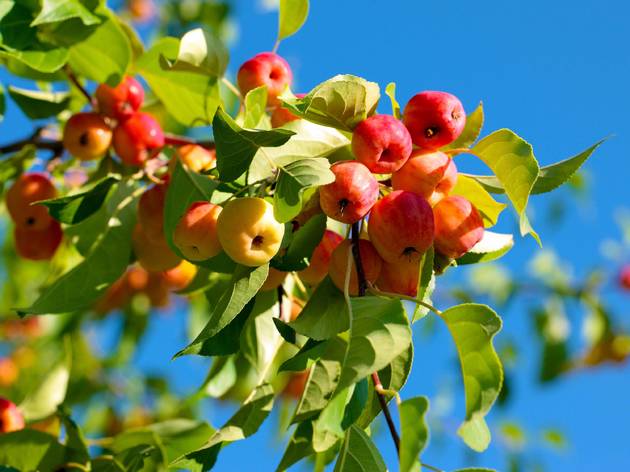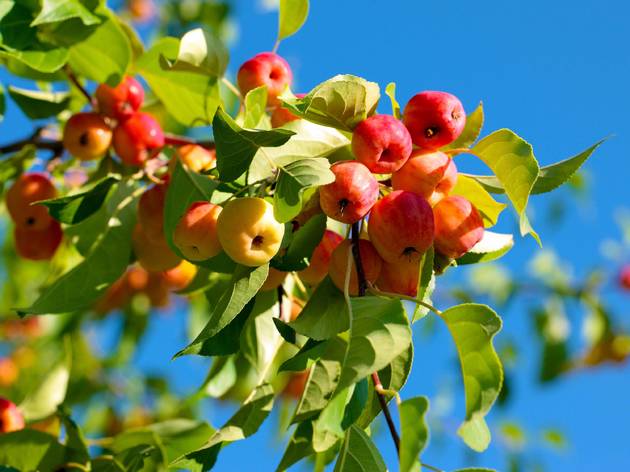 Photograph: Shutterstock
Location: Bethel, Connecticut
How can you resist a trip to Blue Jay Orchards? It's an autumn necessity to find a ghourd in the pumpkin patch, sample honey at the farmer's market and take home pastries and pies from the bakery. Keep an empty basket on hand for apples. You'll be able to stock up on varieties like Braeburn, Stayman, Granny Smiths and much more.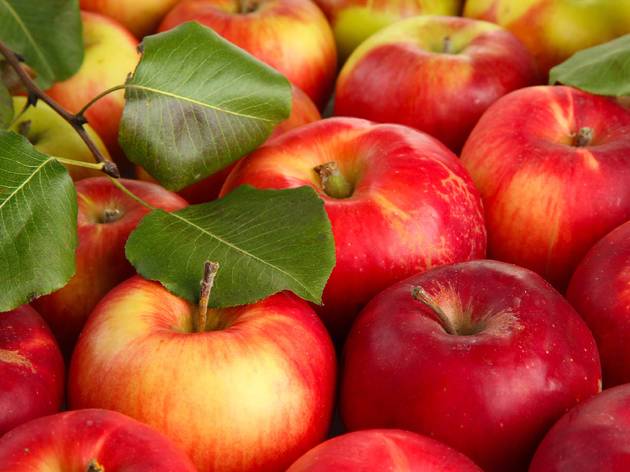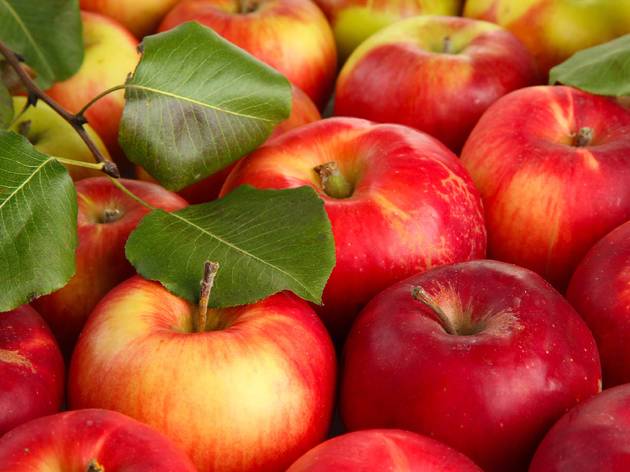 Photograph: Shutterstock
Location: Cheshire, Connecticut
Since 1951, this fruit orchard has been growing peaches, Bartlett and Bosc pears, plums and 16 different varieties of apples. But the original trees, which required ladders and poles to harvest, have been replaced with smaller ones grown on trellises, and there are wagon rides to ferry visitors to the picking areas on weekends. At the farm stand, visitors can pick up home-canned preserves, corn, cider and honey (and even get up close to the honeybees during beehive demonstrations).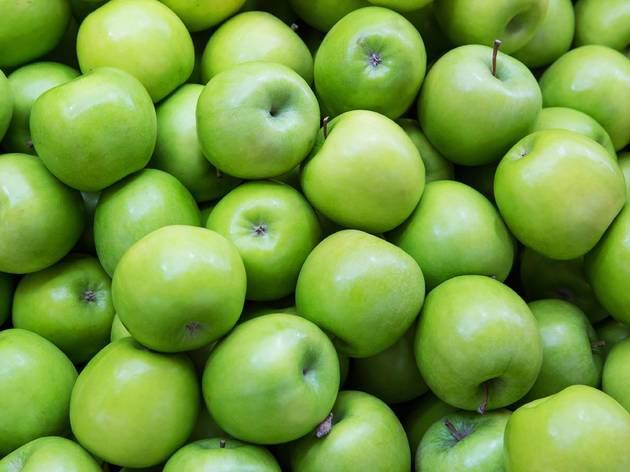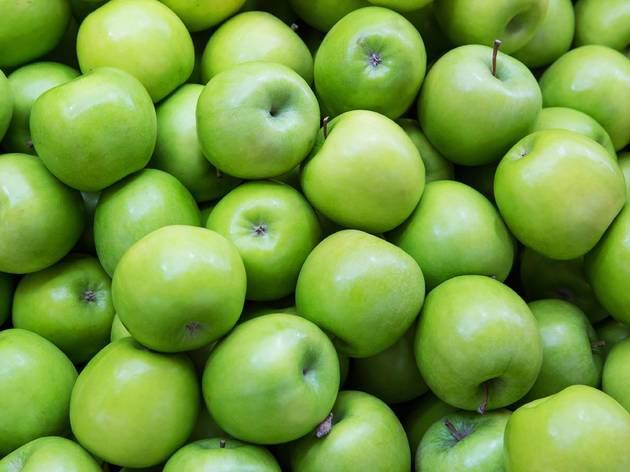 Photograph: Shutterstock
Location: Easton, Connecticut
Buy a bag and pick your favorite apples—or try less-common varieties like Mutsu Crispin, Nittany and Cameo—at this farm founded by owner Irv Silverman's father in the 1920s. The amazing petting zoo also offers more exotic fare, such as buffalo and llamas. When Halloween rolls around, you'll also want to make a special visit for the pumpkin patch (bring your camera!) and the farm's gourds, corn stalks, bales of straw, squash and scarecrows.
Apple picking PA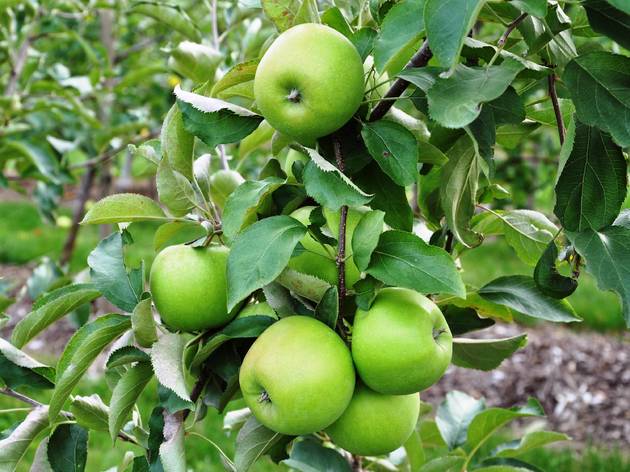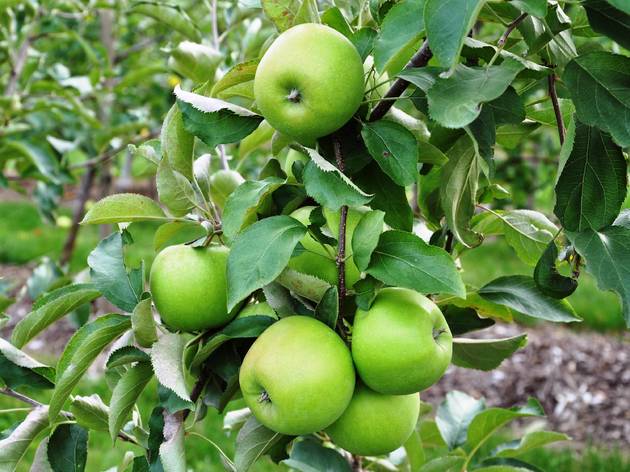 Photograph: Shutterstock
Location: New Hope, Pennsylvania
If you're thinking about a fall getaway, venture to Solebury Orchards. Eighty acres of rustic charm awaits, and the breathtaking scenes from the grounds provide a nice respite from the city. Although you'll likely spend a decent amount of time in the orchards, don't forget to venture to the market to get a taste of the popular cider...and grab a doughnut to go with it.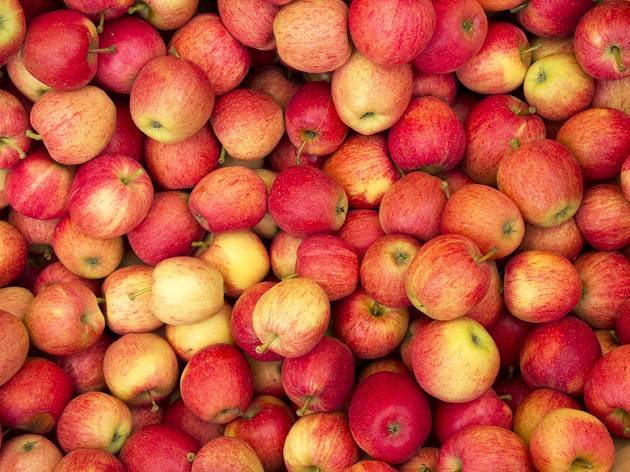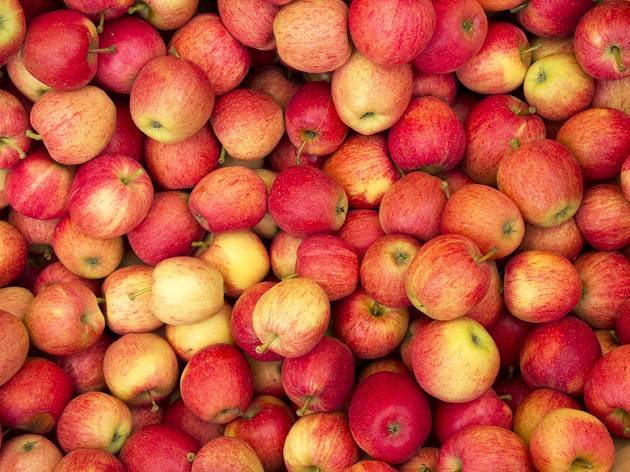 Photograph: Shutterstock
Location: Morgantown, Pennsylvania
Head to the gorgeous Berks County for plenty of PYO options—apples, blueberries, kiwiberries, plums and more. Weavers also has cider in the year-round farm market, alongside a bakery and deli. On Mondays and Wednesdays through the end of August, kids can attend Read and Pick Story Time and then head out to the orchard for their own adventures. Bonus for mom and dad: You can sign up for a cooking class inspired by seasonal fruits and vegetables.