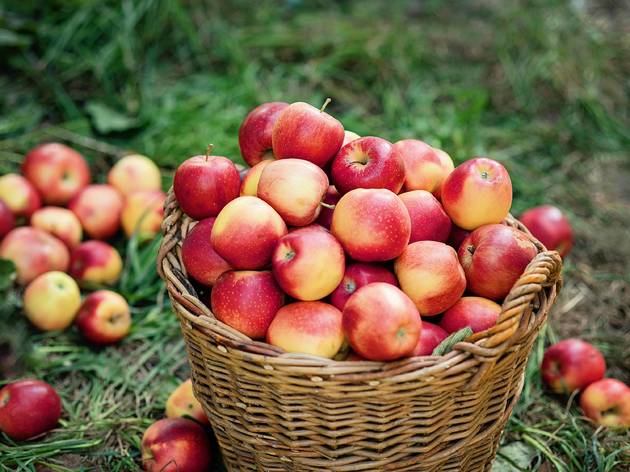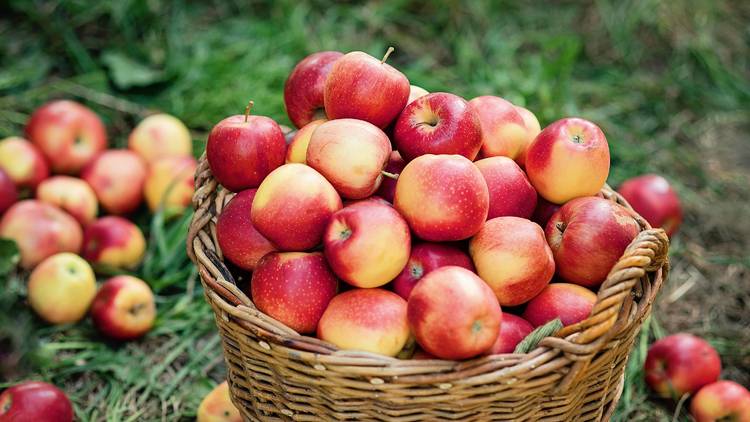 The best apple picking near NYC for kids and families
From apple picking in New York to New Jersey and beyond, here are the best farms and orchards you need to visit this fall
Update: Note that farm guidelines have changed this season. Call each location ahead of time for safety guidelines, reservations (if need be) and more information.
Nothing is sweeter than taking a crisp bite out of a freshly picked apple. As one of the most popular fall day trips from NYC, an apple-picking excursion is an absolute must for NY families hoping to kickstart harvest season. Here, we've rounded up the best apple-picking day trips that are well within reach and just a scenic drive away. So grab an empty basket, hit the road, and summon the autumnal spirit one Granny Smith at a time!
RECOMMENDED: Full guide to where to pick your own fruits and vegetables near NYC
Not only do these sweet farms and orchards offer a nice break from the city, but they are also chock-full of fun fall activities for kids, including petting zoos and corn mazes. Plus, parents and the 21+ crowd can enjoy cider tastings and distillery options at select locations.
There's no time to waste: Find something plaid, grab a cozy sweater, and snag some produce.
Apple picking NY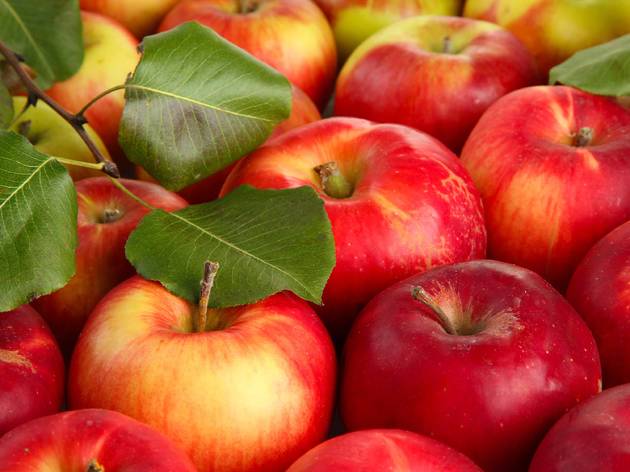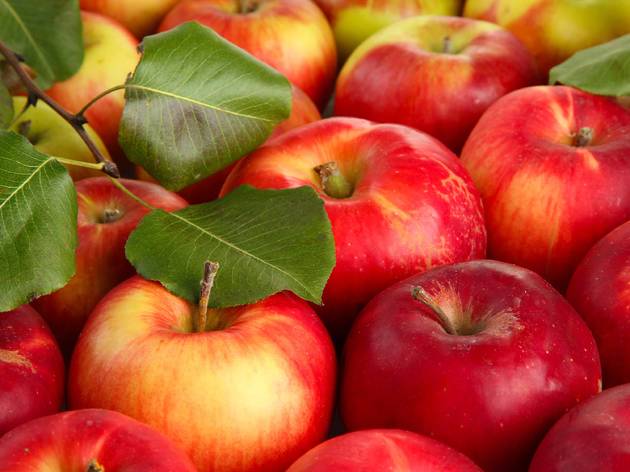 Photograph: Shutterstock
Location: Warwick, New York
The name says it all: Come September, this bucolic orchard turns into a celebration of all things autumn. Visitors can enjoy PYO (pick your own) apples, "Spookley" movie nights, animal meet and greets, a honey bee observation hive and, of course, freshly-grown treats. PYO apple prices start at $32 for a half-bushel.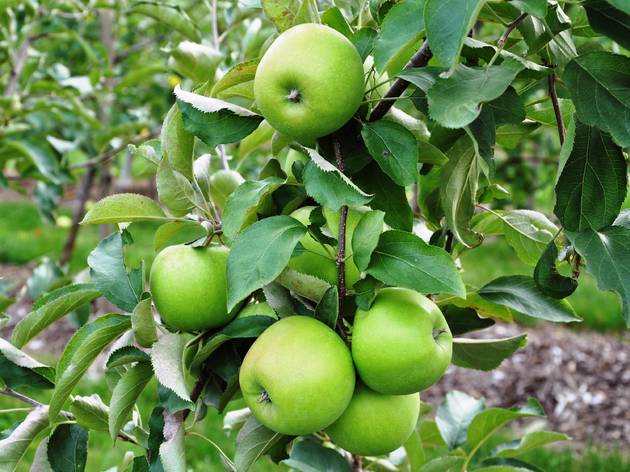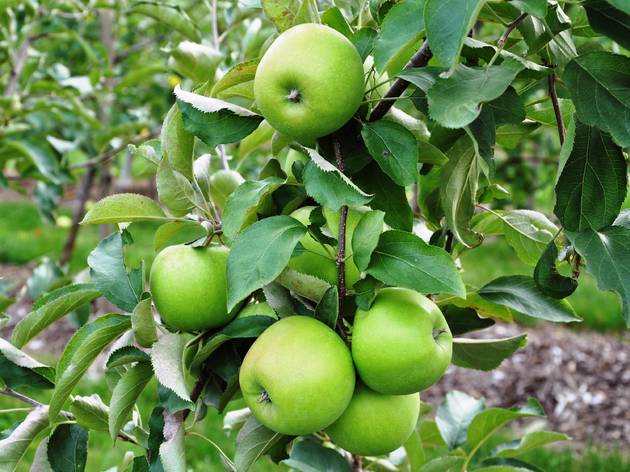 Photograph: Shutterstock
Location: Warwick, New York
Once Labor Day Weekend rolls around, this Hudson Valley hotspot amps its apple activities into high gear. Take a stroll through Apple Dave's Walking Trail for a selection of Cortland, Rome Beauty, and Jonamac apples, among eleven total varieties that vary by month. For the 21+ crowd venturing to Warwick without the tots—or for the parents who need a little "me" time—the orchard's distillery offers up a handful of New York beers alongside the orchard's signature hard cider. Prices vary according to the amount of fruit you pick, but there's no charge for any apples you eat while you explore the orchard.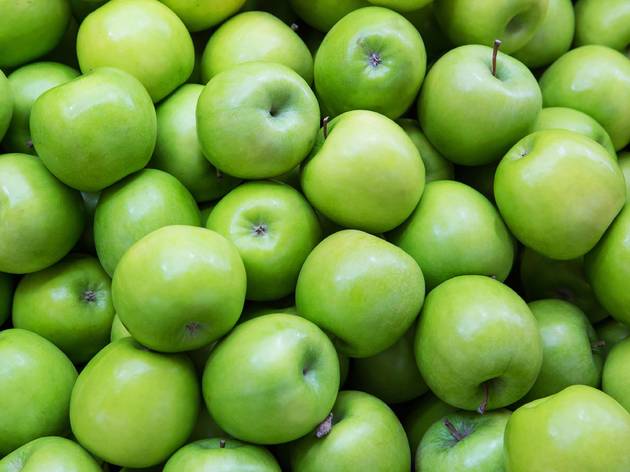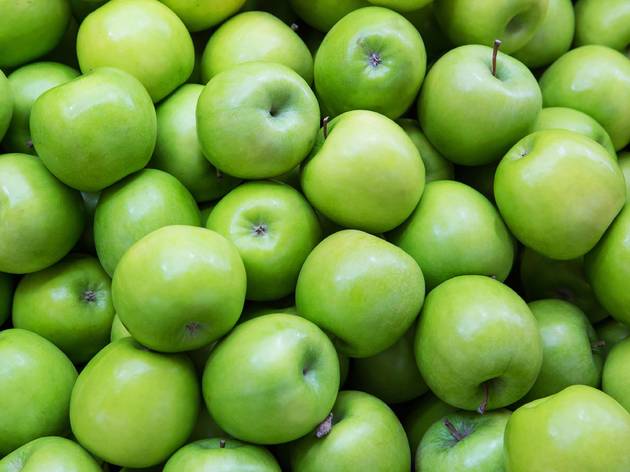 Photograph: Shutterstock
Location: Red Hook, New York
You'll find eleven varieties of apples at this Hudson Valley farm, where super-seasonal picks include Ginger Gold, Jonagold, Staymen-Winesap, Blondee, and more. The 300-acre farm, which boasts picturesque views of the Catskill Mountains, is more than a PYO destination: an indoor market boasts local goods from the Hudson Valley (plus sugary apple cider donuts, of course) while you'll also find a craft market, koi pond, and a converted schoolhouse that can be booked for overnight stays. PYO apple pricing starts at $25 for a half-bushel bag.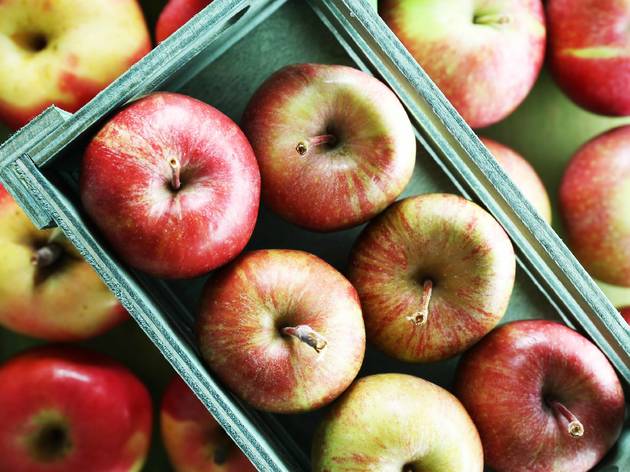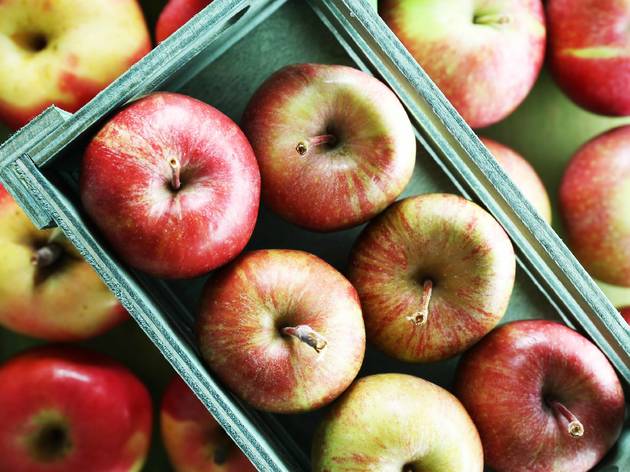 Photograph: Shutterstock
Location: Congers, New York
The Davies Farmhouse was built in 1836 and the rest is history. This New York attraction has long been a popular PYO destination with over 4,000 apple trees and 20 different varieties like Winesap, Golden Delicious, Crispin, and more. Although apple picking is the main attraction, you'll also find plenty of other seasonal activities like a corn maze and scenic hayrides to the farm's Pumpkin Patch. Activities will operate at a reduced capacity this year, so reservations are recommended; visitors must pay with either cash or check.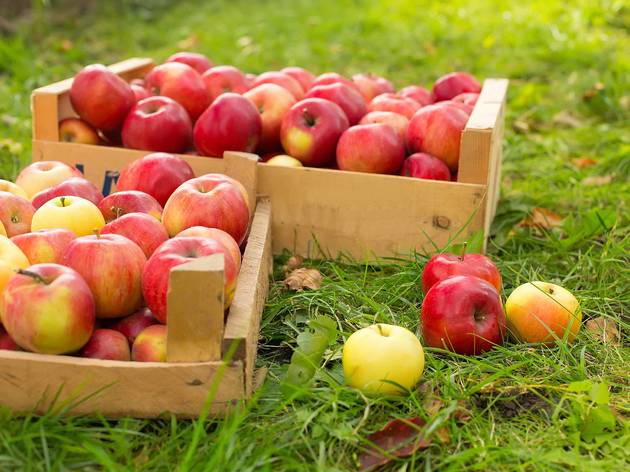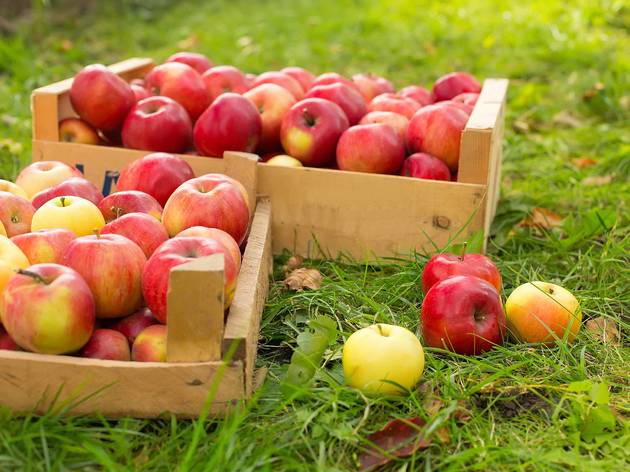 Photograph: Shutterstock
Location: Poughquag, New York
The pickings at Barton Orchards are plentiful, and we're not just talking about the apples. Spread throughout 175 acres, the farm is home to a slew of activities that include a corn maze, haunted house, hayrides, and even a treetop climbing adventure with zip lines and rock walls. Certain activities are only open during festival weeks, so check the orchard's event calendar before you visit. PYO apples cost $10 for a peck bag.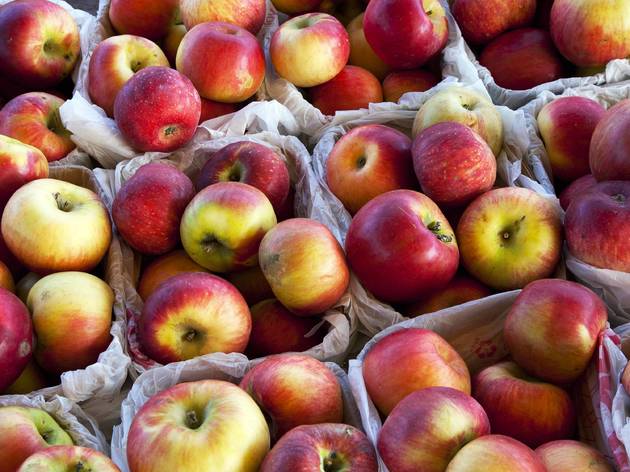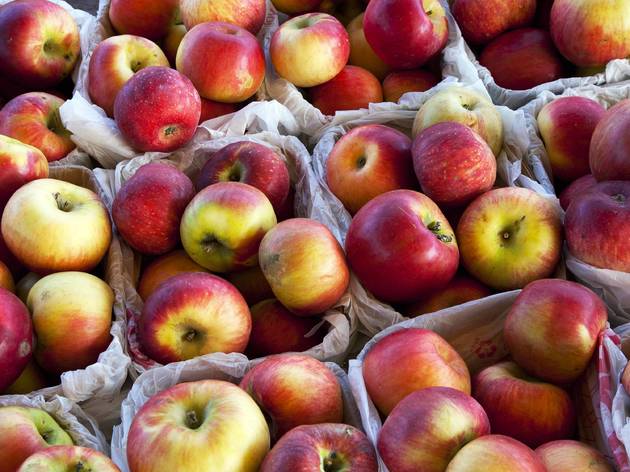 Photograph: Shutterstock
Location: Modena, New York
Hurds Family Farm leads the pack with one of the earliest starts for apple picking (their PYO season usually kicks off in late August). Families can mosey their way through the grounds in search of Macoun, SnapDragon, Ginger Gold, and Granny Smith plus other delectable picks. While there, you'd be remiss not to indulge the farm's playful side: beyond the usual suspects (like hayrides and a corn maze), you'll also find a giant slide, pony rides, and an obstacle course. PYO apple prices range from $14–$42.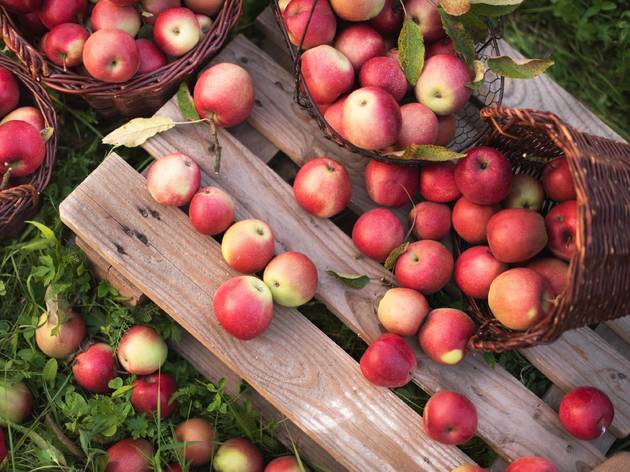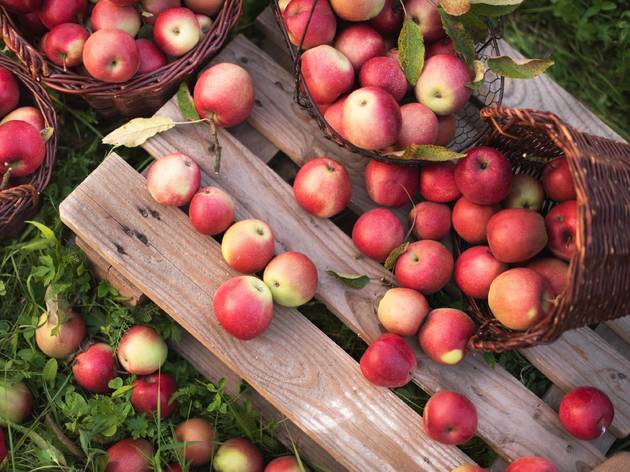 Photograph: Shutterstock
Location: Kerhonkson, New York
Families looking for pick-your-own apples will ample fruit and so much more at Kelder's Farm. Kids can enjoy the petting zoo, hayrides, a corn maze, and even a giant jumping pillow to burn off extra energy. Everyone can practice their swing at a mini-golf course when they're done selecting fruits, veggies, herbs, and flowers. Make sure to wave goodbye to the world's largest garden gnome on your way out. Visitors can purchase a PYO apple picking pass for $15 per person (ages 3 and up) that comes with a half-peck bag.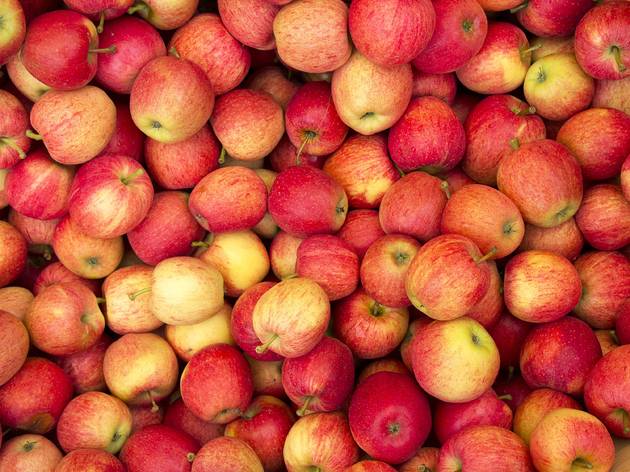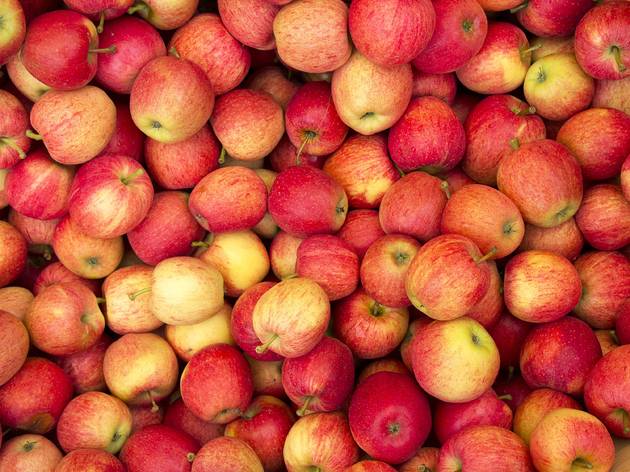 Photograph: Shutterstock
Location: Hopewell JCT, New York
The apples are sweet, but the sweeping landscape is even sweeter at this Hudson Valley farm. Spread across 270 acres, pickers can enjoy a wide selection of eco-friendly apples (about half the farm's apple trees are organic) like Pixie Crunch, Sweet Sixteen, Shizuka, and Suncrisp. Traveling sans kids? Stop by the farm's Cider Bar and sample the farm's estate-made Treasury Cider while soaking in crisp views of the Catskill Mountains. Reservations are required this year; PYO apple prices start at $40 per group.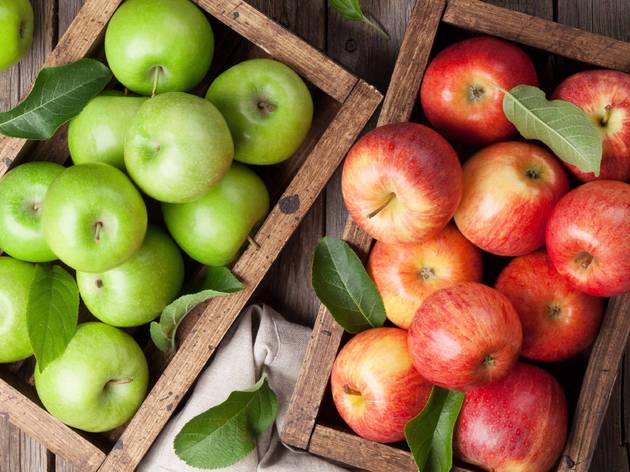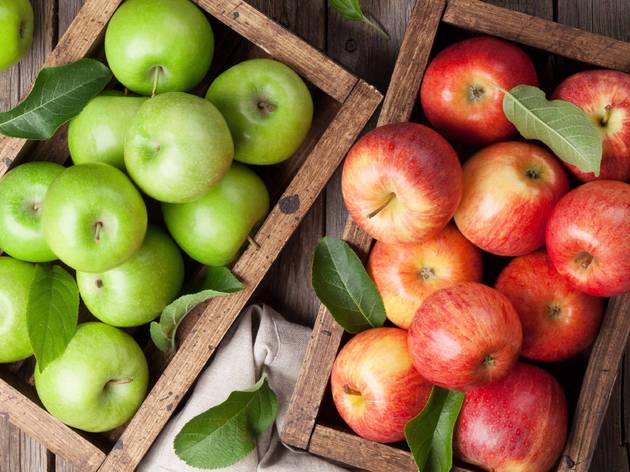 Photograph: Shutterstock
9. Milk Pail Farm and Orchard
Location: Water Mill, New York
At this Hamptons homestead (which started as a dairy farm), even smaller kids can pluck fruit from short dwarf trees that grow 20 different apple varieties from September to October. To make the most out of your visit, check out the wagon-led farm tours, fresh cider at the Milk Pail country store, and a pumpkin patch with over 60 varieties of gourds—some weighing up to 150 pounds! PYO apple pricing starts at $14 for a five-pound bag.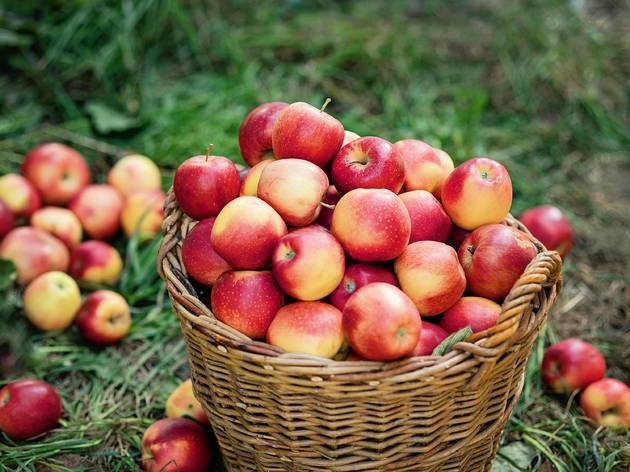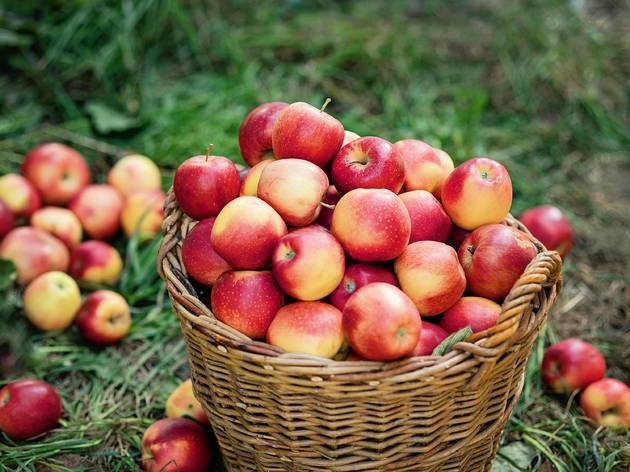 Photograph: Shutterstock
10. Lawrence Farms Orchards
Location: Newburgh, New York
This Newburgh orchard isn't just teeming with apples (of which over a dozen varieties are available, from Empire to Cortland and Macintosh). It's also a feast of other delicious offerings that'll fill your basket with a full bounty of autumn's best flavors. Visit in late September through October for sweet corn, cabbage, winter squash, gourds, and other peak-season picks. Admission for PYO activities is $5; there's no charge for children two and under.
Photograph: Shutterstock
Location: Ghent, New York
If the name isn't clear enough, this charming orchard is a top pick for apple lovers. The 80-acre farm, which includes a petting zoo (meet characters like Salt 'n Peppa the sheep or Autumn the goat), bakery, market, and cafe, also offers up stellar views of the Catskill Mountains that are bound to make you swoon. From late August through October, however, the focus is on the farm's U-Pick apple trees as they burst with heirloom varieties that range from Ida Red to Lady in Red and even Red Jona—take your pick!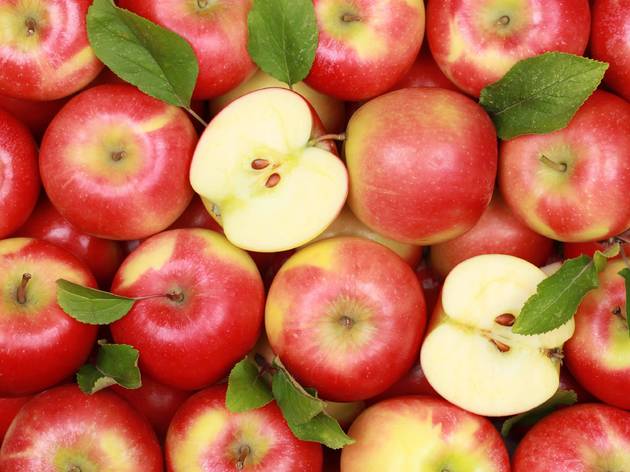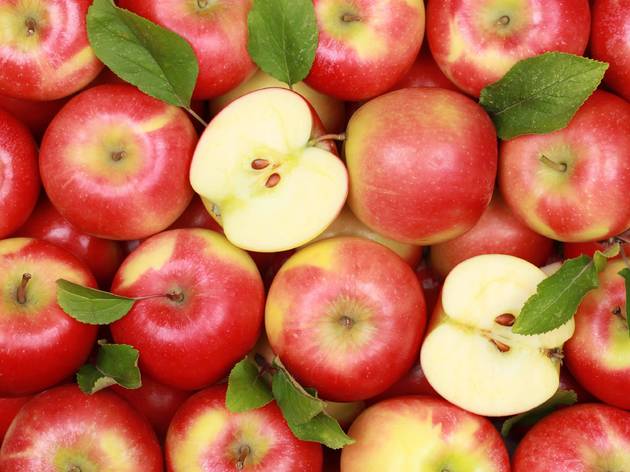 Photograph: Shutterstock
Location: Warwick, New York
Head to this 200-acre orchard for a truly epic autumnal experience—the farm boasts over 10,000 fruit trees and 14 varieties of apples. As a drive-through orchard, visitors actually pull right up to any clutch of trees they want (so long as the spot isn't already taken), which makes for a rather private U-Pick experience. We recommend packing a picnic to enjoy alongside your chosen lot. PYO apples are $33.95 per bushel.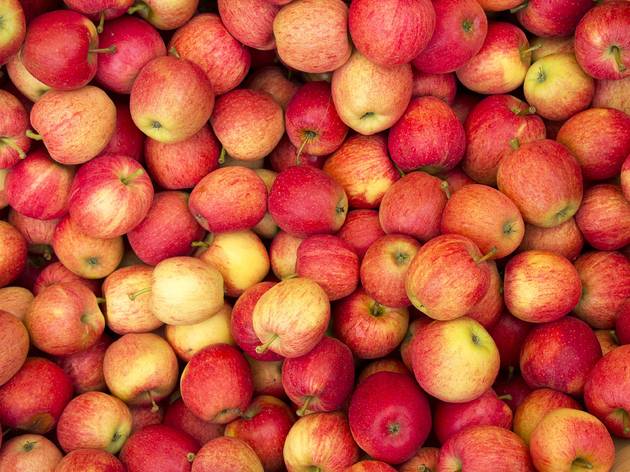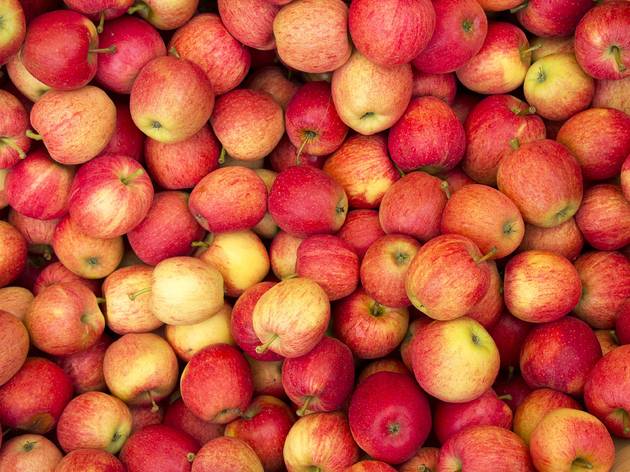 Photograph: Shutterstock
Location: Stone Ridge, New York
There have been fruit-bearing trees here for more than 200 years, but this farm's approach to sustainability is very 21st century. More than a dozen varieties of classic organic apples are ripe for the picking—including classics like McIntosh, Cortland, and Stayman—but much of the land now grows newer breeds on smaller, more densely planted trees, putting less stress on the soil while producing bigger and sweeter fruit. Take a bite and judge for yourselves. Call for availability before making a visit.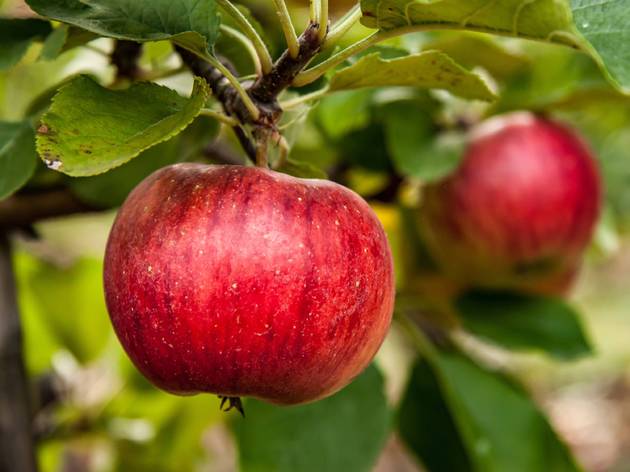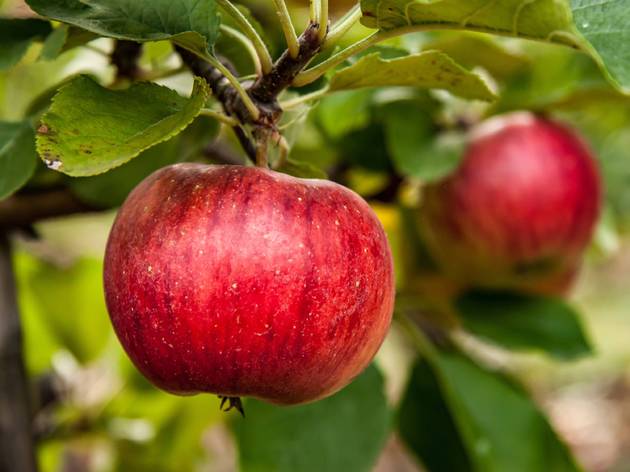 Photograph: Shutterstock
14. Minard's Family Farms
Location: Clintondale, New York
Your crew will run wild at Minard's Family Farm, considering the venue comes equipped with a 3-acre corn maze, giant bounce pillow, pumpkin bowling, a petting zoo, and other fun fall activities to make it a full day trip. As for the apple picking? You'll be treated to more than 100 acres of apple trees. Be sure to swing by the farm stand for freshly baked goods, homemade jams, and quick snacks like hot dogs and fries. PYO apple pricing starts at $12 for a half-peck.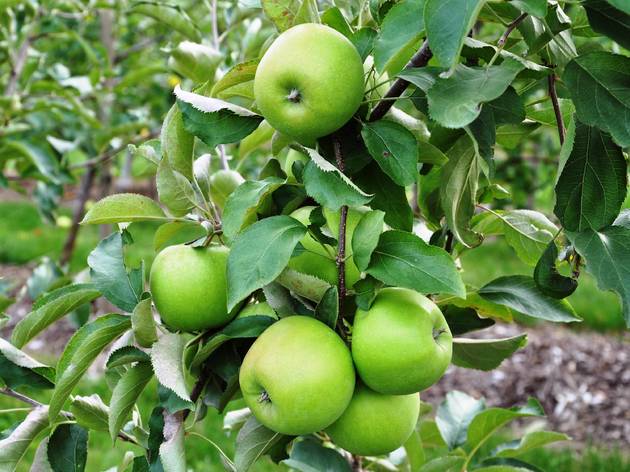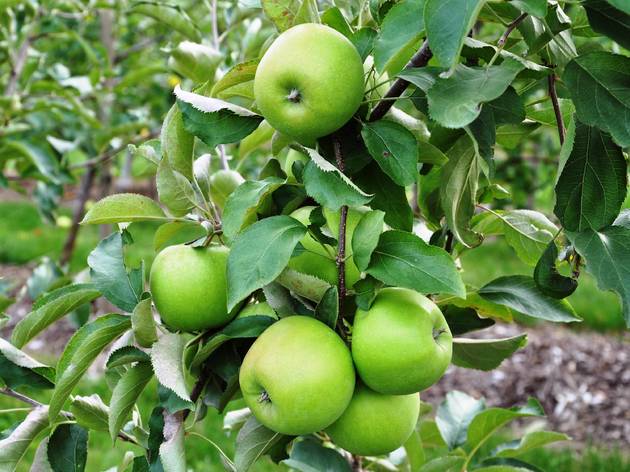 Photograph: Shutterstock
Location: Warwick, New York
Create some unforgettable family memories at Pennings Orchard, located on over 50 acres of beautiful farmland. The venue offers over 20 varieties of apples like Ginger Golds, Braeburns, Mutsu, Empire, Honeycrisp, Golden Delicious, and more. Families can also visit the Pennings Farm Market and pick up all kinds of homegrown produce (think pumpkins, zucchini, and more) as well as fresh goods from neighboring farms. Looking for something sweet? An ice cream counter is open year-round with seasonal flavors and decadent sundaes.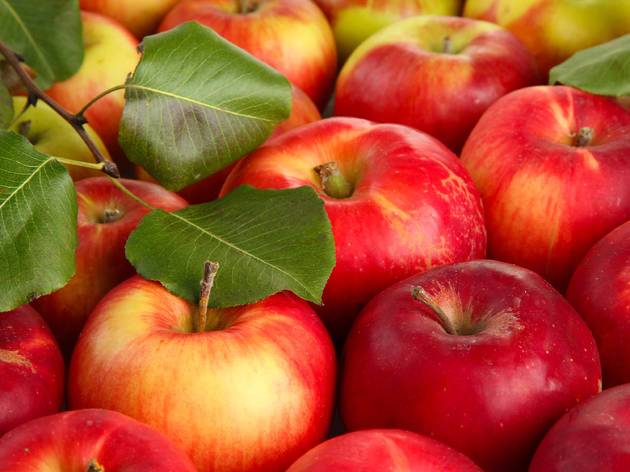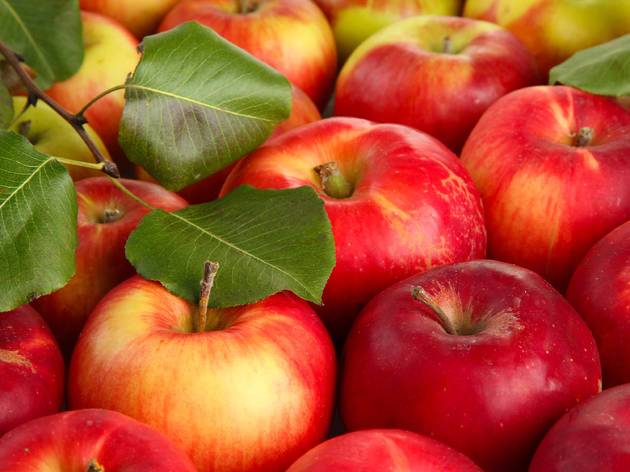 Photograph: Shutterstock
Location: Croton Falls, New York
Don't let the name discourage you from experiencing this beautiful escape in North Salem. No matter what type of apple you're craving—Jonamac, McIntosh, or Cortland—Outhouse has you covered while pears and peaches are up for grabs, too. Not only should you stock up on produce, make sure to enjoy all of the farm's fall activities like corn mazes and hayrides. Reservations are required this year.
Apple picking NJ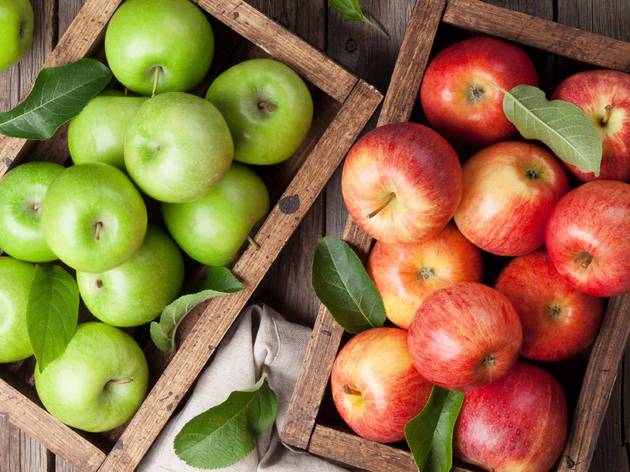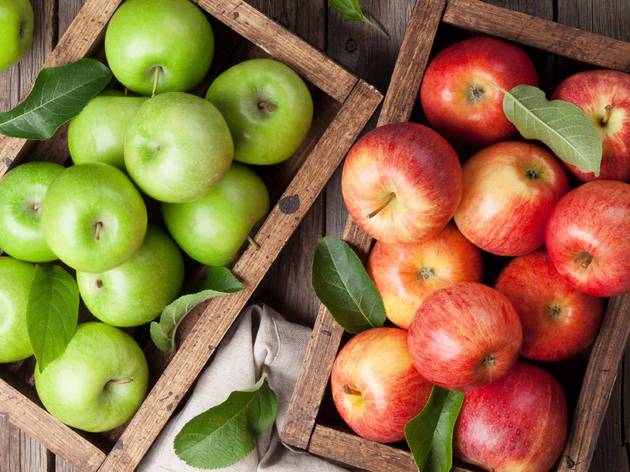 Photograph: Shutterstock
Location: Freehold, New Jersey
Considering that Battleview Orchards has been around since 1908, the family-owned-and-operated business certainly has a handle on PYO activities. From sour cherries and sweet peaches to apples and pumpkins, the Jersey farm delivers the goods and then some. While on the grounds, be sure to participate in seasonal activities like scenic weekend hayrides, and don't miss the tasty snacks at the farm's Country Store—apple cider donuts, anyone? PYO pricing starts at $1.69 per pound.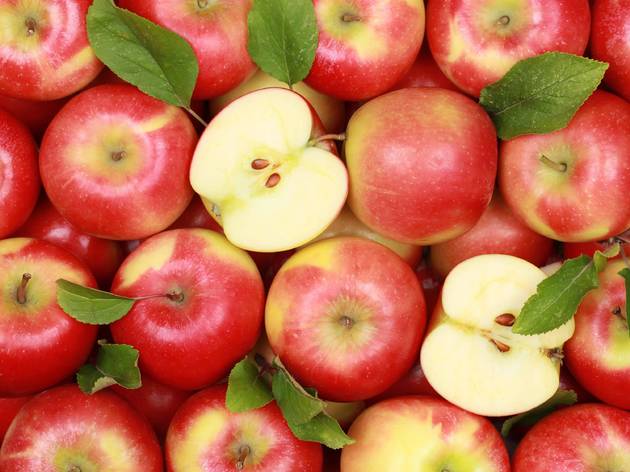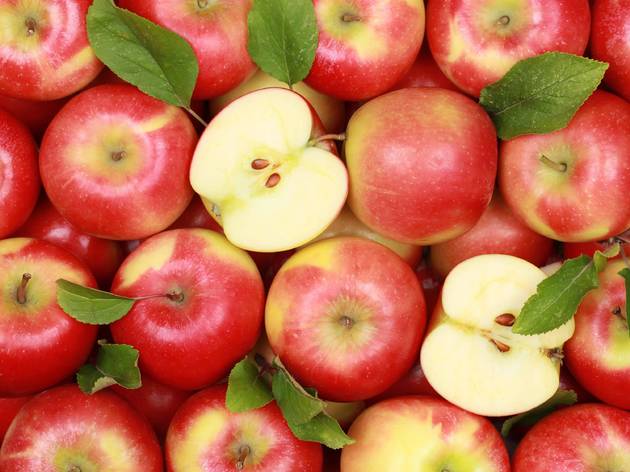 Photograph: Shutterstock
Location: Hillsdale, New Jersey
Demarest Farms is a great place to spend weekend afternoons in the fall, especially as we inch closer to Halloween—beyond apples and peaches, the farm even offers pumpkin picking. After visitors big and small have filled up their baskets, they can hop over to the farm's petting zoo and playground for an extra dose of fun. Reservations are required and can be booked online; admission is $7 per person plus a $14 Apple Bag (about 10-12 pounds of apples).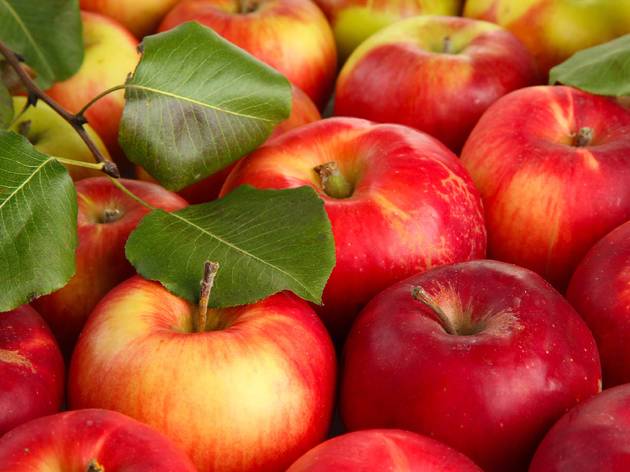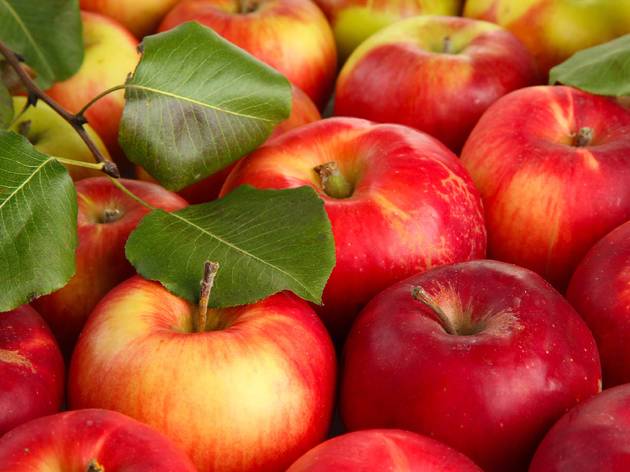 Photograph: Shutterstock
Location: Randolph, New Jersey
Starting in September, kids can pick their own apples and take a breather from their harvesting duties for a scoop of homemade ice cream or a bite of fruit pie at this 25- acre orchard. After stocking up on snacks, set up shop for lunch at one of the picnic tables. This year, the orchard will only be open for PYO on weekdays; PYO pricing starts at $7 for a quarter-peck.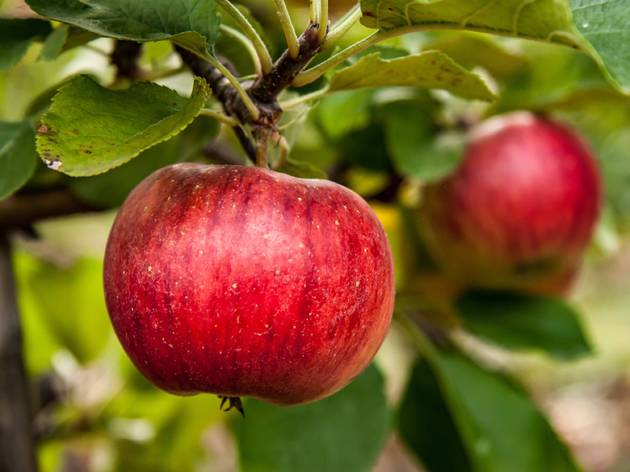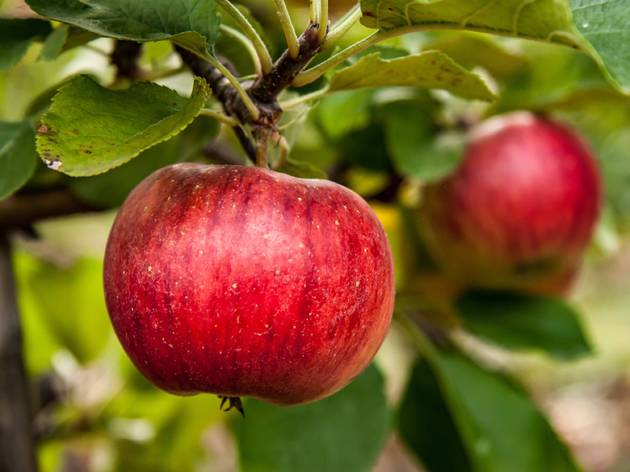 Photograph: Shutterstock
Location: Chester, New Jersey
Leave room in your basket: PYO options abound at this Jersey locale. If you have a hankering for homemade apple goodies, you can catch Lodi, Pristine, and Red Free apples in early August (a surefire way to put you in a fall state of mind). Once the festivities get underway in autumn, kids will not only enjoy apple picking, but they'll most likely opt for pony rides, walks through the corn maze, and moonlight hayrides. Regardless of the time of year, all Alstede Farms visitors need a cone of homemade ice cream! Timed tickets for PYO must be booked in advance.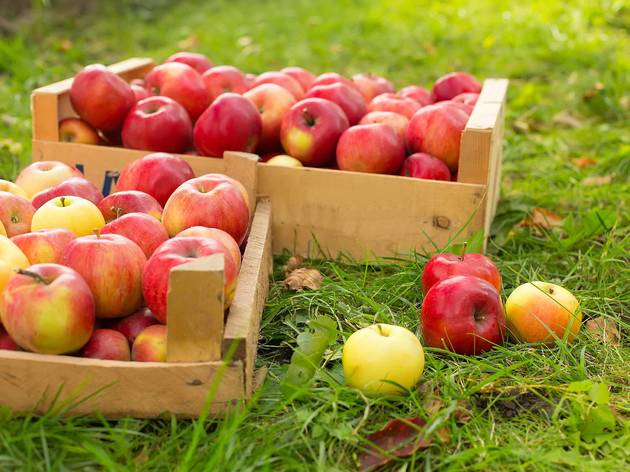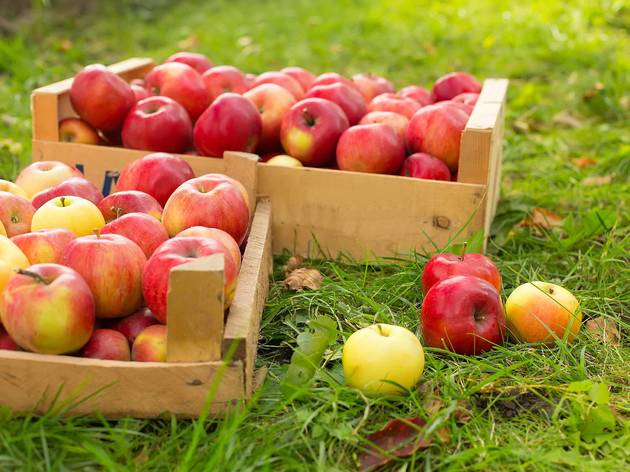 Photograph: Shutterstock
Location: Morristown, New Jersey
Think your kid has mastered corn mazes? Then a visit to Wightman's Farms is in order. It has a plethora of labyrinths, including a giant corn maze, hay bale maze, paver maze, and a challenging rope maze for the adventurous tots. After plucking some Granny Smiths, swing by the market for healthy produce and not-so-healthy homemade apple cider donuts. A $10 membership is required for entry; PYO apples are priced by the pound.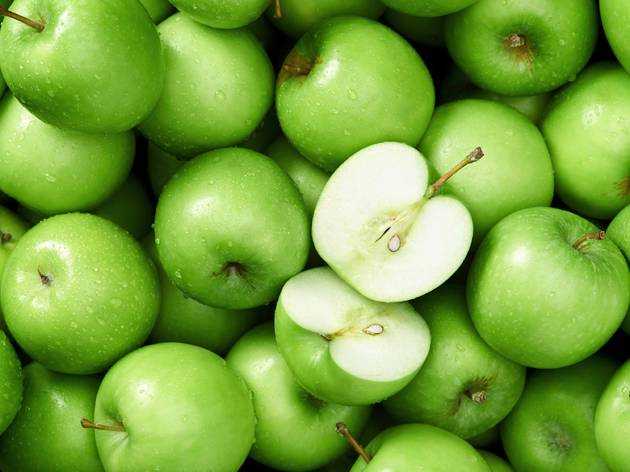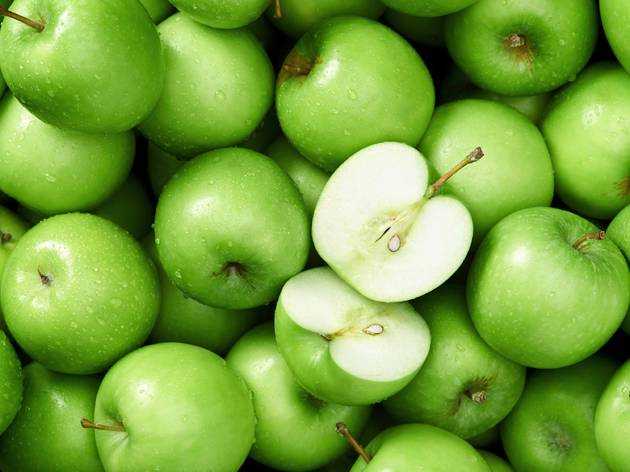 Photograph: Shutterstock
23. Giamarese Farm & Orchards
Location: East Brunswick, New Jersey
This 35-acre farm, which is GMO-free, is well worth a visit during the autumn season. Make a pitstop during Fall Harvest Weekends for apple picking, pony rides, a corn maze, and other exciting offerings. PYO pricing is $2.29 per pound; there is an additional $3 admission fee per person on weekends.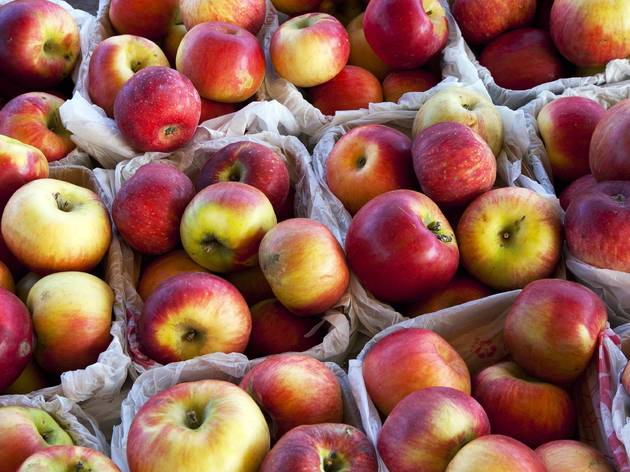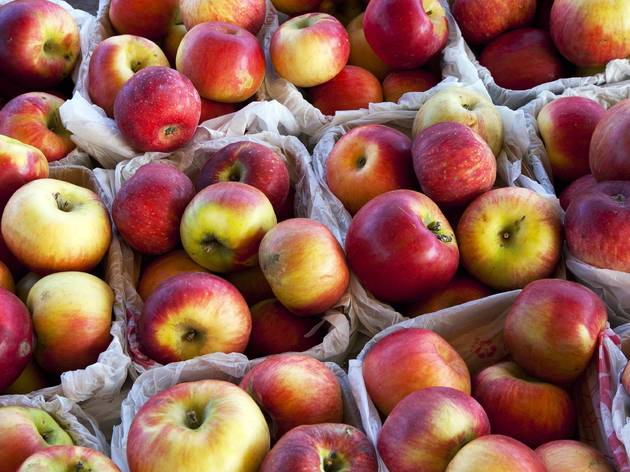 Photograph: Shutterstock
Location: Gillette, New Jersey
PYO schedules vary by month, but come September it's all-things apples at Hillview Farms. The 53-acre venue, set on the hills of the Watchung mountain range, is the place to go if you're craving sweet varieties of apples like Suncrisp (the farmer's personal favorite), Bumpy Mac, and Honeycrisp. What else? Stock up on homemade pie and take a swig of apple cider from Hillview's Farm Market.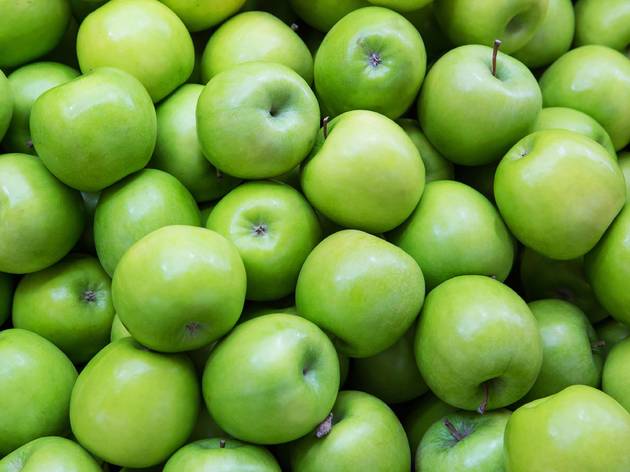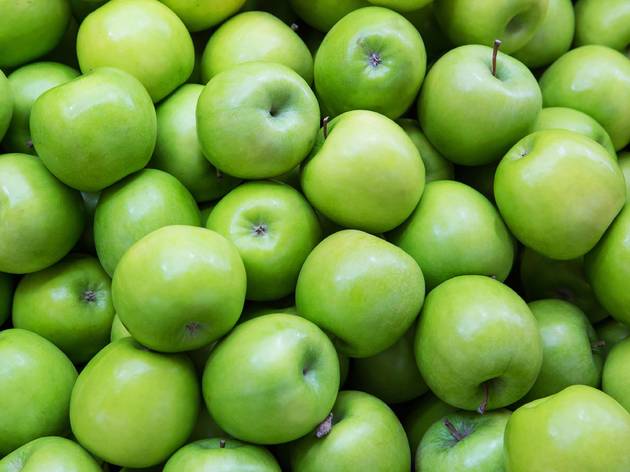 Photograph: Shutterstock
Location: Princeton, New Jersey
Right around the corner from Gary and Pam Mount's main farm, the couple's Van Kirk Road Orchard is ideal for apple picking, with dwarf trees planted in blocks so that they're easy to find and plunder (no ladders or poles necessary). Guests can meet farm animals, get lost in a corn maze, take wagon rides, visit the theme story barn—and, naturally, pick plenty of apples and pumpkins. Wooded trails and the barnyard (filled with sheep, goats, and ducks) are open year-round. And for mom and dad, there's the Terhune Orchards Vineyard & Winery tasting room. Each guest (five years and older) must purchase a picking bag; bags start at $8.
Apple picking CT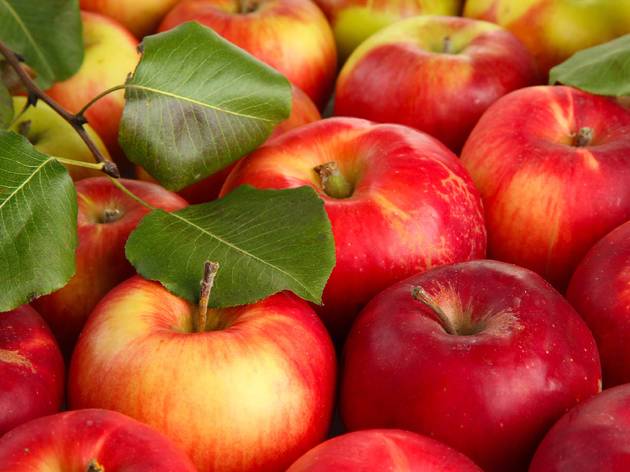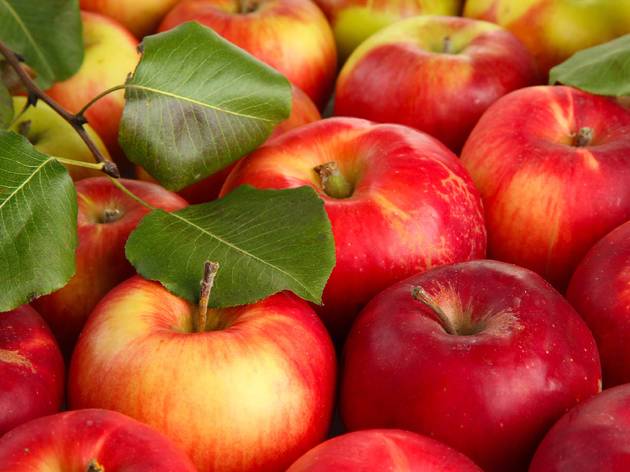 Photograph: Shutterstock
Location: Cheshire, Connecticut
Since 1951, this fruit orchard has been growing peaches, Bartlett and Bosc pears, plums, and over a dozen different varieties of apples. But the original trees, which required ladders and poles to harvest, have been replaced with smaller ones grown on trellises (easier to pick than traditional New England varieties that tend to require tricky ladders). At the farm stand, visitors can pick up home-canned preserves, pumpkins, apple cider, and honey (and even get up close to the honeybees during beehive demonstrations).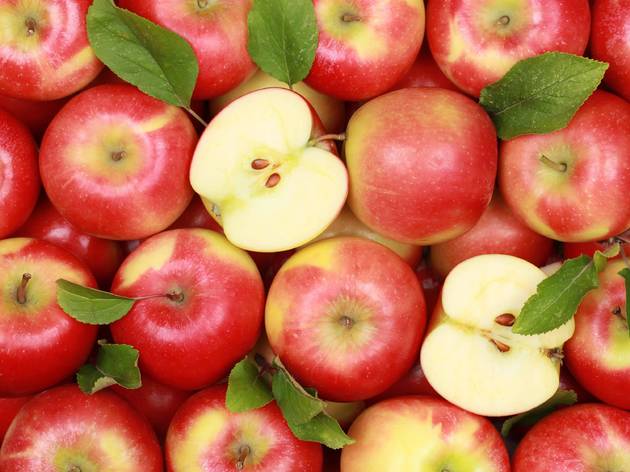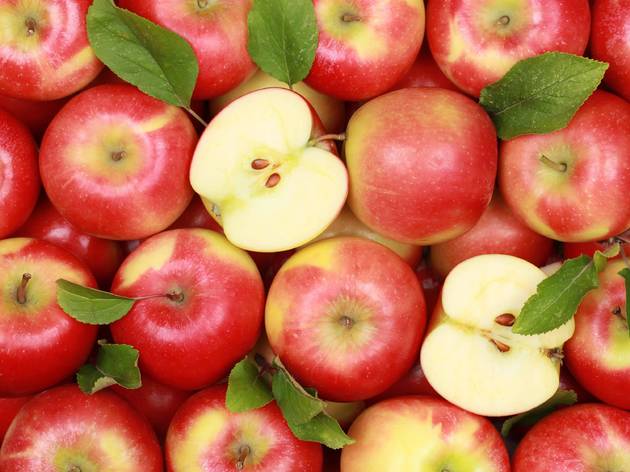 Photograph: Shutterstock
27. Beardsley's Cider Mill & Orchard
Location: Shelton, Connecticut
Beardsley's will keep visitors busy thanks to an orchard of more than 10,000 dwarf apple trees. It's next to impossible to go home empty-handed from this Connecticut farm. Speaking of which, don't forget to visit the bakery for pies, cookies, scones, and plenty of other sweets that are equally as irresistible as the fruit selections. We bet you won't be able to say no to the apple-fried dough. Note that PYO activities are only available on weekends.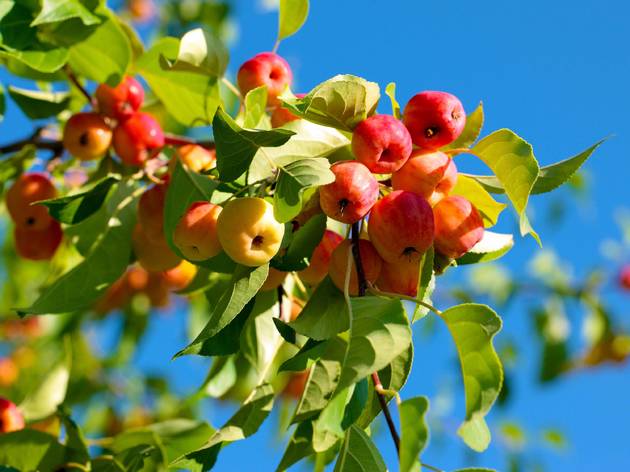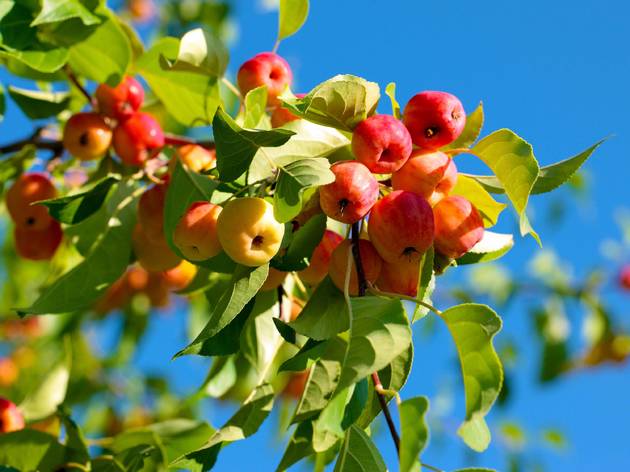 Photograph: Shutterstock
Location: Bethel, Connecticut
How can you resist a trip to Blue Jay Orchards? It's an autumn necessity to find a gourd in the pumpkin patch, sample honey at the farmer's market, and take home pastries and pies from the bakery. Keep an empty basket on hand for apples—you'll be able to stock up on varieties like Braeburn, Cortland Stayman, Granny Smith, and many more.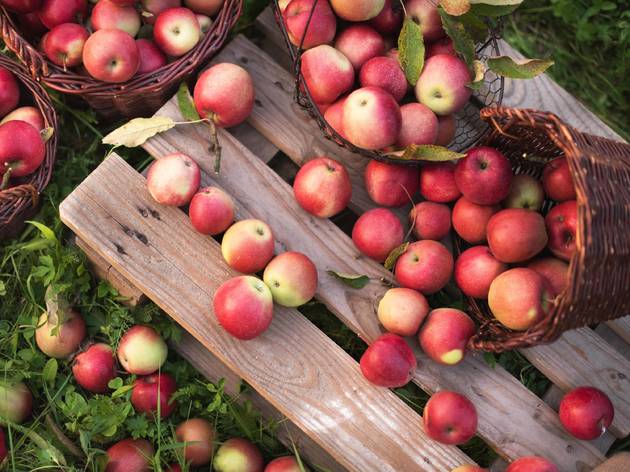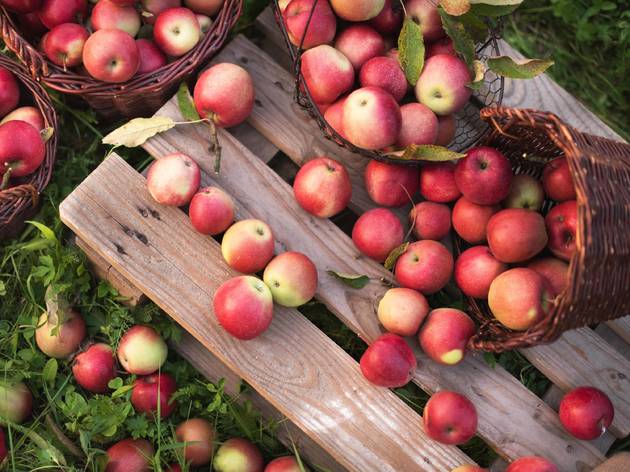 Photograph: Shutterstock
Location: Guilford, Connecticut
No need to wait until autumn to make a visit to Bishop's Orchards. The year-round attraction hosts various PYO offerings that vary based on the season, as well as a farmer's market and winery (for the parents who might want to take a breather). Though visitors have access to the grounds all year, it's especially delightful during the fall thanks to the annual Halloween parade, pumpkin patch, corn maze, and other offerings celebrating the harvest season. PYO apple pricing starts at $22 for an 8-quart bag, or $40 for a half-bushel bag.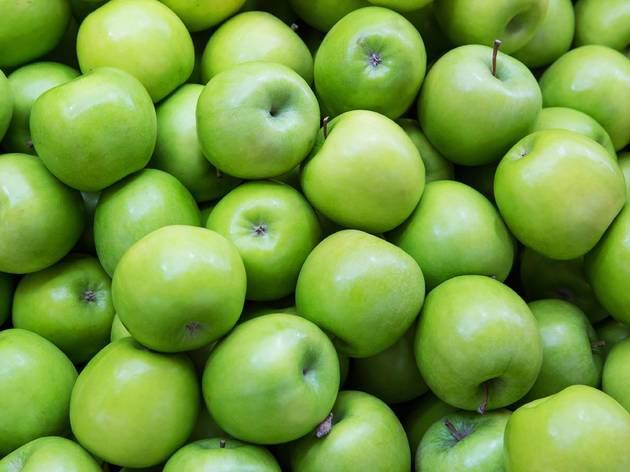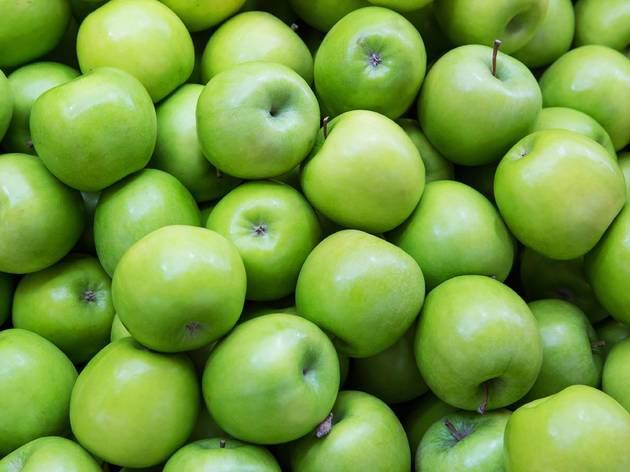 Photograph: Shutterstock
Location: Easton, Connecticut
Buy a bag and pick your favorite apples—or try less-common varieties like Mutsu Crispin, Nittany, and Cameo—at this farm founded by owner Irv Silverman's father in the 1920s. The amazing petting zoo also offers more exotic characters, such as buffalo, fallow deer, emus, and llamas. When Halloween rolls around, you'll also want to make a special visit for the pumpkin patch (bring your camera!) and the farm's gourds, corn stalks, bales of straw, squash, and scarecrows. PYO pricing starts at $6 per person for a quarter-peck bag.
Apple picking PA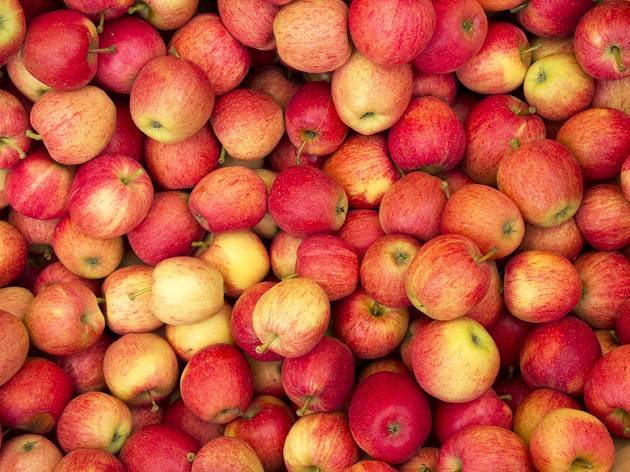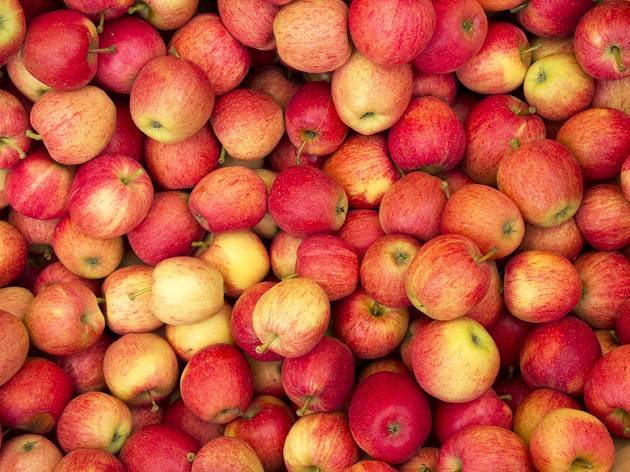 Photograph: Shutterstock
Location: Morgantown, Pennsylvania
Head to this gorgeous Berks County orchard for plenty of PYO options—apples, blueberries, kiwi berries, plums, and more. Throughout 35 acres, the orchard grows about 18,000 apple trees with a wide range that even includes the Star Gala, a variety discovered right on the orchard. Weavers Orchard also has cider in their year-round farm market, alongside a bakery and deli. The orchard is closed on Sundays; PYO pricing starts at $16 per bucket (approximately 7 pounds).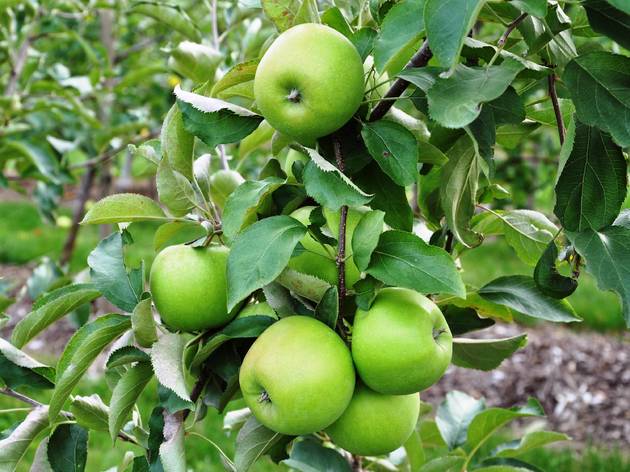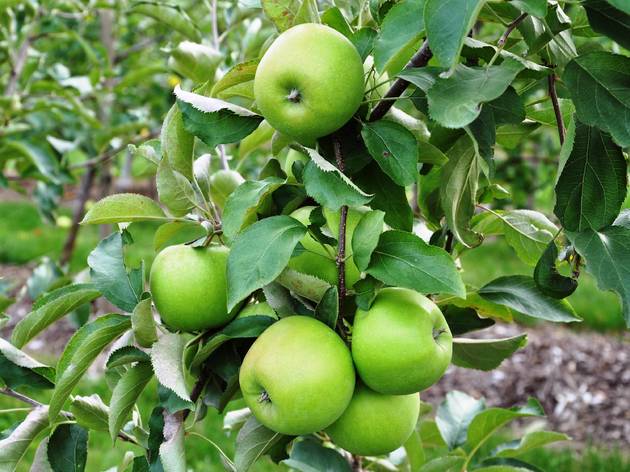 Photograph: Shutterstock
Location: New Hope, Pennsylvania
If you're thinking about a fall getaway, venture to Solebury Orchards. Eighty acres of rustic charm await, and the breathtaking scenes from the grounds provide a nice respite from the city. Although you'll likely spend a decent amount of time in the orchards (aim for the weekends when wagon rides are available), don't forget to venture to the market to get a taste of the popular cider...and grab a donut to go with it. PYO is open Thursdays through Sundays (if you're visiting on Saturday or Sunday, you must register in advance online); PYO pricing is $1.50 per pound.
Best selling Time Out Offers