The best East Village bars in NYC
New York's best East Village bars include swanky cocktail temples, indulgent beer halls and no-frills dives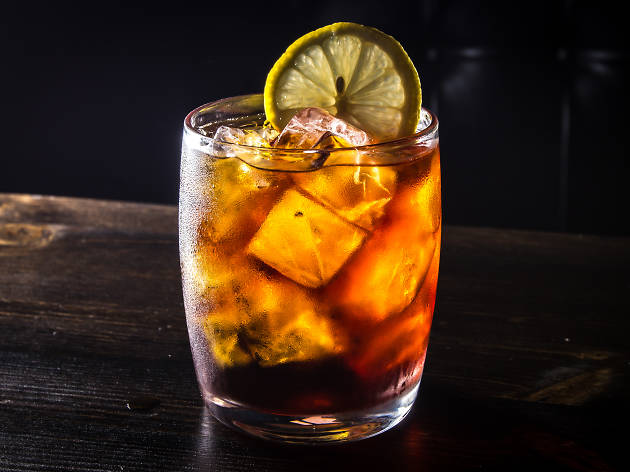 The gritty dive bars are still there, sure, but the best East Village bars have expanded from those rough-and-tumble barrooms to includeacclaimed cocktail dens, on-tap wine bars and relaxed beer halls and beer gardens. Whether you're craving a beer-and-shot combo or a composed cocktail, these are the neighborhood's best drinkeries to try right now.
RECOMMENDED: Full guide to the East Village in NYC
Best East Village bars in NYC
1
The nattily attired mixologists are deadly serious about drinks at this pseudospeakeasy with Gothic flair (don't be intimidated by the imposing wooden door). Black walls and cushy booths combine with chandeliers to set the luxuriously somber mood. Patrons bored by shot-and-beer bars can sample the inventive cocktails, including a fiery Fever Dream (cucumber and chili-de-arbol-infused mescal), as well as top-notch grub such as roast chicken and seared filet mignon bites.
Read more
2
It's right there in the name: love and bitterness. The driving force behind Ravi DeRossi's dozen-seat East Village tasting room is actually a love of bitter, of those brawny, botanical, can't-quite-put-our-finger-on-it dashes and drops that can take a cocktail from solid to superb. (DeRossi knows his way around a single-subject bar—he's also behind the rum-charged Cienfuegos, the tequila-focused Mayahuel and Gin Palace, which he converted into the tiki-torched Mother of Pearl.) Originally conceived in 2011 as a pop-up in partnership with small-batch bitters producers Bittermens, the still-thriving Amor y Amargo pushed the side-act flavorings deservedly into the spotlight, warping and challenging New York's hardwired taste buds to accept the bitter side of sweet.
Read more
3
The entrance to this taxidermy-strewn saloon is hidden behind an old phone booth inside Crif Dogs. Pick up the receiver and a hostess opens the back wall of the booth. Inside, a team of barkeeps offer thoughtful cocktail creations like the So it Gose, a complex mix of salt-and-coriander-infused wheat beer, tequila, campari, watermelon and grapefruit. The staff is happy to talk you through any libation on the menu or suggest an haute dog brought in from next door. It's that kind of dedication that makes getting in worth the effort.
Read more
4
While stalwarts like Esperanto and Zum Schneider fly their flags for international boozehounds, and Summit Bar provides serious cocktail cred, the already-jammed Wayland may be Loisaida's most versatile barroom. The menu is infused with DIY flourishes, crafting proprietary bitters and jams from a pantry of seasonal ingredients. Meanwhile, the memory of Banjo Jim's, a honky-tonk dive that used to occupy the space, is kept alive with Miller High Life longnecks ($5), eclectic tunes on the speakers, and an upright piano that hosts the occasional jam session.
Read more
6
The hotshot cocktail team behind Alchemy Consulting, including owner-bartender Joaquín Simó (Death & Company), helm this grown-up watering hole determined to outgrow the speakeasy genre. Painted blue and green, the airy 88-seat East Village room is lit with white-frosted Art Deco glass shafts and a large arched window spanning the front of the bar.
Read more
7
Ladies should probably leave the Blahniks at home. In traditional Irish-pub fashion, McSorley's floor has been thoroughly scattered with sawdust to take care of the spills and other messes that often accompany large quantities of cheap beer. Established in 1854, McSorley's became an institution by remaining steadfastly authentic and providing only two choices to its customers: McSorley's Dark Ale and McSorley's Light Ale. Both beverages have a lot more character than PBR, though at these prices, it won't be long before you stop noticing.
Read more
8
Keeping a dive bar—and even a beloved one—alive in New York isn't easy: Just look at the recent demises of Milady's, Winnie's and Mars Bar (RIP). Which makes the phoenixlike rebirth of Holiday Cocktail Lounge—a six-decade-old East Village mainstay whose barstools have seen the likes of Allen Ginsberg, Joey Ramone and Sinatra—such a head-scratching anomaly. Three years after the bar shuttered its dinted metal doors following the sale of the building, the saloon has been given a new lease on life. And though the place has been spruced up—duct-taped booths traded for green banquettes, neon beer signs for gold sconces—the joint hasn't been scrubbed clean of its charm.
Read more
9
This East Village haute cantina focuses on tequila and its cousin, mescal. The wonderful menu features a cool-as-marble Cinquenta Cinquenta—a pairing of chamomile-infused reposado tequila and white vermouth that goes down like iced tea. The Slynx cocktail is a liquid campfire of aged tequila, applejack, bitters and a smoky rinse of mescal. The craftsmanship in the drinks is equaled in the bar menu, featuring juicy pork bellies. Despite its many strengths, Mayahuel wears its ambitions lightly. With so many of today's top-tier cocktail bars lousy with vanity, that humility is a welcome departure.
Read more
10
When it opened in 1995, this trailblazer embraced all the contemporary beer memes, while most NYC bars were still dealing in Miller and Coors. Though held hostage by B&T types on weekends, there's plenty of elbow room among the locals during the week. It's a beer lover's mecca—more than 200 brews (20 on tap), from the expensive (a Belgian kriek, sour-cherry beer, goes for $25 per bottle) to the unpronounceable (Schlenkerla Rauchbier). Paralyzed by indecision? Think it over in the back garden (it's open year-round).
Read more
Show more
Find more bars in the East Village
Want to grab a bite?
New York's best East Village restaurants range from Korean restaurants to Indian upstarts to Carolina barbecue
Read more
Sponsored listing
Penthouse808
Just across the Queensboro Bridge in Long Island City, you'll find Penthouse 808 at the Ravel Hotel. This indoor-outdoor restaurant and lounge offers sweeping views of the Manhattan skyline. If you're looking for cocktails, the bar has you covered. Order signature drinks like the Far Eastside with gin, cucumber, lime and black peppercorn or the Rising Tide with dark rum, spiced rum, caramelized pineapple-raspberry syrup and tiki syrup for one person or a crowd ($14 cocktail, $68 pitcher). Coming through with a crew? Penthouse 808 also offers two drinks—a rum punch with coconut milk and banana-blackberry syrup and fruity vodka concoction—in one- or two-gallon tiki heads ($75 for one gallon, $120 for two gallons). The restaurant serves Asian fusion cuisine like salmon tartare tacos ($17), a crispy duck, watermelon and cashew salad ($15), Hawaiian skirt steak ($29) and a sticky glazed pork belly rib ($29).
Venue says: "Enjoy a Grand Summer Brunch with breathtaking views on our Rooftop this weekend! Tasting menu features 10 course for $38.08 every Sat & Sun."