The best non-classic martinis in NYC
These non-classic martinis in New York feature cameo appearances by sake, pickle juice or even bacon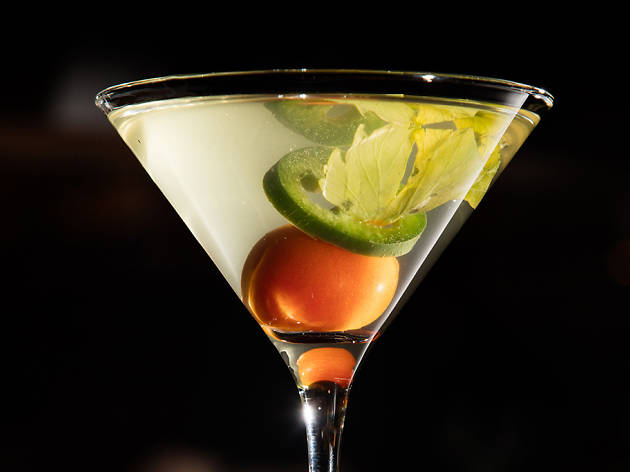 As the saying goes, if ain't broke, don't fix it. Yet when it comes to the best cocktails, even the most perfected of classics—the martini—can't escape the whirlwind of adaptation, innovation and riffs that makes New York's culinary scene so vibrant. Mad-scientist mixologists and cocktail geeks, with their liqueurs, bitters, tinctures and infusions, have left their creative mark on every cocktail imaginable, including this precious concoction of gin-and-vermouth (or vodka), transforming it into countless flavorful variations, each more unique than the last. Explore the wonderful world of alternative martinis with a visit to these bars in NYC.
RECOMMENDED: Find more cocktails in NYC
Non-classic martinis in NYC
Make an espresso martini at home
With its heady mix of booze and caffeine, it's the ultimate pick-me-up. But how do you make an espresso martini?
Read more
Sponsored listing
The Wicked Monk
Once you step into this Bay Ridge pub, you're transported to County Cork. The Wicked Monk is adorned with the original stained glass and wood fixtures from the 18th-century Greenmount Monastery chapel in Ireland. To keep with the Irish theme, order a slab of warm shepherd's pie ($21) or platter of crispy fish and chips ($17). The menu isn't just favorites from the Emerald Isle, though. The Wicked Monk serves up everything from pulled pork quesadillas ($11) to Philly cheesesteak mac and cheese ($17) to mussels steamed in white wine ($12). And that's just for dinner—stop by for brunch to sample a full Irish breakfast with black and white puddings ($15) or challah French toast with mascarpone cream and berries ($11). Of course, we'd be remiss to not mention the drinks. Whether you're in the mood for a specialty cocktail or a pint, the bartender can surely help you out.
Venue says: "Mardi Gras Thursdays - Live Music by the Bayou Boys!"