The best happy hour Midtown bars in NYC
The best happy hour Midtown bars in NYC serve up frozen tiki drinks, sudsy beers and glasses of wine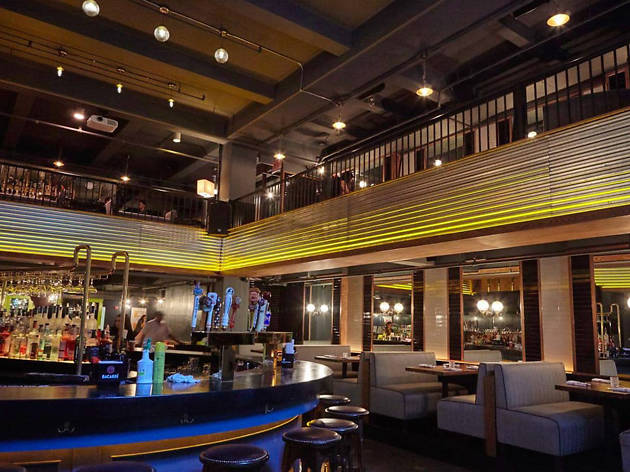 Few New York City neighborhoods make you want to get a drink more than the frenetic city center, with its super-packed streets full of office workers and tourists making even a brief walk a major undertaking—that's where happy hour Midtown bars come in. If you're extra hungry, you could always grab a seat at one of the best Midtown restaurants in NYC, but if you're more in the mood for the city's best beer or the best cocktails in NYC, then heads to one of these great spots for stress-relieving happy hours.
RECOMMENDED: Full guide to bars in NYC
Best Midtown happy hour bars
1
This boxing-themed dive bar is certainly more colorful than its Times Square brethren: Owner Jimmy Glenn can be found telling tales of his days as a coach at a nearby gym, and mirrors are covered with photos of his right-hook big shots.
Read more
3
This Hell's Kitchen craft-beer bar stocks some serious American choices, and though its happy hour is short—just 4:20pm to 5:20pm—during that hour, all drafts are buy one, get one free.
Read more
5
Like its Spanish-Mandarin name—an ode to owner Marco Britti's (Favela Cubana) study of Cuba's Chinatown—this midtown eatery fuses Asian and Central American cultures. During happy hour, available everyday between 11am and 7pm, take advantage of both cultures with $5 beer (Tsingtao Lager, Pacifico Clara), $7 cocktails and dollar oysters and clams.
Book now
Read more
7
A retro-tinged American bistro serves locally-sourced regional fare in Refinery Hotel. The space has a Prohibition vibe, sporting 1920s Carrara bar tops and a speakeasy-style hidden entrance in the back.
Book now
Read more
8
Female-driven bar teams have been particularly notable as of late, with leading women in the industry opening their own drink destinations (Julie Reiner and Ivy Mix at Leyenda, Gina Goyette and Carolyn Pincus at Bottle & Bine). Joining the much-welcome trend is this 57-seat Gowanus cocktail bar from drinks vet Katipai Richardson-Wilson (the Breslin, Basik) and designer-partner Shana Sandberg (Jean-Georges at the Mark).
Read more
9
Chef Richard Sandoval's impressive ode to agave-based spirits—literally a "library" of tequilas and mezcals—offers a compelling happy hour: Tuesday through Friday from 4pm to 7 pm, a selection of Mexican-inspired small plates go for just $5, with cocktails at $8 each.
Read more
10
This serious craft beer bar offers an equally serious happy hour: Monday through Friday until 7 pm, drafts are just $5–$6, and well drinks just $5.
Read more
Show more
Looking for a wine bar?
From educational vin studios to natural-wine–focused neo-bistros, find the best wine bar NYC has to offer
Read more