On Monday, June 13, The World's 50 Best Restaurant Awards were hosted in New York for the first time, which meant top chefs from around the world descended on the city to eat, drink, catch up with friends and party.
RECOMMENDED: Full guide to the best restaurants in NYC
We interviewed chefs at the ceremony at Cipriani Wall Street and the after-party at Eleven Madison Park about their favorite places to eat when they come to New York, and brand-new spots they've been enjoying.
It's time to add a few venues to your hit list!
Massimo Bottura—Osteria Francescana; Modena, Italy (No. 1 on the World's 50 Best)
The winner of the World's Best Restaurant's favorite places to eat in New York are Momofuku Ko, Del Posto for lunch, Daniel for the duck à la presse, Eleven Madison Park and Mission Chinese Food for a midnight snack. He is looking forward to trying Momofuku Nishi (David Chang's new place), La Sirena, Carbone and the new Massimo pizza at Eataly. When asked about particular dishes, Massimo said, "I never order at a new restaurant. I let the chef decide." He added, "I had a great meal at Cosme, chef Daniela Soto-Innes's restaurant."
Dominique Crenn—Atelier Crenn, Petit Crenn; San Francisco, USA (The World's Best Female Chef 2016)
"I love eating at The NoMad, breakfast, lunch and dinner! Café au lait, chocolate croissant, their beautiful sandwiches, everything at The NoMad is amazing. I could spend the rest of my life having a room there, so please, make a note of it!"
Grant Achatz—Alinea; Chicago, USA (No. 15)
"Any of Alex Stupak's places, Empellón Taqueria, Empellón Cocina, Empellón al Pastor, love them all. I'm a bit biased, he used to work for me, however, I really feel like they're awesome. I really like all of Michael White's places [the Altamarea Group], I think they're fantastic, and John Fraser's places, Nix, Dovetail, all of them. Again, I'm a little bit biased, I worked with him at TFL [The French Laundry]. But, in a way, that's why I feel like I can trust all of their restaurants. And also, Prince Street Pizza. When we come to New York, we always stay at the Bowery or Crosby Street, and then we walk to Prince Street. I always need a slice. Always!" [Director of Operations for The Alinea Group Gary Obligacion chimes in: "He's a pizza hound!"]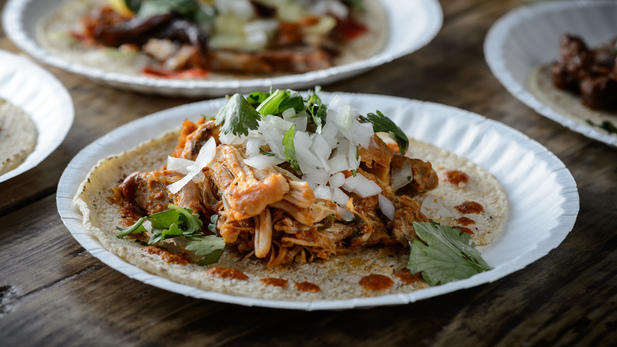 Enrico Crippa—Piazza Duomo; Alba, Italy (No. 17)
"I ate recently at Blue Hill at Stone Barns, and remained with my mouth wide open, an incredible thing, incredible! Another reality that was much simpler but with so much energy was Contra—I cooked a couple dinners with them ("due cene con quattro mani"). And Momofuku! Always Daniel, Le Bernardin and Eleven Madison Park. It is my second time in New York, twice in one year!" (This was translated from our conversation in Italian, which you can imagine was quite charming and poetic.)
Gaggan Anan—Gaggan; Bangkok, Thailand (No. 23)
"I absolutely have to try some sushi and burritos while I am in town. New York is the capital of junk food, so I am looking forward to having some burgers–I'll be heading to J.G. Melon while I am here with some friends. And I have plans to go to Eleven Madison Park and Blue Hill at Stone Barns with some friends."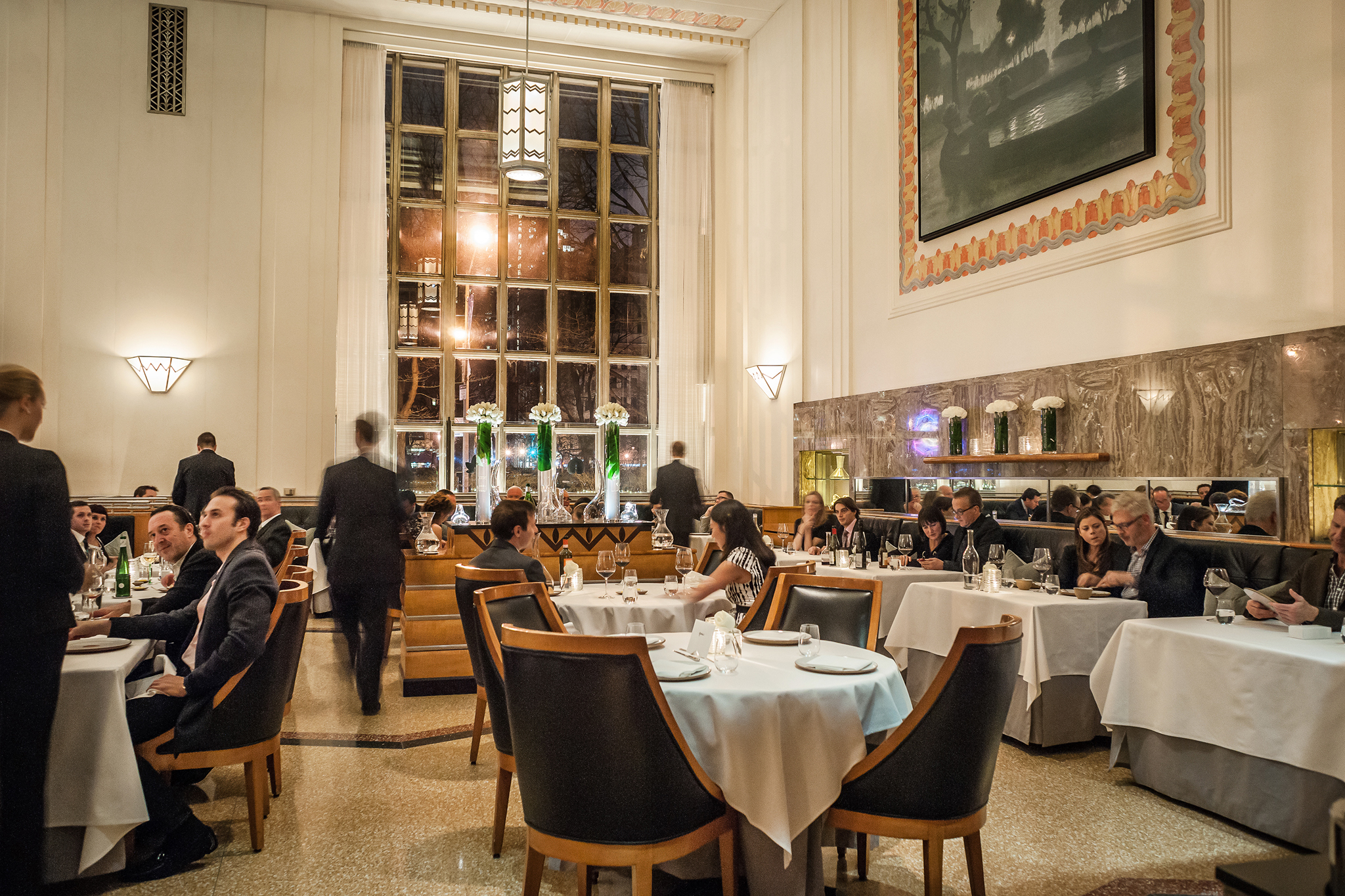 Enrique Olvera—Pujol; Mexico City, Mexico (No. 25)
When he's in town, he said (with a smile) that he likes to get a McChicken sandwich, and his friend says he puts French fries in it. (Mind you, this was at the tail-end of the after-party, so maybe he was pulling our leg, or it's just what he and his friends were craving at the late hour.)
Issac McHale—Clove Club; London, U.K. (No. 26)
"There is just so much here, but we are looking forward to eating some nice sushi, brats with the Franks at Prime Meats, catching our friend Nacho at Estela and a blowout at Eleven Madison Park is top of the list for sure."
"It's great to see our friends riding high and starting their own places to critical success. We have already been to Café Altro Paradiso and Wildair and Contra since we landed, and had a drink at Wassail, and want to check out Untitled, Luksus, Cosme, Russ & Daughters, The Modern and we have to go see old friends James [Murphy] and Christina [Topsøe] and Nick Curtola at The Four Horsemen. Tonight we are seeing my friend Sean Gray at Ko."
Joshua Skenes—Saison; San Francisco, USA (No. 27)
"I like to go to a lot of places, but I'm a very simple man, and so I go get noodles and spicy stuff like at Xi'an Famous Foods, a good bowl of soup... Or Masa. There's a congruency there of deliciousness to all those places. I love bagels, Russ & Daughters, always love that… The thing about here is those classic places will always be the most satisfying thing."
Joachim Wissler—Vendôme; Bergisch Gladbach, Germany (No. 35)
On his favorite places to eat: "Eleven Madison Park, I love Masa and have been many times, Jung Sik, Per Se too."
On any new NYC places he is looking forward to trying while in town: "I've only heard good things about Chef's Table at Brooklyn Fare, I definitely have to try Atera, I think Blue Hill at Stone Barns is also highly regarded."
On what dishes he is looking forward to trying: "Probably every course off the current Eleven Madison Park menu, they have a very good reach and social media outcome so we see a lot of what they're up to over there. Also looking forward to seeing Daniel [Humm] again."
Christian Puglisi—Relae; Copenhagen, Denmark (No. 40 and winner of the Sustainable Restaurant Award)
"I had a mindblowing meal at Blue Hill at Stone Barns outside of New York, it's definitely worth getting outside the city a little bit. I was at Wildair, had a great great time, and had a snack at an after-party at Contra, those guys are doing an amazing job, very much my type of restaurant. We were at Ko, great time, we were at Ssam Bar, Momofuku is a staple. We did Milk Bar too! I was at Eleven Madison Park two years ago, that was an amazing meal, and the hospitality that they do so well. Estela was a great meal, I have my good friend Daniel Burns in Brooklyn who is doing a great job at Luksus, and Tørst the beer bar as well. So many great places here, you could go on forever and ever! We had amazing dumplings today at Golden Unicorn! We had a feast Saturday at Mission Chinese."
"For me, Stanley's Pharmacy was my biggest discovery when I was here launching my book [Relæ: A Book of Ideas] a couple years ago. I am very attracted to innovation, and someone who can innovate on a theme that is as boring and negative as a pharmacy, well, I think he needs a prize of some sort! I very much love that place."
And here are the four New York restaurants that cracked the top 50 in 2016.