Best of 2013: Best dance songs we heard in NYC clubs
We list our favorite dance- and electronic-music releases of the past 12 months.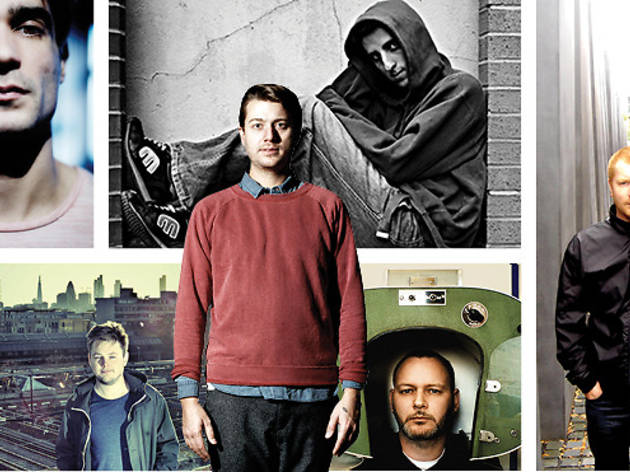 Picking the favorite clubland tunes of the year is no easy task. Music is such a subjective thing: You can adore a song in February, and despise it by October; you can think a song is eh in March, and be head over heels in love with it by November. Add in to that the fact thousands—many thousands—of tracks have over the past 12 months, and our work is cut out for us. Still, we're ready to give it a whirl—below, find the music (from James Holden, Shit Robot and Jon Hopkins, among others) that moved our feet and our emotions in 2013.
1. Jimpster, "Porchlight and Rocking Chairs (KiNK Remix)" (Freerange)
The Freerange label's head honcho, Jimpster, is one of our favorite producers, always managing to put an unpredictable spin on house music (no easy feat in a genre that's been around for nearly three decades). Ditto for Bulgaria's KiNK, who's been working similar territory for the past decade or so. Put the two together, and you have an absolute gem of a club cut, its four near-perfect chords defining a serotonin rush of a melody, one that conveys just how beautiful and moving a flawless club night can be.
2. Todd Terje, "Strandbar (Disko Version)" (Olsen)
When "Strandbar" was released this summer, Terje himself confided to Time Out New York that he wasn't sure he had come up with another "Inspector Norse," his tune that sat atop plenty of best-of-2012 lists. He didn't—"Inspector Norse" was a lightning-in-a-bottle moment, a sparkling song that magically encapsulated the joy that club music, and nightlife in general, can bring. "Strandbar," on the other hand, is a grand party-time epic, its swirling synths and joyful and jazzy tunefulness made for dancing under the sun with a posse of a thousand or so friends.
3. Jon Hopkins, "Immunity" (Domino)
"Immunity" is hopeful," London's Hopkins said of his latest album's title track when he spoke with ime Out New York in August. "But it's kind of sad, too." He forgot to mention that, with its cascading melodisism, gentle yet rich arrangement and general air of fragility, it's one of the most beautiful moments on an LP brimming with them.
4. Shit Robot, "Feels Real" (DFA)
We can't wait for the new album from Marcus "Shit Robot" Lambkin, due in March 2014. Why? For one thing, Lambkin, who used to run the much-missed Plant Bar with Dominique Keegan, almost never fails to hit the sweet spot when it comes to crafting peak-time party tunes. For another, this song—a driving, piano-banging house monster featuring the Rapture's Luke Jenner on vocals—is going to be on it. Huzzah!
5. Holden, "Blackpool Late Eighties" (Border Community)
The U.K.'s James Holden in 2010: "I love Jodorowsky films like The Holy Mountain, with this hippie-LSD aesthetic and really ritualistic edge. And that's what techno originally was to me, with machines running out of control and people trying to control them. It wasn't much different than it was in the beginning, with people standing around banging sticks. That's what I'm trying to get back to." With this track, and with the entirety of his 2013 long-player, The Inheritor, he's gotten there.
6. Ejeca, "Together (Terrence Parker Motor City Soul Mix)" (Needwant)
Another piano-houser makes the list, this one from the hands of Belfast, Northern Ireland's Garry "Ejeca" McCartney, a man who's been on the forefront of the house renaissance of the past several years. But the song's secret weapon is Terrence Parker, the beloved Detroit veteran who's had a resurgence of his own lately—he rebuilds the cut into a dance-floor killer, dropping its rave-referencing breakdown, sharpening its soft edges and imbuing it with his feted, razor-sharp melodic sense. It's one more beautiful slice of Parker's Motor City magic in a career full of such moments.
7. Terekke, "Amaze" (L.I.E.S.)
Simultaneously reaching for the sky and diving into the deep blue sea, this supremely dubbed-out, deeply emotive track is one of the year's most elegantly gorgeous releases. As with much of the L.I.E.S. catalog, you can clearly peek behind the production screen—tape hiss, crackle and whatnot abound—and that, along with its ghostly and melancholy soul-vocal sample, is a large part of this stunner's appeal.
8. Axel Boman, "Klinsmann" (Hypercolour)
This song, off the Swedish producer's Black Magic Boman EP, managed to split opinion wildly; Resident Advisor, for instance, felt that "its mawkish male vocals make it the weakest inclusion by some margin." We can kind of see why—the vocal is a sample from the Boyz part of the Mariah Carey–Boyz II Men collaboration, "One Sweet Day," which doesn't exactly bestow a hell of a lot of underground cred on the song. But toss a little reverb on the vocal, embed it in a gurgling key, a swelling synth wash and a subdued house groove, and you end up with something quite magical.
9. Galcher Lustwerk, "Put On" (White Material)
The vinyl-only White Material Records has, with only a handful of releases, become one of house music's wunderkind labels—with releases like this, it's easy to see why. Much in the mode of similarly inclined imprints like Underground Quality, it strips deep house down to its most essential components—a kick, a snare, a hi-hat, a few sparse keyboard bits and spoken-word vocas are all there is to it. But Lustwerk (probably not the producer's real name, we'd wager) has such a feel for house traditions that the music far transcends its imposed limitations.
10. Black Rose, "Sky" (Henrik Schwarz and Jesse Rose Original Mix) (Sunday-Music)
Though it was made by two of underground dance music's most respected music makers—the jazz-favoring sonic explorer Henrik Schwarz and the onetime fidget-house maven Jesse Rose—"Sky" was seemingly ignored by the press. That might be because the pair's 2011 release "Anthem" was a remarkably cheesy attempt at reggae-house fusion, like Longsy D's 1989 classic "This Is Ska" gone horribly wrong. But the duo has more then made up for that damnable number with this one: Melodically inspired by Detroit techno, anchored by a bassline seemingly played on lower-register piano keys, and with a sheen of luscious synths layered on top, it's one of 2013's sweetest sonic confections.
Best of 2013
From the best new Broadway shows to groundbreaking downtown experiments, it was a very good year for New York theater.
Read more
A century after the Armory Show first stormed New York, the art world abjures shock for pleasant surprises
Read more
From established Hollywood auteurs to the foreign and indie fringes, cinema brought its A-game
Read more
Young experimentalists and rigorous classical ballet: The dance world is shaping up
Read more
New faces took over for émigrés, old dogs learned new tricks, and Dave Chappelle lit up stages in New Jersey
Read more
Pro wrestling, Scientology and the '70s art world buzz through our favorite fiction and nonfiction of the year
Read more
We list our favorite dance- and electronic-music releases of the past 12 months.
Read more
A New Yorker helped bring marriage equality to the nation, while hate crimes against queer Gothamites surged. It was a complicated year in LGBT New York.
Read more
Time Out New York writers single out their most memorable gigs of the year
Read more
Show more