The 100 best animated movies ever made
World-famous animators pick the best animated movies, including Disney and Pixar movies, cult movies, anime and more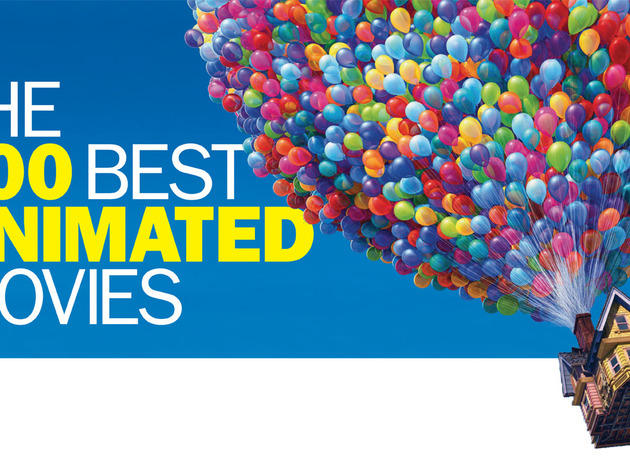 Long before your love of sci-fi or romantic movies took wing, we're betting you were friendly with talking animals. Chances are, the first movie you saw was animated: a Disney movie or a toon about a pig on TV. Animation is where we call come from, as we learn the building blocks of narrative storytelling from the simplest forms.
But the genre has long been a refuge for adults as well. In researching the best animated movies ever made, we encountered plenty of Oscar winners, along with darkly imaginative foreign films from Japan, France and beyond. Our polled experts included Fantastic Mr. Fox's Wes Anderson and Wallace & Gromit's Nick Park. Dive in to our authoritative list and you'll find nostalgia and new horizons alike.
RECOMMENDED: Our list of the 100 best movies of all time
Best animated movies: 100–91
Best animated movies: 90–81
Best animated movies: 80–71
Best animated movies: 70–61
Best animated movies: 60–51
Best animated movies: 50–41
Best animated movies: 40–31
Best animated movies: 30–21
Best animated movies: 20–11
Best animated movies: 10–1
10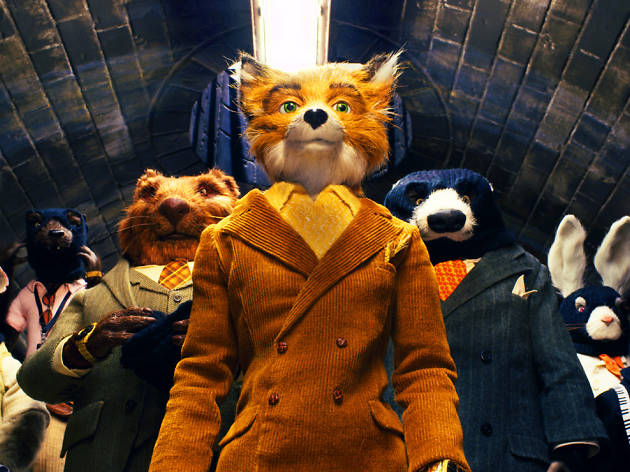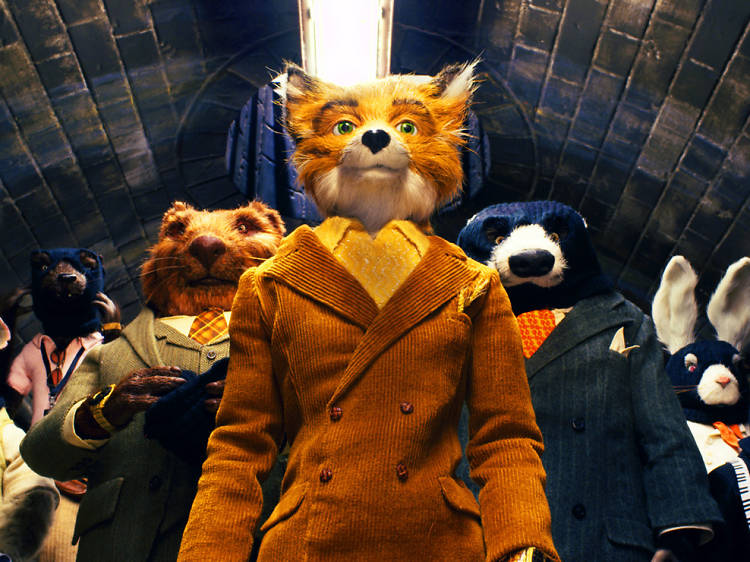 An idiosyncratic auteur gets animated with this stop-motion take on Roald Dahl's children's novel.
Director: Wes Anderson
Best quote: "Redemption? Sure. But in the end, he's just another dead rat in a garbage pail behind a Chinese restaurant."
Defining moment: Fox and friends come face-to-face with a mysterious black wolf.
The news that Rushmore director Wes Anderson was directing a stop-motion version of the Roald Dahl classic made complete sense once the film—madcap with a strong sense of refinement—was actually revealed. Stop-motion itself (old-school, hand-made) seems particularly Anderson-esque, and the chance to design an entire new world down to the tiniest detail is something Anderson has always leapt at. And there's something about Dahl's tale of an urbane, well-dressed fox (voiced by George Clooney) who rises up to defeat three evil, rich farmers that seems totally fitting for this filmmaker. The voice cast, Clooney, Meryl Streep, Jason Schwartzman, Bill Murray, feels especially adult and Wes-like. This is an animation as much for adults as for kids, if not more so, and underlying it all is a smart examination of the clash between instincts and responsibilities. We're all a little bit wild, but sometimes we've got to shape up and represent.—Dave Calhoun
Read more
9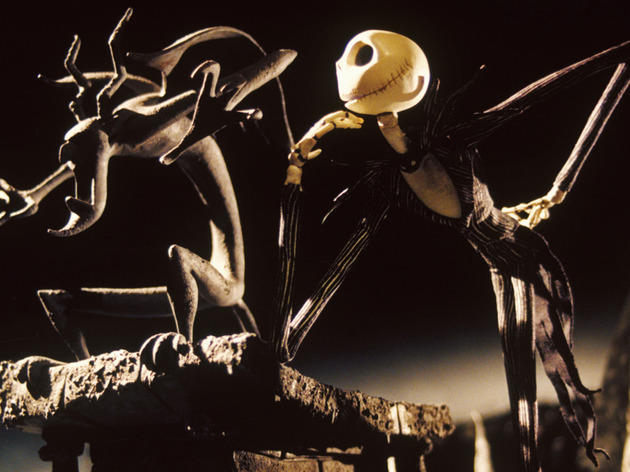 The film that made Christmas creepy.
Director: Henry Selick
Best quote: "Jack, you make wounds ooze and flesh crawl!" (It's a compliment.)
Defining moment: The opening song, gloriously and ghoulishly upbeat.
It all started in 1982, with a poem written by Tim Burton, then a humble animator at Disney. A year later, Burton pitched A Nightmare Before Christmas to his bosses as a TV special. But the powers that be thought the idea "too weird," and the project went on the back burner until Beetlejuice and Batman made Burton a hot property.

Too weird? Not a bit. Burton's graveyard fairy tale is a good old-fashioned musical, with song-and-dance numbers that would get Gene Kelly tapping his feet. It's the story of Jack Skellington, the king of Halloween Town, who discovers a portal to Christmas Town and likes what he sees—children throwing snowballs instead of heads. No one is dead. Jack crafts a plan to kidnap Father Christmas, or Sandy Claws, as he calls him.

Directed by stop-motion maestro Henry Selick from Burton's story, the movie took 15 animators almost three years to make. Working with more than 227 puppets, they completed just one minute of the film a week. That translates into mind-boggling detail, right down to the mayor's spider tie. The dialogue is deliciously macabre, the storytelling dizzyingly inventive and the characters touchingly sweet. A twisted delight.—Cath Clarke
Read more
8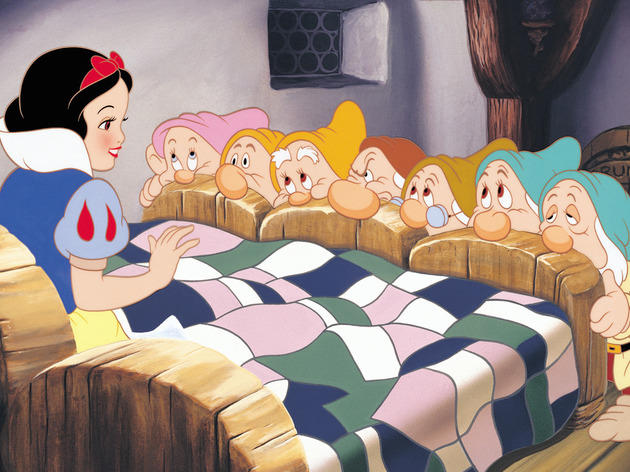 Not the first animated feature, but the start of the Disney empire.
Directors: David Hand, William Cottrell, Wilfred Jackson, Larry Morey, Perce Pearce and Ben Sharpsteen
Best quote: "Magic mirror on the wall…"
Defining moment: Snow White's headlong dash through the moonlit forest is expressionistic, beautiful and terrifying.
They called it Disney's folly. It took years and millions of dollars to produce Snow White and the Seven Dwarfs, and one huge question remained unanswered right up to the day of release: Would an audience really sit still for 83 minutes of cartoon antics? Of course, the movie was a huge hit, and kick-started Uncle Walt's decades-long domination of the painted-cel scene. It may not have been the first feature-length animated film—that honor is held by Argentine animator Quirino Cristiani's 1917 El Apóstol, though all copies have since been destroyed—but it was the first to receive a global release, and the first to wake up audiences (and producers) to the seemingly limitless potential of a brand-new medium.

What makes Snow White truly special is not its success, however, but its originality: Working without a rule book, Disney and his animators created—fully formed—an entirely new genre. Just look at last year's Frozen and ask yourself how far mainstream animation has actually developed: Snow White has a dashing fairy-tale heroine, a hunky but slightly dull dude, lovable pratfalling sidekicks, important life lessons, groundbreaking and gorgeous animation, whistleable tunes and, perhaps most notably, the greatest femme fatale in film history. It just goes to show: You can't improve on perfection.—Tom Huddleston
Read more
7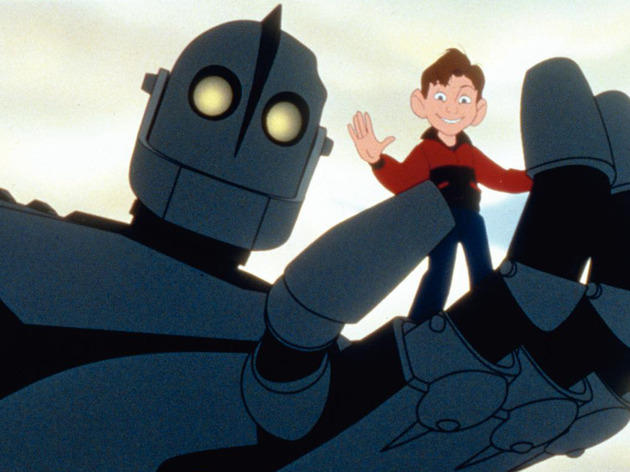 The Ted Hughes novel came to Hollywood in a studio movie that broke technical and storytelling boundaries—if not box-office records.
Director: Brad Bird
Best quote: "I am not a gun."
Defining moment: The giant carries Hogarth in his hand, high above the treetops below.
Before directing The Incredibles and Rataouille, animator Brad Bird made his feature debut with this charming, intelligent adaptation of the late 1960s Ted Hughes children's story The Iron Man. Best known at the time for his work on The Simpsons, Bird moved the tale from Britain to 1950s Maine, lending it distinct Cold War flavor. A young boy, Hogarth (given the surname Hughes in honor of the poet, who died in 1998, a year before the film's release), discovers a metallic giant in his hometown and fights to protect it from being pulverized by the military—while simultaneously teaching it how to live in peace on earth. The widescreen film has a streak of smart humor as well as a winning, harmonious worldview, and mixes computer animation and more traditional techniques: The CGI was mostly invested in rendering the giant as convincingly as possible, while traditional hand-drawn techniques were reserved for the humans. Visually, the film offers stunning moments without sacrificing a pleasingly old-fashioned air. It wasn't a success at the box office, although it was hailed as a rare example of a family movie with heart and brains. Thankfully, Pixar gave Bird a chance to fly again.—Dave Calhoun
Read more
6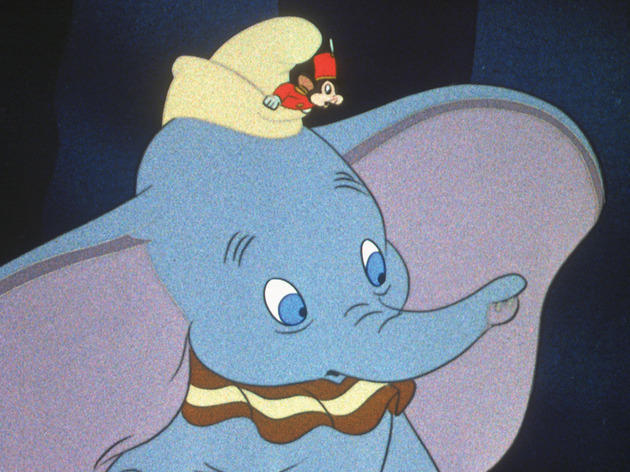 It ain't easy being gray in one of Disney's most simple, cute and memorable tales.
Directors: Ben Sharpsteen, Samuel Armstrong, Norman Ferguson, Wilfred Jackson, Jack Kinney, Bill Roberts and John Elliotte
Best quote: "It ain't nobody's fault you got dem big ears."
Defining moment: Dumbo visits his caged mom at night and cuddles up to her trunk as it extends through the bars—all to the sound of the lullaby "Baby Mine."
We challenge anyone not to shed a tear at the sight of young Dumbo, the son of a troubled circus elephant, locking trunks with his incarcerated single mother through the bars of a cage. It doesn't help that the weepie lullaby on the soundtrack, "Baby Mine," is machine-tooled to get the waterworks going. This was Disney's fourth animated feature, and its short running time and simple structure were forcibly concocted after both Pinocchio and Fantasia had performed poorly. The movie's story of an elephant born and then unfairly separated from its mother might be straightforward, but there are still some memorable set pieces along the way, including scenes of the big top being erected during a storm and the circus train yanking itself over a rugged landscape. There's experimentation here, too, especially during a jazz-scored, trippy sequence when Dumbo accidentally gets drunk and sees "pink elephants on parade." Also unforgettable, though not necessarily helpful to society, are the early scenes of cute storks delivering baby animals, an early sign of the "no sex, thanks, we're Disney" mantra. And who can forget Dumbo's big, floppy ears, so unwieldy that he ends up wrapping himself up in them in a brilliant piece of animated slapstick?—Dave Calhoun
Read more
5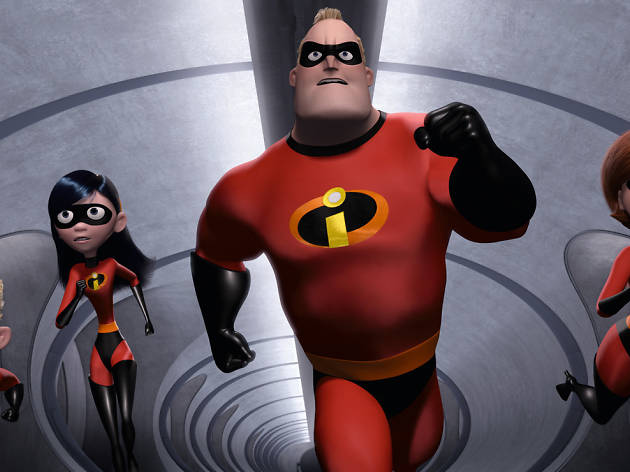 A superheroic family tries to blend into their quiet suburban lifestyle, but realizes that their skills are nothing to be ashamed of.
Director: Brad Bird
Best quote: "When everyone's super…no one will be."
Defining moment: "No capes!" declares Edna Mode, the film's snooty fashionista, and we see the fates that befell some unlucky caped crusaders.
Firing on all cylinders, Pixar's first film to earn a PG rating signaled a grabbing of the brass ring: Yes, the studio's computer animation was peerless, but could it also do marital malaise, middle-aged belly spread and sneakily ambitious philosophy—all of it tucked into spandex? Writer-director Brad Bird commanded a degree of control unprecedented since the days of old Walt himself. Everything was riding on his long-germinating vision of an exceptional family rediscovering its purpose. The plot's spirit proved infectious, the reviews rapturous. Thematically, the movie's deepest fear concerns the creeping slump of mediocrity: If greatness lies within us, why can't we let it out? Maybe it's because we're told—in subtle ways—not to shine too brightly and make others feel inadequate. Some pegged the notion as straight out of Ayn Rand (this would have been her favorite movie ever), but the idea was somehow made to feel inclusive via Bird's humor, panache and narrative clarity. The Incredibles makes us believe in heroes, but more importantly, it reclaims the virtue of heroism itself: a blessing, an ideal, an ambition. And it's not easy.—Joshua Rothkopf
Read more