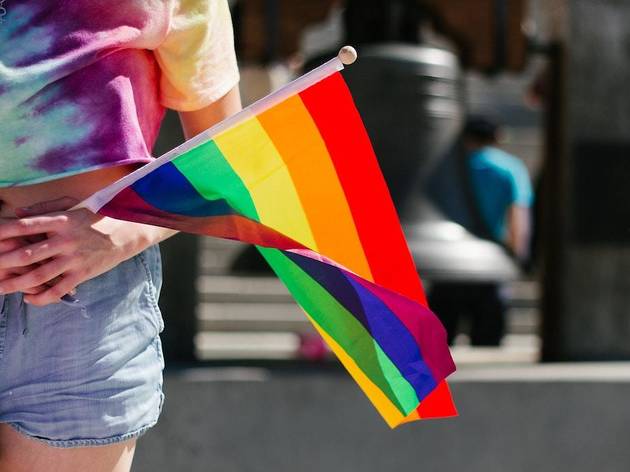 The best LGBTQ+ things to do in New York
We've got all of our picks of the best parties, events, performances and more LGBTQ+ things to do in NYC.
June is Pride Month, which means the LGBTQ+ community is ready stand up for equal rights and party like never before. If you're looking for LGBTQ+ things to do, we have your back — we've assembled the best parties, performances and events that'll have you dancing, singing, learning and feeling heard.
RECOMMENDED: Pride Worldwide 2021
Best LGBTQ+ things to do
After last year's largely virtual affair, this year's NYC Pride celebration promises to be a mix of both in-person and virtual events. After the rally and the street festival Pride Fest, the Pride March will take place on Sunday, June 27 with rainbow-clad activists and allies taking to the streets in support of global LGBTQ rights. Here's your guide to one of the most epic things to do in the summer in NYC.
A risqué cabaret vaudeville extraordinaire by nightlife maven Susanne Bartsch is set for Friday nights in June at Sony Hall. The full, sit-down show that's a cross between a night at the opera collides and a burlesque circus, has table service and bites and includes performances from nightlife icons like Joey Arias, Amanda Lepore, Opera Gaga, Dirty Martini, Lola Von Rox, Neon Calypso, Laszlo Major, Leonid the Magnificent, Julie Atlas Muz, Fou York and more. Music will be provided by DJs Amber Valentine and Tommie Sunshine. After each show, there's an after party DJ that turns the room around at 10pm.
A new mobile drag show will make its way across Brooklyn this month in time for Pride.
The inaugural series of the Mobile Drag Performance Unit (MDPU)—presented by FagSigns, a Brooklyn-based neon signage company that serves the LGBTQ+ community—is made possible via a converted 12-foot trailer that acts as a mobile stage with a DJ booth, outfitted to be the perfect stage for nine incredible drag performances.
See Brita Filter, Lagoona Bloo, DJ Lady Simon (June 12); Robyn Banks, Robin Fierce, Lola Michele Kiki, Hibiscus, DJ IVENCHY (June 19); and Scarlet Envy, Xunami Muse, Essa Noche, DJ Loyaalteee (June 26).
You can see them at Albee Square in Downtown Brooklyn at 2pm, the Walt Whitman Library/Stonewall Houses, located in Fort Greene at 4pm; and the DUMBO Archway at 7pm on June 12, 19 and 26. On June 26, the performance in Dumbo will instead take place on Dock Street.
The MDPU was created to help restart NYC's nightlife by highlighting the drag industry.
"Drag is an art form that actualizes transformation in society, acting as the paratroopers of the LGBTQ+ community who represent social equality using entertainment and theatre as vehicles to reach the public," explains FagSigns GEO (Gay Executive Officer) Matthew Day Perez. "Mobile Drag Performance Unit, thanks to the support of the Downtown Brooklyn + Dumbo Art Fund's Downtown Revitalization Initiative, is a colorful and bright way to celebrate Pride, the re-emergence of New York, and bring the community back together again after a year of isolation."
Get glitzed at Showfields
Brooklyn-based eco-friendly footwear brand ILYSM is teaming up with biodegradable glitter company BioGlitz to with a free Glitzing Station at Showfields (11 Bond St.). From June 5th-27th, BioGlitz x ILYSM will be open to the public noon-7pm daily for shopping, glitzing, events, and free gifts while supplies last, all in celebration of Pride Month. Come get your face or body
"glitzed" by a team of professional artists so you can shine bright.
Join the thousands of dykes in their annual illegal takeover of Fifth Avenue in a demand for lesbian rights—complete with fearless marshals, tyke-toting mamas, topless chanters, unrelenting old-timers, screeching teens and at least one life-size vagina puppet to scare the gawking tourists. The march is for self-identified women only, but supporters are encouraged to come and cheer from the sidelines. This year, the march will focus on protesting the violence, discrimination, and harassment Black and POC LGBTQ+ folx face in New York City and beyond. The official afterparty will be held by Hot Rabbit at 3 Dollar Bull from 7pm on.
Celebrate Pride with the Harlem community on June 26. Harlem Pride will host celebrity guest appearances, performing artists and greetings from communityleaders, health practitioners and elected officials via a virtual event this year. Don't miss its screenings of Cured June 5-18 or its community bike ride on June 6.
Take a 90-minute class on vogue basics and classic and current trends in runway modeling with Cesar Valentino and once you've gotten it down, you can get a taste of ballroom culture and put your new skills to the test during a mini-ball, where you'll compete for prizes. Participants are encouraged to dress in bright colors and wear heels. If you haven't had enough, you can pop, dup and spin into Cesar's weekly All Styles Vogue class on Saturdays at 4:30pm.
Dance all night in dedication to Swedish Pop Goddess Robyn, and all her classics, b-sides, remixes and rarities for Pride. You'll go on a "wondrous journey of danceable beats" from your favorite queer icons, including Janelle Monae, Madonna, Lizzo, Carly Rae Jepsen, Mariah Carey and Betty Who with some Scissor Sisters, Lil Nas X, Prince, David Bowie and Big Freedia (and of course, more Robyn)! Drag diva Vanna Deux will be in the house, too, so brace yourself for her Robyn-inspired fierceness. The party will take place in the backyard this year.
Drive 'N Drag Saves 2021 is back with RuPaul's Drag Race Season 13 finalists GottMik and Rosé, who will join other queens of RuPaul's Drag Race, including Season 10 winner Aquaria, the luminous Asia O'Hara, the incredible she-hulk Kameron Michaels, the seductive Violet Chachki, and the spicy Vanjie, on their mission to save the world from the debacle that was 2020. This time around, audience members can ditch their cars and enjoy the show from 8x8 socially distanced party patios. These VIP patios are much closer to the stage and queens, allowing for a true outdoor concert vibe. Multiple shows will run all weekend long. Food and beverages are available via Gourmet Food Trucks and limited-edition merchandise featuring your favorite queens will be available, too.
"Not Another Second" is an exhibit that offers a candid glimpse into the lives of 12 LGBTQ elders through a series of compelling portraits that intersect personal experiences of living during a time when being themselves was a crime. Shot by noted German photographer Karsten Thormaehlen also celebrates their personal journeys on deciding to live openly, as well as finding love and companionship. Each moving portrait is accompanied by the number of years lost living in the closet and not as their true, authentic self. This exhibit is a collaboration between nonprofit SAGE, Watermark Retirement Communities and Brooklyn's iconic new luxury senior community The Watermark at Brooklyn Heights. The portraits will be viewable via AR and through free public and socially distanced viewings of the Not Another Second exhibit at The Watermark at Brooklyn Heights will take place every Tuesday, Thursday and Saturday from January 19th through March 2021. A reservation must be made to view the Brooklyn exhibition of Not Another Second. To book and reserve your timed ticket, visit www.notanothersecond.com.
Daniel Nardicio, Taylor Shubert and Sam Benedict are back with "Ruflections," a cabaret series starring Ru Paul's Drag Race contestants that was filmed on Fire Island Pines at its most notorious show house, Reflections at 73 Bay Walk. The series features French chanteuse Nicky Doll from Season 12 in a stripped-down live show called "Covergirl: An intimate night of acoustic covers with Nicky Doll," which introduces her in a new light—as a cabaret singer, song interpreter and raconteur—backed by Tim Young and band. It airs on Stellar Pride week June 24, 25th and 26th at 8pm.
Jan Sport from Season 12 and now All-Stars season 6 will star in "A Jantastic Birthday Celebration" for her 28th birthday. It'll featuring her powerhouse vocals, backup dancers and surprise guest stars. It'll air on Pride weekend as well June 24-26 directly before Nicky's show.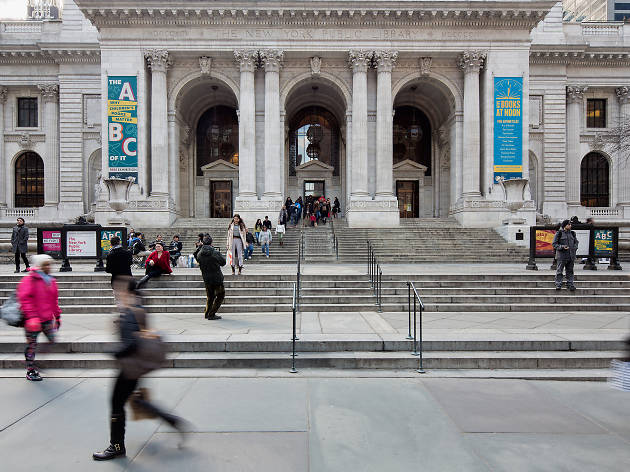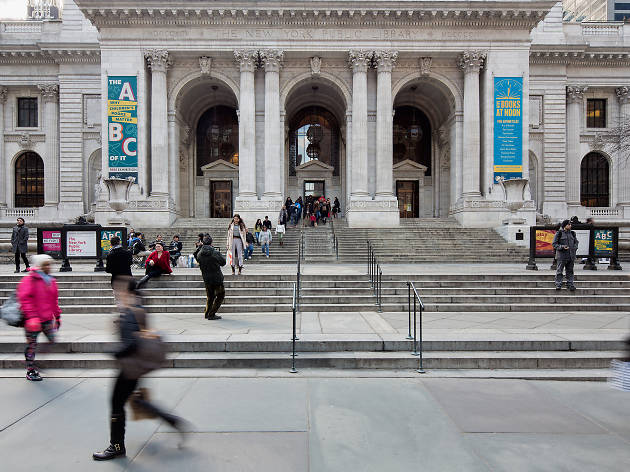 Photograph: Courtesy Shutterstock
The New York Public Library marking Pride Month with the following online programs:
6/10 | 7 PM: Queer Love in Color: Jamal Jordan with Blair Imani: Photojournalist and former New York Times multimedia journalist Jamal Jordan shares his photographic celebration of the love and relationships of queer people of color in this event presented by LIVE from NYPL.

6/14 | 5:30 PM: TeenLIVE Author Talks: Chella Man and Adam Eli: Authors and activists Chella Man and Adam Eli discuss their books Continuum and The New Queer Consciousness, both published as part of the Pocket Change Collective, a series of small books with big ideas from today's leading activists and artists.

6/21 | 7 PM: Let the Record Show: Sarah Schulman with Kwame Anthony Appiah: Sarah Schulman, author of Let the Record Show: A Political History of ACT UP New York, 1987–1993, discusses her comprehensive history of the organization and its role in American AIDS activism with writer and philosopher Kwame Anthony Appiah in this event presented by LIVE from NYPL.
Branches across the Bronx, Manhattan, and Staten Island (the boroughs served by The New York Public Library) will host virtual programs myriad for adults, kids, and teens. Information about these events can be found at https://www.nypl.org/events/pride.
The Library has created a new list of recommended reads this year celebrating books that speak to the experience of Trans, Nonbinary, and Gender Nonconforming people. The list includes titles for Adults, Teens, and Kids.
"Safe/Haven: Gay Life in 1950s Cherry Grove" is an intimate look at one of the first gay beach towns in the U.S. in Fire Island's remote hamlet of Cherry Grove, located on the barrier island south of Long Island. Through about 70 enlarged photographs, ephemera and recorded accounts from members of the community, visitors can learn about their experiences and memories. Since the 1950s, Cherry Grove gave gay men and women a place to socialize out in the open—many met up at local restaurants or Duffy's Hotel Bar, where same-sex dancing happened late at night. Some of these nights, plus summer events like theater performances, art shows, baseball and an end-of-season costume ball were captured in photographs. People from all kinds of backgrounds flocked to Cherry Grove—writers, artists, dancers, theater people, and Hollywood celebrities including Christopher Isherwood, Patricia Highsmith, and Tennessee Williams. Truman Capote, the novelist, playwright, and journalist whose flamboyant lifestyle contributed to his social celebrity, stayed at Carrington House just outside of the Grove in 1957, where he wrote parts of the novella Breakfast at Tiffany's. Unfortunately, as more gay people arrived here in the 1950s, longtime residents tried to "reinstate decent behavior," which spurred on police raids through the 1960s. More recently, after the 1960s, the community became more welcoming to Black and Latino gay people and working-class gay women began spending more time there. The community took another hit during the AIDS crisis in the 1980s. All of this and more is documented in this celebratory exhibit of Cherry Grove. "Cherry Grove on Fire Island became a weekend and summer destination for gay men and women in the pre-Stonewall era of the 1950s and 1960s," said Dr. Louise Mirrer, president and CEO of New-York Historical. "At a time when they faced homophobia and persecution, the residents of Cherry Grove found a sanctuary where they could socialize and express themselves freely. We are proud to partner with the Cherry Grove Archives Collection to display these joyful images." It'll be on view in New-York Historical's rear courtyard through October 11. Admission is free; timed-entry tickets can be booked online in advance.
Find more LGBT events this week
Best gay clubs and parties in NYC
LGBT parties in NYC offer something for everyone, from relaxed, mixed shindigs to sweaty dance throwdowns