Every sushi burrito in NYC worth eating
Try a sushi burrito—NYC has plenty of places to get the toasted nori stuffed with everything from yellowfin to yasai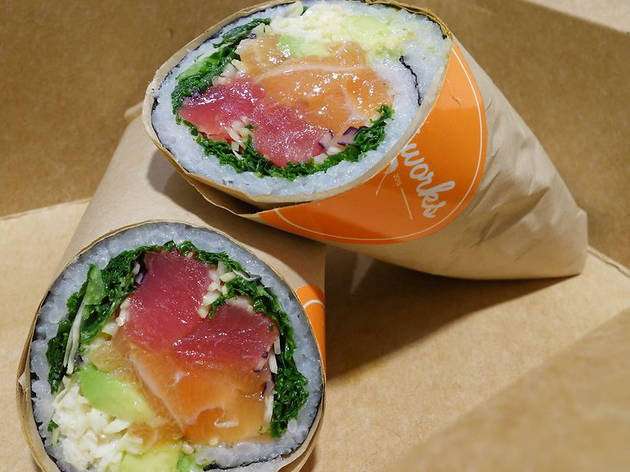 New York is filled with top-notch Japanese food and colorful, edible trends—and both are combined in the sushi burrito. NYC has no shortage of regular sushi on just about every street corner and there's plenty of the best ramen in town, but newcomer hybrid bites like the sushi burrito can be a bit more difficult to track down (it isn't at all-you-can-eat sushi restaurants yet, unfortunately). Trust us, you don't want to miss out on these extra large, handheld maki rolls jam-packed with an assortment of sushi delights like fresh yellowfin tuna, creamy avocado, spicy jalapeño, crunchy daikon and pickled ginger. That's why we've rounded up all the places you can get a sushi burrito in NYC, so the next time you're craving an on-the-go oversize meal, you'll know exactly where to turn.
RECOMMENDED: See more of the best restaurants in NYC
Where to get a sushi burrito in NYC
Looking for more great sushi?
From old-school restaurants to raw-fish newcomers, feast your eyes on the best sushi NYC has to offer
Read more
Sponsored listing
Zia Maria
This Chelsea restaurant serves fresh, seasonal Italian fare from its brick-walled kitchen. The specialty here is the pizza: Think classic margherita ($14 for a small, $20 for a large), mozzarella with spicy sopressata and caramelized onion ($15 for a small, $25 for a large) and prosciutto with shaved parmesan and arugula ($17 for a small, $27 for a large). Diners with allergies can make any pie gluten-free (starting at $19 for a small). You might want to order a salad to share, like the prosciutto with pear and gorgonzola ($14.95), or just go all in on appetizers like arancini ($12.95), traditional bruschetta ($12.95) or polenta with sausage, mushrooms and truffle oil ($14.95). Other entrees include eggplant parmesan ($17.95), gnocchi with bolognese ($17.95) and veal piccata ($22.95). As for drinks, the bartenders will be happy to mix you anything you like from the fully stocked top-shelf bar.