The best Upper West Side restaurants in NYC
From fine-dining restaurants to street-food spots, these are the best Upper West Side restaurants in NYC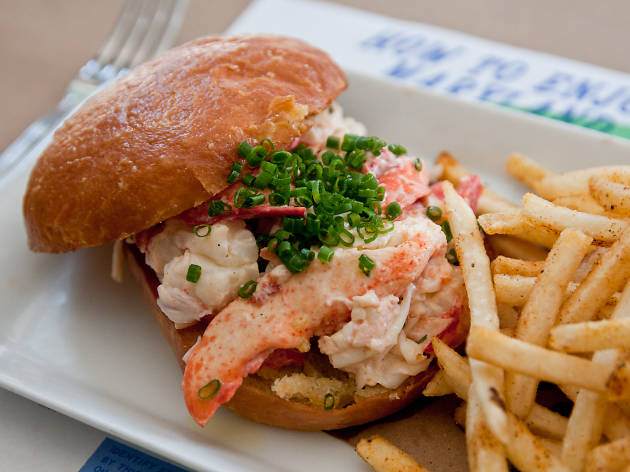 Best Upper West Side restaurants
1
Thomas Keller's response to these trying times may be the city's most tepid recession concession. Instead of offering a bargain-basement version of his justly celebrated New American oeuvre, the star chef has simply unshackled his dishes from the three-hour tasting menu commitment. Walk-in diners can now pop into his Manhattan flagship's former waiting room for mix-and-match meals of indeterminate length. Despite the more casual setting, meals begin here with the same tiny tease Keller's served for years at the French Laundry in Napa: his trademark salmon-tartare--filled cornets. Portions, too, stick to the chef's usual formula.
Book now
Read more
2
Unlike so many of its vaunted peers, Jean Georges has not become a shadow of itself: The top-rated food is still breathtaking. A velvety foie gras terrine with spiced fig jam is coated in a thin brûlée shell; a more ascetic dish of green asparagus with rich morels showcases the vegetables' essence. Dessert quartets may include "late harvest"—a plum sorbet, verbena-poached pear and a palate cleanser of melon soup with "vanilla noodles."
Book now
Read more
3
New York may be a melting pot, but the populations of Marseille and Nice are also intriguing cultural patchworks. The new French cuisine in those cities features influences imported across porous borders with Spain and Italy and from the former Maghrebi colonies farther south. Superchef Daniel Boulud combines the foods of those regions and many more at his most international restaurant, the Boulud Sud on the Upper West Side. He casts a wide Mediterranean net—looking to Israel and Egypt, Turkey and Greece. But the restaurant's cooking also plays to his strengths; it's polished and elegant, and still fundamentally French.
Book now
Read more
4
Despite decor that Jewish mothers might call "schmutzy," this legendary deli is a madhouse at breakfast and brunch. Enormous egg platters come with the usual choice of smoked fish (such as sturgeon or Nova Scotia salmon). Prices are high but portions are large—and that goes for the sandwiches, too. Or try the less costly dishes: matzo-ball soup, creamy egg salad or cold pink borscht served in a glass jar.
Read more
5
This Lincoln Center outpost of midtown's venerable Shun Lee has become a classic in its own right, drawing precurtain regulars since its 1981 opening. The expansive, opulent restaurant is dramatically outfitted in black banquettes, white-clothed tables and illuminated, golden dragons that wrap around the perimeter of the dining room. The menu offers signature wonders such as Lily in the Woods (Chinese cabbage hearts simmered in broth and served with black wood mushrooms); Beijing duck (a young duckling roasted until crispy and golden and sliced tableside); and Neptune's Net, a potato nest bursting with scallops, shrimp, lobster and sea bass.
Book now
Read more
6
This neighborhood gem has been showing up better-known Upper West Side bagel establishments for years, serving freshly boiled bagels in their most perfect form. A respectable array of toppings includes cream cheeses (blueberry, sun-dried tomato, walnut-raisin), Tofutti, deli meats, salads and silky smoked fish—but trust us, all 16 bagel varieties here taste just fine by themselves.
Read more
8
Known for his fiery Szechuan food and salty tongue, Taiwan native Han Chiang has earned a cult following in the City of Brotherly Love. Perhaps the most beloved hometown franchise since the Rocky movies, his Szechuan chain, Han Dynasty, made its chili-oil mark on Philadelphia, and has since marched into NYC, with locations in the East Village and Upper West Side.
Read more
9
The menu at this colorful 74-seat Middle Eastern spot—decorated with blue-and-yellow walls, red barstools and orange lighting—is centered around a custom taboon. The dome-shaped, mosaic-covered grill fires charred octopus with hummus-like msabbaha, house-made pita served with beef cheeks or preserved tuna, and lamb baked inside terracotta bread with tahini and pistachio. The 50-bottle wine list focuses on the Mediterranean, offering 20 varieties by glass
Book now
Read more
10
In 2006, Philadelphia restaurateur Stephen Starr stormed New York with spin-offs of his hometown megahits Buddakan and Morimoto. But after that big breakout push, he turned his attention elsewhere for five years. He returned with his first New York original: a luxe Venetian snack bar set in the New-York Historical Society—a keystone of the museum's recent $65 million renovation. Diners can nibble on snacks at the Italian-marble bar, along with a glass from the 50-bottle, all-Italian wine list. Those looking for a full-fledged meal can settle into sunny yellow banquettes and choose from pastas and entrées, such as hand-rolled garganelli with cauliflower and bottarga.
Book now
Read more
Show more
Want to eat at a classic NYC restaurant?
From old-world steakhouses to acclaimed pizza parlors, these are the most iconic and famous restaurants in NYC
Read more
Sponsored listing
Safari Restaurant NYC
Safari isn't just the only Somali restaurant in Harlem—it's the only one in all five boroughs. Start off with an appetizer of sambuza, a pocket of flaky dough filled with beef or chicken ($8 for two). Those who have never tried Somali food before might want to order the popular hilib ari, roasted goat served with basmati rice ($18), or chicken suqaar, a spicy stew served with chapatti bread ($15). The slow-cooked mango curry chicken served with a side of biryani ($16) is another customer favorite. Save room for malab iyo malawax, crepes drizzled with honey and dusted with sugar ($6). White grapefruit juice ($4) or Somali coffee infused with ginger ($3) complement the meal.
Venue says: "We are happy to introduce to the first & only Somali Restaurant in New York City. Specializing in Authentic Gourmet Somali food & teas"