Restaurant and bar openings: December 13–26, 2012
The Dead Rabbit, Salvation Taco and more open in New York.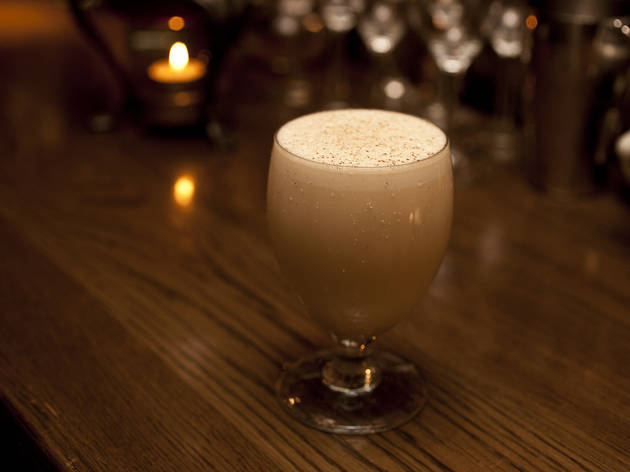 The following venues are expected to open by December 26. Always call ahead, as openings can be delayed.
Atrium Chef Dennis Franke (Waldorf Astoria) dispatches Continental dishes at the Alex Hotel's restaurant. Dig into a crispy branzino with potato puree or steak tartare in the 50-seat dining room, which is decorated with metallic paints and candlelit birdcages. To drink, there are savory cocktails such as a mojito made with rum, yuzu, jalapeño, cilantro and shiso. 205 E 45th St between Second and Third Aves (212-867-4200)
Bien Cuit Zachary Golper and Kate Wheatcroft, the husband-and-wife team behind the revered Cobble Hill bakery, install a 14-seat location—outfitted with Carrara marble tiling and brick walls—in the West Village. Crowd favorites from the Brooklyn flagship location (almond croissants, baguettes) are here, plus new creations like a maple-yam danish and cheesecake with cassis mousse. If sweets aren't your thing, opt for a salad, sandwich or cup of joe. 35 Christopher St at Waverly Pl (no phone yet)
Black Hound Bartender Jeremy Strawn (the Mulberry Project) mixes literary-themed cocktails at this plush Battery Park City lounge. The rye-and-amaro based Moveable Feast nods to Hemingway, while the Finishing Touches—which features absinthe, maple bitters and roasted pecans—references author Jean Kerr, who wrote a novel by that name. A small menu of plates tends toward the decadent: A surf-and-turf burger is made with American Wagyu beef, while the mac and cheese is studded with truffles. 301 South End Ave at Albany St (no phone yet)
Cherry Jonathan Morr, owner of the sleek Japanese joint BondSt, opens a late-night restaurant serving sushi and French-inspired bites. Slide into a velvet banquette to sample sashimi and rolls (like crunchy red snapper and shrimp cocktail), from chef Andy Choi (Le Cirque). Mains—like a bouillabaisse with red mullet and clams, or a steak au poivre—are grounded in Gallic technique. Order a glass of sake after 11pm, when the lights dim and the vibe turns more loungelike. 355 W 16th St between Eighth and Ninth Aves (212-929-5800)
The Copper Room Nine draft lines pour all-American beers at this bi-level, 1,400-square-foot tavern, outfitted with wood reclaimed from old New York buildings. Brews like Alphabet City's Kolsch lager and Greenport Harbor's Black Duck Porter each have a suggested pairing with one of the menu's rich dishes, which include curried pies and beef brisket. A mahogany bar salvaged from the Grand Ballroom and ornate sections of a Coney Island carousel give the room a woody, vintage-Gotham vibe. 55 Little W 12th St between Washington St and Tenth Ave (212-675-6686)
Creative Juice Restaurateur Danny Meyer joins New York's juice craze with two cold-press cafés in Equinox gyms. Get your daily value of veggies and fruits in a single glass with a drink like the Zest for Life, which combines golden beets, orange pulp and zest, fennel and tarragon. If you're looking for something more substantial, there are salads (quinoa mixed with brussels sprouts, cauliflower and pine nuts) and sandwiches (smoked salmon with avocado and bell pepper on pumpernickel). Those seeking a thorough detox can order one of the seasonal cleanses. 344 Amsterdam Ave between 76th and 77th Sts (no phone yet) • 1663 Broadway between 50th and 51st Sts (no phone yet)
The Dead Rabbit When modern bar owners reference the past, it's usually to evoke an era of tippling more civilized and fanciful than our own. Not so at this highly anticipated rough-and-tumble saloon from acclaimed barman Sean Muldoon, who ran Belfast's award-winning bar at the Merchant Hotel. More scalawag haunt than speakeasy, the spot takes its name from the dead rabbits that 19th-century New York gangs would pin onto sticks to intimidate enemies. Down a slug of Irish whiskey with a side of craft brew on the first floor, outfitted with a mural of the Civil War's hard-drinking 69th Regiment. At the parlor upstairs, sample from a list of 72 cocktails inspired by the creations of America's father of mixology, Jerry Thomas. The Red Cup is a brilliantly ruby cobbler—a type of fruity drink popular in Thomas's day—composed of calvados, port wine, cucumber and red currant. The menu of small plates tends toward heavy English fare: Scotch eggs, Welsh rarebit, steak-and-stout potpie. In the fashion of Emerald Isle pubs with shops attached, a tiny grocery offers homemade pickles, vinegars and jams to purchase on your way out. 30 Water St at Broad St (no phone yet)
EVR This 5,000-square-foot midtown lounge features cocktails from Orson Salicetti (Apothéke) and late-night American bites. Drinks range from modern libations—a margarita with orange bitters, Himalayan salt and lavender foam—to Prohibition-era classics. To eat, there are small plates of chicken empanadas, beef tartare crostini and portobello skewers. An elevated DJ booth and industrial touches like metallic, embossed leather banquettes and walls accented with blackened steel maintain a clubby feel. 54 W 39th St between Fifth and Sixth Aves (212-997-3900)
Fresh & Co. The organic grocer opens a fifth Manhattan location, with a salad bar offering produce from the Union Square Greenmarket. Shop for eco-conscious goods, or lunch on house salads or sandwiches. 729 Broadway at Waverly Pl (212-473-7374)
Lincoln Station Anna Klinger, Emiliano Coppa and Jacob Somers—the team behind mobbed Brooklyn destinations al di là and Bar Corvo—put Park Slope and Crown Heights on New York's culinary map with their brand of flawless Italian home cooking and laid-back digs. At this neighborhood delicatessen, chef Klinger brings her European chops to bear on soulful American fare: breakfast egg sandwiches, hamburgers, meatballs and rotisserie chicken. There's no waitstaff, so snag a table in the rustic 30-seat space decked out with exposed roof rafters, custom floral wallpaper and reclaimed bowling-alley wood. If you're grabbing food to go, be sure to fill a growler with one of the local brews on tap. 409 Lincoln Pl at Washington Ave, Prospect Heights, Brooklyn (no phone yet)
The Marrow Globe-trotting chef Harold Dieterle, along with partner Alicia Nosenzo, has turned out wildly popular restaurants specializing in both New American (Perilla) and Thai (Kin Shop) cuisines. His third eatery puts the spotlight on Germanic and Italian fare, and it's his most personal venture yet—inspired by his childhood meals and family's heritage. Braised brisket braciola dressed with pecorino and red sauce is his ode to the Boot; pan-fried duck schnitzel with hazelnuts and wolfberries nods to Deutschland. A 400-bottle wine program with 15 vinos by the glass mirrors the restaurant's national loyalties, though you'll also find selections from Austria, as well as craft beers. 99 Bank St between Greenwich and Hudson Sts (212-428-6000)
Red Gravy Saul Bolton—the Michelin-starred Brooklyn toque behind Saul and the Vanderbilt—sets his sights on Southern Italy with this exposed brick, 75-seat trattoria. Homemade pasta (including tagliatelle with wild boar sugo) and whole butchered animals (worked into dishes like braised lamb shoulder with chicory and fennel) form the foundation of Bolton's seasonal Italian menu. Antipasti, such as a local bass crudo, lean heavily on fish. Sidle up to the copper-trimmed bar for homemade amaro, wines of the lower Boot and cocktails like the rye-and-Cynar-based Whiskey Skiffer. 151 Atlantic Ave between Clinton and Henry Sts, Brooklyn Heights, Brooklyn (no phone yet)
Runner & Stone Gowanus—until recently, best known for its Superfund-designated canal—has become a hotbed of Kings County cuisine, with new American eatery the Pines and pie temple Four & Twenty Blackbirds attracting Gothamites from all over. Enter baker Peter Endriss (Per Se, Bouchon Bakery) and chef Chris Pizzulli (Blue Ribbon Brasserie) with the first artisanal bread bakery in the 'hood, plus a restaurant furnished with raw trappings (concrete walls, steel chairs). Endriss's baked goods—which drew crowds at the Brooklyn Flea and Smorgasburg—are on offer for breakfast and throughout the day: Look for naturally leavened breads (made Old World–style with wild yeast) and viennoisseries. Pizzulli composes sandwiches (grilled cheddar on rye) and salads (arugula and roasted pumpkin) for lunch, as well as homemade pastas (like red-cabbage gnocchi) and hearty proteins (such as braised lamb breast) for dinner. 285 Third Ave between Carroll and President Sts, Gowanus, Brooklyn (718-576-3360)
Salvation Taco In the late aughts, chef April Bloomfield and restaurateur Ken Friedman led a British invasion in New York with the Spotted Pig and the Breslin Bar and Dining Room, adding beef shins and headcheese to the vocabulary of Gotham diners. But the pair have taken a break from pubby British grub to indulge Bloomfield's love of tacos with this colorful, terra-cotta-floored taqueria in the Pod 39 Hotel. Chef Roberto Santibañez (Fonda) consults on a menu of unorthodox wraps, folding homemade tortillas—including one made with chickpeas—around fillings that reflect Bloomfield's head-to-tail sensibility: skirt steak, pig's head, lamb shoulder. The cocktail list created by bartender Sam Anderson (Hotel Delmano) matches the South of the Border fare with drinks such as the Sonora Old Fashioned: a spicy mixture of tequila, the agave spirit bacanora, chili honey and grapefruit bitters. 145 E 39th St between Lexington and Third Aves (212-865-5800)
Sponsored listing
This festive ramen spot in the heart of Williamsburg makes an ideal choice for locals and visitors alike. Consider it a safe space you can take your parents, in-laws or friends. Run by chef Takatsugu Kishikawa, the Williamsburg branch serves ramen that's just as good as its sister location in Park Slope. First things first: You must order the sake. Try the "dance of the demon," or Tengumai Junmai Yamahai sake ($48). This traditional sake is best served cold, so it makes the perfect complement to any hot bowl of ramen. Start the meal with an appetizer of pork buns ($4 each). The steamed buns are filled with pulled pork, hard-boiled eggs, onions, tomatoes, lettuce and special mayo. This quick and easy appetizer is a fan favorite and pairs well with anything on the menu. If you prefer dumplings, try the wasabi shumai ($6.50). This appetizer comes with five shumai, steamed to spicy, pork perfection. For your entree, you must try the spicy miso ramen ($13). True to its name, the ultra-spicy dish comes with flavored pork stock soup topped with chashu pork, hard-boiled eggs, scallions, corn and bamboo shoots. Subpar ramen joints often over season their broths with spicy to mask their mediocrity—not so at Ramen Zamurai, where the flavor comes from the rich, meaty broth. If you can't handle the heat, try the samurai shoyu ramen ($12). Soy sauce adds savor to chicken and pork stock topped with more chashu pork, nori, hard-boiled eggs, scallions and bamboo shoots. This alternative m
Venue says Celebrate Happy Hour weekdays from 12pm-7pm: $3 Sapporo drafts, Shirakabe Gura, glass of red or white wine!