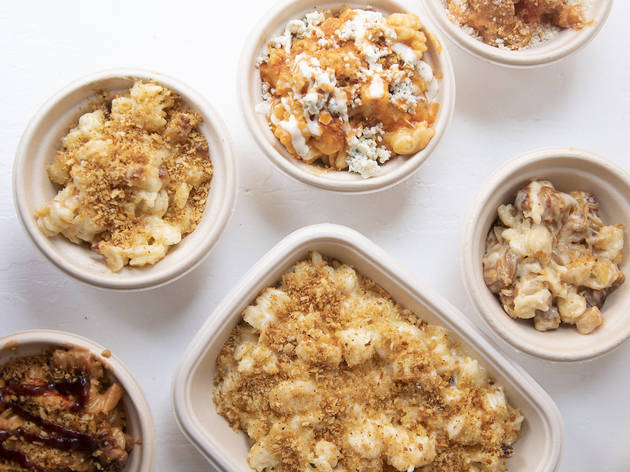 The best comfort food dishes in NYC
New York's best comfort food dishes include fried chicken, macaroni and cheese and slurp-ready soup dumplings
When it's cold, dark and all you want is a little taste of home, there's nothing more belly-warming than the best comfort food dishes in NYC. Maybe it's dishes you grew up eating or an order from one of the city's best restaurants. One thing is for sure: New York offers plenty of dishes that offer us plenty of nostalgia. We're talking about some of the city's best chocolate chip cookies, best soup dumplings and the best fried chicken in NYC. Take a bite out of the tastiest comfort food dishes in New York City.
RECOMMENDED: Full guide to the best restaurants in NYC
Comfort food with riverfront views
We really like eating around the city, and we're guessing you do, too. So lucky for all of us, we've packed all our favorite restaurants under one roof at the Time Out Market New York. You'll have no problem finding comfort food here. The DUMBO location in Empire Stores has fried chicken from Jacob's Pickles, Japanese comfort food from Bessou, the city's best pancakes for brunch at Clinton Street Baking Co. and more amazing eateries—all cherry-picked by us. Post Election Day, we also offered at Salty Thyme Margarita ($10) that transports you to the beach. So, chow down over two floors with views of the East River, Brooklyn Bridge and Manhattan skyline.
RECOMMENDED: 101 best things do in NYC
Best comfort food dishes in NYC
You've possibly never said, "Let's have British food tonight," but a trip to this chippy—one of the few in Manhattan—might change that. The place serves freshly fried, vinegar-doused whiting, haddock and sole with sides of better-than-french-fries "chips." Kids who love fish sticks can try finger-size fried "fish bites"; fish sandwiches served with tartar sauce are also available. With only eleven stools, dining indoors here is near impossible, so you might want to take your order to go or nosh while seated on the bench outside.
The Halal Guys are the kings of street meat. For a mere $7, the Midtown food-cart vendors stuff an aluminum foil dish with warm rice, lettuce, vegetables, meat (chicken, lamb or beef) and top it off with your choice of sauces (red or white) and some pita bread. Comfort is knowing that you're going to get the same thing every time, and sometimes that's all you need.
Just walking through the doors of Bubby's Tribeca location will whisk away cold-weather blues with its homey, country-cottage décor. But a slice of pie will seal the deal. Sample wedges of an all-American apple pie made with local fruit in a butter-and-lard double crust or even a sour cherry pie always hits the spot.
Have a hankering for nachos?
The best nachos in NYC are overloaded with all of the queso, guacamole and salsa of your game-day dreams
Best selling Time Out Offers