The best healthy restaurants in NYC
Forget limp lettuce—these resolution-friendly menus at healthy restaurants cut the calories but keep the yum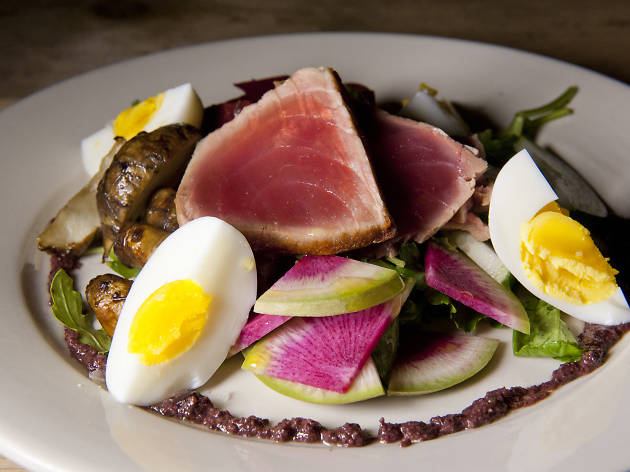 We get it: Keeping New Year's resolutions can be tough. Hell, choosing so-called healthy plates over decadent dishes and snackable cheap eats is downright torture. But this year, we found the best New York restaurants to keep your goals on track so you can ditch the kale salad and chow down on better-for-you brunch or border-crossing take-out instead.
RECOMMENDED: See all of the best restaurants in NYC
From wandering vegan pop-up to Bushwick brick-and-mortar, this veg den from Ethopian expat Liyuw Ayalew serves diet-abiding combos of five ($11) or seven dishes ($15). Opt for duba wot (sweet pumpkin cubes plunked in spicy berbere), yatakilt alicha (turmeric-spiced cabbage and potatoes) and enguday tibs (meaty portobello mushrooms sautéed in garlic, rosemary and ginger), but ask for extra injera, the supple sourdough flatbread, to sop up all those luscious sauces.
Read more
New Orleans native Leith Hill crafts protein-packed fare to pair with fresh-pressed juices, biodynamic wines and gluten-free beers. The best of her nutrient-dense plates include a chive-heavy salmon burger drizzled in zippy tzatziki on a house-made whole-grain English muffin ($15), and a bison strip loin with sides of celery-date slaw and crunchy chickpea fries ($21). Sure, there's macaroni and cheese ($10), but corn-quinoa pasta, fresh kale, and Murray's Gruyère and cheddar temper the decadence.
Read more
New Yorkers are well past the days when it was surprising that vegetarian food actually tasted good. We've had Superiority Burger's mashed-bean patty, umami-loaded with roasted plum tomatoes and melted Muenster; Dirt Candy's crackly, brazenly battered broccoli; and Nix's potato fry bread, gorged with white cheddar and sour cream. This isn't just vegetarian food that's good—it's vegetarian that's exciting, unadulterated and worth jonesing for. Ravi DeRossi threw a log on that metaphorical fire when he opened Avant Garden last September, an East Village veg outfit where potato cannelloni are filled with rich pine-nut ricotta and beet tartare is paired with the creamy comforts of guacamole. That restaurant garnered strong reviews (I personally gave it four stars), and DeRossi responded by transitioning many of his venues to vegetarianism, including his 12-year-old, fondue-loving Bourgeois Pig, which shuttered to make way for his plant-based tapas bar, Ladybird. At Ladybird, the room alone—a jewel box of white marble, emerald velvet and gleaming gold—can distract you from the fact that there's no meat on your plate. But executive chef Daphne Cheng, who veganified the Mother of Pearl menu and is doing the same for DeRossi's bar Cienfuegos, does considerable work in making vegan eating as easygoing as shareable tapas. A satisfyingly thick chardonnay-splashed "fondue" is served with crunchy rounds of focaccia and a slate of fresh vegetables ($28); you'll be too busy dunking purple c
Read more
This upscale vegetarian spot is ideal for anyone who loves food or animals. The intimate, bi-level townhouse possesses an ambience that gourmet-minded vegetarians crave but rarely encounter. Best is the food itself—fresh, creative and considerate (a separate gluten-free menu keeps celiacs sated). Delectable dishes include the seitan piccata, crisp medallions in a light bath of lemon butter and capers, and the saffron-flavored paella, studded with seitan sausage and seasonal veggies. Service is knowledgeable and attentive, and the desserts—one layers chocolate and peanut butter mousse inside a dark chocolate shell—impossibly rich.
Read more
Sip mango sake mojitos on the back patio at this Park Slope spot, which offers an extensive menu of pub grub staples and South American dishes made dairy-free and meatless. Burgers and nachos are served alongside traditional Colombian dishes like the variety plate Bandeja Paisa with seitan chorizo, soy cheese arepas, brown rice and beans and a fried plantain. Along with filling quesadillas and empanadas, there's a healthy selection of raw foods—even raw ice cream. Organic wines and beers top off any sort of healthy meal.  
Read more
Though the ABC brand has always been taken with hyperfresh produce—no doubt buoyed by the complex's proximity to the Union Square Greenmarket—ABCV is Vongerichten's first meat-free spot, and his first ABC project without Dan Kluger in the kitchen. (Kluger left the group in 2014 to open Loring Place.) Instead, chef de cuisine Neal Harden (formerly of the prominent raw-food restaurant Pure Food and Wine) oversees the burners and challenges vegetarian eating's bland, Bikram-yogi connotations with bold flavors and global zest. Beluga lentils thrum with black vinegar ($13), carpaccio-thin slices of
Read more
Bring your vegan friend to Loving Hut, a plant-based restaurant in Williamsburg, and watch their brain explode over the many, many menu options. You could go the Asian route with dishes like alfalfa rice rolls with jicama, bean curds and assorted veggies ($5), curry udon noodle soup ($8), pad thai ($8) or General Tso's tofu delight with baby broccoli ($14). You could also get a vegan burger topped with "facon" and vegan cheese ($9), butternut squash risotto ($11) or an artisan flatbread topped with arugula, olives, sun dried tomatoes, portobello, crimini, oyster and shiitake mushrooms ($10). There's even a whole section of the menu devoted to vegan mac and cheese with chipotle peppers, mushrooms, caramelized onions or creamed spinach (all $8). Loving Hut also makes fresh juices ($6 for a small, $7 for a large) and smoothies ($5) on site and don't forget to save room for vegan desserts like carrot cake ($7), cheesecake ($5) and a selection of donuts that changes daily ($3).
Read more
Franklin Becker's follow-up to his health-minded midtown spot pulls all wheat from the docket, offering gluten-free but still-rich plates like slow-cooked salmon smothered in nutty pistachio pesto and briny black olives ($26). Fellow hearty oceanic eats include sea bass a la plancha dressed with fennel-and-scallion pebre ($27) and tuna tataki over millet and avocado ($15), while vegetables go from garden-variety to gussied-up: grilled zucchini punched with pickled currants and tangy feta ($12), and white-bean–kale soup crowned in salty Parmesan ($9).
Book now
Read more
Show more
Sponsored listing
Boucherie
Naturally, meat is the focus of this 320-seat West Village bistro (boucherie is French for "butcher shop"). A dedicated butcher counter sources cuts from big-name purveyors (Pat LaFrieda) and smaller local farms to be used in composed dishes from Pastis alum Jerome Dihui: an herb-crusted rack of venison, a for-two côte de boeuf with bone marrow, and a dry-aged burger topped with caramelized onions and aged Gruyère. Beyond the beef, you can find French classics like escargots gratiné (roasted snails in garlic butter and béchamel) and moules a la Normande (mussels in cream with mushrooms and bacon), as well as house-made pastas, like ricotta cavatelli with braised rabbit and root vegetables. The sprawling space takes cues from the Belle Époque, with framed mirrors, mosaic floors and a large wooden bar overseen by bartender Anthony Bohlinger (Maison Premiere, Seamstress), who turns out French-riffing cocktails (a mescal-and-Suze Franco-Mexican War) and absinthe drips.
Venue says: "French classic, timeless bistro favorites, and our new seasonal menu! Come visit our new location at 225 Park Ave."