Heads up! We're working hard to be accurate – but these are unusual times, so please always check before heading out.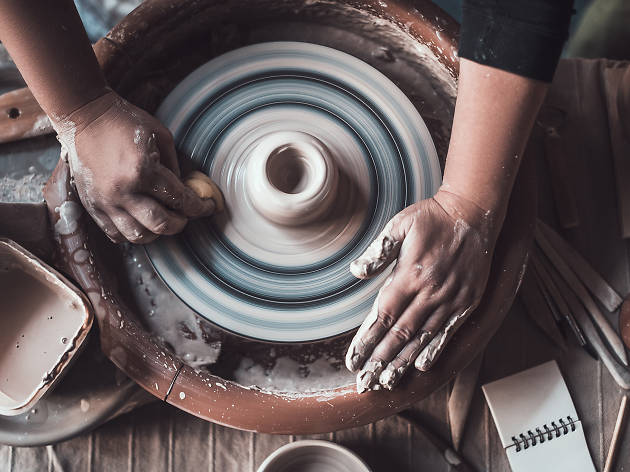 Pottery classes in NYC for budding artists
Get your hands dirty while learning to create your own ceramics in these pottery classes in NYC
Painting, photography and sketching aren't the only mediums covered by the best art classes in NYC: We'd be remiss not to mention pottery classes in NYC. Even total beginners who last sculpted artwork out of Play-Doh in kindergarten will take to ceramics quickly. Learn to shape pots with handbuilding techniques like pinching and coiling, or test out your aptitude for the wheel. Whether you find inspiration in famous sculptures or just want to make some handmade tableware, you'll be able to have the ceramics you create in class glazed and fired to take home. And who knows? If you really take to pottery, maybe your artwork will appear in the best art galleries in NYC one day.
RECOMMENDED: Full guide to classes in NYC
Pottery classes in NYC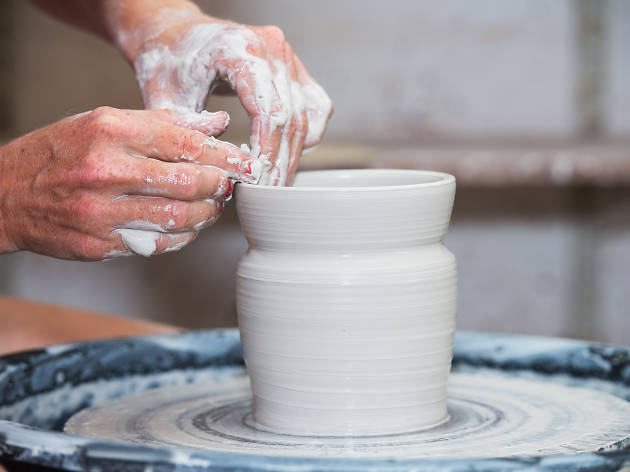 Photograph: Shutterstock
Sip and Spin Pottery Workshop at Choplet Ceramic Studio
Test out your aptitude for ceramics in this BYOB class in Williamsburg. Sipping your favorite boozy beverage takes the pressure off; no one's going to judge you for the artistic merits of your pottery. Though the price only covers the firing of one of your ceramic creations, you can ask the studio to fire as many as you want for an additional fee of $8 per piece. Return two weeks after class to pick up your completed works. $72
Photograph: Courtesy Tribeca ClayWorks
Adult Introductory Handbuilding Workshop at Tribeca ClayWorks
Potters began using this ancient technique long before the invention of the wheel and it's still an excellent option for hobbyist who don't have the space for a lot of equipment. Try your hand at making pinched, coiled or slab pots in this workshop. The class covers rolling, shaping, forming and glazing your design; if you'd like to take it home, Tribeca ClayWorks charges a $15 fee to fire your works after class. $50
Photograph: Courtesy The Potter's Wheel
Pottery Wheel (All Levels) at The Potter's Wheel
Even if your only knowledge of the pottery wheel comes from that iconic scene in Ghost, you'll pick up the technique quickly at this aptly named studio in Kew Gardens. Cover the basics of creating and glazing ceramic forms in this wheel class that's open to all levels. You'll have plenty of opportunities to work with the instructor one-on-one if you need extra help. A firing fee of five cents per cubic inch applies to anything you'd like to keep. $350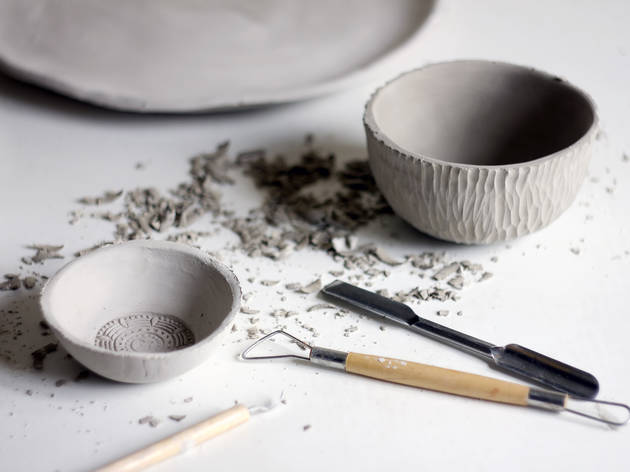 Photograph: Shutterstock
Handbuilding and Wheel at 92nd Street Y
Consider this 12-week course at 92nd Street Y your comprehensive introduction to pottery. The curriculum starts with fundamental techniques, including pinch pottery and basic wheel skills, and works up to more complex projects. With 25 electric potters' wheels, a gas reduction kiln and three electric kilns, the 92nd Street Y studio is one of the most advanced in the city. Clay is included in the cost of tuition, but a five cent per cubic inch firing fee applies to all work made in class. $525
Photograph: Courtesy Baked in Brooklyn
Handbuilding: Clay at Baked in Brooklyn
Your ceramics experience at Baked in Brooklyn doesn't end at the end of class: After it's fired, you get to come back once more to glaze your work. Since the cost of class includes three pounds of clay, you'll be able to create as many vases, bowls and artworks as you like. $45
Photograph: Courtesy West Side YMCA
Mugs and More: Wheel at ArtWorks at West Side YMCA
You'll really develop your skills on the wheel after eight weeks of classes at the YMCA. Though you begin with basic shapes, you'll progress to more complicated designs like lidded jars and oval planters quickly. YMCA members receive a discount on classes, but you don't have to be a member to sign up. A firing fee of four cents per cubic inch applies to your creations. $360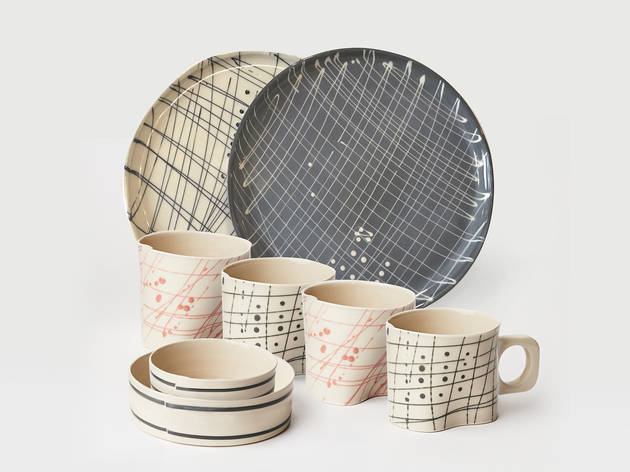 Photograph: Courtesy Wilcoxson Brooklyn Ceramics
Colored Porcelain Tableware Set Workshop at Wilcoxson Brooklyn Ceramics
Instead of shelling out big bucks for handmade artisan tableware, be the artisan yourself. You'll create your very own set of two plates, two bowls and four mugs during a five-hour class at this Greenpoint studio. Apply colored slips to the surface of each piece to create speckled or striped patterns in blue, pink, red, black or gray. Your friends won't believe you didn't pick them up at some trendy outdoor market. $145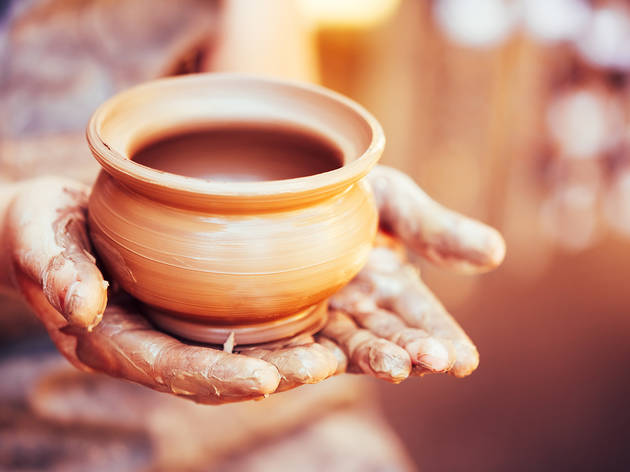 Photograph: Shutterstock
Couples Night: Handbuilding Pottery at Mugi Studio
Make a ceramic keepsake you'll treasure for years to come in this date-night workshop at Mugi Studio. The instructor will help you choose which handbuilding method—pinch, coil or slab—works best for the piece you'd like to create. When you consider that the price of this class includes the firing fee, it's actually very affordable. $125 per couple
Looking for more classes in NYC?
Ready to add some new DIY skills to your resume? Sign up for one of these crafting classes in NYC