The best things to do in the East Village, NYC
You can find a charming bar, restaurant or awesome event at just about every corner of the East Village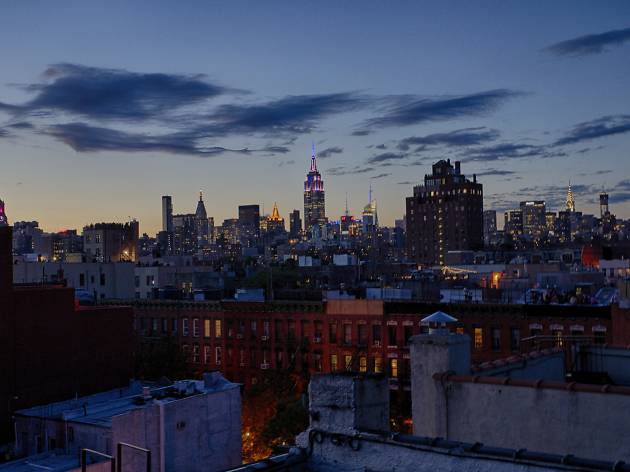 It's no surprise why generations of artists, from the Beatniks to the Punk Rockers, have come of age thanks to all the awesome things to do in the East Village. Whether you're looking to lose your mind at one of the city's wildest East Village bars and grab comfort food the morning after or just spend a day racking up clothes at the nabe's best shops, we've got you covered with this comprehensive rundown of the best things to do in the East Village, NYC.
RECOMMENDED: Full guide to the East Village in NYC
Things to do in the East Village, NYC
1
Bars that call themselves speakeasies might be a popular trend in this city, but learn about the seedy, underground crime that made the phenomenon a reality back in the 1920s during Prohibition. This museum, which is housed in a real former speakeasy at 80 St. Mark's Place, exhibits photographs and illustrations of many of the most famous gangsters of the 20th century as well as the weapons used by mafia members and stories about the lives and heists of these criminals.
Read more
2
Founded in 1976 by the Ukrainian National Women's League of America, this East Village gem features one of the largest collections of Ukrainian art and archival material in the U.S. The museum presents regular gallery talks, concerts and film screenings, as well as traditional folk-art workshops.
Read more
3
The nattily attired bartenders are deadly serious about drinks at this Gothic saloon, a pioneer in the current mania for craft cocktails. Behind the imposing wooden door, black walls and cushy booths combine with chandeliers to set the luxuriously somber mood. The barkeeps here are consistently among the city's best, turning out inventive and classic drinks such as the Sweet Hereafter, a Latin American martini riff made with floral pisco, St.-Germain, Dolin Blanc vermouth and Cocchi Americano.
Read more
4
What was once a hotbed of crime and drugs has transformed in the past decade into the crown jewel of the East Village. The 10.5-acre green space underwent a $2.1 million renovation in the '90s, and the result is a cleaner, greener park—one that's especially dog-friendly, with fenced-off areas for pooches big and small, and three bone-shaped doggy swimming pools. The park also contains several monuments, including an elm tree that serves as a memorial to Hare Krishnas.
Read more
5
This red-brick building feels a bit like a fortress—and in a sense, it is one, protecting the legacy of NYC's fiercest experimenters. Anthology is committed to screening the world's most adventurous fare, from 16mm found-footage works to digital video dreams. It also houses a gallery and film museum.
Read more
6
Vegetarians, vegans and raw-foodists, unite! This longtime East Village hangout offers both regular meat-free dishes and "live foods" made from uncooked fruits, vegetables, nuts and seeds. Naturally, there are loads of salads and some macrobiotically balanced quinoa-and-seaweed combos.
Read more
7
Music lovers and DJs alike will be drawn to this hip-hop haven, which not only sells the latest high-tech audio toys, such as Rane sound-mixing equipment and Audio-Technica live turntables, but also provides the rest of the necessary gear: music-related streetwear for men (including Rock Well graphic tees) and an assortment of pop culture books and magazines, including arty Arkitip magazine.
Read more
9
You might ask à la South Park, "What the fuck is a Bavarian beer garden doing in Alphabet City?" Upon entering, you'd have your answer: It's schvimming mit kustomers. In addition to the trees and checkered tablecloths, there's a guy in a ski suit doing the chicken dance near the bar. A dozen German brews are on tap, four in the bottle. After knocking back a few, you too will be shaking a tail feather.
Read more
10
Ella owner Joshua Boyd has teamed up with Adam Kirsch and Jeff Laub (a former manager at Ted Gibson Salon) to open this dual-purpose hair salon and lounge. In the front, an old-timey barbershop provides cuts and shaves for men; a back area is decorated with couches and a bar that serves thematically appropriate cocktails, like the Sweeney Todd (Jameson, lemon juice, honey syrup, grenadineand egg white). If you're hungry, nearby Italian restaurant Gnocco will deliver its Roman-style pizza.
Read more
Find more things to do in the East Village
Looking for great restaurants nearby?
The East Village is chock-full of eclectic restaurants from omakase sushi to comfort foods
Read more