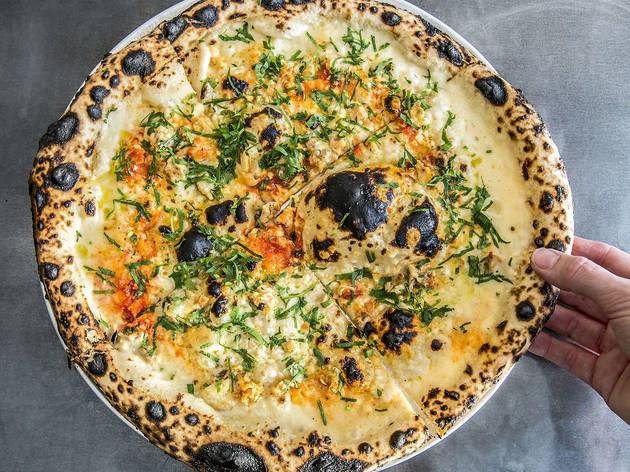 Best New Restaurant: Time Out Food Awards 2019
This pedigreed Newtown newcomer takes the notion of the ideal neighbourhood pizzeria and turns it up to 11
Until he began testing recipes for Bella Brutta, chef and co-owner Luke Powell had never cooked pizza before. Now, a year after opening the Newtown pizzeria, some might say he's the best pizzaiolo in town. It's an astonishing achievement, but one that should come as no surprise to anyone who's been keeping tabs on him over the years. We could go on and on about his days as head chef at Tetsuya's, remind you that he helped get Mary's off the ground, or recount his stint with the woodfired oven at Ester. And then, of course, there's that Midas touch when it comes to roasting, smoking and curing quality meats, which he continues to perfect at his eponymous Chippendale eating house, LP's. Let's just say the man can cook.
Powell toyed with close to 30 different variations of the dough recipe, and once one of these puffy, bubbling, blistery bad boys lands in front of you – mere seconds after sliding out of the bright red, imported oven – it becomes very obvious he's gotten it right. You can smell the smoky char and slight bready sourness from across the room, and tearing off a slice confirms it's crisp where it counts, yet soft and pliable at the same time. In other words, it's the ultimate vehicle for righteously salty-sweet tomato passata on a classic marinara that's an essay in less-is-more. Conveniently, LP's just so happens to make some of the city's most sought-after smallgoods, so magic happens when circles of silky mortadella or parchment-thin pepperoni join the party. But if there's one pizza at Bella Brutta you've got to get your hands on, it's the clam. Diced surf clams are the unlikely hero of this tomato-free flavour bomb, coated instead with a briny riff on béchamel, and showered with fermented chilli, garlic and parsley. It's a revelation.
Despite their diameter, the pies are surprisingly light, which ends up being a blessing because the kitchen's prowess extends far beyond the pizza realm. Produce-forward antipasti like simply roasted peppers and supporting players like a salad of crunchy celery, celtuce, bitey pecorino and sunflower seeds are attention-grabbers in their own right. So are the sugar-coated, cream-filled Italian doughnuts known as bomboloni. You want good Spritzes, good wine and good coffee to go with all of this, and that is what you get. What's more, it's all brought to life by a switched-on young team led by Powell's partner and front-of-house gun Tania Houghton.
Bella Brutta's been fast off the blocks, busy from day dot, and we've got a hunch it's well on its way to cementing 'Sydney institution' status. For now, however, it's our Best New Restaurant winner for 2019.
Best selling Time Out Offers