Heads up! We're working hard to be accurate – but these are unusual times, so please always check before heading out.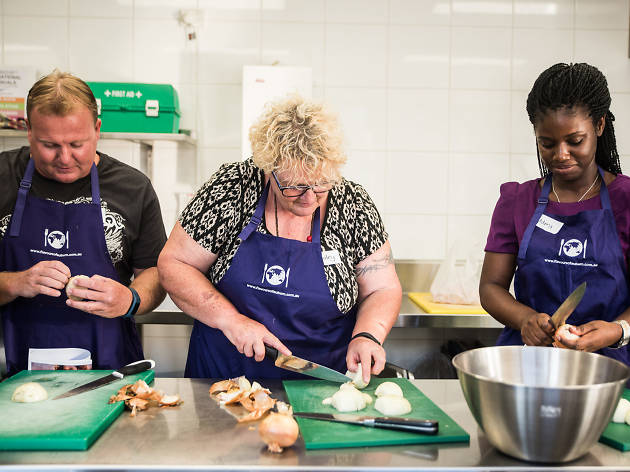 The best cooking classes in Sydney
The Time Out team test some of Sydney's leading cooking schools. Here are the best of the bunch
So you want to learn how to make beautiful pasta and craft incredible cheese? How about learning how to fillet a fish? This list of the best Sydney cooking classes showcases some incredible culinary schools where you can enhance or finesse your kitchen skills. Whether you want to pickle the day away at Cornersmith, get elbow-deep in fresh seafood at the Sydney Seafood Cooking School or bake up a storm at Brasserie Bread, there's sure to be a class that'll teach you something.
Want to keep learning? Head out on one of Sydney's best tours.
After a bargain eat? Check out our guide to Sydney's best cheap eats.
The best cooking classes in Sydney
Class: Oodles of Noodles
Good for: Inspiration beyond Masterchef
Skills learned: Identifying ingredients, making a stock, basic knife techniques.
Before we begin our three hour Malaysian oriented cooking class, we're greeted by our exuberant teacher Wanitha Tanasingam. "What I've learnt is cooking isn't just a process – there should be a wonderful flow and energy."
Tanasingam lives by this and is evident as soon as we start out by kneading dough for stretchy noodles. We all get our hands get sticky and told to knead with love. We begin pinching the dough to be pulled up 'Would you like to be pinched? Nope! Treat your ingredient with love". It's these visceral exchanges drive this class far beyond a how-to. In fact we don't peak at our recipes – this is a choose-your-own-adventure style (with a very helpful guide) class, forcing students to feel their way through making a three-course Malaysian feast.
The class also includes a Masterchef-like mystery ingredient taste testing (which is both fun and interactive, while also exploring the key components of each dish), use of the pasta machines (our dough isn't so successful, but luckily it's a sharing-is-caring environment), plus knife skills and mastering a good stock base.
While the space is meticulous and the equipment is top tier, the class still has a great, relaxed vibe, thanks to the small class size and ongoing enthusiasm from Tanasingam. If you want to combine learning some skills with a fun night out, this is the perfect class for you.
Time Out tip: Save some dosh for after the class – the Essential Ingredient is any budding chef's dream pantry, replete with blue masa flour, rare truffles, cake decorating surprises and whiz bang kitchen gadgets.
Class: Preserving for the season: pickles and chutney
Good for: Thrifty cooks who hate waste
Skills learned: Brine ratios, heat-sealing jars and understanding bacteria.
Pickles aren't just the tangy green addition to a cheeseburger, and at the Cornersmith Cooking School, you'll learn a vinegary brine can preserve all kinds of fruits and vegetables, from grapes to cauliflower and even lettuce. When Time Out donned an apron for the three-hour evening workshop, we also whipped up a spicy chutney and flavoured vinegars with produce donated from the neighbours' gardens.
Our preserving mastermind for the evening was Mrs Cornersmith herself, Alex Elliott-Howery. The self-titled 'crazy pickle lady' (and co-founder of the Cornersmith Cafés in Marrickville and Annandale) invited us to kick off the evening by tucking into a meal, which showcased some of Cornersmith's best sellers with crusty bread. We then split up the full house up into groups of four before diving right in. The night has a relaxed approach, with generous as-you-go taste tests, glasses of Grenache and Alex's warm humour.
As we chopped pears for the lemon and rosemary chutney, and fennel for pickling, we learnt how to brighten a brine with turmeric, seal jars with boiling water, and to match seasonal produce with different kinds of vinegar. You leave the class full of facts and delicious salads and spreads from the Cornersmith menu. You're also armed for the apocalypse with your jars of preserved goods ready for the pantry.
Time Out tip: Pick up some ready-to-eat chutney from the Cornersmith's store of goodies when you leave, because the batch you make on the day won't be ready to eat for a while.
Class: Seafood Basics
Good for: Lovers of the fruits of the ocean
Skills learned: How to handle fish and shellfish straight from the market and filleting whole snapper.
While it's a fish market and dining/tourist destination in the day, by night the Sydney Seafood School swings into action, transforming into a mini seafood-bent culinary school. We start our class with an interactive demonstration that takes us through an agenda for the evening: crumbed snapper fillets, blue crab and vermicelli salad, clams with tomato sauce and squid with lemon and olive oil dressing.
This tutorial is a hands-on cooking session in a kitchen not far from the cooking show set. Working in groups of four to six, our team has a university student, 60-year-old retired mother and everyone in between. We were excited to show off our newfound culinary expertise and got down to slicing squids and chopping crabs right away. If you're a little uncertain there's chef's assistants floating around to guide everyone along the way, which makes the whole experience completely stress-free, even for the rookies in the room.
Then comes the highlight of the night: time to dig into the oceanic feast. We enjoy our own dishes in a cosy dining room and everyone is rewarded complimentary wine as a much-deserved treat for our hard work.
Time Out tip: Keep an eye out classes with five star chefs including Giovanni Pilu, Ross Lusted and Danielle Alvarez.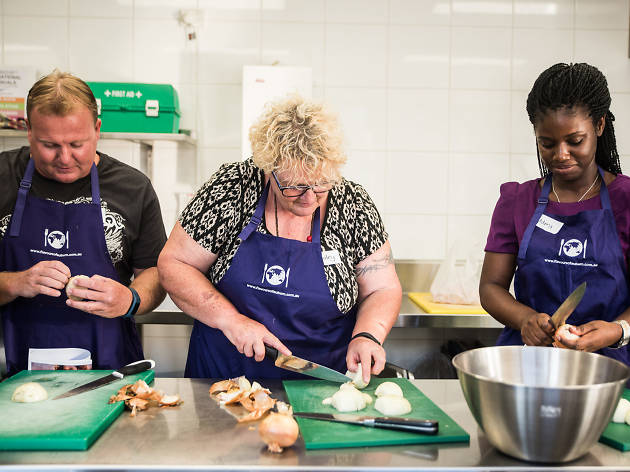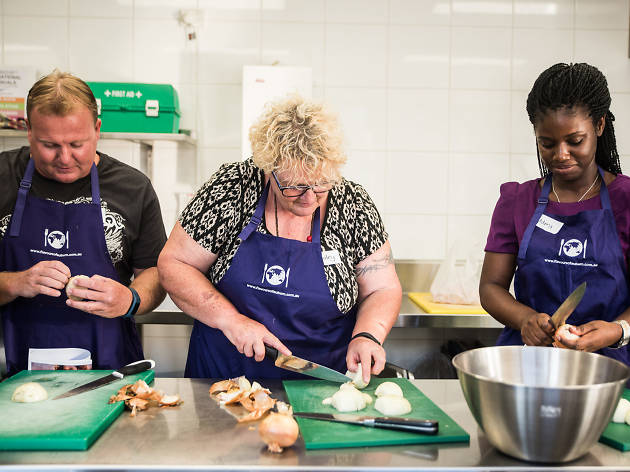 Photograph: Flavours of Auburn
Class: Iranian
Good for: Authentic home-coooking from round the world
Skills learned: Identifying less common ingredients and new cooking techniques.
Flavours of Auburn are doing social enterprise right. In 2007 four small cultural groups approached Auburn Council and created the Auburn Small Community Organisation Network (ASCON). Membership grew and in 2009 they began hosting food events as a part of the annual Good Food Month. The classes and tours became so popular that in 2013 they began running Auburn tours year round; in 2014 they got the small business on board to open up to visitors; and in 2015 they began a full time program of tours and cooking classes. The classes not only allow visitors to experience food from around the globe, but also provide employment and training to newly arrived migrants, refugees and asylum seekers. Flavours of Auburn have joined forces with House of Welcome, a transitional housing provider for people seeking asylum in NSW, and together they host regular cooking classes at the Auburn Centre for Community. The Iranian classes are some of their most popular. They keep the class sizes small so that you participate and keep a close eye on the production of a celebration chicken and rice dish, a Persian salad, a Middle Eastern dal and Iranian samosas. It's an informal setting in a commercial kitchen and allows you to chat to your hosts and the trainee teachers about their lives and cultures. At exactly the point where the smell of cooking is driving you mad everyone retires to the dining room which has been set for dinner and shares a feast.
Time Out tip: Consider a small snack before you arrive to ward off hunger, but be prepared for a lot of food at the end.
Class: Rodney Dunn, the Agrarian Kitchen
Good for: Semi confident cooks who follow food trends and tastemakers.
Skills learned: Proper browning techniques for meat, burnt butter, seep frying.
This snazzy homewares shop selling quality cookware, tableware, and gourmet ingredients also hosts regular and cookery classes from well-known chefs. They bring in names from detination venues, like Rodney Dunn from Tasmaia's famous Agrarian Kitchen.
The classes are help up the back of the shop in the demonstration kitchen which has multiple cameras for easy sightlines. From your seats in front of the counter you can watch as chefs walk you though the specifics of their signature recipes, like Dunn's famous pumpkin dougnuts with caramel, or a spicy Central Asian-style lamb mince bun.
These are demonstration classes but you get to taste everything that's made and you are provided with your own recipes to follow and make notes on. It's almost like a private catering party.
They also host regular kids classes from March to November. You need to keep your ear to the ground for when they announce their guest stars to ensure you get the class you're after, and expect to pay between $120 and $225 per class.
Time Out Tip: Get here early so as to snag the seats in the front row. Even with the cameras it's still the best spot to see everything up close and ask questions along the way.
Class: Cooking Mexican, Vive Cooking School
Good for: Beginners to confident home cooks
Skills learned: Some basic knife skills, the fundamentals of Mexican flavours and spices, and how to break down fish.
In this class, you'll learn to cook (and eat) a full Mexican feast in three hours – a fresh and punchy red snapper ceviche to start, and pulled pork for mains with guacamole, chipotle sauce and handmade tortillas.
There's nothing here that you couldn't successfully replicate at home, and if you're definitely not a cook, you can take the Antoni from Queer Eye route and just focus on nailing the guacamole. It's also a good mix of hands-on-action and demonstrations – on our visit we get the uniquely visceral pleasure of pin-boning a snapper fillet.
The school has a very slick setup, with Global knives and Smeg appliances at every workstation down the long marble central bench. You're in a glass cube in the middle of the Cannery in Rosebery and surrounded by plenty of vendors with inspiring ingredients.
Vive Cooking School has got a jam-packed line-up of rotating classes pitched at cooks with differing levels of ambition and one-offs from special guests – they've even hosted Black Star Pastry's Chris Thé, teaching the secrets of his famous strawberry watermelon cake.
Time Out tip: The classes are all BYO, so grab a bottle of wine from nearby artisan bottle shop the Drink Hive to keep the creative juices flowing.
Class: The Art of Sourdough
Good for: Carb-lovers
Skills learned: How to care for a starter, how to knead dough and baking tips.
It's been a long time since we've been this violent with a piece of food, but baker Matthew Brock actively encourages it. There are ten of us thrashing the living daylights out of our dough on a Sunny Saturday afternoon out at Brasserie Bread's Banksmeadow bakery/cafe. There's still a measure of care, though – while we're encouraged to stretch the gluten strands as far as possible, we don't want to break them.
During the three-hour class, we learn kneading techniques and shaping. Did you know, for instance, there's a preliminary shape and then a final shape, which determines the awesomeness of your loaf? A loose final shape creates a loose uneven crumb structure. A tight shape equals tight crumb structure. Facts!
We're shown just how time consuming it is to look after your own starter (very – forget going on holiday for the first month of your starter's life – it's like having a new puppy), and how to slash our dough so our bread doesn't split during baking. A tour through the massive bakery out the back shows trolleys heaving with pastries, loaves of bread and massive industrial ovens where we bake our dough. We end with a tasting of all the breads Brasserie makes and a free-for-all of the day's over-bake.
Aside from being sent home with enough bread to last an apocalypse, we also take home the dough we've been torturing through the class, to be refrigerated and baked the following day. The result? Well, it's not perfect (we were really convinced we'd become a master baker after three hours) but it's certainly honest and delicious, if not a little rustic (read: black as tar on one side, beige on the other).
Time Out tip: Kids can get involved in the action too – every school holidays Brasserie hosts special classes for budding bakers.
Want more? Here are some other classes around town
Want someone else to cook for you?
Our definitive, ranked list of where to eat in Sydney right now. We hope you're hungry because you're going to want to sample every one.