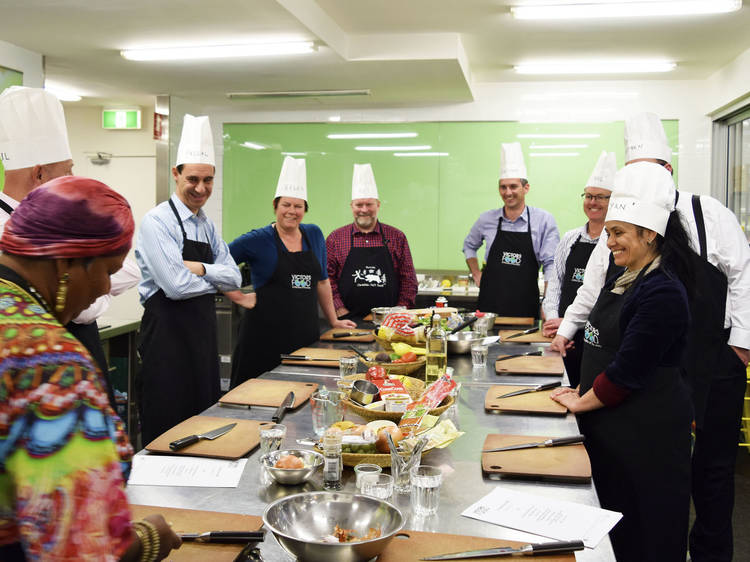 Class: Oodles of Noodles
Good for: Inspiration beyond Masterchef
Skills learned: Identifying ingredients, making a stock, basic knife techniques.
Before we begin our three hour Malaysian oriented cooking class, we're greeted by our exuberant teacher Wanitha Tanasingam. "What I've learnt is cooking isn't just a process – there should be a wonderful flow and energy."
Tanasingam lives by this and is evident as soon as we start out by kneading dough for stretchy noodles. We all get our hands get sticky and told to knead with love. We begin pinching the dough to be pulled up 'Would you like to be pinched? Nope! Treat your ingredient with love". It's these visceral exchanges drive this class far beyond a how-to. In fact we don't peak at our recipes – this is a choose-your-own-adventure style (with a very helpful guide) class, forcing students to feel their way through making a three-course Malaysian feast.
The class also includes a Masterchef-like mystery ingredient taste testing (which is both fun and interactive, while also exploring the key components of each dish), use of the pasta machines (our dough isn't so successful, but luckily it's a sharing-is-caring environment), plus knife skills and mastering a good stock base.
While the space is meticulous and the equipment is top tier, the class still has a great, relaxed vibe, thanks to the small class size and ongoing enthusiasm from Tanasingam. If you want to combine learning some skills with a fun night out, this is the perfect class for you.
Time Out tip: Save some dosh for after the class – the Essential Ingredient is any budding chef's dream pantry, replete with blue masa flour, rare truffles, cake decorating surprises and whiz bang kitchen gadgets.