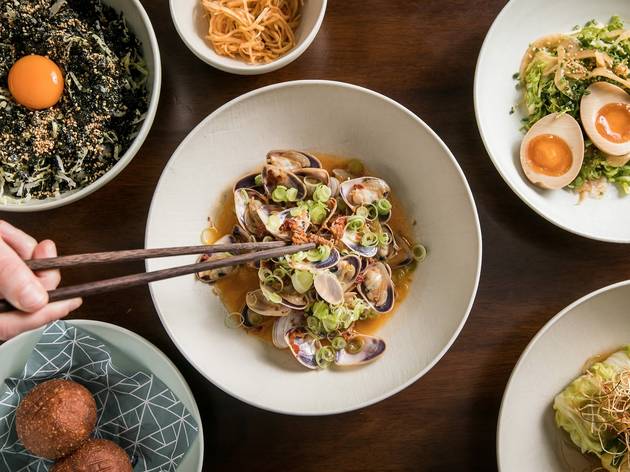 Best Casual Dining Restaurant: Time Out Food Awards 2018
Go for dinner, go for brunch, go all the time to this champion of modern Korean dining
Smart casual may be a confusing dress code, but we know it when we eat it. It's in a bowl of pippis that have opened their little pearlescent shells to be anointed with a juicy umami-bomb of XO sauce and a litter of green onion with a hot puck of fried bread to soak up the broth that remains. A wedge of soft, sweet Chinese cabbage, cooked until it's almost translucent and bathed in a rich, chickeny schmaltz, also adheres to the theme. But it's a Trojan horse, delivering concealed pockets of spanner crab meat between its layers in the most delicious of tricks.
A great casual diner has you considering a return visit before the bill is paid for this one, and Paper Bird is a double threat to your savings account because they also do brunch. Sure, all the cool restaurants are doing it now, but where else can you get a shallot pancake given savoury cred from shiitake and draped in jamón so that it looks like an impasto still life? The banchan you love at barbecue restaurants is reimagined here as a salad of pickled fennel, shredded lettuce, sesame seeds and a soft boiled soy-marinated egg. A little digging reveals a hidden payload of dashi-spiked cream, exposing this salad as a calorie smuggler. What chefs Eun Hee An and Ben Sears are slinging out of a tiny kitchen in what was once a fashionable bakery is nothing short of miraculous. And it's also the most dynamic, exciting Korean food in the city.
See all the winners
Time Out crowns the champions of Sydney's restaurant scene, from Restaurant of the Year to Best Café.
Best selling Time Out Offers