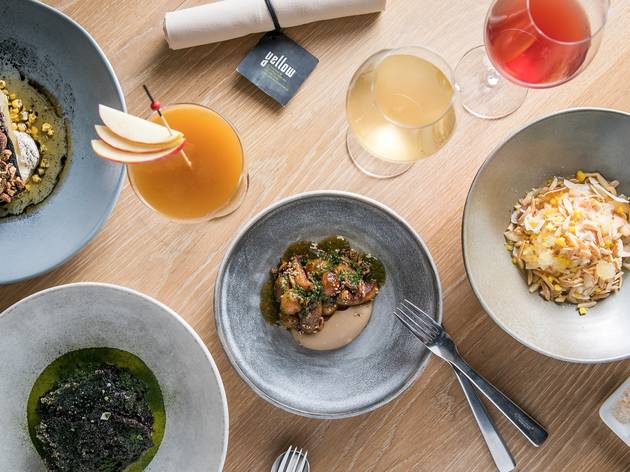 Best Degustation: Time Out Food Awards 2018
No animals were harmed in the making of this incredible tasting menu
It takes vision bordering on the mad to see a burnt onion as a dessert, but that is the creative genius we're dealing with from the team at Yellow. Not just a staunchly savoury veg, but a burned one at that, is ground down into a charcoal-black powder to contrast with the pretty-in-pink Frenchness of a tartine made from more leaves of sticky apple than your average Penguin Classic. This is so much more than meat-free cooking; it's abstract expressionism with fruit and veg. Brent Savage and Nick Hildebrandt's restaurant empire (Bentley, Monopole, Cirrus) had always catered to vegetarians without making a fuss, but when they devoted their Potts Point dining room to the best of the plant world, people really started to take notice. And they kept coming back for more.
More of the stracciatella, a fresh cheese that's so creamy and relaxed it's basically a liquid, sprinkled with a magic banana powder made from extreme slow-cooked bananas (two and a half months at 60 degrees in the skins). Add the bright tang of cumquat and it's almost a sweet, except for the fierce pull towards savoury by the gently charred, sprouting broccoli and cauliflower. Baby corn in a can is a monstrosity; baby corn served in its charred husk, under a blanket of funky miso milk crumbs, is bringing smoky maturity to next-gen veg. A round of applause goes to the a dish of nori sheets camouflaging a core of soft leek wearing the reflected richness of shaved duck yolk and parmesan's gravitas. Horseradish brings the treble, shimeji mushrooms the earthy bass, and a sweet-tart ponzu dressing makes a surprising guest appearance. We are not being facetious when we say that the baked celeriac, with all the earthy grunt and spiced char of a prime cut, trumps meat. And fried chicken is in many ways bested by the juiciness, savouriness and feather-light crunch of Jerusalem artichokes in a tapioca batter, served on a powerful Swiss brown and button mushroom purée. We expect veggies to be part of a great tasting menu in Sydney, but it's rare to see them demand the spotlight like a diva hitting the high notes and refuse to relinquish their starring role. This is what makes Yellow such an extraordinary restaurant.
See all the winners
Time Out crowns the champions of Sydney's restaurant scene, from Restaurant of the Year to Best Café.
Best selling Time Out Offers