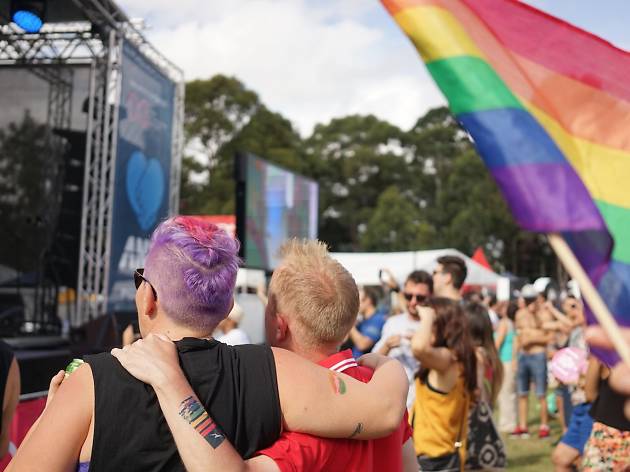 Warm up for the sparkly revelry of the parade, with the annual festival kick-off in the park
Returning to Victoria Park this year, Fair Day is easing you into Mardi Gras season with a sprawling mix of party, picnic and sartorial pooches.
Featuring all the classic food stalls and LGBTQIA community information booths, the park will also play host to a line-up of performances, fashion smack-downs and interactive art activities. There's also the much-revered Doggywood to behold, with the 'Game of Bones' dog pageant, pitting costumed pups and owners against each other for entertainment and prizes. Mainly entertainment.
Dai Aoki will take to the stage with his two boarder collies Holly and Ace for the K9 Spectacular Dog Show for three performances across the day.
More than 250 stalls will set up shop in the park for the day with the Sports Villiage returning alongside new attractions like the Tropicana Bar.
Around 70,000 people are expected to attend the one-day-only event that will also help to kick of Mardi Gras' 40th birthday celebrations.
Though technically free, Fair Day raises important funds for the longevity of the Mardi Gras festival so be sure to spare some coin to enter. While you're at it, grab a chat with one of the '78er group, the original protestors that marched in the first ever parade and gave the rainbow its present-day backbone.