The best stargazing near Sydney
Watch the night sky from these dark locations in and around Sydney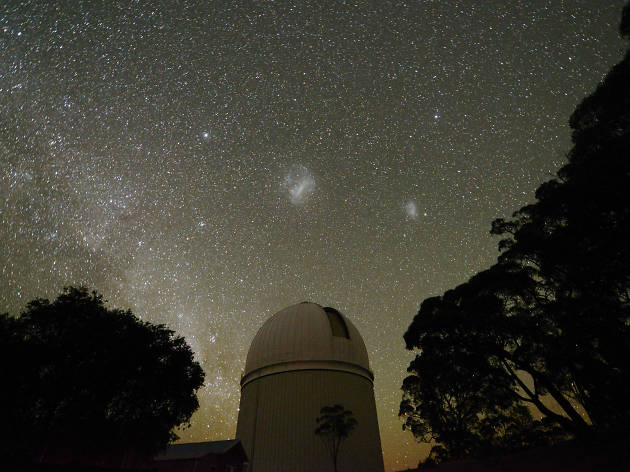 Although on clear nights you can spot a few stars from Sydney, if you go just outside of the city centre, you will have a much better view. Be careful you're not trespassing, and happy viewing!
Stargazing spots in Sydney
It may not be the darkest sky given you're right in the city, but they've got powerful and historic equipment, including the oldest working telescope in Australia. Nightly two-hour tours of the Observatory include telescope viewing (weather permitting). Watson Rd, Millers Point 2000. $14-$22. Daily 8.15pm.
Airports tend to be isolated and have minimal lights on at night, so are good places for checking out the stars. The best spots are the areas of the airport where golf courses come up to the boundary fence. 3 Avro St, Bankstown 2000.
Mangrove Mountain is a great spot to check out the stars if you aren't looking to travel too far out of the city itself. It's an hour and a half from the city, inland from the Central Coast near Peats Ridge, with the viewing benefits of altitude. Mangrove Mountain 2250.
Located 45 minutes north of the CBD, this is one of the closest stargazing spots to the city you're going to find. The football oval on the edge of the national park is a great place to start. You'll have no problem spotting Orion, which will help lead you to other constellations.
Mount Kuring-gai Oval, Brisbane Ave, Mount Kuring-gai 2080.
Viewing nights take place here through the Northern Sydney Astronomical Society on the Saturdays before and after the new moon. Visitors are invited to at least one viewing night every month (next date: Sat Aug 27).
JJ Melbourne Hills Memorial Reserve, Terrey Hills 2084.nsas.org.au/observing/
.
Find a park for sunset snacks and stargazing
Cancel your restaurant booking and head to one of these top places to enjoy a picnic. We've called ahead to find out if there's parking, toilets and barbecues, too.