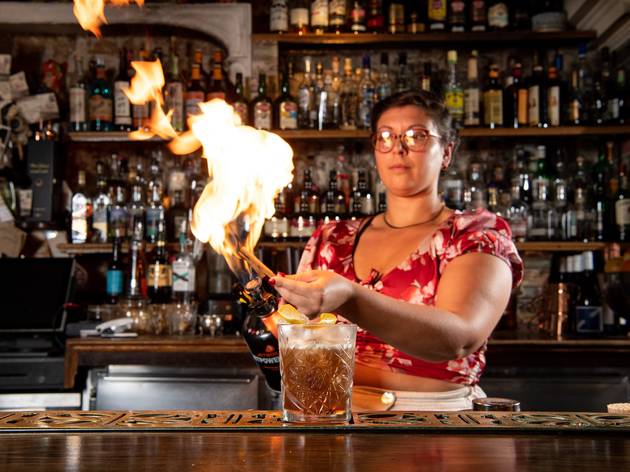 Your essential guide to Sydney Solstice in the CBD and surrounds
All the magical food, drink and cultural events hitting the inner city you should know about this winter
If the thought of another winter at home was giving you the blues, never fear. Sydney Solstice is a new two-week event that sees our city's best chefs, musicians, hospitality legends and artists inject a bit of much-needed out-of-the-house magic into our lives. Push the dread of seasonal boredom out of your mind with the promise of a packed Sydney Solstice program to look forward to on the horizon.
Four key Sydney precincts will come alive from June 8 to 20 with over 200 different events falling under the Sydney Solstice umbrella. To celebrate, we've teamed up with the masterminds behind the whole shebang, Destination NSW, to bring you neighbourhood by neighbourhood guides to all the fabulous happenings to look out for.
First up, the CBD and surrounds, including The Rocks, Haymarket, Circular Quay and Walsh Bay. Here's your go-to run down of all the Sydney Solstice events happening in this inner-city precinct, with a little sprinkle of bonus things to see, do, and euphorically consume while you're in the area. Kick those winter blues to the curb.
Where to experience Sydney Solstice in the CBD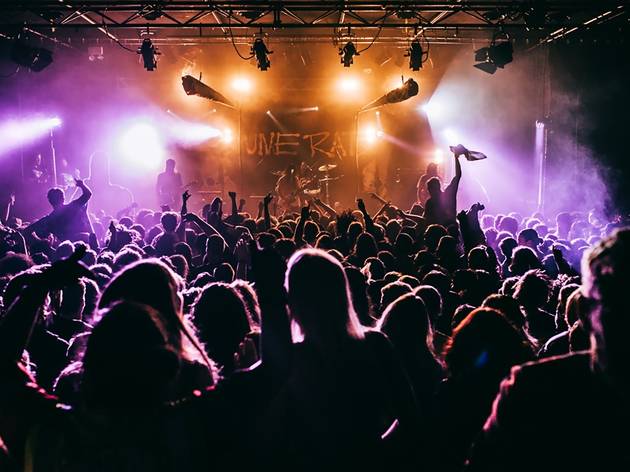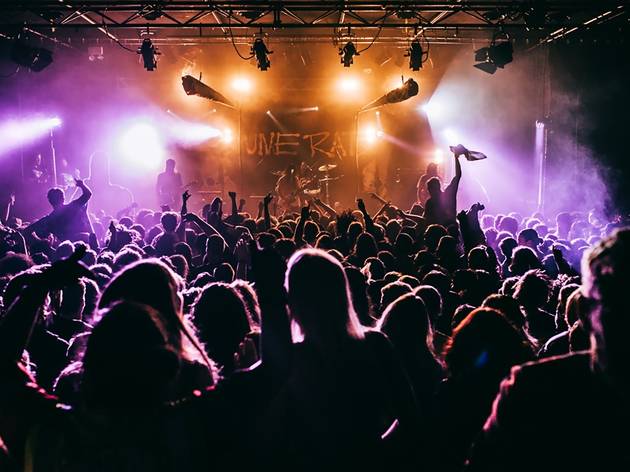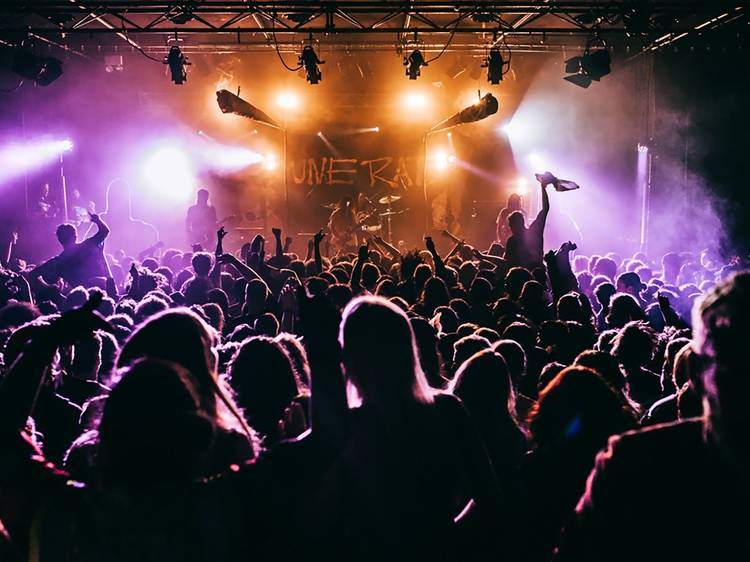 Photograph: Supplied/ Destination NSW
See a live gig at the good 'ol Metro
An absolute Sydney Solstice highlight has to be the triumphant return of the Metro Theatre. The hallowed halls of the super-central venue has seen its fair share of incredible gigs from international legends. It's also been hit harder than most by the lockout laws and pandemic dramatically impinging a new generation of live music fans access to its magic.
Sydney Solstice will reactivate the Metro with two live, loud and proud events. First up, 7 Day Weekend – a whole week live music extravaganza of curated gigs from some of Australia's most thrilling acts like Camp Cope, British India and The Getaway Plan. Followed by, Mardi Gras At the Metro – a suite of queer events hosted by the Sydney Gay and Lesbian Mardi Gras including a crown event 'Express Yourself – Queer Discovery' featuring Alex the Astronaut.
While you're here: Keep your fire burning and refuel at one of our favourite Korean BBQ restaurants a mere one minute walk from the Metro. Danjee has been serving up charcoal-licked meats and delicious ban chan for yonks from the tiny Albion Place laneway, your go-to for dining between gigs.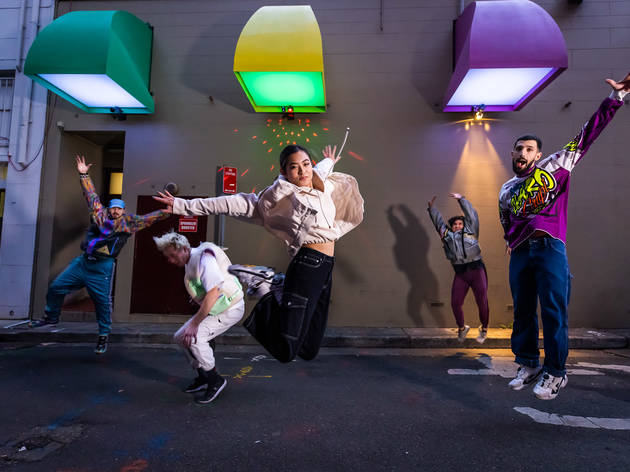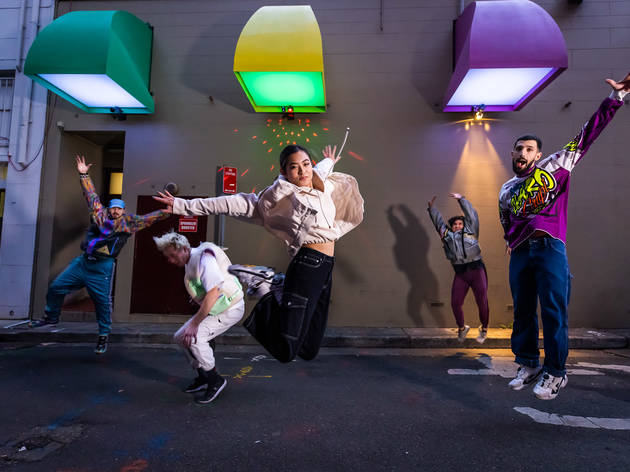 Photograph: Anna Kucera
Dance in the streets of Chinatown
After a year of "NO DANCING" signs littering the walls of Sydney nightclubs, bars and pubs Sydney Solstice is offering an open-air reprieve. Wanna Dance is a euphoric installation and activation that will invite Haymarket pedestrians to experience movement and light again.
Wanna Dance will set up shop in a Chinatown laneway with a party-conjuring light installation. Pedestrians will be treated to dance and movement performances from all sorts of genres including C-pop, K-pop, hip hop and contemporary. The result of a collab between public artist Studio Chris Fox, DJ and nightlife legend Tyson Koh, dance artist Emma Saunders and urban planners City People. This pop-up is bound to have you moving and grooving again like the old days.
While you're here: It's a no brainer that Haymarket is home to some of our city's best eateries. Replenish your dancefloor energy with some spicy and satisfying Malaysian street food from Ho Jiak. Hot tip: order the Ice Milo Jumbo, a stein-sized milky treat that's surprisingly invigorating.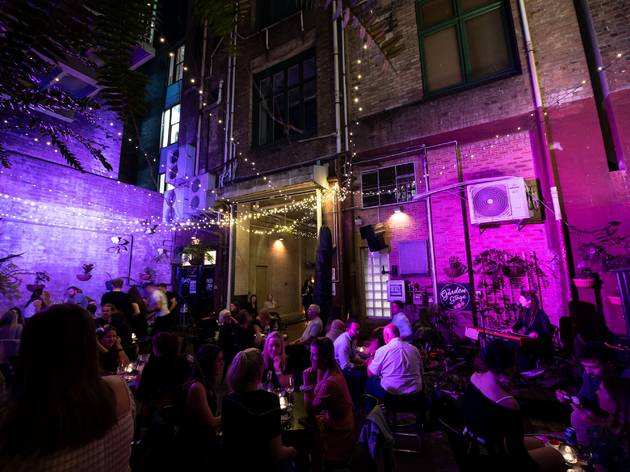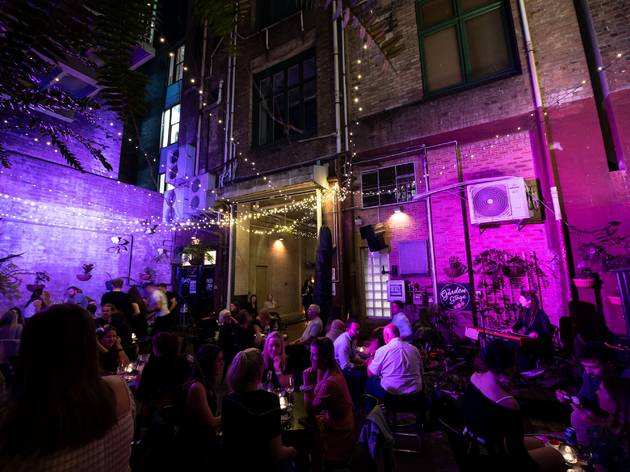 Photograph: Supplied/ Destination NSW
Explore the city's newest bar precinct
It's no secret that we're huge fans of Sydney's newest bar precinct, YCK Laneways. To mark Sydney Solstice, a collective of 15 small bars and the new pedestrian zone on Barrack Street will celebrate all things nightlife with a two-week event series called Night Over Light.
Rediscover your sense of nocturnal adventure with this event series that boldy grips on to after-dark entertainment. Expect a program of ticketed cultural events covering local music, dance, theatre, history and art in the YCK Laneways small bars and a fabulous outdoor stage in the pedestrianised Barrack Street playing host to outdoor gigs, DJs and more. And, don't miss Live from YCK – a one-night-only outdoor gig in martin Place featuring JK-47, Odette and Liyah Knight.
While you're here: Stay here! If you're in between events at one bar why not hop over to another YCK Laneway gem. You've got amazing venues like the Duke of Clarence, Grandma's Bar, the Lobo, Papa Gede's, Prince of York, Since I Left You, Spawn Point, Stitch Bar, the Barber Shop and Uncle Ming's to choose from.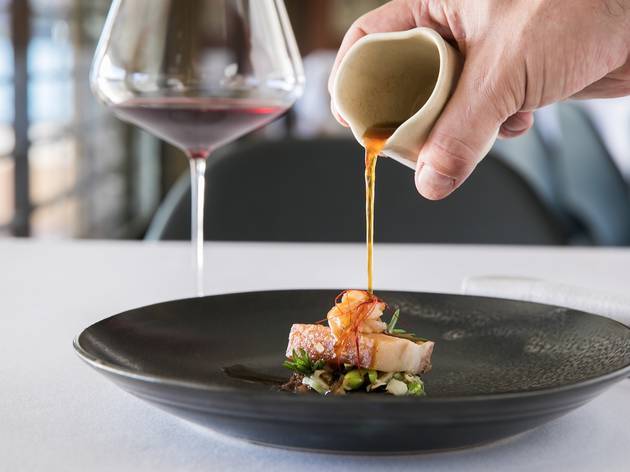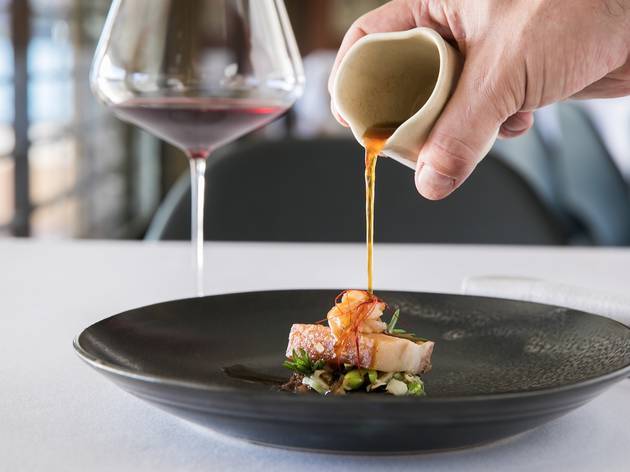 Photograph: Anna Kucera
Feast on seasonal produce at Aria
In case you needed an excuse to dine waterside on our glittering harbour, Aria is throwing their hat in the Solstice ring with an extra special series of dining events. Aria After Dark will centre NSW wine and produce through collaborative drink and snack celebrations.
Aria's executive chef, Joel Bickford will be creating complementary snacks paired with stellar NSW wines. Each evening you'll get to hear from some of our state's finest winemakers and sample their wares alongside some harmonious nibbles Bickford has created using NSW produce.
While you're here: Work up an appetite and appreciation for our local soils and spoils with a leisurely stroll through Royal Botanic Gardens. Make sure you stop in at The Calyx for a giant wall of blooms and exhibition about the world of flowers.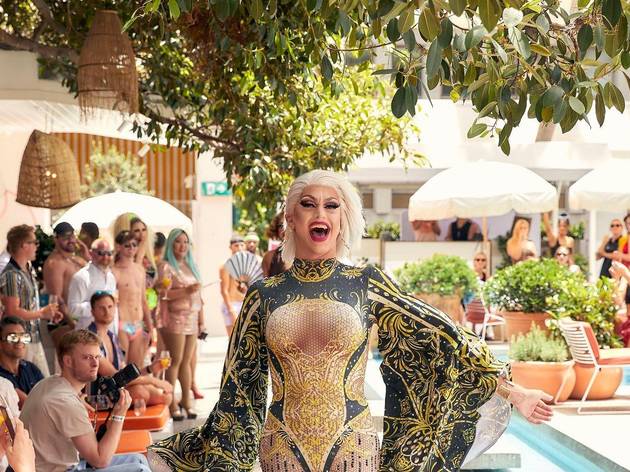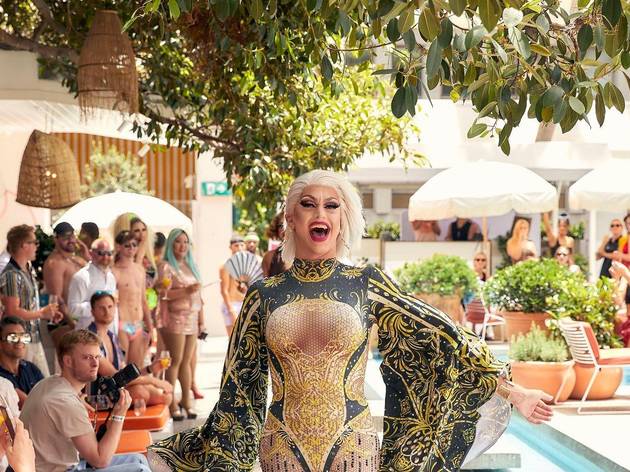 Photograph: Supplied/Poof Doof
Party by the pool and dance with famous drag queens
The Ivy will be sending its multi-levels into party mode during Sydney Solstice with a glittering portfolio of fabulous events. Celebrate our city's LGBTQIA+ communities with the inimitable Poof Doof, get down at Sydney's newest dance party Boogie, stumble into a Lost Paradise-hosted jungle on Sundays and kick off your heels with a regular Thursday party.
Poof Doof on June 12, is a great place to start your Solstice at the Ivy adventure. You'll get to experience Drag Race Down Under alumni Coco Jumbo and Jojo Zaho doing their thing followed by a hands-in-air set from famous party starters Sneaky Sound System. Expect sets from Poof Doof legends like Sveta, Argonaut, Troy Beman, Dutch Kiss and Atomic Blonde. That's only the tip of the ice berg, there'll be more queens, performances and dancers than you can imagine (it rages on until 4am).
While you're here: Maintain your dancing energy all night long with a pop-in to our legend award winner Lorraine Godsmark's patisserie. Sugar is your friend and here you'll find it spun into all sorts of incredible treats.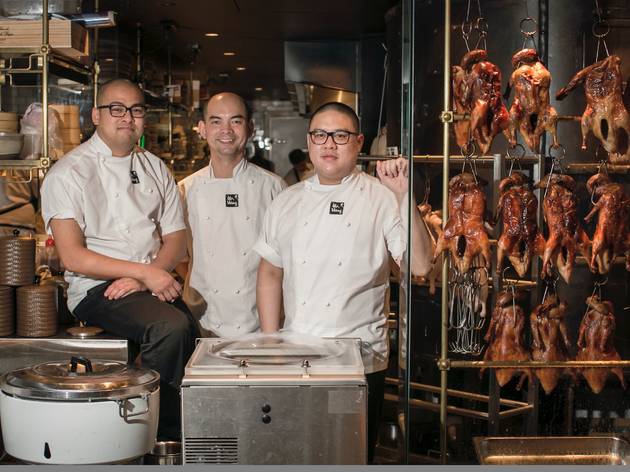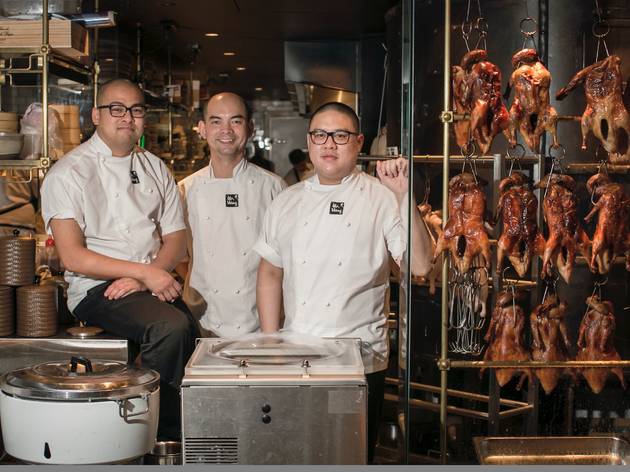 Photograph: Daniel Boud
Stay up late with dim sum and DJs
Sydney Solstice goes late. Real late. Wear your comfiest shoes, give your ID a spit shine and prepare for a shimmy down memory lane with this dance party from Tank nightclub. If you grew up in Sydney, chances are you sashayed down Bridge Lane at some point in your going out career to attend a hedonistic boogie at Tank.
This event sees the club take you back through your clubbing years with a midnight to 3am event covering Tank's musical history (fingers crossed rnb supaclub gets a look-in). Sharing a street address is the incomparable Cantonese fine diner Mr Wong, who will be providing a late-night dim sum menu. Is this the stuff of dreams? Yes, if your dreams are to dance like there's no tomorrow with a world-class bao in hand.
While you're here: Bridge Lane is absolutely surrounded by world-class hotels. Forget about travelling home after 3am and book yourself in for a fancy staycation at one of Sydney's best luxury hotels. You deserve it!
In 2020, artist and composer William Barton was awarded the Powerhouse Indigenous Cultural Development Residency. The residency took place at the Sydney Observatory, our city's centre of astronomical discovery and contemplation. Barton devised a work with his collaborator musician Veronique Serret called Songlines of our Universe. And now, thanks to Sydney Solstice you can experience it.
Over four nights the Observatory and surrounds will transform into a performance site. Barton and Serret will perform six movements live under the stars inspired by the historical monument, the Southern Sky and the Powerhouse collection. Accompanying the performance will be giant outdoor telescopes operated by Sydney Observatory astronomers, pointing to inspiration points for the work, the Milky Way and Andromeda. Be sure to book your place in this ultra-special experience from one of Australia's finest artists.
While you're here: Head over to the Lord Nelson Brewery for some top-notch micro brews made on site in the heritage sandstone building. Comtemplate the universe over some of Sydney's finest ales and warm your bones from all that alfresco stargazing.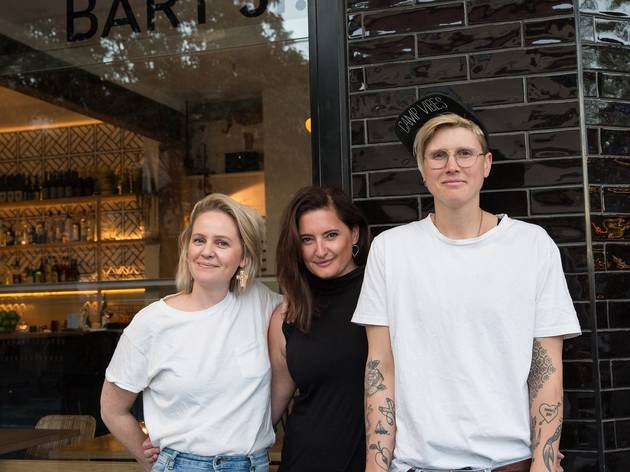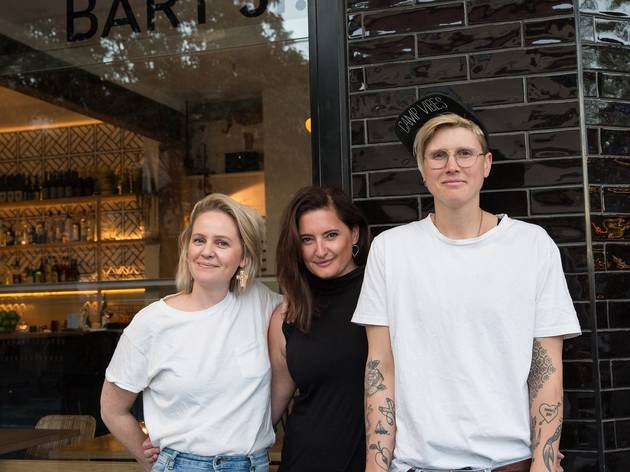 Photograph: Katje Ford
Celebrate Sydney's queens of food
Behind the pans of many of our city's best restaurants and cafés are some incredible women and women-identifying masters. Queer party legends, Heaps Gay want to celebrate these unsung hospo heroes with a multi-sensory event at Town Hall called The Queen's Feast – A Last Supper for All the Senses.
The dining and art experience will feature memorable food from an all-women lineup of chefs. The Queen's Feast will feature incredible culinary delights from MasterChef's Sarah Tiong, Sydney's doyenne of desserts Anna Polyviou, chef and owner of longstanding favourite Bloodwood Claire Van Vuuren and the mastermind behind multiple award-winning eateries and bars in Redfern and beyond, Georgia Woodyard (pictured, far right).
While you're here: Feeling inspired? Take yourself across the road from Town Hall to browse one of our city's biggest collections of cook books at Kinokuniya. You'll find tomes from all manner of culinary queens to take home, from Samin Nosrat to Fuschia Dunlop – they've got it all.
Find more great things to do in the CBD
Everything you need to know about wining, dining, shopping and experiencing our excellent inner-city.
Best selling Time Out Offers