Heads up! We're working hard to be accurate – but these are unusual times, so please always check before heading out.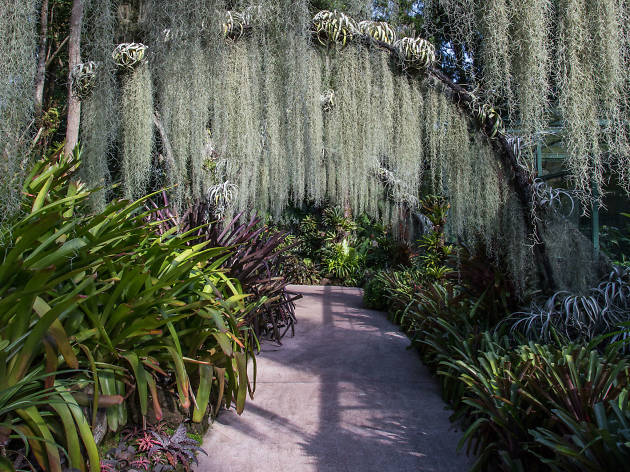 The best botanical gardens in the world
Feel the full force of nature at the world's most magical, educational and Instagrammable botanical gardens
If you treat your tiny apartment like the Hanging Gardens of Babylon, it makes sense to get inspired by the great outdoors on your next getaway. And while you can get to grips with a region's history through its museums and galleries, you'll really see where it all started by getting up close to its native flora. At these drop-dead gorgeous botanical gardens, you can fill your mind with facts as well as filling your camera roll with enviable snaps. Step aside, macramé plant hangers; it's time to discover cherry blossom in Tokyo and cacti in Colombia with our list of the world's best botanical gardens.
The world's most amazing botanical gardens
Cape Town, South Africa
Kissing the east side of Table Mountain (and used as a starting point for its hardcore climbers), Kirstenbosch is one of the world's most biodiverse gardens and a leader in conservation science. The sprawling site contains incredible forms of flora and near-endangered plants that have been cultivated since the early 1900s. Explore at ground level or from up above along 'The Boomslang', a treetop walkway.

Don't miss: The beautiful sculpture garden includes a bust of Nelson Mandela and breathtaking Mambo sculptures, carved from opal stone.
Rhodes Drive, Newlands, 7735 Cape Town, South Africa.
This place is so extra, it's like the Disneyland of Botanical Gardens. Now 160 years old, the tropical garden has it all: a section of the city's primary rainforest, an orchid garden, a ginger garden and an exhibition on ethnobotany (looking at how plants are rooted in traditional culture and medicine), plus some wise old trees. It even has a pair of swans from Amsterdam, a national flower called Vanda Miss Joaquim and its own mist garden.

Don't miss: The National Orchid Garden with more than 1,000 species and 2,000 hybrids on display, plus a series of special tools and gadgets to ensure the right humidity. Steamy stuff.

1 Cluny Rd, 259569 Singapore

Tromsø, Norway
Owned by the University of Tromsø, this island garden is free to enter. The arctic-alpine display makes for one of the most unusual gardens in the world, capturing nature as it triumphs in adverse conditions. Discover bright flowers growing from craggy rocks or hardy breeds from the deserts of Chile thriving in flower season – from May until first snow in October. As climate change affects the Arctic's ecology, there's no telling how long plants like these will be in bloom in the wild.

Don't miss: Time your visit for June when you may chance upon 'Rhododendron Valley' serving up a surprising riot of colour.

Stakkevollvegen 200, 9019 Tromsø, Norway
London, England
Nowhere does botanical better than Kew Gardens, which boasts the largest and most diverse botanical collections in the world. Opened in 1759, the London garden once the playground of royalty spans 130 hectares of luscious landscape, providing the ideal peaceful retreat from the fast pace of the capital city – though only 30 minutes away from central London. Explore the garden's Great Broad Walk Borders, the recently reopened Temperate House and Kew Palace, the smallest of all the British royal palaces.

Don't miss: Head up to the Treetop Walkway and take in expansive views from 59ft off the ground.

Royal Botanic Gardens, London, TW9 3AB, UK
Kyoto, Japan
While Kyoto's bonsai- and bamboo-filled botanical gardens are worth a visit, you should also check out the city's Zen Buddhist temple. Its garden is less about the plants and more about the series of sacred and historic stones. Set inside a fifteenth-century temple, this is a place for reflection where visitors are encouraged to apply their own meaning to arrangements. For maximum zen, walk the grounds and a lake flanked by Japanese blossom and maple trees.

Don't miss: Try the local delicacy, yudofu (boiled tofu) at the temple's traditional restaurant – it should take you one step closer to nirvana.

13 Ryoanji Goryonoshitacho, Ukyo Ward, Kyoto 616-8001, Japan.
Giverny, France
The father of impressionism's garden inspired his iconic series of water lily paintings. The pond, along with a gorgeous flower garden, has been immortalised by the not-for-profit foundation, which now looks after the grounds. Never mind the art buffs; thanks to every in-vogue plant, from peonies to cherry blossoms and carpets of forget-me-nots, this garden is an Instagram snapper's dream. Although not technically a botanical garden, there is a stunning Japanese-inspired water garden – shaped by Monet – that needs to be seen. He is said to have redirected a local stream – much to the locals' dismay – and planted wisteria to create the ever-gorgeous hazy setting.

Don't miss: The opportunity to have a poke around Monet's two-storey house restored to its former glory.

84 Rue Claude Monet, 27620 Giverny, France
Canada

Montreal's botanical garden is based in the city's spacious Maisonneuve Park, forming a large part of the Space For Life museum district. The garden itself contains ten greenhouses and 30 thematic gardens, and is a hub for plant lovers and experts to come together and get green-fingered. It's also been home to giant, trippy plant sculptures shaped like animals, as part of the 'Mosaiculture' exhibition of Montreal festival. Eat your heart out, Edward Scissorhands.

Don't miss: The two-and-a-half acre Chinese garden, created in partnership with Shanghai Institute of Landscape Design and Architecture. Its pagoda is a go-to.

4101 Sherbrooke St E, Montreal, Quebec, H1X 2B2, Canada.
Medellín, Colombia
While this understated garden has more than 4,500 flowers and 139 species of birds, the most impressive part is The Orchideorama. It's a hexagonal steel arch that looks like a giant beehive and helps to collect water to redistribute to the orchid gardens below. Be sure to visit the butterfly house too, or the cute café in the middle of the gardens, made from an old railway carriage.

Don't miss: The annual Feria de las Flores flower festival in Medellín in August, where the botanical gardens put on a bloomin' impressive exhibition of flowery crafts.

Cl. 73 #51d14, Medellín, Antioquia, Colombia
Marrakech, Morocco
Being positioned down an unassuming street in the north of the city makes this garden's iconic hues of blue, yellow and turquoise all the more vibrant. This was originally the personal garden of French artist and Orientalist painter Jacques Majorelle, who purchased it in the 1920s and made designing the garden his life's work. Sixty years later, fashion designer Yves Saint-Laurent and his partner took it on. The decor meshes French cubism with traditional Moroccan architecture and features a selection of rare cacti and more than 15 species of birds from North Africa.

Don't miss: A très chic exhibition of YSL's personal collection of regional fabrics and textiles from North Africa, plus traditional Berber art.

Rue Yves St Laurent, 40090 Marrakech, Morocco
Rio de Janeiro, Brazil
Just under the giant Jesus (Cristo Redentor) at the foot of the Corcovado mountain you'll find this UNESCO heritage site. The botanical garden offers a fully immersive rainforest experience in the heart of the city with monkeys, palm trees and over 140 species of exotic birds. While there are conservatories and curated areas, only 40 percent of the plants here are cultivated, with the rest of the space populated by natural vegetation and organic forest from the mountain. It's the real deal in Rio.
Don't miss: The garden house collections include hungry carnivorous plants, bromeliads and rare orchids.

1008 - Jardim Botânico, Rio de Janeiro - RJ, 22460-030, Brazil
Here are 50 of the best things to do in the world right now
Curated from more than 5,000 recommendations in over 400 destinations worldwide, these are the 50 most incredible experiences in the world right now.