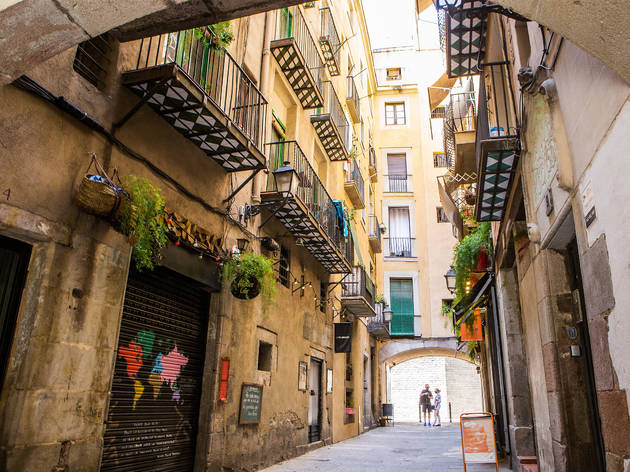 The most beautiful streets in Barcelona
Big and small, full of life and oases of calm: discover the city as you explore the most beautiful streets in Barcelona
We're lucky to be in one of the most beautiful cities in the world, full of its share of charming streets, which are home to jewels of Catalan modernist architecture, magical alleyways, boulevards known round the world, and streets that lead us to parks and gardens or that cross through squares where you might stop awhile to watch life go by.
Our selection process was an arduous one, full of lively debates, out of which we all emerged safely and able to agree on what we consider the most beautiful streets in Barcelona. We have tried to be sure the majority of the city's districts are represented, and we know that indeed some very beautiful areas have been left out, so we encourage you to weigh in with your favourites as well.
The most beautiful streets in Barcelona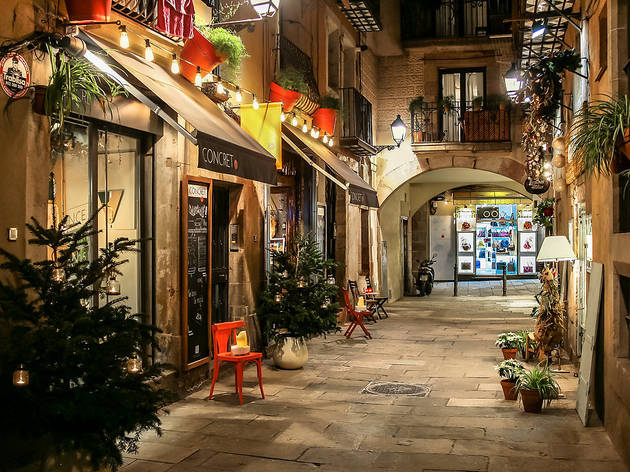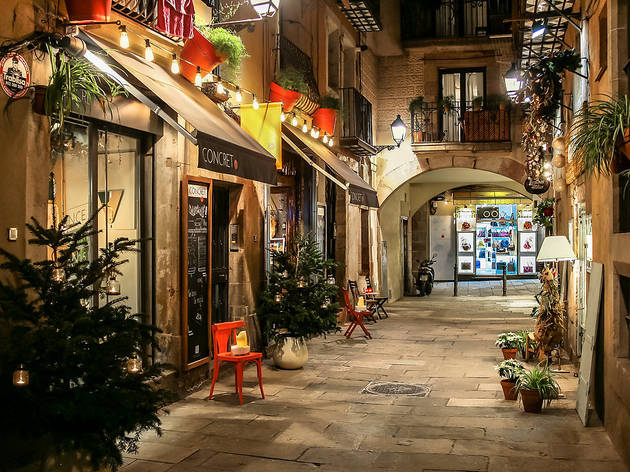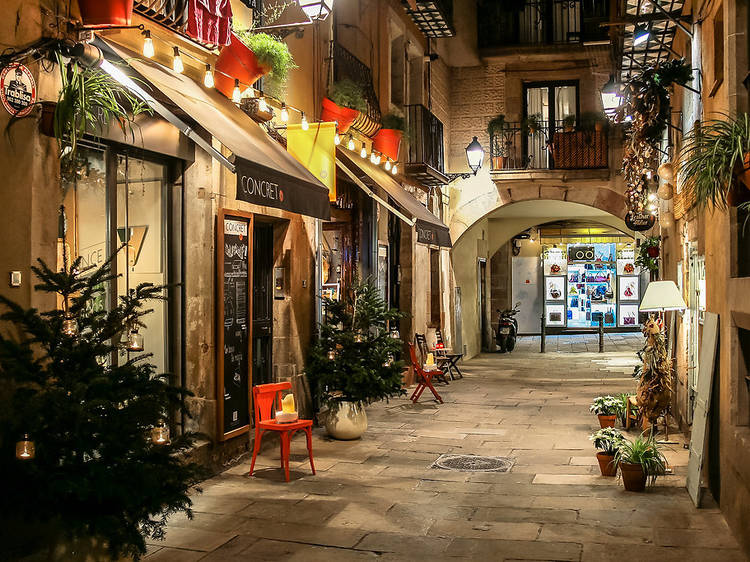 Photograph: Jorge Franganillo / Flickr
Where is it? If you walk up Passeig del Born toward the Santa Maria del Mar church, before you get to the Fossar de les Moreres, medieval arches open to the left, making little tunnels that give access to narrow streets, the most impressive of which is Volta dels Tamborets.
Why go? The plants in combination with the green ceramic on the balconies make this one of the most pleasant corners of the Born. The lovely craft shops connect with the neighbourhood's artisan history but with an updated design and feel, much like today's Born itself.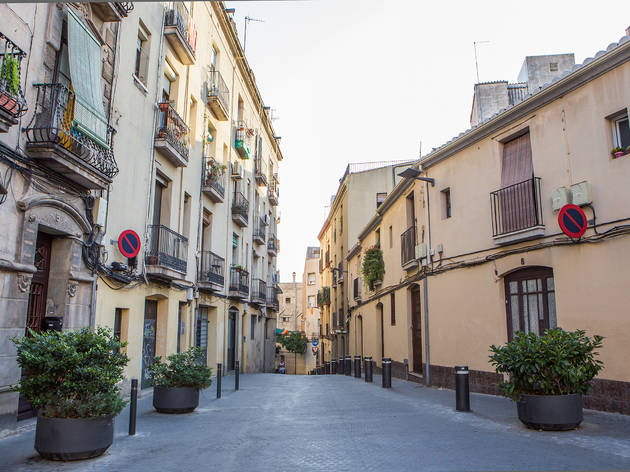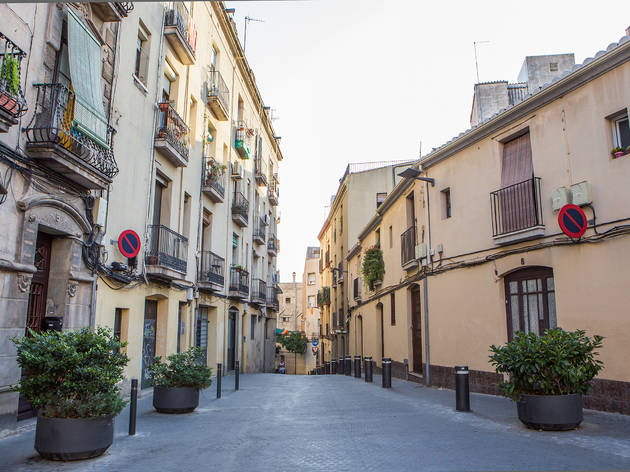 Photograph: Maria Dias
Where is it? Ibèria takes you on a detour of old houses that don't ruin the skyline with their height. It goes from Carrer d'Olzinelles to Plaça d'Ibèria.
Why go? It feels like you're suddenly in a small village just behind the Cotxeres de Sants civic centre, so close yet so far from the always-busy street that is Sants. You'll find a tranquil terrace away from the traffic that currently belongs to the restaurant Can Violí, and the peculiar building of the Society of Artists, all giving you a feeling of being far away from the big city.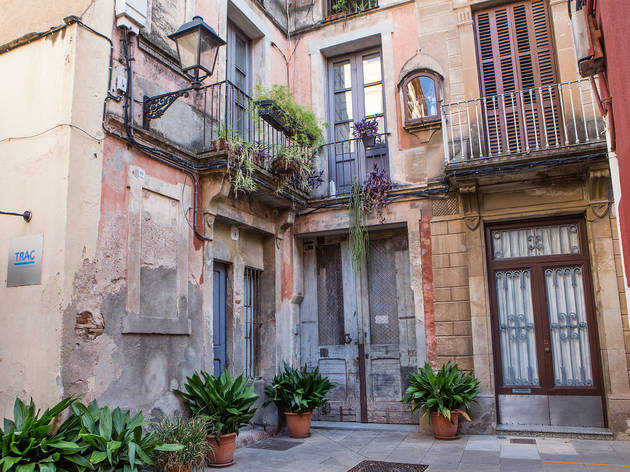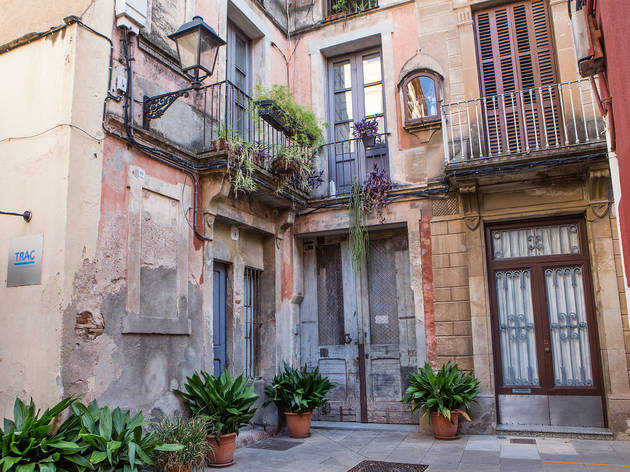 Photograph: Maria Dias
Where is it? Find Paletes by going up almost to the top of Major de Sarrià (also featured in this list). If you don't know exactly what you're looking for, this little street could go unnoticed. It's a bit hidden – on your left as you're walking up – and it's got an unusual 90-degree angle to it.
Why go? To remember that, in addition to the bourgeoisie, Sarrià has also been home to working classes who, in this case, built the houses. This little corner of low buildings, where you'll find the art school Escola Traç (established in 1975), serves as a pretty and somewhat different kind of access to the quiet Plaça del Consell de la Vila, home to the district's headquarters and where you can enjoy the terrace of Italian restaurant Bocconi at number 11.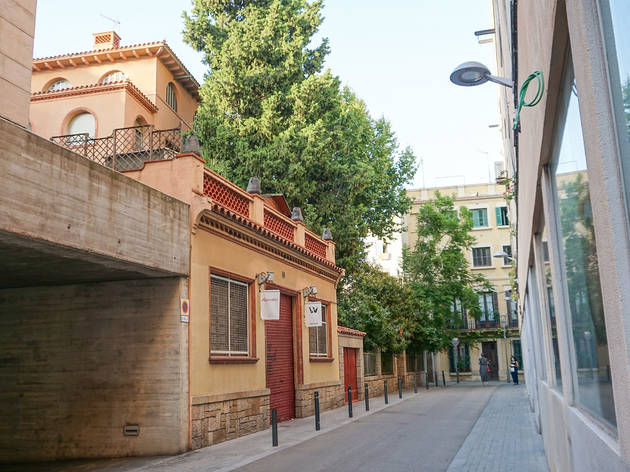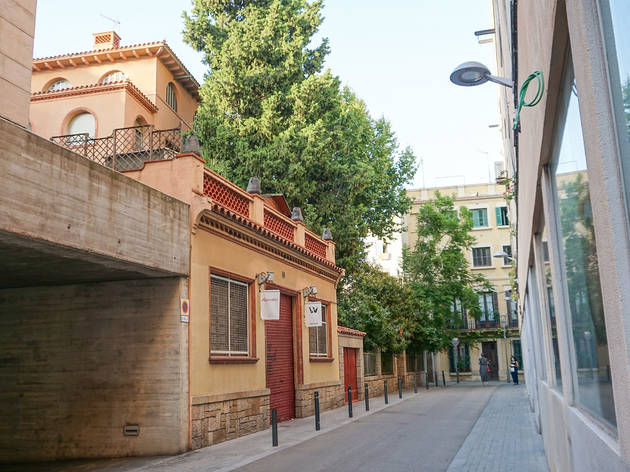 Photograph: Marc Andreu
Where is it? This street runs from Gran de Gràcia to Topazi, where it starts or ends, depending on where you're going or coming from, forming a sort of elbow.
Why go? Right there on the corner with Topazi is a very attractive ground-floor building, with spectacular, towering trees that give a hint as to what Gràcia must have been like a century ago. There's no trace of it these days, but from 1857 to 1873, this street was home to a tower that housed a mental institution.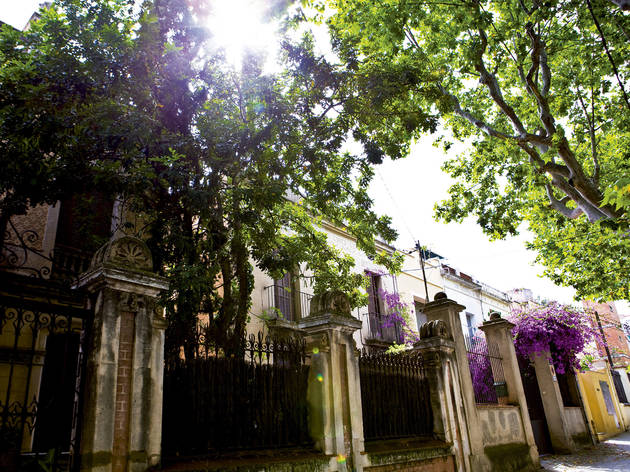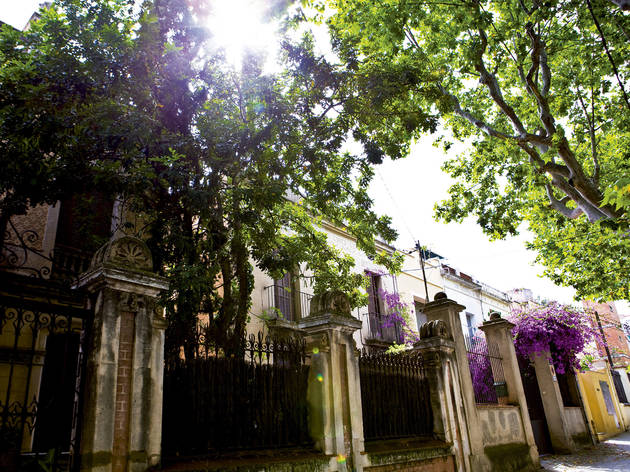 Photograph: Maria Dias
Where is it? Take the blue line on the metro (L5) to the Horta station, and head out to where the air is just that much more breatheable. Head up the street also called Horta and you'll want to start looking for real estate of your own.
Why go? At the end of the 19th century, the wealthy families of the city had their summer residences in Carrer de Campoamor (which then was called Rambla de Cortada). The street has not lost its charm, and strolling along it transports you to that old Barcelona opulence in the form of a series of pastel-coloured modernista towers, trees and silence. At the end of the street there's a big surprise in that the busy Ronda de Dalt is right there!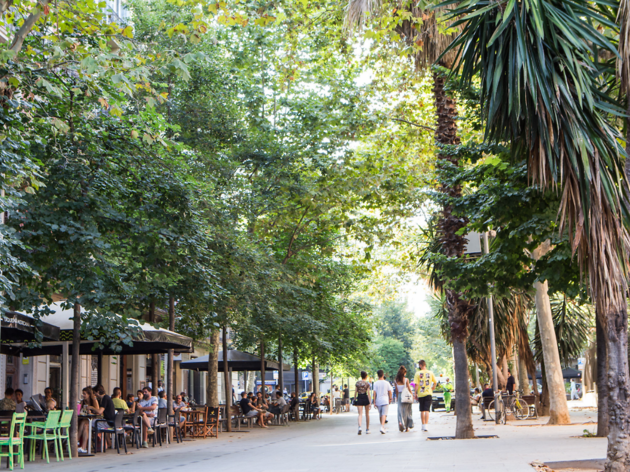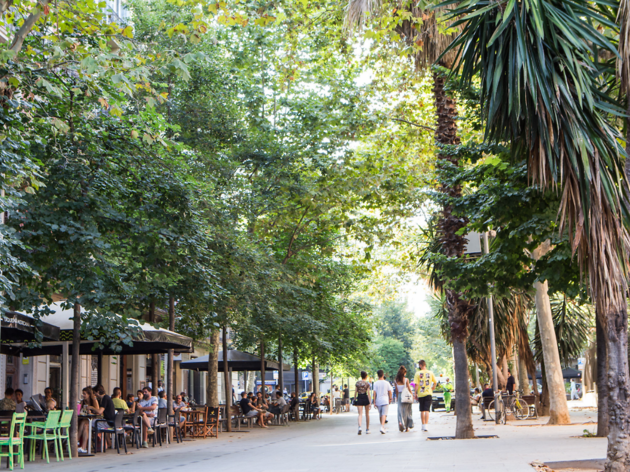 Photograph: Maria Dias
Where is it? In what's known as the 'left side' of the sprawling Eixample district, Enric Granados is a street that takes up nine blocks, from Diputació to Diagonal. It's a small oasis in the urban fabric created by planner Ildefonso Cerdá in the sense that it's just a one-lane street, and the bit leading to (or from) the University of Barcelona, between Diputació and Consell de Cent, is completely pedestrianised.
Why go? It's really nice to wander along Enric Granados, or if you want to cycle, you can go down from Diagonal to take advantage of the downward slope. You can get the feel for the layout of the Eixample – both its charm and a touch of concrete coldness – and there's plenty to see and do along the way: galleries (the Marlborough), the Institut Maragall secondary school (with a slate wall that feeds the promises of an artistic high school), lovely shops (The Avant, Ailanto, Au Nom de la Rose), and bars (Colmado Barcelona, La Fàbrica del Vermutillo, Cosmo), as well as one of our favourite ice cream parlours (DelaCrem).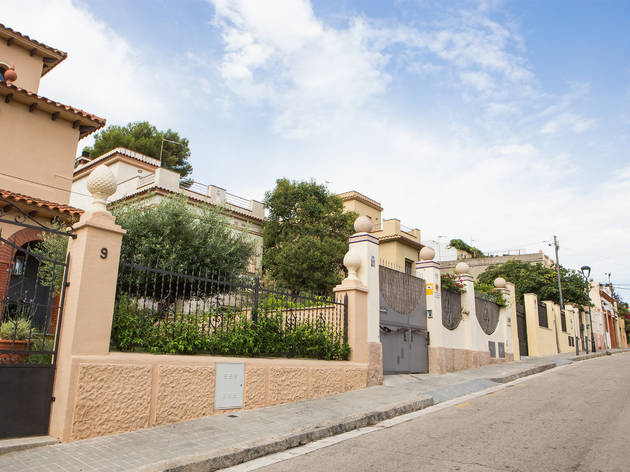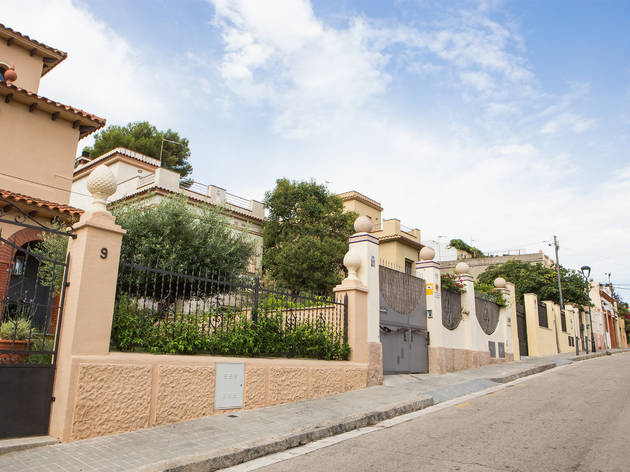 Photograph: Maria Dias
Where is it? Carrer de Julià is the main street in the Satalia neighbourhood, between Montjuïc and Poble-sec.
Why go? Walking along this street, surrounded by single-family homes, you feel like you're miles away from the busyness of urban life – though you're only five minutes away from Av Paral·lel – and at the same time you get a spectacular panoramic view of Barcelona. The loveliest building has got to be at number 8, which is covered in lush vegetation. Who wouldn't want to come home to that?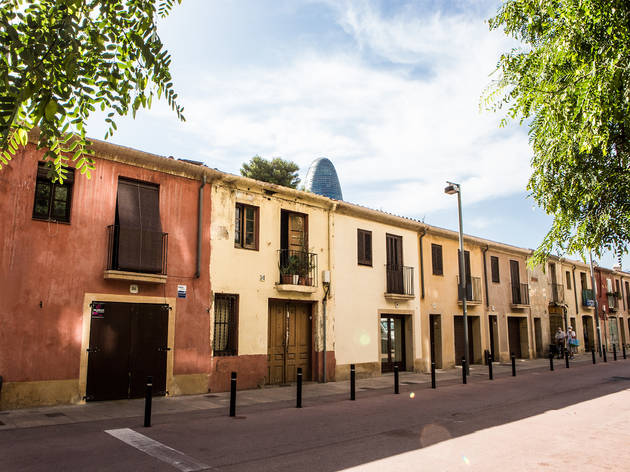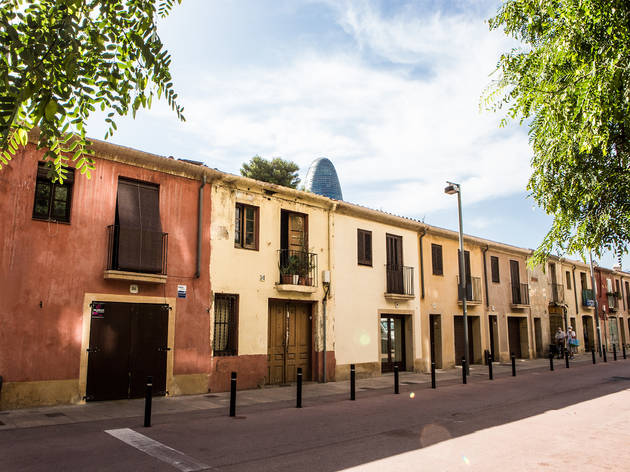 Photograph: Maria Dias
Where is it? Carrer de Clot runs almost parallel to Av Meridiana, which came into being after Clot, and it has the feel of a busy road left over from when it was the Carretera de Ribes.
Why go? Because this is where you can feel the heartbeat of the Clot neighbourhood, spend your vermouth hour in the sunshine (at Bodega Sopena) or browse the local bookshop (Pebre Negre). Because the low houses built at the top of the street, near Plaça de les Glòries, are a treasure from 1837. And because of the modernista elements, such as the Can Budesca frog (at number 92).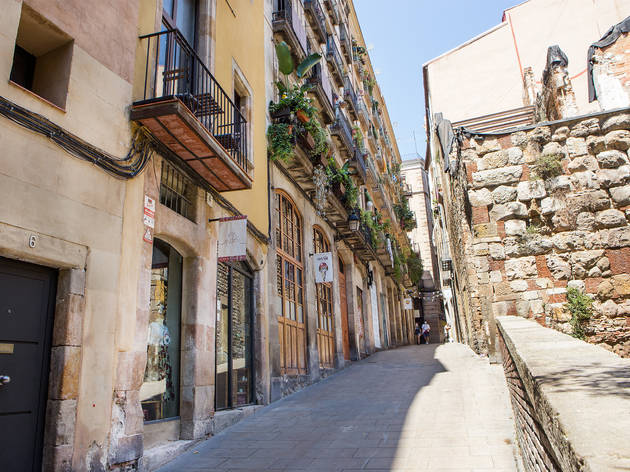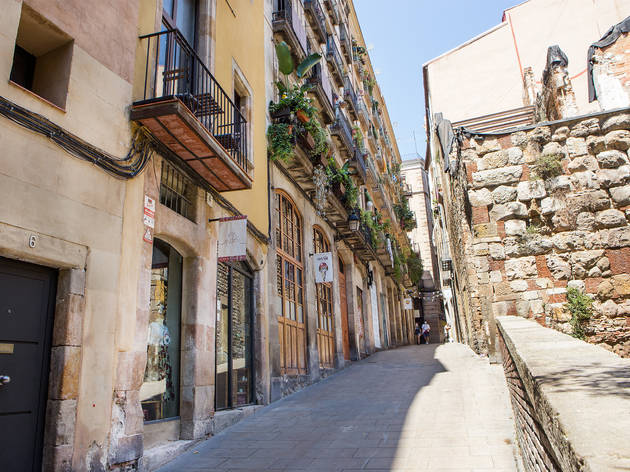 Photograph: Maria Dias
Where is it? This is one of the most attractive streets in the Old City. It connects the heart of the medieval Gothic Quarter with a spectacular archaeological fragment from the Roman era.
Why go? You can peek into art galleries and children's clothes shops, grab a bite to eat in a restaurant serving up traditional Catalan fare and get an ice cream cone. But above all you'll want to head to the end of the street to enjoy the terraces in Plaça dels Traginers, and take a seat near an olive tree in the shade of the tower that's been standing there for 17 centuries.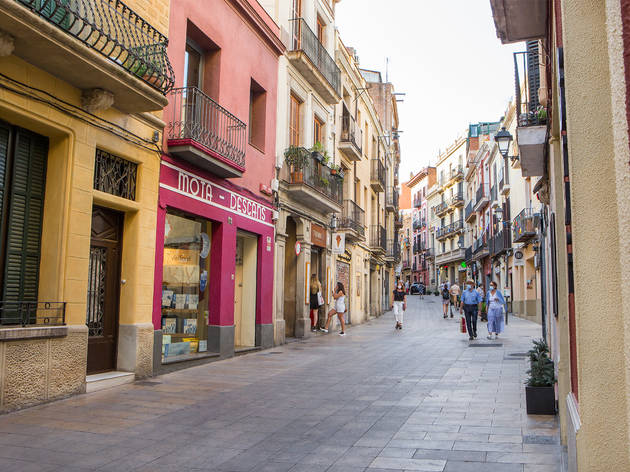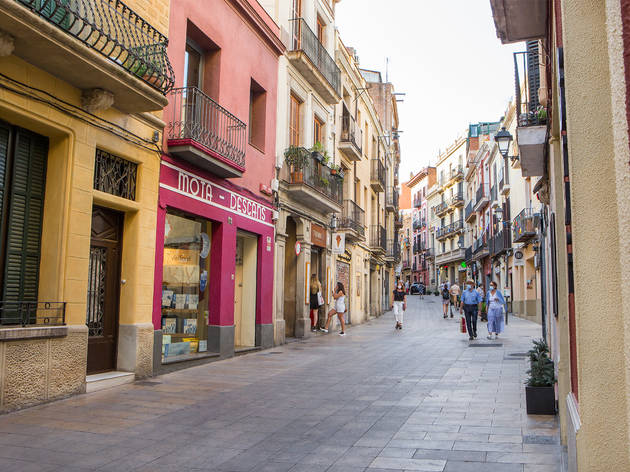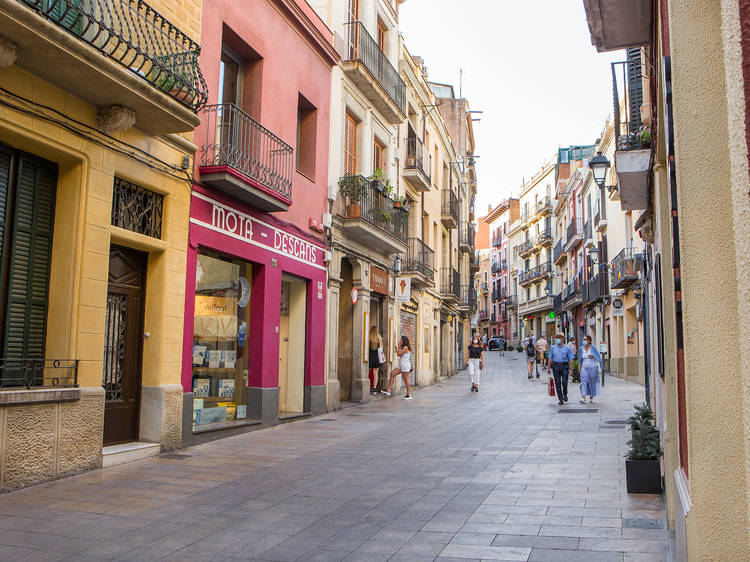 Photograph: Maria Dias
Where is it? This street connects the infamous (for gatherings of ultra-right demonstrators) Plaça d'Artós with the Plaça de Sarrià, and forms the backbone of the oldest and loveliest centre of this affluent neighbourhood.
Why go? To discover an area of Barcelona with its own history and character. As you go up this peaceful cobblestoned street, you'll get a feeling for the town that the neighbourhood once was. You can take little detours through the adjacent streets – don't miss the small street called Passatge de Mallofré – and you'll definitely want to be hungry to stop and eat some patatas bravas at Bar Tomás, one of the city's favourites for these famous tapas. When you're at the top, you've earned your dessert at the pastry shop Foix, where the chocolate is divine.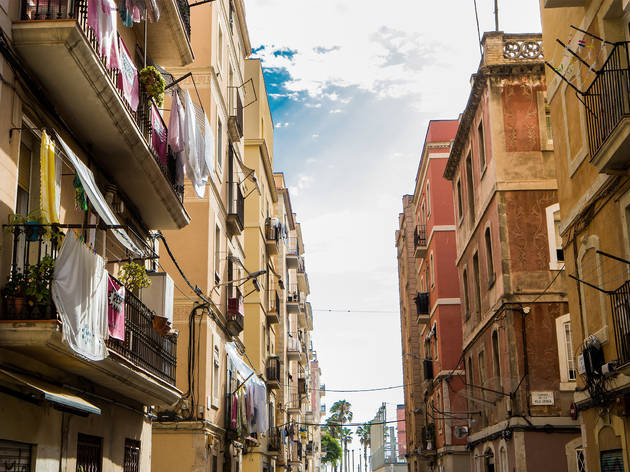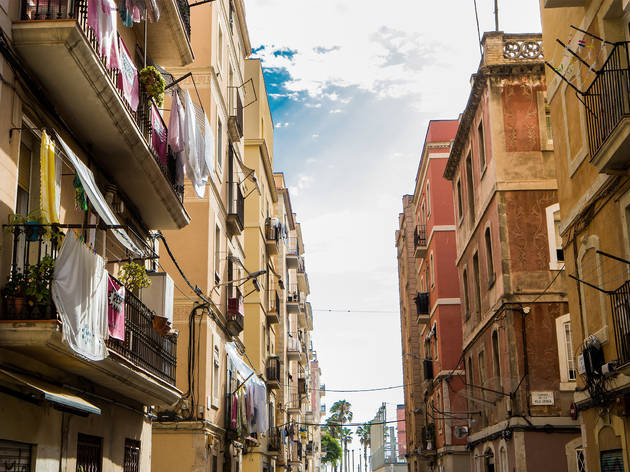 Photograph: Maria Dias
Where is it? Carrer de Sant Carles, in Barceloneta, starts at Passeig de Joan de Borbó and leads to Plaça d'Hilari Salvadó.
Why go? Maybe Sant Carles is nowadays overwhelmed and not what it used to be, but it's still a place where you can feel in touch with the neighbourhood. When you walk along this street, take time to admire the old Fraternitat building – now a main library – as well as La Casa de la Barceloneta 1761, at number 6. The latter, which now hosts exhibitions, is one of the few examples of the neighbourhood's original architecture that still stands. Also do not miss your chance to have a drink at Electricitat or Leo, which are more than bars, they're local legends where you can feel the spirit of Barceloneta in full force. Then make it to the end of the street, to the Carmen Amaya fountain in Plaça de Brugada, and pay your respects to the Barcelona-born flamenco dancer.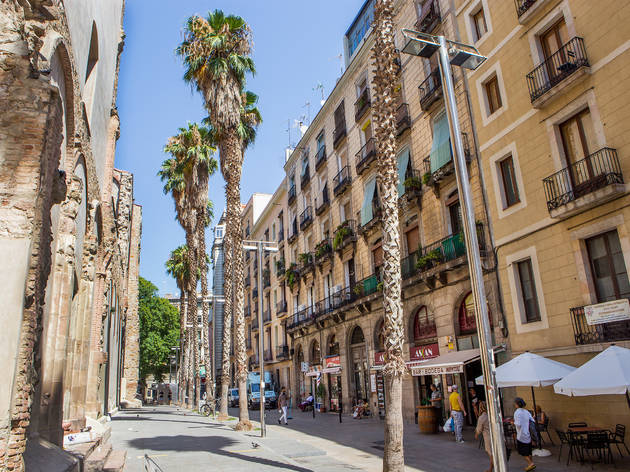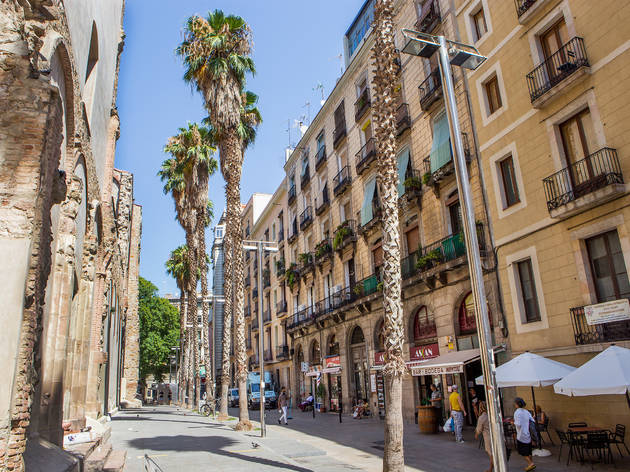 Photograph: Maria Dias
Where is it? This street connects the streets Sant Pau and Hospital near the Liceu opera house, providing what feels like a majestic space thanks to a half-finished church that looks like the fossilised skeleton of a gigantic dinosaur.
Why go? This is one of the few corners where you'll come across the spirit of the old 'Barrio Chino' (as the Raval was once known), with classic working-class eateries, such as Romesco, and an irresistible bar/bodega, Montse, where you can daydream about eternal life in the 20th century. And don't pass it by because it's called Asian Restaurant; here at number 5 they're masters of spicy fusion, and they make one of the best couscous dishes in the city.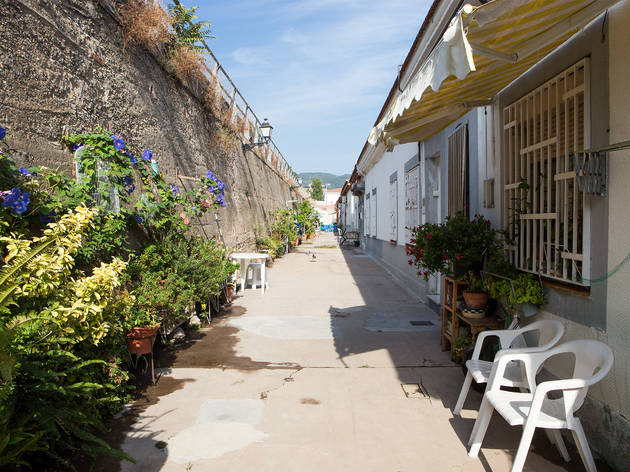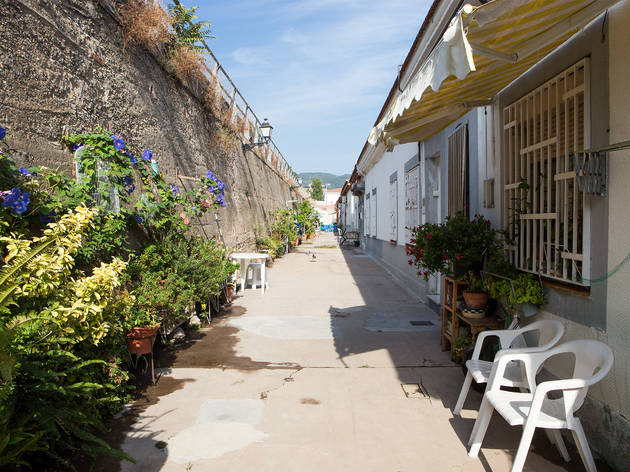 Photograph: Maria Dias
Where is it? This is one of the streets in the Can Peguera area of the Nou Barris neighbourhood, also known as Casas Baratas.

Why go? It's like walking through a small village with low houses on either side of the street, where the local little old ladies drag their chairs out to sit outside and chat, and the children can play near home. The houses on this street and others in the neighbourhood were built in 1929, and thanks to the good fights by neighbourhood associations, they've managed to keep them and ensure they're maintained in good condition.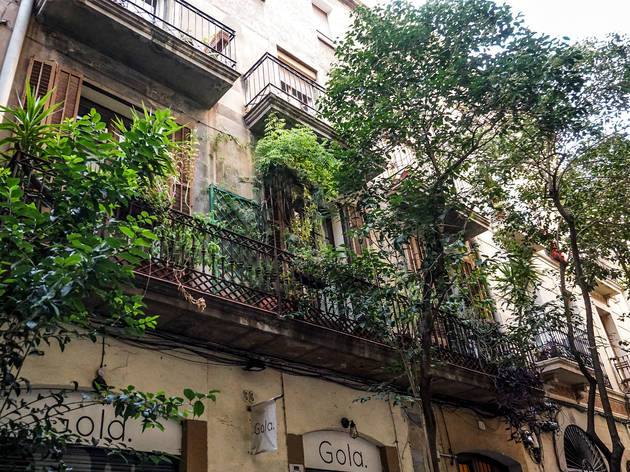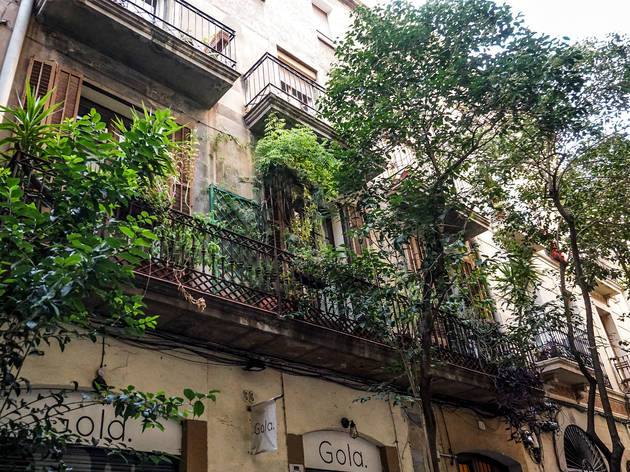 Photograph: Marc Andreu
Where is it? Welcome to the epicentre of Gràcia's gypsy roots. With small residence buildings no more than three storeys tall and plenty of ground-floor flats, Tordera runs from Torrent de l'Olla to Bailèn.
Why go? Carrer de Tordera leads to and from Plaça del Raspall, the mystical centre of the universe, according to writer Víctor Nubla. Here you're off the travelled tourist route and you can find good bars like La Barraqueta, and good restaurants, like Cal Boter. Don't be offended if the locals look you up and down as if to say, 'You're not from around here, are you?', because around here it's all about living in peace and having a good time.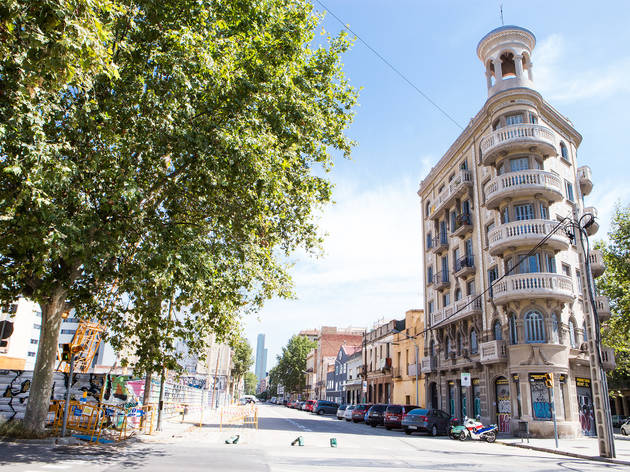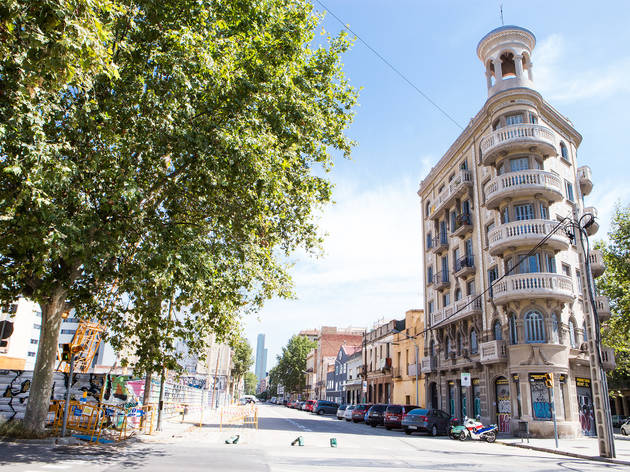 Photograph: Maria Dias
Where is it? Pere IV is the diagonal street that cuts between Carrer de Zamora and the tip of Rambla Prim: 3.7 kilometres that connect the Olympic Village with Besòs.
Why go? Because this is a street that has gone from being an urban scar – a footpath of a metre and a half invaded by heavy traffic – to a bright hub of activity for its neighbours. And it's got a bit of everything: a neighbourhood life full of local commerce (where it meets C/ de Marià Aguiló), cultural life (Niu Espai Artístic, Sala Beckett), and fascinating industrial buildings. Treat your senses to a leisurely walk around Pere IV.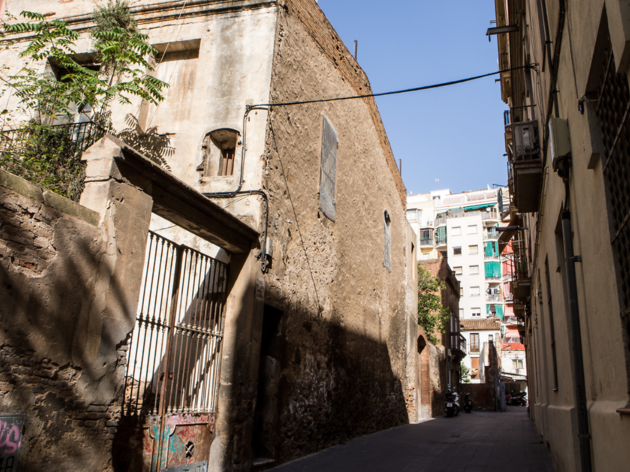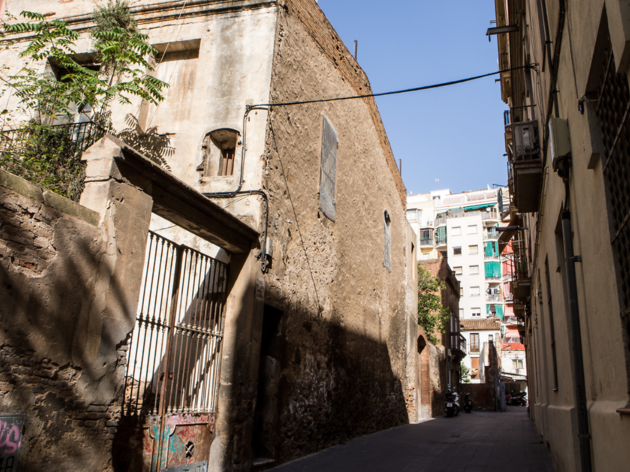 Photograph: Maria Dias
Where is it? You'll find this street near the Clot metro station, between C/Rogent and Av Meridiana. You'll be able to spot it because the line of façades on the pavement breaks: it's like a hole in time and space that opens up at C/Valènica, 609.
Why go? If you go there, your curiosity will be piqued and you'll want to know more: it seems like a medieval road, with low houses on one side and a rural-looking (abandoned) farmhouse on the other. It's a dead-end street, but you might not mind being 'stuck' for a while in a place where you're not sure if you're still in Barcelona.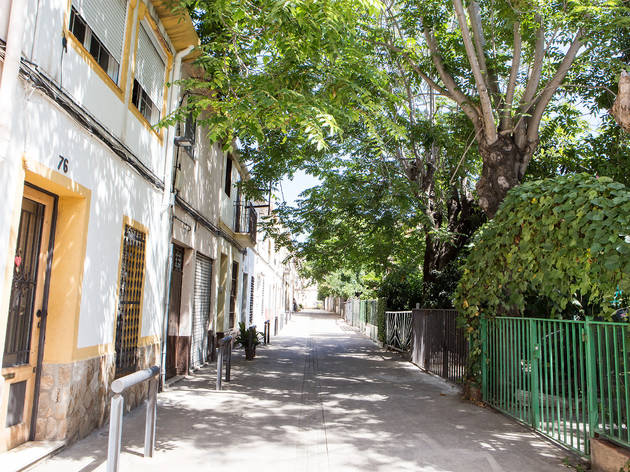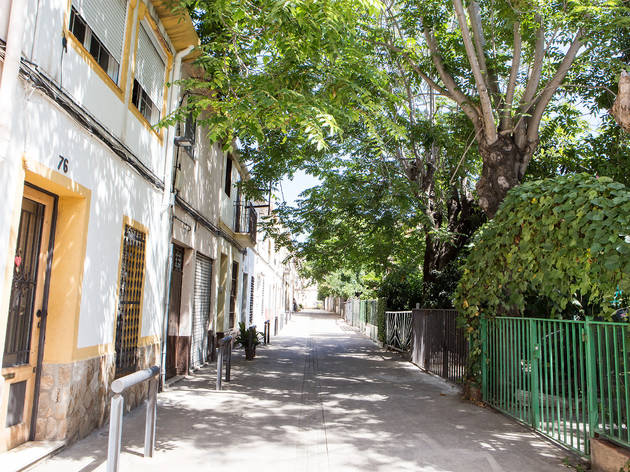 Photograph: Maria Dias
Where is it? You don't have to be in central Barcelona to enjoy the city's most beautiful streets. In the heart of the Sant Andreu neighbourhood you'll find the lovely Carrer de Grau.
Why go? The particularity of Grau lies in its structure: L-shaped and similar to the urban style of the Maresme area. It's formed by a row of low houses on the right side with their corresponding patios and orchards just in front. Strolling between the two sides transports you to the peaceful town Sant Andreu once was: it was annexed into the city of Barcelona in 1897. Head to numbers 56 and 58 to find a well-hidden colourful gem in the form of resident Isidre Castells's courtyard-museum, or as he calls it, his own Catalonia in miniature.
Best selling Time Out Offers