13 best Hong Kong beaches
There are better beaches than Shek O and Repulse Bay in Hong Kong. Don't think so? Grab your shades and come with us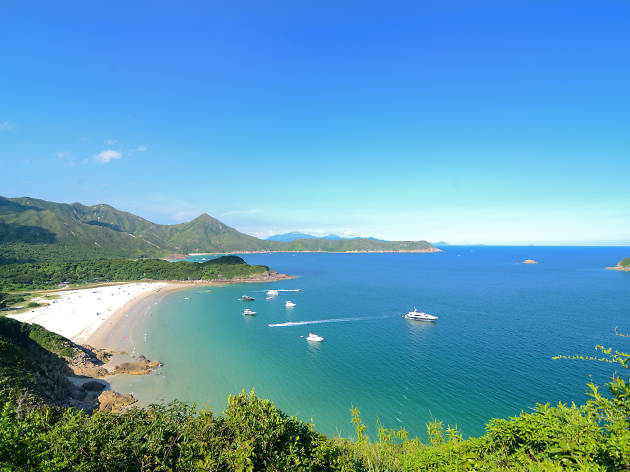 Life's a beach. At least in Hong Kong, it is. While beaches like Shek O, Repulse Bay and Stanley gets all the attention, amongst all the awesome hiking trails and cycling routes in the city are some seriously stunning beaches that promise clear, blue waters and (relatively) soft sand. You can go for the secluded yet less accessible beach of Ham Tin Wan in Sai Kung, Kwun Yam Wan in Cheung Chau where Olympic windsurfing champion Lee Lai-shan trained and even South Bay Beach in Southside. There's plenty for you to indulge in your inner beach bum. So pack your shades and bring your sunscreen as we present the best Hong Kong beaches.
RECOMMENDED: Prefer to stay in the city? There are plenty of options when comes to sky-high dining and brunch in Hong Kong.
Hong Kong' best beaches
Sai Kung has many beautiful beaches but one of our favourites is Ham Tin Wan's beach on Tai Long Wan in Sai Kung. The sand is powdery, the water is clear and the infamous rickety bridge over a small inlet is always an experience.

How to get to Tai Long Wan:
Take the MTR to Hang Hau and leave via Exit B, then hop on green minibus 101 to Sai Kung Town. At Sai Kung Pier take a water taxi to Ham Tin Wan.
Comprised of two beaches, Clearwater Bay's pristine sand and sparkling waters are positively tropical. There's a great view of the nearby country park's craggy mountains and the sharp tip of High Junk Peak, making this spot picture perfect.
How to get to Clearwater Bay:
MTR to Diamond Hill, Exit C2, then bus 91 to Clearwater Bay.
Cheung Chau's popular windsurfing beach is where Olympic windsurfing champion Lee Lai-shan trained. With golden sand, a beachside cafe, windsurfing, surfing and canoeing equipment available to rent, Kwun Yam has plenty to keep you occupied if you're looking to do more than just lay in the sun.
How to get to Kwun Yam Wan:
Ferry from Central Pier 5 to Cheung Chau, then walk along Tung Wan Rd for 10 minutes.
One of our favourite beaches on Lantau, Cheung Sha's upper and lower beaches are seriously worth the excursion. The huge stretch of sand means you're never fighting for space with other sunseekers, and there're many great beachside restaurants to give you instant holiday vibes.

How to get to Upper/ Lower Cheung Sha Beach:
Take the ferry from Central Pier 5 to Mui Wo, then bus 1, 2, 3 or 4 to Cheung Sha.
The territory's Gold Coast Resort is home to the imaginatively named Golden Beach, boasting pristine sand from Hainan Island. It does get rather busy up here, but if crowds don't bother you come for a slice of the Med on the South China coast.

How to get to Golden Beach, Tuen Mun:
Bus 962B from Pacific Place, Admiralty, or bus 252B from Middle Road, Tsim Sha Tsui.
Named for its surfable waves, Big Wave Bay tends to be quieter and cleaner compared to neighbouring Shek O. It's a great spot to relax and grab a bite at the end of the Dragon's Back hike and there're surfboards to rent if you fancy riding the waves.

How to get to Big Wave Bay:
MTR to Shau Kei Wan, Exit A2, then take the red minibus marked Shek O from the adjacent tunnel.
Tai Tam's Turtle Cove is a dinky golden wonder bordered by lush greenery. Pale skinned peeps beware, there's not much shade but it's a peaceful spot frequented mainly by locals. Bring your own drinks and snacks since there're no stalls.
How to get to Turtle Cove:
Ride the Island Line to Sai Wan Ho, take Exit A, then bus 14. Once you get off, simply walk down the steps to the beach.
Another chill spot in South Lantau, Pui O is popular with beginner surfers and there's a small kiosk that rents boards if you're interested. Key facilities like showers and barbecues are all in place.

How to get there: Take the ferry from Central Pier 6 to Mui Wo. Then take bus 1 to Pui O Beach.
Forget overcrowded Stanley, this little beach is a beaut. It's tucked away off the road, hidden by trees and down some stairs, making it a lot quieter than other beaches in the area. Barbecue pits make this a great place for a cookout at sunset, too.
How to get to Chung Hom Kok:
Bus 6X, 63 or 66 from Exchange Square bus terminus.
One of the less frequented beaches on the Southside, South Bay is a cloistered spot with its very own beach club. Make sure you check out the club's open-air restaurant where DJs spin away the afternoon.
How to get to South Bay Beach:
Bus 6, 6A, 6X, 66 or 260 from Exchange Square Bus Terminus to Repulse Bay, then taxi to South Bay.
This isolated beach on Lamma Island is serene but still comes with lifeguards, showers and changing rooms. An even bigger plus is that unlike Lamma's Hung Shing Yeh beach, there's no unsightly power station on the horizon.

How to get to Lo So Shing:
Get onboard the ferry to Yung Shue Wan at Central Pier 4 and follow the Family Walk. Lo So Shing is roughly 15 minutes walk from the hilltop pavilion.
Boasting powdery white sand, turquoise waters, and bordered by the stunning rock formations from Hong Kong UNESCO Global Geopark, Long Ke Wan Beach is a photographer's dream. This slice of paradise is popular with junk-trippers and beachgoers on weekends, but during weekdays, you'll find nary a soul in sight.
How to get to Long Ke Wan: Take a taxi from Sai Kung Town or University MTR station to the East Dam of High Island Reservoir, walk up for 20 mins and you will see Long Ke Wan beach in front of you.
13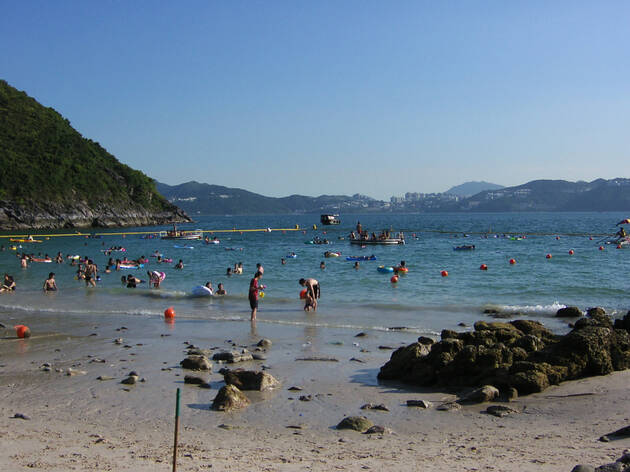 Equipped with lifeguards, showers, umbrella rental, a snack bar as well as Hong Kong's cleanest stretch of sand, Hap Mun Bay is the perfect place to spend a sunny afternoon. Its inviting emerald waters beckon for a cooling swim, while the pristine beach is great for sandcastle building, beach picnics, and more.
How to get there: The only way to get to this scenic bay is by taking a boat from Sai Kung Pier. Plenty of vendors sell boat tickets to Hap Mun Bay along the pier.
Looking for more beach activities?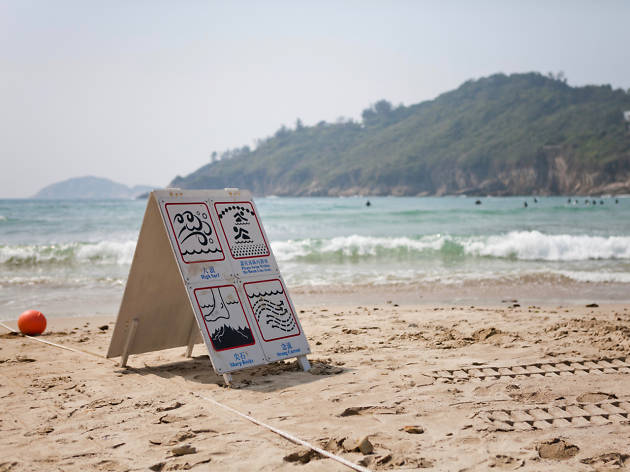 Hong Kong's waves may not be as colossal as Hawaii's, but there are still some great spots around the city where you can get on your board.