Catch, dribble, shoot. On a Wednesday afternoon at Choi Hung Estate's basketball court, many children are doing what you would expect – playing basketball. There are other people, too, including a group of middle-aged aunties gossiping, a pack of runners warming up with short sprints and a student sitting on a bright blue chair, hunched over writing on the paper in his lap.
But the rhythm of daily life in this unassuming space has been increasingly interrupted by a different type of crowd: a woman in a pink skirt twirls bashfully for the camera; a boyfriend squats to capture his girlfriend's elongated frame; yet another group takes over a row of chairs as they take turns posing with their legs across the seats. Snap, snap, snap.
"This is becoming a [major] Instagram spot," says Marilyn Yeo, a tourist from Singapore who travelled to Choi Hung Estate with her friend Nadhirah Hamzah to capture photos of Hong Kong's now Insta-famous icon.
"When we were trying to find this place, there were locals who just looked at us, and they were like, 'We know where you want to go,'" adds Hamzah.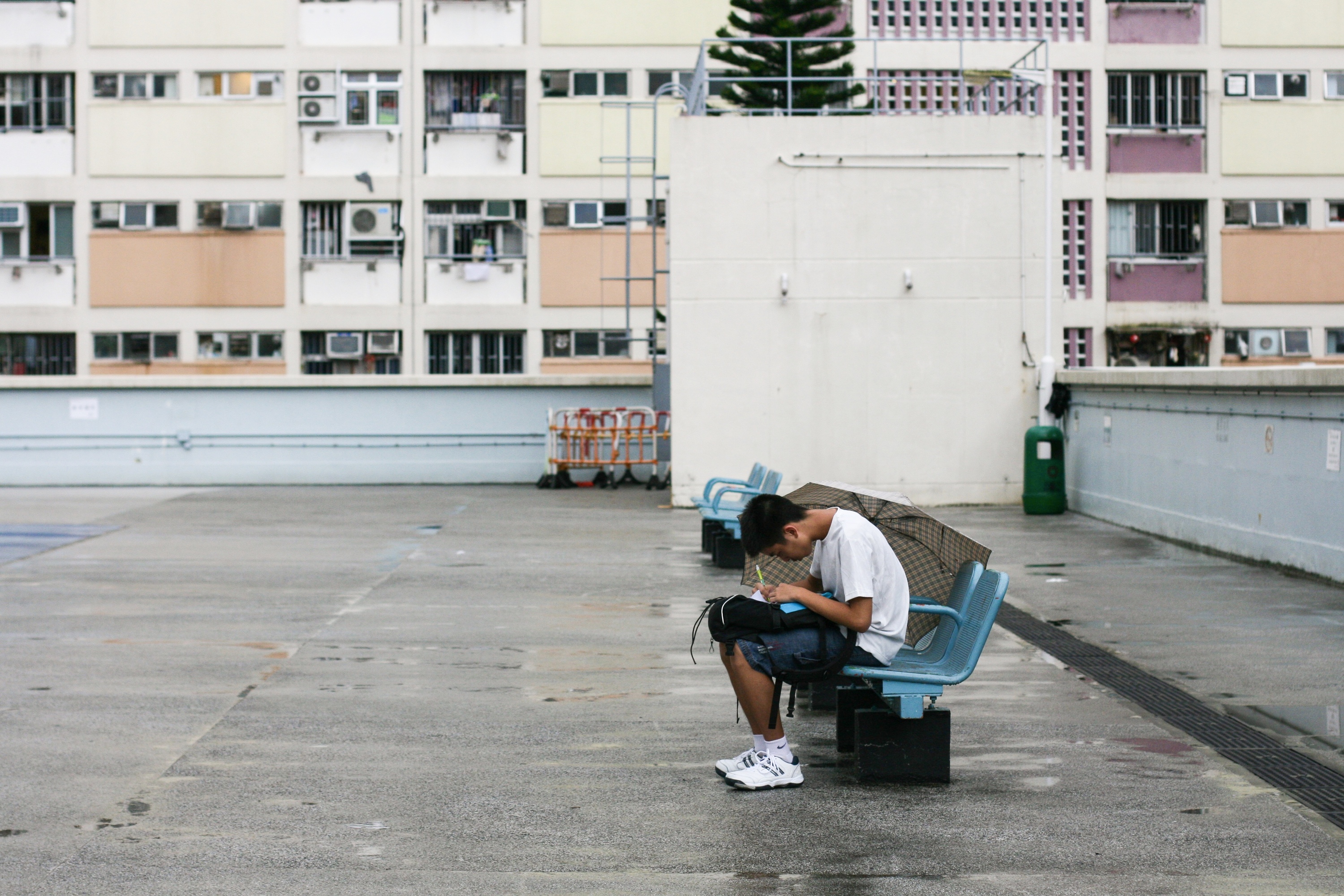 Image: Mabel Lui
Characterised by the pastel rainbow paint that graces its exterior, Choi Hung Estate (meaning 'rainbow' in Cantonese) in Ngau Chi Wan has become a conspicuous photographic icon of Hong Kong. The palm trees, basketball hoops and buildings are no stranger to locals and tourists – photographs of the public housing estate flood Instagram every single day. But behind the estate's apparent beauty lies a forgotten and ignored story, revealing not only the consequences of gentrification in Hong Kong but also the effects of living in a post-Instagram reality.
Before it was a photoshoot destination, the area surrounding Choi Estate Estate was part of a village bounded by fields. But when the 1950s rolled around, Ngau Chi Wan, like many other neighbourhoods, fell into the unforgiving current of development. Shops, houses, factories were built, and the impact of the 1953 Shep Kip Mei fire meant that the Hong Kong government was also under pressure to come up with newer, more spacious areas for evacuated families to move into. When Choi Hung Estate, a collection of 11 domestic blocks with 7,455 flats, was completed in 1964, it became a safe and stable housing option for the city's lower-income residents.
Image: Mabel Lui
Choi Hung Estate has since gained a form of iconic social status. Time and again, its architecture is validated for its aesthetic appeal, whether through winning an architectural award, serving as a backdrop in award-winning photographs or featured in feeds upon feeds, garnering hundreds and thousands of likes on Instagram. Yeo and Hamzah, for instance, admit that they specifically sought out Choi Hung Estate because of its burgeoning reputation on blogs. But edited photos published online promise more than Choi Hung Estate delivers for the two tourists. "We expected the colours to be a bit more vibrant," Hamzah says. "In Instagram pictures, the [colours] are a lot more saturated."
Despite this revelation, the two tourists would still recommend people to visit. After all, as Yeo says, the fading is understandable because of weathering conditions.
Image: Mabel Lui
Aesthetics aside, Choi Hung Estate represents the beauty and challenges that have arisen from Hong Kong's rapid-fire urban development. The construction of the estate prompted the demise of the villagers' fields, but it made way for affordable living spaces for those suffering from the city's sky-high rent. Most recently, the rise of social media has turned Choi Hung Estate's basketball court into a photographic goldmine, even a marketed tourism spot. The sheer number of photographers and models that visit the space every day, whether amateur or professional, have inadvertently altered the estate's purpose and perception.
"When there are holidays, there's a lot of people [and] it's absolutely filled," says Mrs. Lee*, a woman in her sixties who is practicing some arm exercises in the court when I approach her. Though she's only lived in the estate for a couple of years, she has noticed an increase in the size and number of crowds. When there's an influx, sometimes residents aren't able to fully utilise the space to exercise or play as they please – although Lee doesn't let the visitors bother her too much. "If there's too many people, maybe it's not so great," she remarks.
Image: Mabel Lui
Mr. Chan*, a resident in his seventies who has lived in the estate for over 20 years, offers a different view of the visitors. "If [they're] just taking pictures, what's the problem?" he says. "Taking pictures…doesn't hurt people, doesn't bother people with noise."
As he reflects on the future of the property as a whole, however, Chan offers a bittersweet comment. "They say that [Choi Hung Estate] is going to be taken down soon. But who knows when?" Like all other public housing estates, Choi Hung Estate is at the mercy of property development – likely private housing – given how much land it takes up.
For as long as the rainbow building stands, however, images tagged at the Choi Hung Estate will still fill social feeds. While residents have gradually learned to accept the flow of visitors, it's important to remember that the basketball court's residential setting requires visitors to be mindful of their actions. After all, Choi Hung Estate represents much more than its decorative exterior gives it credit for, and its development provides a nuanced, if brief, introspection into Hong Kong's history. Even if Choi Hung Estate doesn't represent somewhere over the rainbow, for many, it's still a rainbow worth chasing. By Mabel Lui
*Mr. Chan and Mrs. Lee wished to remain anonymous for this story.