Heads up! We're working hard to be accurate – but these are unusual times, so please always check before heading out.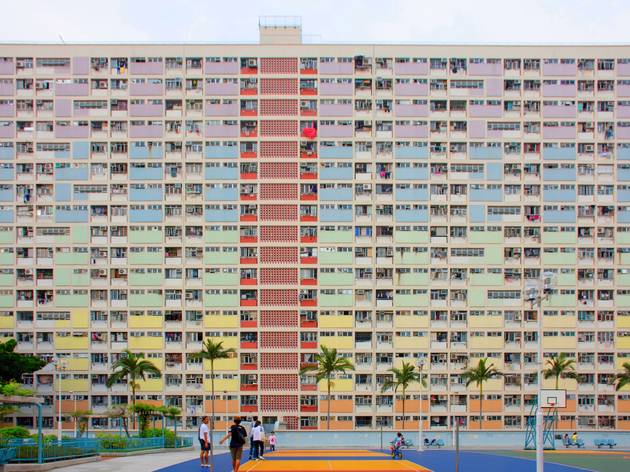 Hong Kong's most photogenic housing estates
Hong Kong's most unlikely – and coolest – photo hotspots
Anyone who's spent time in Hong Kong knows our city is crazy about Instagram. It's hard not to be when HK's famed urban density has blessed us with a dazzling array of beautiful places all in close proximity. Somewhat surprisingly, Hong Kong's humble public housing estates have become the coolest spots for photoshoots. Even Korean boy bands have flown to our city to shoot their music videos at them – see how many you recognise in Seventeen's video for Check In. Follow in their footsteps and step up your Insta game at the following unique locations.

RECOMMENDED: Need some inspiration? Check out these great pictures of Hong Kong's scyscrapers taken by Instagrammers.
Hong Kong's best housing estates

Hong Kong's most famous public housing location. The aptly named Choi Hung Estate – 'Rainbow Estate' in Cantonese – was designed by award-winning architecture firm Palmer & Turner – also responsible for landmarks like Prince's Building, Jardine House and the original Bank of China Building. What was once simply a community area to shoot some hoops and relax is now a permanent photoshoot location. The cheerful and popping colours draw photographers, celebs and social media influencers from all over the world.

Nam Shan Estate offers a sense of nostalgia, aesthetically pleasing colours and the kind of symmetry beloved by Instagram users. The spot above the wet market, with its arched monkey bars, is hugely popular. A lesser-known but equally cute photo op is the giant Aeroplane Chess playground (pictured), which is perfect for more playful shots.

Ping Shek Estate is gold for budding Instagrammers eager to take #lookup shots. The atrium offers some alluringly symmetrical shots with significant contrast. If you're lucky, you may even be able to catch a plane flying by (or just photoshop one in like others do).

This cluster of colourful, grid-like residential blocks, known locally as 'monster buildings', gained worldwide fame after serving as a location in Transformers: Age of Extinction. The symmetry of the design and its gritty aesthetic has made it a favourite among urbanscape photographers. Though be warned, residents are now so fed up with people taking photos outside their homes day and night that photography and videos have been banned without permission. So if you still want to take a photo, best ask first.

Built in 1975 and named after local government official Michael Wright – Lai Tak is the closest Cantonese approximation of his surname – this IG hotspot is one of Hong Kong's most iconic and peculiar housing estates. The circular building consistently lures in Instagrammers with its striking and atypical bicyclindrical design. For a more unique shot, use a fisheye lens to capture the rib cage effect.
6. Lok Wah (South) Estate Car Park Rooftop

K-pop fans out there may recognise these blue hoops from popular MVs like Got7's You Are. On top of a housing estate car park in Kwun Tong, this Insta destination shows off the artistic and fun side of local architecture. Pro tip: Time your photo according to the sun's position for artsy shots of light and shadows coming off the bars at different angles.

Hong Kong may not be awash with cherry blossoms like Japan, but the pink trumpet trees near Kwai Fong Estate are a close alternative. These spring trees may not attract the same attention the world-renowned cherry blossoms of Kyoto do, nor is the estate quite as glamorous, but that's no reason not to get out there and celebrate them bursting into flashy pink flowers come spring.

Not yet as famous as other locations, Cho Yiu Chuen is another place with spot-on symmetry for #lookup shots. Located in Kwai Chung, the orange, yellow and red layering of the estate lends photos a sense of depth, strong artistic composition as well as cool, geometric cutouts against the sky.
Looking for more Insta inspiration?