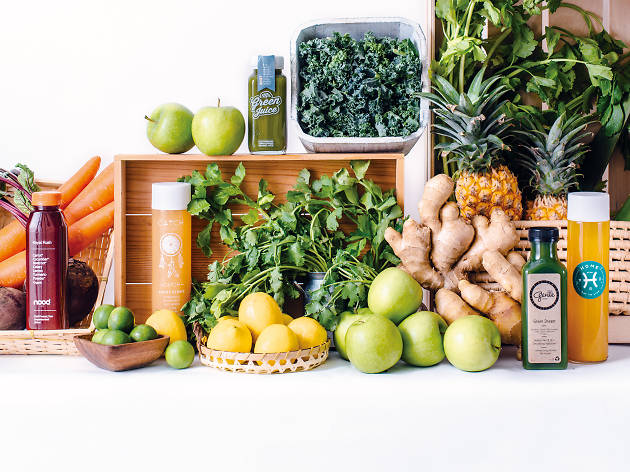 The best cold-pressed juices in Hong Kong
Whether you're on a cleansing kick or just want some seriously tasty refreshment this summer, here are some of the best spots in town to get your juice on
It's summer, and as the temperatures rise, we find that few things prove as refreshing as a nice, fresh, cold-pressed juice to sip on whilst exploring the city, or chilling out indoors with the AC cranked up. Apart from offering much-needed hydration at this time of year, juicing has been central to the diets of fitness fanatics and A-listers for years.
Apparently, Queen Bey commonly opts for a lemon, maple syrup and cayenne pepper concoction, while Gwyneth Paltrow owes her near zero-percent body fat to her intake of green juices. We are lucky in our city to have various cold-pressed juice maestros that serve up some seriously delicious concoctions for us to enjoy. Here are some of the best of them.
RECOMMENDED: If you like a sweeter kind of refreshment, check out our list of the best ice creams in Hong Kong.

Best cold pressed juices in HK
With various outlets around the city, from Mong Kok to Quarry Bay, Nood Food is pretty much always close by to give you a boost during the day. Part of health and fitness mega-brand Pure, the professionals behind Nood Food are dedicated to targeting individuals' specific needs, with drinks ranging from the Vitamin C-packed citrus and carrot juice for helping tired bodies to recharge, to the acai storm, which is filled with vitamins and antioxidants to help cleanse the body. All in all, there are around 40 juices in their impressive range, and we particularly love the Royal Flush, a bright red veggie-based drink chock-full of goodness. The drink blends together beetroot – awesome for flushing out unwanted toxins – carrot, celery, cucumber, lemon and turmeric. Altogether, it's a winning hand.
A short walk away from the Central and Mid-levels escalator, Be-Juiced has quickly established itself as one of the go-to places for anyone on a detoxification diet. The shop owners work closely with a nutritionist to provide cleansing diets designed to help you attain or restore an optimum state of mind and body.
Be-Juiced provides for cleanses with varying intensity levels- with around 30 juices in their roster, covering all the bases from concoctions of broccoli, celery, red apple, and pear; to pumpkin, bacon, and goji berry with dried longan. With so many ingredients, juice lovers will be like a kid in a sweet shop here. If you just can't bring yourself to chose one of the flavours on offer, you can always do it yourself and mix and match to create your own juice carton.
Photograph: Courtesy Water Juicery
With delicious and refreshing juice recipes uniquely crafted by Michelin-starred chefs in France, you know you are in good hands with Water Juicery if you want to stay hydrated this summer. This company delivers an array of cold-pressed, low-calorie juices made from fresh fruits and leafy greens right to your door. There are a variety of bundles to choose from that cater to various needs – from digestive boosters and detoxifiers to immune system boosters and skin energisers.
These juice experts deliver to most places in Hong Kong with the exception of outlying islands and out of the way areas. The selection of juices on offer consists of a range of standard flavours – thing orange juice and watermelon juice – to more exotic-sounding offerings such as Pepper Volcano, with carrot and bell peppers to benefit the eyes, hair, and skin; and the Green-eyed monster, with apple, cucumber, bell pepper, kale, lemon, lime, parsley, and spinach for an immune system boost.
For delivery, contact@waterjuicery.com.hk, call 2325 9368, or WhatsApp +852 9091 4388.
Bless is one of the better-known juice brands in Hong Kong, and while more than a few of their outlets are still temporarily suspending operations in light of recent events, the Kwai Chung offshoot, Urban Fruit, is juicing away. The shop has crafted its juice recipes with the help of a dietician and a nutritionist, and boasts several options, from the regular fruit juices to organic and vitamin ones that are kind on the taste buds – not just your overall health – and make for a perfect, healthy summer refreshment.
Born out of the kitchens of best friends Cara McIlroy and Melanie Barnish, Genie Juicery is a serious player in Hong Kong's health scene after being established for not much more than half a decade. As certified health coaches from New York's Institute for Integrative Nutrition, McIlroy and Barnish know a thing or two about what makes a solid (well, liquid) juice. The top pick here is the Green Dream. What it lacks in sweetness, it makes up for in health benefits. It's a mix of coconut water – great for hydration – with cucumber, celery, spinach and aloe vera, which are guaranteed to clear your skin and make your hair shine. Did we mention it's only 60 calories?
The company has temporarily suspended operations at its brick-and-mortar shops but is delivering right to your door. Order by calling 2549 2778, or emailing sales@geniejuicery.com.
More refreshing ideas
As temperatures rise, keep it green
Cool down with these dishes