Meet the queens behind Broad Cast and Hong Kong drag brunches
"We, the LGBT+ community, have a lot of offer and we're not going anywhere"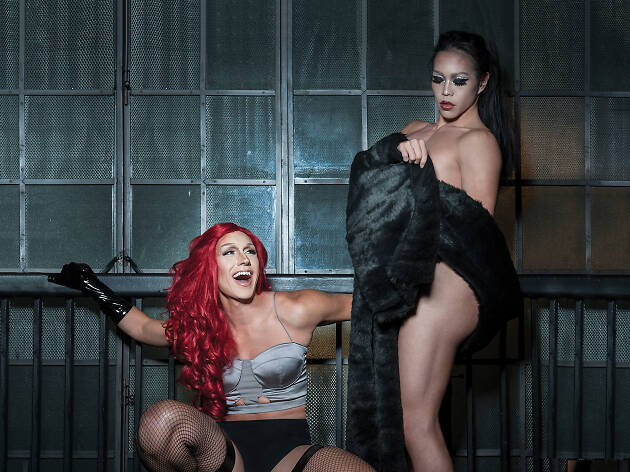 Drag is on a definite rise here in Hong Kong. Earlier in March, Bianca Del Rio brought her It's Jester Joke tour to the Academy for Performing Arts. Before that, in February, RuPaul's Drag Race: Werq The World Tour sold out the same venue and just before last Christmas, another RuPaul star, Shangela, put on a show at Kitec.
So yes, drag is clearly riding a wave at the moment. Yet any scene – be it drag, music or art – can only thrive in a city if there's a strong local element. Arguably no group has done more to popularise drag on the ground here than the team behind Broad Cast. Headed by drag queens XXXotica and Madame Mincemeat, and organiser Daddy, Broad Cast is the rebranded successor to the hugely popular Biiitch Brunch, which started in 2017.
The group recently held its tenth brunch, for 120 people, at swank sky-high destination Ozone. It's a big jump from its original meals for 40 to 50 people in Lan Kwai Fong. "It's encouraging to see," says Daddy. "The community in Hong Kong has been very welcoming. The city has an amazing restaurant scene but I didn't see a brunch that was an experience the way we've created something special." Daddy started organising the meals since he missed the kind of drag brunches he attended back home in the States. Perhaps more importantly, he also realised the talent existed here to make it a success.
"Most [LGBTI] events take place in the safety of a dark bar at night," Daddy tells us. "I think there's something special about doing a drag show at a place like Ozone that caters to all Hong Kong. It shows people that we, the LGBT+ community, have a lot to offer and that we're not going anywhere. We're part of the Hong Kong community."
The Broad Cast team is very vocal about 'supporting your local queen'. "There's a lot of local talent here," says XXXotica. "Why pay thousands of dollars to see a show that's a re-run
of what they do everywhere else?" It's a sentiment echoed by Madame Mincemeat: "[Drag Race] has created a certain expectation around what drag should be. It's great, it's fantastic, it's a high-production programme. But it's limited. If you come to the brunch, it's a different experience. It's more intimate, it's more interactive."
Summing up Broad Cast's events, Daddy concludes, "You get to be dazzled by a show like nothing Hong Kong has ever seen," he says, adding, "You commit your Sunday into the hands of the queens and you hope they will be benevolent."

Looking for more LGBTI+ friendly events?