Derrière writhing, hips swaying sensually around the dance pole, a firm pair of arms propels him as he grips the metal bar. A body of defined, muscular contours. Under the strobe lights, he executes his repertoire of aerial moves and graceful twirls, simultaneously impressive and erotic. Pole dancing has traditionally bore a stigma in Hong Kong as a sleazy occupation, yet there's something undeniably mesmerising about it. Being a male pole dancer in this city carries an additional set of complexities, and it is for this reason that we invited Leon Yee, a local male pole dancing professional, to share with us his experiences.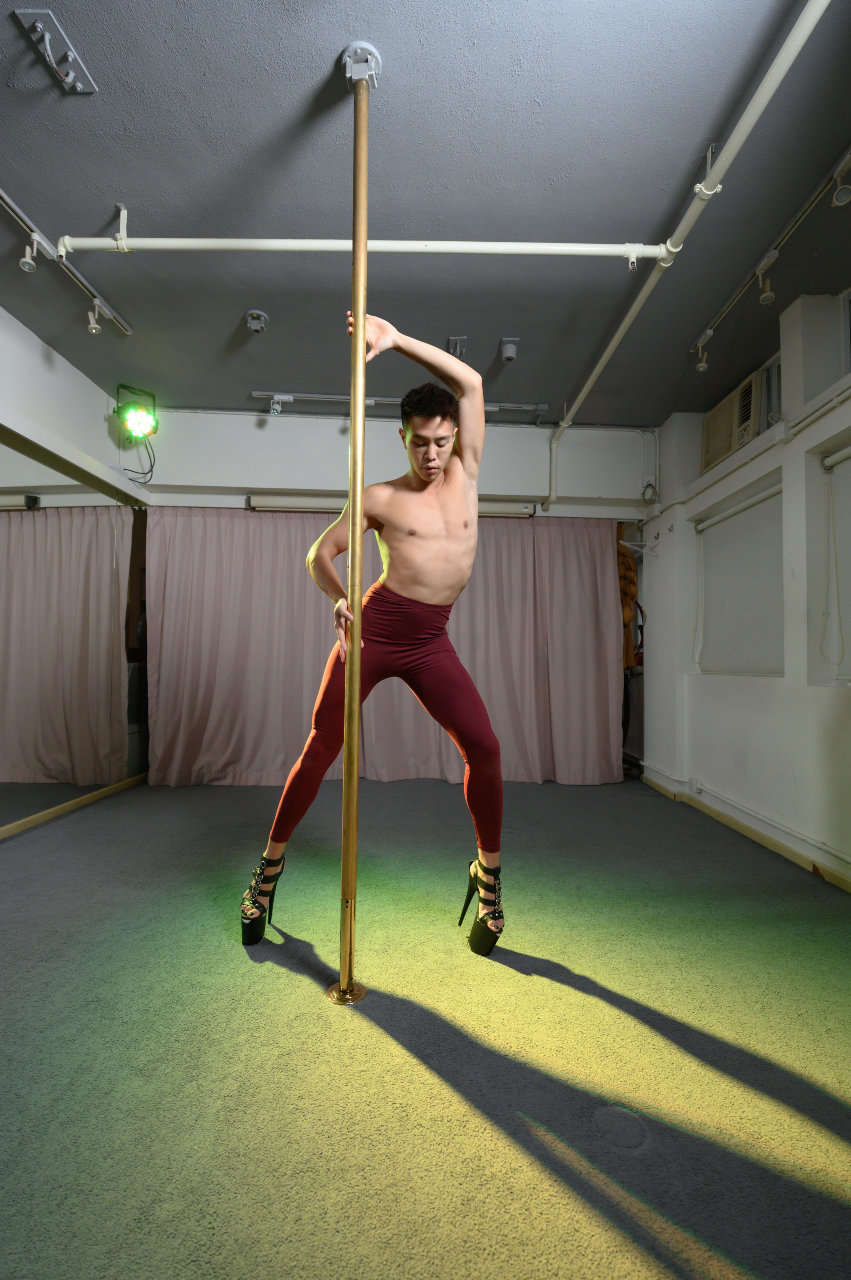 Photo: CS
Now aged 25, Leon first encountered pole dancing six years ago. At the time, he was a gaming geek who often stayed indoors. This all changed the night he and his friends went to a pole dancing show. Leon was captivated by the strength, precision and sensuality exhibited in the movements. "My first impression of pole dancing was how it seemed just like crossfit. A wonderful sport that requires both strength and coordination from every part of your body". Despite having no major dance experience, Leon was hooked after his first class. Four years of hard work and training later, he committed to becoming a professional pole dance teacher.
Thinking back to his trainee days, Leon recalls that he was not the only male dancer. However, he often stuck out because the other men rarely turned up to class. Being a minority in a class of over one hundred females, Leon had to deal with strange looks. "There will always be people who think male pole dancers are inappropriate", he says. "However, the worst kind of judgement often comes from oneself". He muses that to be overly concerned with other people's prejudices hinders progress. "I danced to learn and I'd paid for my tuition, so there was no reason for me to give up".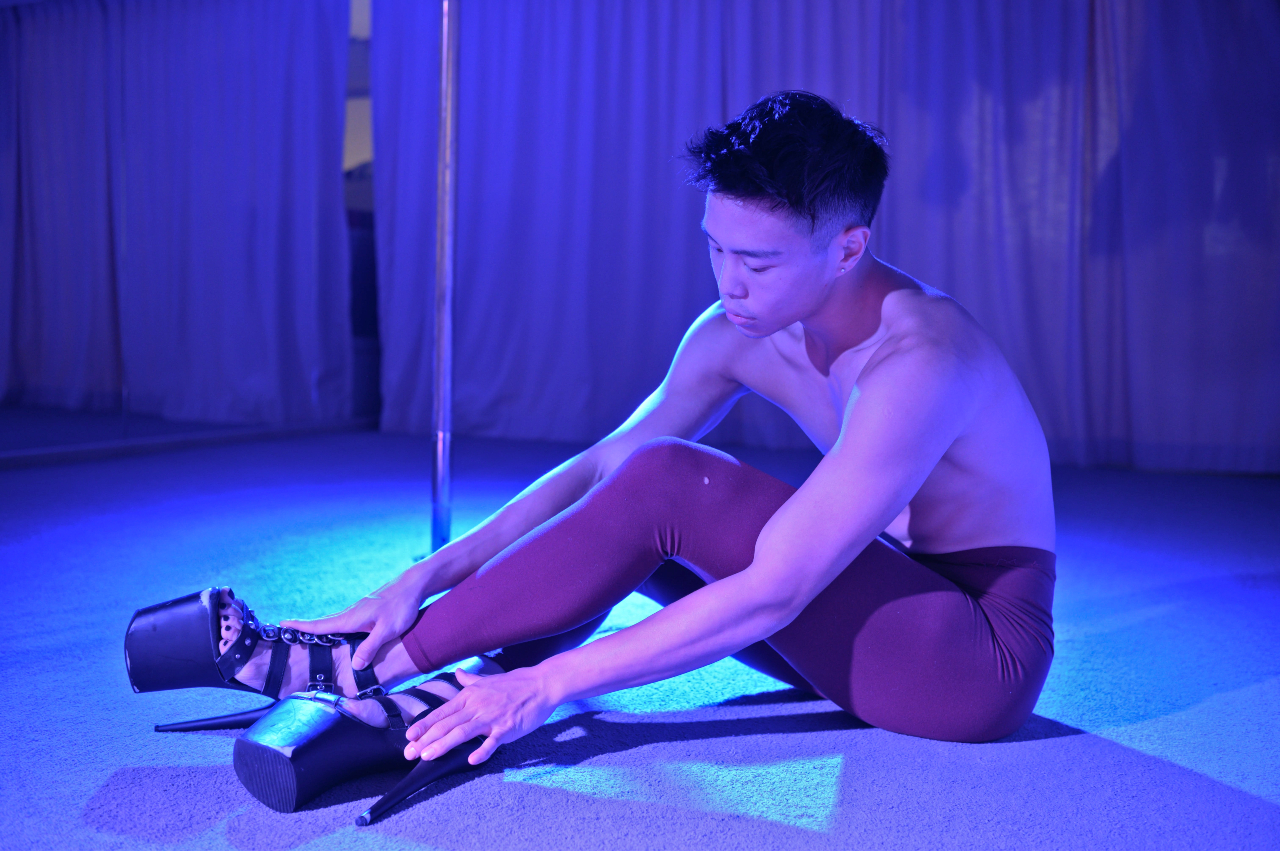 Photo: CS
Criticism directed at male pole dancers is often rooted in society's misconceptions of sex workers and strippers, as well as gender stereotypes. There are still many men in Hong Kong who feel uncomfortable with the idea of males pole dancing in high heels. "Pole dance should be gender-free", says Leon. "It's like a soup base. Whatever ingredients you add, it will remain tasty". Leon thinks that today's pole dancers can use the language of dance to say how they feel with incredible fluency. The possibilities for expression are endless.
Leon specialises in exotic pole dancing. Characterised by flamboyant high heels and feminine choreography, it's a risqué style that borrows elements from striptease. "It has its roots in strip clubs, with traditionally only female entertainers. Guys who want to pick up exotic pole must abandon their pride". Furthermore, Leon reveals that upon progressing to the more advanced classes, students are encouraged to wear more revealing clothes. "With confidence, you can confront your most complex and hidden emotions. Through the performance of aerial moves, you can accept who you truly are".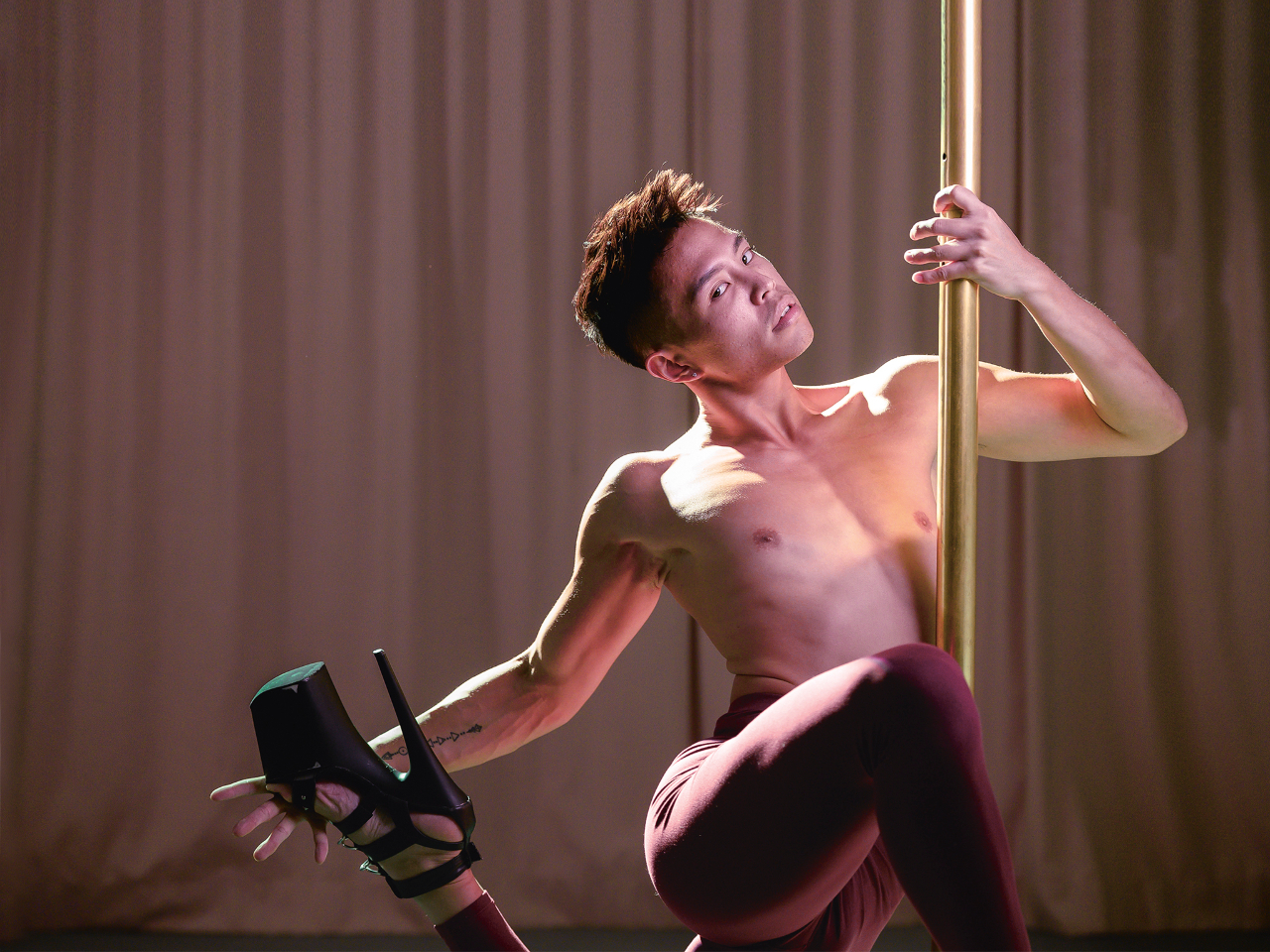 Photo: CS
In recent years, the increase in LGBT rights has had a profound impact worldwide, including in Hong Kong. Norms are shifting, and male pole dancers aren't so rare anymore. Leon has been invited to perform at concerts for Hong Kong artists including Joyce Cheng and Vincy Chan."Although our existence is accepted in pop-culture, many guys are still too self-conscious to immerse themselves in our world". Society, however, is changing with an increasingly positive image of pole dance as a mainstream form of exercise, and Leon continues to pole dance in the hope that he can help to empower a group that has been misunderstood for too long.
By Cara Hung, translated by Josephine Lau